Vijayawada is the "Business center" of Andhra Pradesh. The second largest city of Andhra Pradesh embarks on the banks of Andhra Pradesh. The busy business Hub of Vijayawada is considered as "Global City of the Future". Due to wide business opportunities, many people want to settle in the commercial city. Vijayawada got its name from the victory of Goddess Durga. And the "Place of victory" is a good place for living. Due to this factor, the Real Estate Sector will boom in the future.
As the demand side for the houses in the city is increasing with every single day. The supply side is also one step ahead. Many Reputed Builders are working on giving best Residential experience. Sahiti Constructions, Vertex Homes, Vaishnavi Estate, Keystones, BRC, Pooja Crafted Homes, Reliance Developers, Vinayagar are the leading names in Vijayawada Real Estate Market. Their several years of experience reflect in beautifully crafted Homes. They have already developed huge residential spaces. And many exclusive Projects are planned for the future. You can dream of "Perfect Homes" with these great names.
The Vijayawada Real Estate market has seen rapid growth in recent times. Many Residential Projects are upcoming in the area of Poranki, Kankipadu, Kesarapalli, Gannavaram, Edupugallu and Sri Ramachandra Nagar. The Ongoing Projects provides High-end Resident Apartments. They are well-equipped with modern facilities. Some builders are also coming with Duplex Projects. The luxurious Apartments and Duplexes are available in different sizes. One can buy the comfortable home spaces depending on their family Sizes. Besides that, one can easily choose according to their budget. As there is a number of options to choose from. The Prime locations are little expensive. One can expect to buy a 2BHK apartments starting from the affordable prices of 30 Lakhs. The 3BHK Spacious Apartments are available at the rate of 50 Lakhs.
The Well established wide roads and good nature balance describes the city very well.  Vijayawada connects to the southern cities through NH-9 and NH-5. Airport and Railway at Gannavaram is the added advantage of the location. Recently proposed metro and suburbs will further boost the Real Estate in the city. Daily Utilities are easily accessible. The destination provides for all basic utilities. Many famed Schools, Shopping Area, Hospitals, Recreational area and Public Garden are near-by. It is the Perfect address for great living. If you want to invest in the glorious city, invest in today.
So, Here we are going to provide you with the details of Affordable projects in Vijayawada.
Chandrika Ayodhya
Chandrika Ayodhya is constructed by Raki Avenues Pvt. Ltd. It is located at Gannavaram Vijayawada. Residential 2 and 3 BHK apartment offered by this project. This project is located beside the Medha IT Park located at Gannavaram, International airport is just 1.5 Km from the project.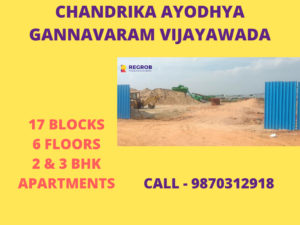 This project is spread across 10.40 acres of land. It will have a total of 670 unit spread across 17 Blocks of G+5 floors. Residential 2 and 3 BHK apartment offered by this project are of built up area ranging from 1000 sq-ft to 2000 Sq-ft. Price of the Chandrika Ayodhya project starts from 2500 per Sqft.
For More Information on Chandrika Ayodhya, Click Here
Prudhvi Enclave
Prudhvi Enclave is one of the most talked about properties of the city today. It is located in Nunna Vijayawada. It will offer following configurations – 2 BHK and 3 BHK apartments. The size of the 2BHK flat is 1177 Sqft and for 3BHK is 1618 Sqft.
It is along the Gannavaram Road which is emerging as a highly desirable residential and rental area in Vijayawada. Nunna vijayawada, which is famous for its vertical structures on small plots of land, Prudhvi Enclave is like a breath of fresh air.
For More Info on Prudhvi Enclave, Click Here
Brundavanam
Sri Sai Durga Housing Estates has launched a new residential project in Vijayawada. Brundavanam is a residential apartment's project. It offers 2 and 3 BHK apartments in Telaprolu Vijayawada.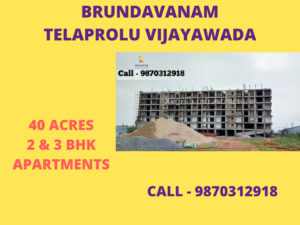 Brundavanam is designed with thoughtful amenities to fill vitality in old couples who want to live Independently. Brundavanam offers assisted living where medicals care, personal needs and cooking are taken Care.
For More Info on Brundavanam, Click Here
Jewel County
Hemadurga Jewel County is the largest gated community with international standards & facilities. Jewel County is a new residential apartment project offering 2 and 3 BHK in Vijayawada. This project is offering a total number of 432 residential units.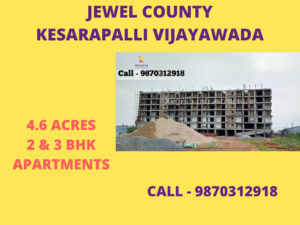 It is 0.2 Km from NH-5. Air Port is just 0.5 KM far from this project. Jewel County is 0.5 km from proposed metro station. This provides many key benefits to the residents. There are several options for recreation and leisure in Jewel County.
For More Info on Jewel County, Click Here
Here is the list of the projects in Vijayawada Click Here
You can also watch the videos of the projects Click Here
Regrob is one such great name in Real Estate world. Join hands with Regrob and avoid the hassles of buying the homes.
Regrob has a highly skilled team in Vijayawada area to help you invest in real estate wisely.
You may contact us  on 9870312918.