Hello friends, today we will discuss about 4 BHK flats for sale in Rajarhat, Kolkata. We know it is hard to find the most suitable flat.
We are here to help you find the flats in Newtown Rajarhat area of Kolkata. Best flats for sale in Newtown Kolkata with us.
Rajarhat, the growing town is becoming one of the favorite destinations for investors owing to its world-class facilities, strategic location, and developed infrastructure.
The town has a planned metro-route shortly which makes it a good destination to invest. The site is also very near to the airport. Rajarhat is well connected to the submarket areas. It is very close to the IT hub. Eastern Metropolitan bypass provides easy access to the region.
So, let's take a look at some of the super affordable projects offering 4 BHK flats.
Top 4 BHK Flats in Rajarhat, Kolkata:
1. Ascon Era, Rajarhat:
Ascon Era is a residential development of Ascon Infrastructure India Pvt. Ltd. The project is located Near Rajarhat, Kolkata. It is under construction project. Possession of this project will start from Dec. 2021.
Total area of the project is 1.90 acres of land. There are total 5 towers having 10 floor each. Total no. of flats are 253.
It offers 4 BHK flats. Apartments are available in different sizes (1680 – 1756 Sq. Ft). Price of 4 BHK Flats starts from 78 Lacs onwards.
This is a HIRA registered project with registration number: HIRA/P/NOR/2019/000496.
Connectivity:
BP Poddar Institute: 11 mins
City Centre: 6 mins
State Bank of India: 2 mins
Titumir Station: 6 mins
Rennaissance Hospital: 9 mins
2. The Soul:
The Soul is a residential development by PS Group & Primarc Group. This project is located at Action Area III in Rajarhat Kolkata East.
The Carpet Area of 4 BHK unit ranges from 1009 Sq. Ft. to 1010 Sq. Ft. The price of 4 BHK unit starts from 1 Cr. onwards.
The entire project spans across 6.89 Acres. This project carries 10 numbers of Towers with 16 numbers of floors each. It total comprises of 704 numbers of units. It has 69% Open Space.
This project has constructed in 2 Phases which offers 2/3/4 BHK residential apartments. This is Under Construction Project. Possession of First Phase will be given by Jan. 2023 and Possession of Second Phase will be given by Dec. 2024.
HIRA Registration No. of Phase 1: HIRA/P/NOR/2018/000138.
HIRA Registration No. of Phase 2: HIRA/P/NOR/2018/000133.
USPs Of The Soul Project:
From the house of well reputed Builders
Situated in the most happening place in New Town Action Area-3
The Perfect Mix of Urban Life with Nature
Large Window
Utility Balcony
Swimming Pool
Pet Zone
Natural Waterbody
Adventure Play Park
Dense Greenery
3. Jain Dream Palazzo:
Jain Dream Palazzo is a residential development by Jain Group. The project is located at Rajarhat, Kolkata. This is Ready to Move Project. 
This project offers spacious and skilfully designed 4 BHK apartments. Built up area of 4 BHK Flats is 1990 Sq. ft. Price of 4 BHK Flats in Rajarhat starts from 68 Lacs
Residents can enjoy the view of natural beauty. The project is spread over 7.76 acres of land with 65% open space and consist of 10 towers having 7 floor each, which in total comprises of 192 apartments.
Connectivity:
Netaji Subhash Chandra Bose International Airport: 7.8 Km | 22 Mins
Dum Dum Cantonment Station: 8.9 Km| 32 Mins
Renaissance Hospital: 5.7 Km | 18 Mins
Madhyamgram Railway Station: 8.2 Km | 29 Mins
Reckjuani Bus Stop: 2.6 Km | 10 Mins
Devaki Memorial School: 5.5 Km | 14 Mins
Lotus Hospital: 1 Km | 4 Mins
Narayana Multispeciality Hospital: 9.6 Km | 30 Mins
Government Hospital of Madhyamgram: 8.1 Km | 25 Mins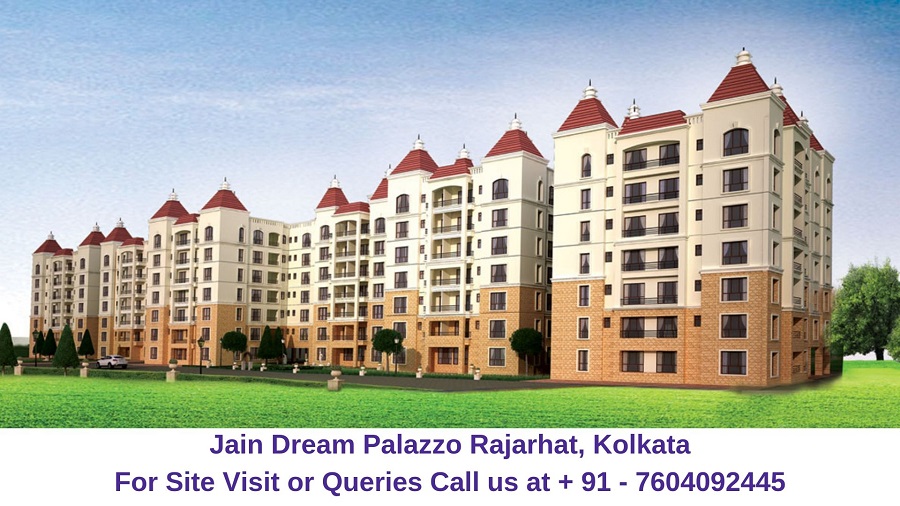 4. Tata Avenida:
Tata Avenida is a residential development by Tata Housing. This project is located at Rajarhat, Kolkata.
This project is offering well designed and spacious 4 BHK apartments. The area of 4 BHK Flats varies from 2056 Square feet to 2972 Square feet. Price of this project starts from Rs. 1.60 Cr.
The project is spread over a total area of 13 acres of land. This project is divided into 2 Phases. First Phase is ready to move. Second Phase is Under Construction. Possession of Second Phase will be given by Dec. 2020.
This project has a total of 7 towers. The construction is of 28 floors. An accommodation of 783 units has been provided.
CONNECTIVITY:
222 hectares of land allocated for IT/ITES facilities.
DLF IT Park, Eco Space, Candor TechSpace ·
Mahor IT Companies like TCS, Accenture , Infosys, IBM & Wipro
ICICI Bank, YES Bank, PNB Bank of Baroda, UBI Bank Excellent
Netaji Subhas Chandra Bose Airport- 11.5 km
Well connected to metro
AC, Non AC & private bus service.
Schools: DPS New Town, DPS Megacity, The new town schools premises and Narayan Schools
Colleges: APJ Abdul Kalam Govt College, Techno India College of technology
University: St Xavier University, Amity University, University Of Engg. & Management Health & Convenience
Hospitals: Tata Medical Center, Ohio Hospital, Park Hospital, Sankara Nethrayala, Woman & child Care center.
Hotel: Novotel, Swiss hotel, Westinm Holidays Inn
Malls: Axis mall, Centrus & City Center II, DLF Gardenia
ECO park: Spread across 480 acres, this is the biggest park in India.
2 BHK Flats For Sale in Rajarhat, Kolkata Click Here
3 BHK Flats For Sale in Rajarhat, Kolkata Click Here
For Site Visit & Queries Call Us at +91-7604092445
You can also watch the actual videos of other residential projects of Kolkata Click Here
We also have some other options of residential projects for you in Kolkata Click Here