"I am an entrepreneur. I am not made for 9 to 6 job "
Become an entrepreneur – These words must put a spark in you. There are many times when you want to leave politicised and dull life of a job and start up. Entrepreneurship has a romantic charm with more control over life and huge rewards. Even risks associated with entrepreneurship seems highly engaging. This quote sums up entrepreneurship perfect –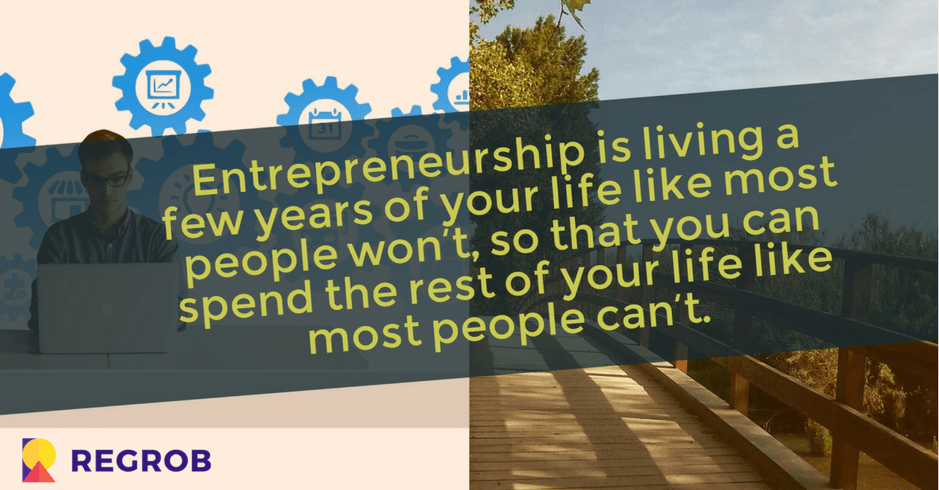 But, becoming an entrepreneur and creating everything from scratch is not everyone's way. Many people are looking for some solid platform to start entrepreneurship without getting into the pains of trial and error. They want to cut the initial time of thinking through every process, building the blocks and then try the market.
Taking a running business franchisee is good method of starting the entrepreneurial journey. You get the backing of a tested business model and may start generating revenues sooner. The people in job and liabilities to take care are liking the concept of franchising. We also agree that franchising is a good option to work with, still you need to do home work to get along well in your entrepreneurial journey.
"We at regrob entrepreneurship development centre meet hundreds of enthusiastic persons every month. These people have great sparks in them but many times they lack clarity. Our counsellors help them reach the right decision by showing them all facts and truths about franchising first. Off course, our prime motive is to help them become super real estate consultants with regrob. To make every franchisee of regrob super successful, we have to choose the right people and help right people choose us. We have 16 great team working with us and we leave no chance to make them happy and successful. We know that a person who doesn't love real estate will not be fit for this assignment. So we first counsel them to choose the right industry and if that happens to be real estate, we go ahead by our franchisee development programmes."

For those people or "half-entrepreneurs" franchising is a terrific option. Becoming an entrepreneur with a solid and successful company provides you platform like —
a) Tried and tested successful idea
b) Laid out processes
c) Reputed brand 
d)  Instant revenue streams
e) Mentor ship in crucial areas
When you decide to take the plunge for entrepreneurship and start looking for franchisee options, you get a lot of options. It becomes an important task to choose the best option for franchising as "you are betting your life on it." You must choose considering all factors like pricing, break even, strategic fit, operational fit etc.
Watch this video

We try and provide you with a framework to choose the best franchising option for you —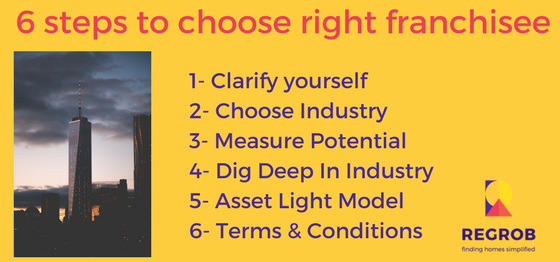 Step 1 – Clarify yourself —  There is no use of going back once you have decided to go on. So you should be clear about your decision for entrepreneurship, talk with your family and dear ones. You will need lots of support from your family and friends in your entrepreneurial journey and biggest support will be from your own will power.
Clarify what kind of business you are looking to do. Think about —
a) How much money you want to make ( You can never open a tea shop and be a millionaire )
b) How you want to work(You can never own a real estate franchisee if you don't want to work with people)
Entrepreneur's life is full of freedom, lavishness, leadership but nothing comes for free. You will have to work very hard to achieve this.
 Entrepreneur's life has many stages —
a) starts with belief "I can do is more important than I.Q."
b) Goes through many test, failures
c) Growth comes
d) Super successful time comes
Above, every stage is a life in itself. Be ready for it!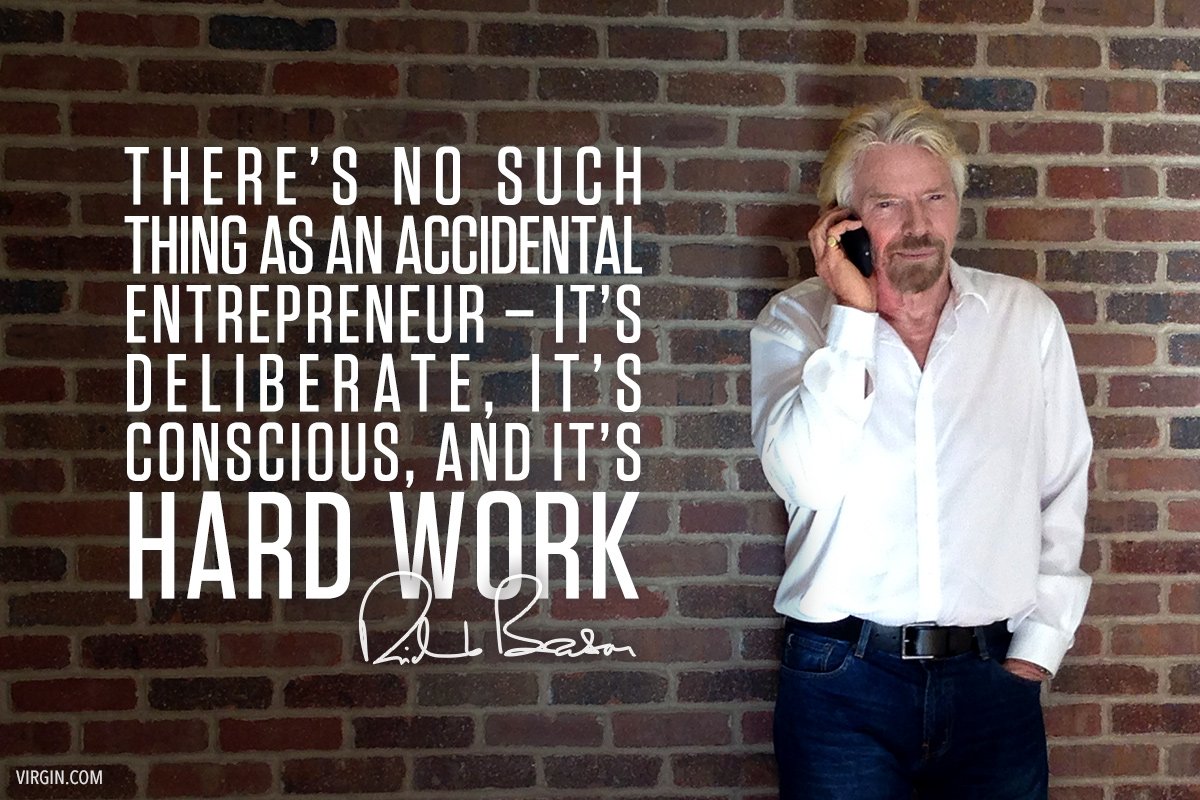 Step 2 — Choose Industry — Choose industry of your passion and follow your dreams. If you are passionate about food then open a food joint, if you love real estate go for real estate business franchise. Only your passion will take you far and give you inspiration in tough times. See other fine points of a franchisee too. Like if you go for a real estate brokerage franchisee then you must be comfortable with –
a) Meeting lots of people (clients + builders)
b) Ready to work in real estate projects / homes etc. (lots of site visits)
c) Take calls of prospects at all times (clients will call you in night also)
d) Be patient in long gestation sales cycles (many site visits – with family – with friends etc)
Always be clear about the scale and impact you want your venture to take up.
Think what you would love to do for the rest of your life if money is not a parameter, Do it ! You will do well and with excellence and passion, money and success will come after you. # taken from 3 idiots 🙂 

Step 3 — Measure the industry — Always measure the industry to see the revenue potential in your business venture. See the hard facts, business environment and future predictions to startup.
Take example of real estate brokerage industry –
a) Indian real estate industry is tipped to touch $ 180 billion by 2020.
b) Real estate brokerage industry is of around $ 4 billion market size now.
c)  More than 10 lac brokers work and sustain in this industry.
d) Huge latent demand for tech enabled professional real estate brokerage solutions in India.

See the industry through both lenses – Macro trends and Micro trends. See if the country is growing and its residents are ready to spend on cafes and experience fine dining. Also see if the place where you are thinking to start your restaurant or QSR (quick service restaurant) will have the consumption. If you find your chosen business to do well on both counts then only go ahead.
Step 4 — List out all top players of the industry — Now you should study the top players of the industry. Do good amount of research on the company of your choice —
a) Research about the team. (See leadership team's education background and their track ground / check franchisee's profiles also)
b) Meet existing franchisees and take their reviews.
c) See online presence of the company.
d) See their processes, technology and past performance.
We'll suggest you to go for tech enabled solutions because brick and mortar market players are dying. New age customers are doing couch surfing, as in real estate more than 60% of buyers are searching internet to find their dream home in first place. The age of online business has begun and it will increase faster than ever.
We are seeing more and more offline businesses are dying their natural death as the technology is playing vital role in consumer's life.
A caution – Never go by big swanky offices or plush cars, see the future. If you see Whatsapp as a company had only around 100 employees till very late. In the age of automation, most of the work is done by technology not by employees. The age of old companies is gone, focus on future profitability and their scaling potential.
Step 5 — Asset Light Business Model — Always go for asset light business model that might have initial investment but your running costs must be lower. Asset light business model will also help you in building profitability over less time. As more business is being done online, one should cut costs like manpower and real estate. Your  chosen company should have a good focus on online customer acquisition and technology.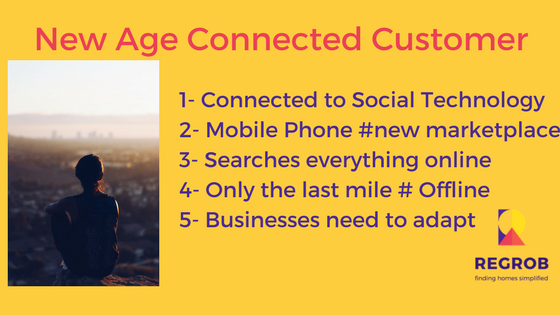 Taking example from Regrob business model – We complete more than 60% of work by technology. 
customer's 1st step – Customers come to regrob website and search for their dream home. They see actual pictures and 100% authentic information online itself
customer's 2nd step -They may schedule the site visit online itself
customer's 3rd step –  Customers may connect to our regional teams over the IVR ( interactive voice call routing)
customer's 4th step –  CRM (customer relationship management software) stores customer data forever.
customer's 5th step – Site visit happens
customer's 6th step – closure happens
customer's 7th step – We congratulate customers and reward them for referrals. He receives free services like Vastu reports too from us.
Our CRM keeps track of customer's progress in sales life cycle. CRM  keeps them alive by sending them important information, local trends, new similar properties etc.
We use our offline team only for site visits..
Now you should meet the franchisers and their team to understand the business model and services they are gonna offer to you. Always meet their existing franchisee to see thing in black and white.

Step 6 — Legalities — Go through the agreements and term and conditions. Check the agreements very carefully and lookout for changes need to be made. You may discuss your concerns about all the terms of contract with the company. Many companies are very open to changes and negotiations to be done in agreements and terms.
a) See the renewal terms
b) See the training programmes
c) Meet the leadership team as well as franchisee owners.
Having meetings with existing franchisees will help you a lot as these are the actual business owners. Existing franchisees will give you correct picture of all things going inside the organisation.
Summing up all the above steps, you should be careful and futuristic in choosing the best suited opportunity for yourself. It is everything!
After finalising give your best to become a successful entrepreneur.
Some information about franchising in India –

Franchising in India is a new phenomenon and it is set to grow tremendously. The factors pushing the growth of franchisees are many —
a) Indian customers are graduating to a new level of service experience and he / she has good money to spend on these. Customer is looking for standardised services everywhere.
b) Growth of online business. All businesses have a lot of online and technology exposure which can't be handled by individual business owners.
c) Branding of business. Lots of resources are needed to brand business and attract customers. Companies with scale may handle it.
We hope that these tips will help you choose best franchising option for yourself. You may add many other things in your search for perfect franchisee but these will prove to be basics of your franchisee business hunt.
Having a good franchisee is having a good team and choosing a good team is an uphill task in itself. You should choose the team very carefully as you will be the C.E.O. of your business and front face of the company, so team game is all it takes.
Best wishes for finding a great franchise business in 2017.

We would love to hear your comments and questions on franchisee business. You may comment in box below the blog.
To know about Regrob Franchisee Programme – click here!