A look at our history books would tell us that most great civilizations of the past came up near river banks or coastlines. Moving to the present, the story has changed somewhat. Nowadays, it's the physical infrastructure and the promise of opportunity that attracts people to settle in an area. A look at the evolution of India's 'Silicon Valley' and 'Garden City' of Bangalore is a clear illustration of the same.
Bangalore city, earlier defined by its petes and cantonments, rapidly expanded eastwards and southwards in the late 90s. Fueled by the IT boom and the construction of the Outer Ring Road, many villages rapidly became urbanized and a part of this ever-expanding city. We are now on the cusp of history repeating itself, with north Bangalore being the new theatre of development. The one major factor, which has brought about this boom, is the construction of the Kempegowda International Airport in Devanahalli, which opened in 2008. Already one of the country's busiest airports, it has become a key economic and real estate driver. We look at the changes this airport has already indirectly brought about and also the impact of some promising developments announced recently.
As the population is increasing day by day. the land rates in India will go on increase unless there is some serious issue in that area. If you invest money in some bank or in shares there will be no guarantee for that money to get double. But if you invest in property especially land it will surely get increased.
How Increasing Demands of Millennials are Shaping Real Estate Market
1. Growing Purchasing Power
The booming millennial workforce in the garden city has enabled Bangalore's real estate to grow significantly. Bangalore has always been one of the active residential market and now is also known for having sustained demand for commercial space. According to a NASSCOM report, 2018, Bangalore is one of the fastest growing technology start-up hubs in India with nearly 7,700 registered start-up firms. Of this, approximately 1,200 new start-ups were registered in 2018 alone.
2. Various govt. reforms:
The introduction of reforms like RERA & GST has made the sector go through significant improvements. As a business hub, the city caters to the technology and other services requirements of companies globally; no wonder then, that Bengaluru attracts a huge ratio of India's highly-skilled workforce.
3. Rapid real estate growth in Bangalore:
The year 2018 re-established Bangalore's position in the commercial space. According to a JLL report, the city accounted for the highest absorption of office space at 7.9 million sq. ft. in the first nine months of the year. Bangalore also fared decently in the residential segment. According to a recently conducted research, about 870 projects were launched in 2018. About 50% of this new supply was in the mid-segment (Rs 40-70 Lakh), followed by 24% in the affordable segment (Less than Rs 40 Lakh) and 26% supply in the luxury segment (Rs 70 Lakh and above).
4. Boost in the affordable housing segment:
Affordable housing witnessed a growth of 22% in sales during 2018. In the recent Budget announcement, the government has extended the deduction of interest on home loan.
About Ajmera Group:
Having established itself over 51 years, Ajmera Group is recognized as one of India's leading Real Estate Company. The reach and interest of the Ajmera Group has only grown with time and has extended to other realms, such as solar power, sports, vaults security, cement and social welfare. The company now has a strong presence in and around Mumbai, Pune, Ahmedabad, Surat, Rajkot and Bangalore as well as an international project in Bahrain and London. Quality, innovative construction technology, comfort, aesthetic appeal and maximum value for your money are few attributes that enrich Ajmera with the belief that people have entrusted in them.
There are various projects that Ajmera group is currently constructing in Bangalore.
1 Ajmera Annex (Electronics City Phase 1)
2 Ajmera Lugaano (Yelahanka)
3 Ajmera Nucleus (Electronics City)
Ajmera Annex Overview: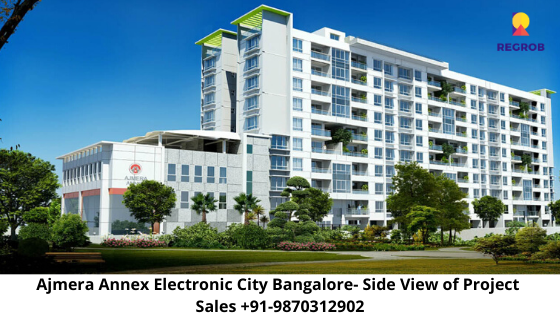 First Time In Electronic City Swim 100 ft. Above Ground level. Ajmera ANNEX has been crafted with the minutest attention to detail so that the homes exude elegance and luxury right from their very form. The tower comprises of 2 & 3 BHK flats bringing the feel of luxury to the safety and security of an apartment with Rooftop Infinity Edge Swimming Pool. Residential & commercial tower spread across 1 acre of land adding after Ajmera Infinity & opposite Ajmera Stone Park in electronic city Bangalore.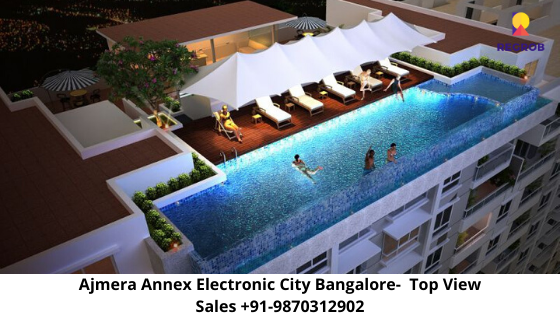 The homes at Ajmera annex are designed to be sanctuaries – where you can indulge in luxuries as a way of life, every day. A fitness center with every conceivable strength and cardiovascular equipment makes working out a pleasure, while a swimming pool forms the perfect backdrop for some Sunday conversations with your neighbors. Alternatively, you can end each day on a high note as you sit back, relax and enjoy!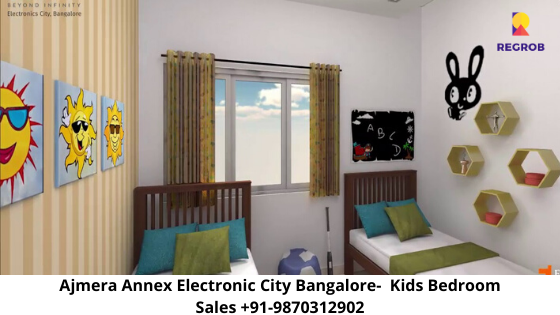 Q- Why should we consider buying a property in Ajmera Annex ?
Seismic zone II resistant RCC framed structure.
All internal walls are plastered with lime rendering & waterproof birla putty punning.
Interior: Acrylic Emulsion, ceiling & wall – white paint.
Exterior: Weatherproof exterior emulsion paint.
100% power backup from DG.
An exclusive Satellite TV network will be provided by Airtel or TATA sky on our discretion (Users to pay Monthly charges)
CCTV coverage for security at main entrance & lift lobby at Basement level.
1 KW D.G. power backup for each apartment with automatic changeover switches.
Standby generator for lighting in common areas lifts and pumps.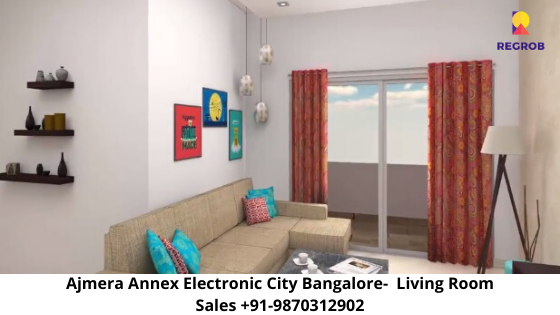 Ajmera Annex Location Advantage & Direction: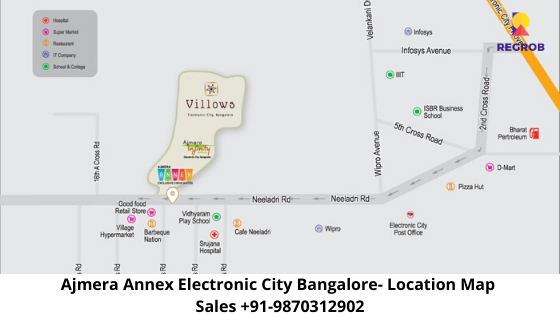 Ajmera Annex address is another plus point as it offers easy connectivity to a number of prominent schools, hospitals, colleges, banks, ATMs, recreational area, and much more. The availability of various public transportation facilities is another reason why buyers are investing in the projects of this locality.
Hospital Next Door
School 1 km
Shopping mall Next door
Nice Road 3 km
M.G. Road, Brigade Road 17 km
Majestic/Railway Station 24 km
International Airport 56 km
Q- As a man is said to have a right to his property, he may be equally said to have a property in Ajmera Annex which a property seeker should buy?
Current condition: – All of the mentioned below are under construction.
| | | |
| --- | --- | --- |
| TYPE | SUPER AREA (in square feet) | All-in Value |
| 2 BHK | 1160 | 65 lakhs onwards |
| 3 BHK | 1400 | 81 lakhs onwards |
Q- I always say if the house I live in is comfortable, and I have all the amenities I need, then what more can you ask for? Talking about the Amenities in Ajmera Annex: –
The following are the various amenities offered by Ajmera Nucleus to its residents: –
Lounge
Gymnasium
Billiards
Table Tennis
Yoga Hall
Infinity Edge Pool
Kids Pool
Children's Play Area
Exercise Court
Lift
Ajmera Annex Master & Floor Plan: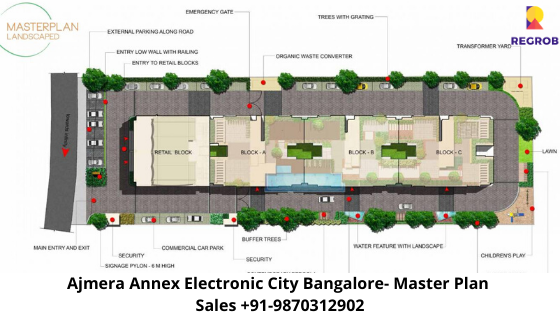 Ajmera Annex Project Review:
Ajemra Annex Actual Images: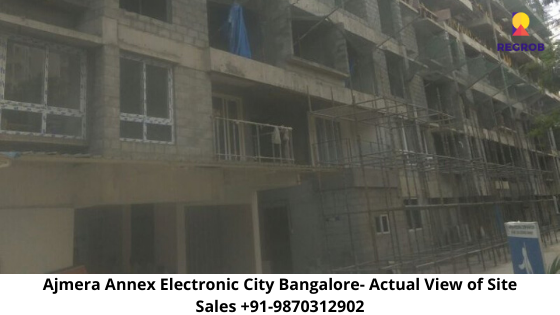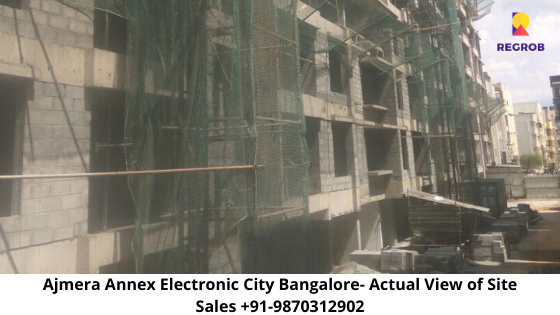 Watch Actual Video of Residential Project In Sarjapur Click Here
For More Info or Site, Visit Call Us at +91 – 9870312902
We also have some other options of residential projects for you in Bangalore Click Here