Customer Preferences and FAQ's Regarding Assetz 63 Degree East Project: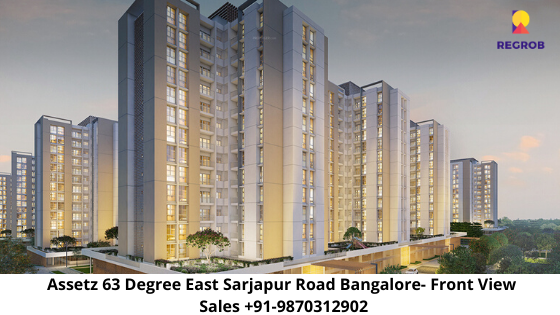 1.What is the developer's historical performance?
Founded in 2006, Assetz Property Group is one of the top real estate property developers in Bangalore, India. They are the front-runner amidst multinational developers in India with over 10 million square feet under development. Assetz, headquartered in Singapore, is a multi-faceted real estate development and asset management company with four business verticals: Commercial, Residential, Warehousing and Fund Management.
2. What are the location advantages that the property possesses?
Assetz 63 Degree East is strategically located in Sarjapur, an area that has seen increased connectivity over the last few years. The neighbourhood where the project is located is part of BDA's (Bangalore Development Authority) comprehensive development plan. Sarjapur Road will also see increased activity due to Phase 3 of the Bangalore Metro with Doddakannelli and Carmelaram as upcoming stations. The BDA also proposes a 100 feet road and a proposed peripheral ring road which will increase connectivity of the location.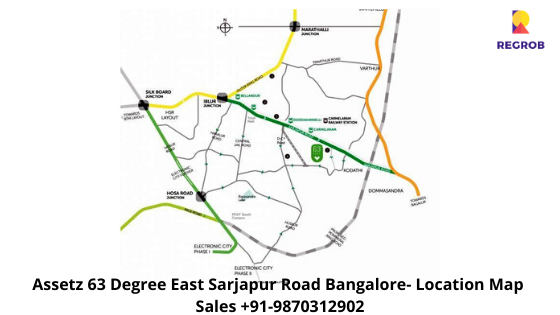 3. What are the various landmarks nearby?
This project is around Widespread Outer Ring Roads, National Highways. And it provides efficient transport link through other parts of the city.
The Forum Value, Phoenix Market City, Park Square Mall is nearby this project.
It has super specialty hospital. That is Sri Sathya Sai Institute of Higher Medical Sciences.
Also, several known academic institutes come below this location.
Sarjapur is a prime residential locality. It is for many house seekers in Bangalore is in the eastern quadrant of the city.
Sarjapur Road has benefit. It is because of its proximity to Outer Ring Road (ORR). Also, IT hubs of Electronics City and Marathahalli-Sarjapur stretch are nearby this project.
4. What is the upcoming Infrastructure in close proximity?
Infosys has signed Rs 2950-crore MoU to set up a software development center at Sarjapur road. Eventually, road, water, electricity will improve. Wipro had acquired 80 acres of land to make non-profit, private autonomous Premier University in Attibele Sarjapur road.
Some of the International schools like Indus International School, The International School Bangalore (TISB) Oakridge International School, Inventure Academy, Greenwood High International School, St Patrick's Academy etc are surrounded by the most famous builder's ongoing residential projects in Sarjapur road.
5. What is the appreciation potential down the lane?
Sarjapur road is a booming location with the presence of many tech parks and institutions this place is becoming a new centre for the home buyers especially working population finds this place close to their workplace thus appreciation in the coming future can be predicted.
6. Does the project falls under BDA?
Yes the project does get the approval of BDA
7. How can I maximize the ROI through renting and what is the general rent that is chargeable?
The rent in the location varies between 18000 to 30000
8. Is there any rental guarantee that will be provided?
As of now, there are no promises made by the project that will be provided but as the location of this project is in very much demand and there are a lot of tech parks nearby getting tenants will not be a problem.
9. What are the different unit options available?
1, 2 and 3 BHK
10. Is north or east facing house available?
Yes there are units available but it depends upon the availability of those units at the time purchase.
Homes at Assetz 63° East have been designed to incorporate optimal use of space to offer efficiently planned areas that are luxurious and filled with natural light and healthy air circulation. The specifications of the homes are of high quality with international/ European fixtures.
11. Is the house vaastu compliant?
Yes all home units are Vaastu Compliant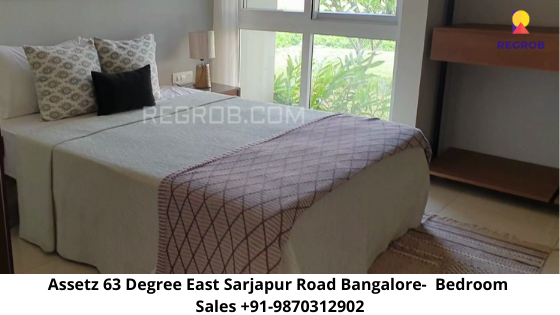 12. What are the car parking options available?
Yes, there is car parking available for all the units.
13. What are the security options that are provided?
Yes there is 24*7 security and cctv surveillance, Fire rated doors at fire escape staircases.
14. What is the open space of the building?
68% Open Space
15. What are the different amenities that are being offered?
At Assetz 63 Degree East, there are over 25 amenities that follow global standard facilities along with design sensibilities to make sure you wake up to a healthy life.
Futsal Court
Swimming Pool
Squash Court
Badminton Court
Tennis Court
Steam Room
Pool tables
Volleyball court
Gymnasium
Basketball Court
Table Tennis
Dedicated Cycling
Dedicated Walking Track
Skating rink
Yoga Rooms
Aerobics studio
16. What is the cost per Sqft of Assetz 63 Degree East Project?
₹ 4,808 – 6,957 per sqft it varies because of different units.
17. What are the different bank loan options that are offered?
Project has received approval from most of the major banks. So getting a home loan will not be a problem.
HDFC Bank
Punjab National Bank
ICICI Bank
18. What is the benefit if I am a first time home buyer?
A residential space designed for a wholesome community lifestyle that includes healthy living and social activities combined with luxury eco-friendly homes; caring not just for your family, but also for the environment.
Assetz 63° East, takes every care to ensure our environment stays well-protected. This means eco-friendly initiatives and conservation systems to protect our shared home.
19. What is the USP of the property?
Regrob RERA No. : AG/KN/171218/001182
Under Construction
Possession:Nov 2018
Apartment: 1, 2, 3 BHK
No. of Towers: 5 Towers
No. of Floors: 16 Floors
No. of Units: 1608 Units
Total Project Area: 17.77 Acres
20. What kinds of customizations are permissible?
You can customize interiors of the house as far as it doesn't hamper the construction of the tower which may cause damage. Further information will be guided once you have purchased the unit.
21. From when does the possession start?
Sep 2020
22. Is there any common wall sharing?
Builders have taken care of the privacy and there is no wall sharing among most of the units.
23. What are the different size variants available?
TOWER – B
Studio Unit – 474 Sq Ft
2 BHK – 1159 Sq Ft
3 BHK – 1370 Sq Ft – 1396 Sq Ft
TOWERS – C & D
1 BHK – 685 Sq Ft
2 BHK – 984 Sq Ft
3 BHK – 1157 Sq Ft
24. What is the technology used for construction?
Seismic resistant RCC structure using system formwork with concrete walls in main building & RCC framed structure using concrete blocks for basements, clubhouse & other amenities
25. Is there any sewage treatment plant and rainwater harvesting?
Water is precious, which is why our homes incorporate rainwater harvesting, groundwater collection, dual plumbing and various water replenishment methods, ensuring a sustainable life.
At Assetz 63° East, organic waste, post segregation at homes, is processed through an organic waste convertor. This compost can then be used for landscaping and for organic farming within the township.
Our homes are cleverly designed keeping climate analysis (wind and light patterns) in mind, helping energy conservation in a big way.
26. Will the interior services be provided?
As of now, there is no provision by project developers to provide interior services, but you will easily find interior decorators around the location.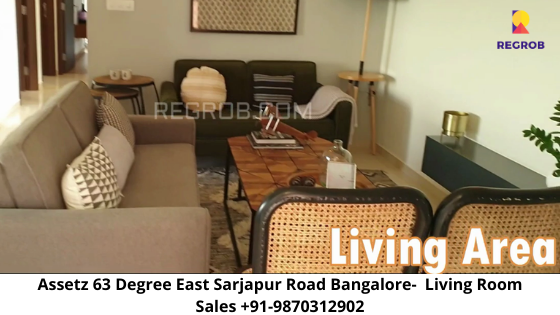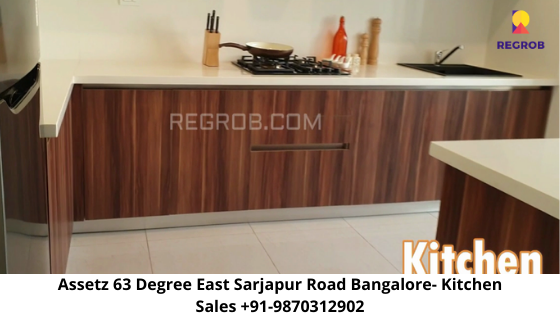 Visit our website for More Details Click Here
Watch Actual Video of Assetz 63 Degree East:
Watch Actual Video of Residential Project In Sarjapur Click Here
For More Info or Site, Visit Call Us at +91 – 9870312902
We also have some other options of residential projects for you in Bangalore Click Here