A look at our history books would tell us that most great civilizations of the past came up near river banks or coastlines. Moving to the present, the story has changed somewhat. Nowadays, it's the physical infrastructure and the promise of opportunity that attracts people to settle in an area. A look at the evolution of India's 'Silicon Valley' and 'Garden City' of Bangalore is a clear illustration of the same.
Bangalore city, earlier defined by its petes and cantonments, rapidly expanded eastwards and southwards in the late 90s. Fueled by the IT boom and the construction of the Outer Ring Road, many villages rapidly became urbanized and a part of this ever-expanding city. We are now on the cusp of history repeating itself, with north Bangalore being the new theatre of development. The one major factor, which has brought about this boom, is the construction of the Kempegowda International Airport in Devanahalli, which opened in 2008. Already one of the country's busiest airports, it has become a key economic and real estate driver. We look at the changes this airport has already indirectly brought about and also the impact of some promising developments announced recently.
As the population is increasing day by day. the land rates in India will go on increase unless there is some serious issue in that area. If you invest money in some bank or in shares there will be no guarantee for that money to get double. But if you invest in property especially land it will surely get increased.
How Increasing Demands of Millennials are Shaping Real Estate Market: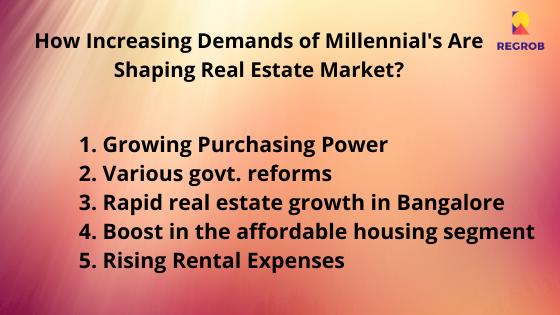 1. Growing Purchasing Power
The booming millennial workforce in the garden city has enabled Bangalore's real estate to grow significantly. Bangalore has always been one of the active residential markets and now is also known for having sustained demand for commercial space. According to a NASSCOM report, 2018, Bangalore is one of the fastest-growing technology start-up hubs in India with nearly 7,700 registered start-up firms. Of this, approximately 1,200 new start-ups were registered in 2018 alone.
2.Various govt. reforms:
The introduction of reforms like RERA & GST has made the sector go through significant improvements. As a business hub, the city caters to the technology and other services requirements of companies globally; no wonder then, that Bengaluru attracts a huge ratio of India's highly-skilled workforce.
3. Rapid real estate growth in Bangalore:
The year 2018 re-established Bangalore's position in the commercial space. According to a JLL report, the city accounted for the highest absorption of office space at 7.9 million sq. ft. in the first nine months of the year. Bangalore also fared decently in the residential segment. According to a recently conducted research, about 870 projects were launched in 2018. About 50% of this new supply was in the mid-segment (Rs 40-70 Lakh), followed by 24% in the affordable segment (Less than Rs 40 Lakh) and 26% supply in the luxury segment (Rs 70 Lakh and above).
4. Boost in the affordable housing segment:
Affordable housing witnessed a growth of 22% in sales during 2018. In the recent Budget announcement, the government has extended the deduction of interest on home loan by Rs 1.5 lakh to Rs 3.5 lakh and flat 1% rate for under-construction affordable housing to boost demand. Furthermore, the government has extended the benefit of Credit Link Subsidy Scheme (CLSS) on home loans for the Middle-Income Group (MIG) under the Pradhan Mantri Awas Yojana (Urban) till the end of March 2020 and this seems to be a major push for the progression of affordable housing segment.
5. Rising Rental Expenses:
Millennials favor homeownership over increasing rental expenses in the long run. Owning a home offers independence and flexibility that a rented home cannot. This generation would rather direct the money for monthly rent to pay off EMIs instead.

About South Bangalore:
South Bangalore is your best option. Popular for its breathtaking infrastructure, this area is known to be more developed and established than other parts of the city. Home to plenty of multinational companies, educational institutions, and recreational facilities, South Bangalore has something in store for all age groups.
Here is the Top Locality of South Bangalore:-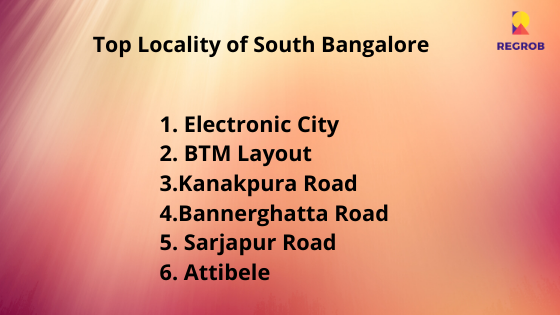 1. Electronic City
Nestled away in the South, Electronic City easily tops of the list of increasing residential properties. While the prices of both Phase 1 and Phase 2 differ, one can easily find an affordable home for as low as 15-20 lakhs. The zone is base to top corporates as it homes numerous IT parks in and around the area, making it an ideal choice for the working population.
In addition, it's excellent infrastructure including schools, hospital, banks as well as theatres and malls that provide a holistic lifestyle has further added to the real estate profile of this area. Many prestigious residential projects here like Green Terraces and GM Infinite Global Techies Town provide for a luxurious standard of living while maintaining affordable rates.
Watch Actual Video of Electronic City Click Here
2. BTM Layout
BTM Layout has a robust infrastructure with varied residential options. It is in close proximity to prominent areas such as Koramangala, HSR Layout and Bannerghatta Road. The rental value of apartments and villas in this area is on an upward swing because of the locational advantage and is proving to be its most beneficial factor.
Metro stations such as Rashtreeya Vidyalaya Road, Banashankari has expanded the connectivity of BTM Layout with other parts of the city. In addition, BTM Layout is also a part of the R V Road Terminal-Bommasandra line of Namma Metro.

3.Kanakpura Road
The proposed peripheral ring and the development of the new Metro line has given the zone an added advantage over others. With an excellent appreciation price, Kanakapura Road has seen a lot of commercials as well as residential development in the past few years. Impressive connectivity, as well as increasing development, have made it a sought after real estate zone.
4.Bannerghatta Road
Well established with hospitals like Jayadeva and schools like Clarence Public School and Radcliffe school, Bannerghatta Road is one of the oldest parts of the city. With easy accessibility and close proximity to areas like JP Nagar, Mysore Road, BTM Layout and NICE Road, it has emerged to be an excellent real estate investment.
5. Sarjapur Road
Sarjapur Road is another real estate hotspot that is surrounded by prime locations like Electronic City, Whitefield, and Koramangala. The presence of a variety of educational institutes and corporate offices including Wipro make this area a guaranteed spot for growth and development.
Watch Actual Video of Sarjapur Road Click Here
6. Attibele
Initially a quiet village in the south, Attibele has seen a major transformation in light of the growing residential activity in Electronic City. Thus, making it a paradise for affordable housing opportunities. It's an area worth exploring that offers smooth commute to IT parks like Anekal, Electronic City and Silk Board Junction. In this zone, one can enjoy benefits similar to that of Electronic City at much economical rates. Large tracts of land available in this zone have only increased the number of investment opportunities here.
Watch Actual Video of Residential Project In Sarjapur Click Here
For More Info or Site, Visit Call Us at +91 – 9870312902
We also have some other options of residential projects for you in Bangalore Click Here