A look at our history books would tell us that most great civilizations of the past came up near river banks or coastlines. Moving to the present, the story has changed somewhat. Nowadays, it's the physical infrastructure and the promise of opportunity that attracts people to settle in an area. A look at the evolution of India's 'Silicon Valley' and 'Garden City' of Bangalore is a clear illustration of the same.
Bangalore city, earlier defined by its petes and cantonments, rapidly expanded eastwards and southwards in the late 90s. Fueled by the IT boom and the construction of the Outer Ring Road, many villages rapidly became urbanized and a part of this ever-expanding city. We are now on the cusp of history repeating itself, with north Bangalore being the new theatre of development. The one major factor, which has brought about this boom, is the construction of the Kempegowda International Airport in Devanahalli, which opened in 2008. Already one of the country's busiest airports, it has become a key economic and real estate driver. We look at the changes this airport has already indirectly brought about and also the impact of some promising developments announced recently.
As the population is increasing day by day. the land rates in India will go on increase unless there is some serious issue in that area. If you invest money in some bank or in shares there will be no guarantee for that money to get double. But if you invest in property especially land it will surely get increased.
How Increasing Demands of Millennials are Shaping Real Estate Market: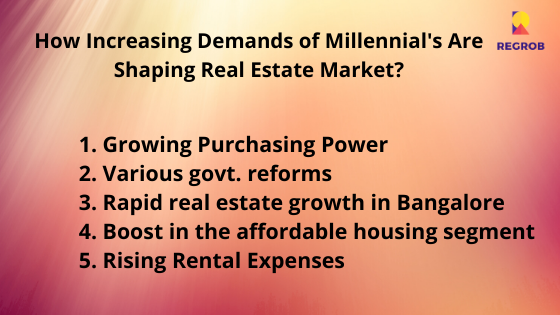 1.Growing Purchasing Power
The booming millennial workforce in the garden city has enabled Bangalore's real estate to grow significantly. Bangalore has always been one of the active residential markets and now is also known for having sustained demand for commercial space. According to a NASSCOM report, 2018, Bangalore is one of the fastest-growing technology start-up hubs in India with nearly 7,700 registered start-up firms. Of this, approximately 1,200 new start-ups were registered in 2018 alone.
2.Various govt. reforms:
The introduction of reforms like RERA & GST has made the sector go through significant improvements. As a business hub, the city caters to the technology and other services requirements of companies globally; no wonder then, that Bengaluru attracts a huge ratio of India's highly-skilled workforce.
3. Rapid real estate growth in Bangalore:
The year 2018 re-established Bangalore's position in the commercial space. According to a JLL report, the city accounted for the highest absorption of office space at 7.9 million sq. ft. in the first nine months of the year. Bangalore also fared decently in the residential segment. According to a recently conducted research, about 870 projects were launched in 2018. About 50% of this new supply was in the mid-segment (Rs 40-70 Lakh), followed by 24% in the affordable segment (Less than Rs 40 Lakh) and 26% supply in the luxury segment (Rs 70 Lakh and above).
4. Boost in the affordable housing segment:
Affordable housing witnessed a growth of 22% in sales during 2018. In the recent Budget announcement, the government has extended the deduction of interest on home loan by Rs 1.5 lakh to Rs 3.5 lakh and flat 1% rate for under-construction affordable housing to boost demand. Furthermore, the government has extended the benefit of Credit Link Subsidy Scheme (CLSS) on home loans for the Middle-Income Group (MIG) under the Pradhan Mantri Awas Yojana (Urban) till the end of March 2020 and this seems to be a major push for the progression of affordable housing segment.
5. Rising Rental Expenses:
Millennials favor homeownership over increasing rental expenses in the long run. Owning a home offers independence and flexibility that a rented home cannot. This generation would rather direct the money for monthly rent to pay off EMIs instead.
East Bangalore:
The primary reason an individual opts to reside in Bangalore is to explore excellent career opportunities with remarkable multinational companies. East Bangalore maintains the perfect balance in creating a working environment and a peaceful living. For the working population organizations like Volvo, SAP, IBM are just a short distance away. Whereas for the people who love to enjoy a serene view and experience a high standard of living then infinite lavish residential projects are available. Comfort, class, and convenience are what define East Bangalore.

Whitefield:
A well-established corporate and residential hub, Whitefield is a goldmine for many searching for a higher standard of living. With a plethora of options to choose from in the ready to move segment and with the new projects coming up every day, Whitefield is emerging as a destination that promises a home for all classes. With the presence of the purple metro line and the introduction of the train service, the on-road traffic should reduce in the future. Major IT parks such as ITPL Tech Park and Bagmane Technology Centre are popular employment destinations in and around Whitefield. These tech parks along with recreational malls such as Phoenix Market City and VR Bengaluru have increased Whitefield's popularity amongst the working population and youth. Whitefield's real estate market is expected to retain its most important tag amongst other areas for at least coming one decade in Bangalore.
The state high-level committee has recently cleared several investment proposals in Bangalore with two of the major projects in East Bangalore. Among the proposals cleared was that of Oracle India Pvt Ltd ( Rs 2,438 crore) for 13 acres and of land in Kadubeesanahalli Village, Outer Ring Road, Bangalore East Taluk. Bluestone Tech Park has been allotted 55 acres in Appajipura, Samethanahalli and Koraluru villages of  Hoskote taluk to set up an integrated IT Park at a cost of Rs 2,051.39 crore. This makes it very clear that these projects will increase the rental income for real estate investors in East Bangalore. So if you haven't invested yet and are planning to invest in Bangalore, these two areas can be great options too. 
For Site Visit & Queries Call us at +91 – 6366370375
You can also watch the actual videos of other residential projects of Whitefield Esast Bangalore Click Here
We also have some other options of residential projects for you in Bangalore Click Here