Bhutani Group has come up with new commercial project Bhutani Cyberthum situated at Sector 140A, Noida Expressway.
Cyberthum Noida offers Business spaces, Retail shops, Office spaces. Bhutani Group has introduced many other remarkable projects like Alphathum, Ithum and World Square Mall.
Noida is considered to be the hub of projects. Due to its precise location, one can find many BPO's, MNC's, KPO's and big corporate around.
The construction offers retails shops and office space with infrastructure like roads of international standards, district cooling system that cools the building with chilled water thereby cutting down on energy consumption, efficient water management, automated waste collection system, fire station and emergency response center, multi-level car parking and much more.
The latest offering from Bhutani Group, is one of the most popular and credible names in the real estate sector. The tallest commercial complex in Northern India with 50 level iconic towers. The office towers here are designed as vertical campus. It has separate zones for different work modes. Bhutani Cyberthum also promises many attractions for retailers. Shoppers here will be treated to an experience they would never have experienced. Each and everything, ranging from payment platforms to delivery mechanisms here will be tech-enabled.
RERA No. Phase A- UPRERAPRJ236478
Phase B- UPRERAPRJ240015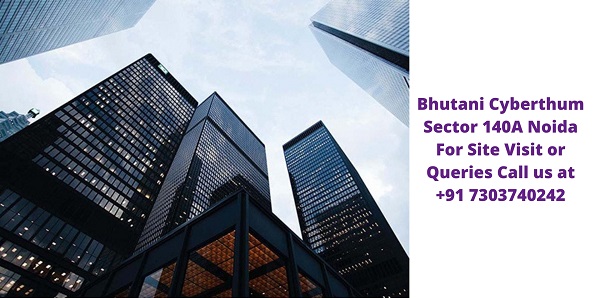 Key points:
CLP Plan with 12 % returns
Monthly return after paying 30 %
Minimum Investment – 9 Lac
9 Year Lease Guarantee
 BSP INR 5990 per Sq.ft
Office Space – 400 Sqft – 1640 Sqft
231.7 M Tower Height
5371 Total parking
6.9 M Floor to Floor Internal Height at Ground Floor
4.5 M Office Floor to Floor Internal Height
1000 Trees to be planted
Bhutani Cyberthum building will be one of the tallest Commercial / Office Complexes of North India. It comprises high street Retail with beautiful Water bodies, ornamental pools and water shows, and all in the sky connecting the towers.
The location of this spectacular project is comprised of several location advantages, for instance,
Metro Station at walking distance
The location is smartly connected with Noida Expressway & FNG Expressway
The upcoming Jewar International Airport is 25 minutes away &IGI is 45 min run.
Walking distance from 137 & 142 Metro Station.
Educational institutes, 5-star hotels, shopping malls, hospitals, and commercial hubs are available in the area.
Lead Platinum certified Building & it is surrounded by several residential sector apartments.
Specifications:
District Cooling System
Buildings are Cooled With Chilled Water Reducing Energy Cost
Utility Tunnel
Hydraulic Parking
2 Multi-levels Parking Planned, With 5.371 Car Park Capacities
A Next Generation Technology.
Power Ensuring 99.999% Power Reliability
Fire Station and Emergency Response Center
Water Management
Zero Discharge with Storage and Utilization of Surface Run-Off and Rain Water
Drinkable Water Tap
Automated Waste Collection System
With Provision for Special Facilities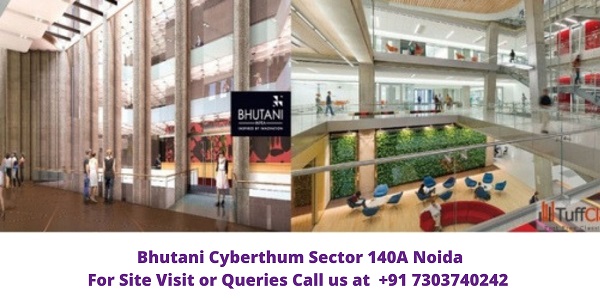 A COMMERCIAL WITH LOTS OF AMMINETIES
Cyberthum having best amenities – Car parking, Club House, Swimming pool, Security Personnel, Maintenance Staff, and Visitor Parking, Safe lifts, round the clock Security and Fire Alarm system.
All about Bhutani Infrastructure
Bhutani Group is on a constant path of development and performing best traditions in the world of development. Supported by a decade's value of practice and an affluence of expertise, the Bhutani Group has established conceptualization and accomplishment of upscale real estate plans in the retail, business sections which incorporates the most high-level IT office spaces. In an addition to the already broad collection of fabulous services it offers, plans through each step right from site procurement, drawing, and construction to production, retailing, and sales.
Investing at Bhutani Cyberthum
Bhutani Cyberthum is considered as the present day running project. It is developing in Noida Sector 140A near Noida Expressway. One can make advances in this plan according to their preference and requirements. The project has is compliant to render a cleaning prospect to the investors. Additionally, this design has focused to present comfort. One can get everything once they have reached to the project. This project covers every kind of business development. Cyberthum has provided several payment plans so that anyone can opt accordingly.
Why Invest In Sector 140A Noida?
Noida is settled in the Gautam Buddh Nagar district of Uttar Pradesh. It possesses an excellent place as it extends approximately 20 km away from Greater Noida, the district quarters, and New Delhi, the nation's center. Lucknow, the metropolis of Uttar Pradesh is barely 457 km apart from it. From the commencement, Noida was intended to act as a drive towards urbanization. The trend endures today with unique infrastructure in the city. The Noida-Greater Noida Expressway, Yamuna Expressway, and DND Flyover are simply some of the infrastructural wonders in the city. Noida also has a Film City that houses numerous broadcast channels, media companies, and institutes contributing media education.
The Bhutani Group has pioneered conceptualization and execution of upscale real estate projects in the retail, commercial segments which includes the most advanced IT office spaces.
In addition to the already wide array of traditional services it offers, it also sees projects through each stage right from site acquisition, designing and development to construction, marketing and sales.
In a very short span of time the Group has left strong footprints in the entire spectrum of real estate development, creating and managing several projects across Delhi NCR and has done so by assuring its clients and business partners a sense of utmost quality, timely deliveries and reliability.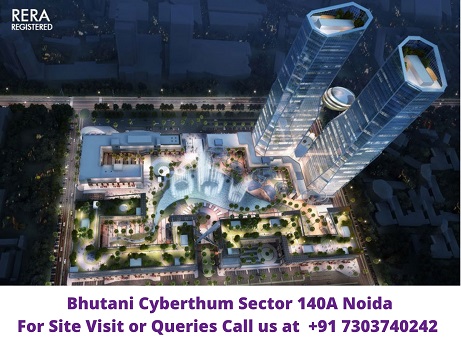 For Actual Videos of Bhutani Alphathum, Click Here
For any Query or Site Visit Call us at +91 – 7303740242