A look at our history books would tell us that most great civilizations of the past came up near river banks or coastlines. Moving to the present, the story has changed somewhat. Nowadays, it's the physical infrastructure and the promise of opportunity that attracts people to settle in an area. A look at the evolution of India's 'Silicon Valley' and 'Garden City' of Bangalore is a clear illustration of the same.
Bangalore city, earlier defined by its petes and cantonments, rapidly expanded eastwards and southwards in the late 90s. Fueled by the IT boom and the construction of the Outer Ring Road, many villages rapidly became urbanized and a part of this ever-expanding city. We are now on the cusp of history repeating itself, with north Bangalore being the new theatre of development. The one major factor, which has brought about this boom, is the construction of the Kempegowda International Airport in Devanahalli, which opened in 2008. Already one of the country's busiest airports, it has become a key economic and real estate driver. We look at the changes this airport has already indirectly brought about and also the impact of some promising developments announced recently.
How Increasing Demands of Millennials are Shaping Real Estate Market
1.  Growing Purchasing Power:
The booming millennial workforce in the garden city has enabled Bangalore's real estate to grow significantly. Bangalore has always been one of the active residential markets and now is also known for having sustained demand for commercial space. According to a NASSCOM report, 2018, Bangalore is one of the fastest-growing technology start-up hubs in India with nearly 7,700 registered start-up firms. Of this, approximately 1,200 new start-ups were registered in 2018 alone.
2.Various govt. reforms:
The introduction of reforms like RERA & GST has made the sector go through significant improvements. As a business hub, the city caters to the technology and other services requirements of companies globally; no wonder then, that Bengaluru attracts a huge ratio of India's highly-skilled workforce.
3.  Rapid real estate growth in Bangalore:
The year 2018 re-established Bangalore's position in the commercial space. According to a JLL report, the city accounted for the highest absorption of office space at 7.9 million sq. ft. in the first nine months of the year. Bangalore also fared decently in the residential segment. According to a recently conducted research, about 870 projects were launched in 2018. About 50% of this new supply was in the mid-segment (Rs 40-70 Lakh), followed by 24% in the affordable segment (Less than Rs 40 Lakh) and 26% supply in the luxury segment (Rs 70 Lakh and above).
4. Boost in the affordable housing segment:
Affordable housing witnessed a growth of 22% in sales during 2018. In the recent Budget announcement, the government has extended the deduction of interest on home loan by Rs 1.5 lakh to Rs 3.5 lakh and flat 1% rate for under-construction affordable housing to boost demand. Furthermore, the government has extended the benefit of Credit Link Subsidy Scheme (CLSS) on home loans for the Middle-Income Group (MIG) under the Pradhan Mantri Awas Yojana (Urban) till the end of March 2020 and this seems to be a major push for the progression of affordable housing segment.
5.  Rising Rental Expenses:
Millennials favor homeownership over increasing rental expenses in the long run. Owning a home offers independence and flexibility that a rented home cannot. This generation would rather direct the money for monthly rent to pay off EMIs instead.
BHUVI BY AMSHA:
Come to Bhuvi- A home that is not only exceptional in design and feel but is also realistically priced.
Hidden away from the hustle and bustle of the mundane life, Bhuvi is a breath of fresh air. Explore life within and beyond its walls. Bhuvi provides you with a platform to celebrate family bonding in a well-defined environment and build long-lasting social relationships. Made for people from all walks of life, our property is welcoming and accommodating. The contemporary amenities such as recreational clubhouse, squash court, football practice court, celebration zone, and more are sure to enrich your lifestyle.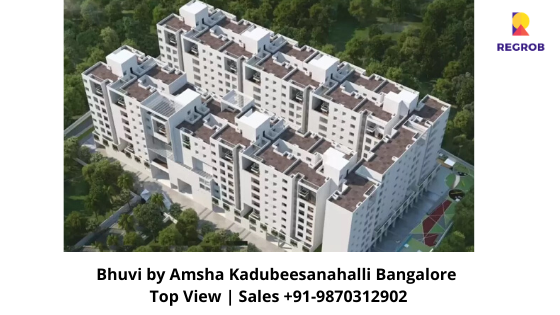 "A Home Where Everything is a Blessing…"
A premium gated residential cluster of 232 luxury apartments spread over a pristinely manicured ground, Bhuvi by Amsha offers varying sizes of homes across an elegant high rise 8 blocks of 8 floors each. It's a home that you'll be proud to call yours. Topped with excellent facilities, ample parking space, and an expansive clubhouse, Bhuvi is a unique blend of contemporary architecture and Vaastu compliance. To put it simply, Bhuvi is a dream turned reality!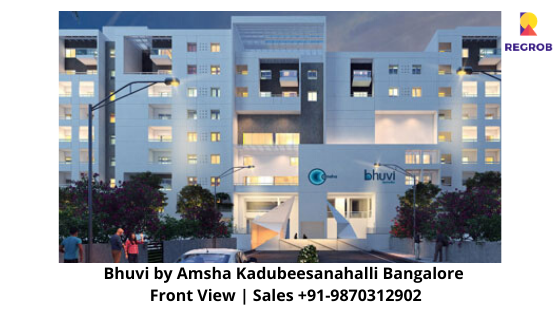 Bhuvi by Amsha Location Highlights: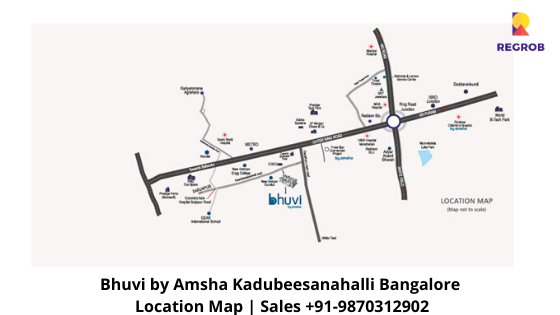 PROMINENT LOCATIONS:
ORR – 0.9 Km
Marathahalli – 3 Kms
Whitefield – 10 Kms
Sarjapur – 3.6 Kms
MALLS :
Central Mall – 3.4 Km
Soul Space Arena Mall – 6 Km
Phoenix Markel City – 8.9 Kms
Forum Value Mall – 10 Km
SCHOOLS :
New Horizon Gurukul – 250 MTS
GEAR International – 22 Kms
The international School (TISR)- 10 Km.
Greenwood Interregional School 6A Km
IT PARKS :
Prestige Tech Park – 1.3 Km
Embassy Tech Village- 1.3 KMS
Embassy Tech Square – 13 Km
Mantri Commercio – 2.4 Kms
RMZ Ecospoce – 3 Kms
Bagmane World Tech. Center – 6.7 km
Prestige Ferns – 8.5 Kms
ITPL Whitefield – 12.3 Kms
KEY HOSPITALS :
Sakra World Hospital –  2.4 Kms
Sankara Eye Hospital – 5 Kms
Rainbow Children Hospital – 5 Kms
Vydehi Hospital – 10 Kms
Manipal Hospital – 8.9 Kms
Columbia Asia- 6.7 Kms
Bhuvi by Amsha Floor Plans: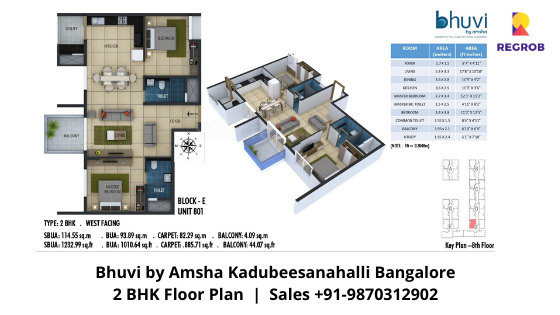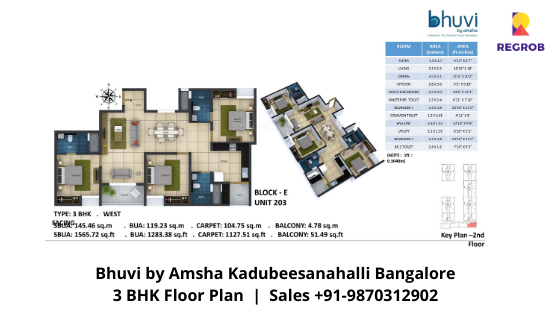 Highlights of Bhuvi by Amsha :
Indoors :
20,000sft Clubhouse
Temperature Controlled Swimming & Toddler Pool
Exclusive Yoga Room
Aerobic Room
Double Badminton Court
Squash Court
Table Tennis
Snooker Table
Presentation 6 Tuition Rooms
Waiting Lounge Indoor Board Games Room
Outdoors:
Tennis Court
Half Basketball Court
Football Practice Court
Multi-purpose Court
Outdoor Gym
Celebration Zone
Amphitheatre
Children's Play Area
Secluded area for Sr Citizens & Kids
Walking/Cycling Track
Sand Pit
Watch these Videos:
Q- As a man is said to have a right to his property, he may be equally said to have a property in BHUVI BY AMSHA which a property seeker should buy?
Current condition: – All of the mentioned below are under construction.
| | |
| --- | --- |
| UNIT TYPE | AREA (IN SQ. FT.) |
| 2 BHK | 1311 |
| 3 BHK | 1670 |
Q- I always say if the house I live in is comfortable, and I have all the amenities I need, then what more can you ask for? Talking about the Amenities in BHUVI BY AMSHA: –
The following are the various amenities offered by project to its residents: –
AMENITIES:
Yoga Room
Children's Play Area
Festive Lawn
Multipurpose Hall
Swimming Pool
Amphitheater
Sand Pit
20,000 sft Clubhouse
Badminton Court
Squash Court
Table Tennis
Bhuvi by Amsha Master Plan: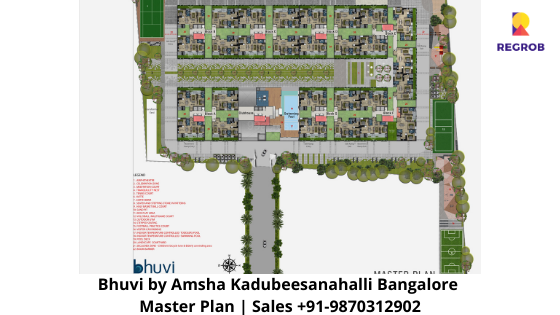 Visit Our Website: Click Here
For More Info or Site, Visit Call Us at +91 – 9870312902 
We also have some other options of residential projects for you in Bangalore Click Here