A look at our history books would tell us that most great civilizations of the past came up near river banks or coastlines. Moving to the present, the story has changed somewhat. Nowadays, it's the physical infrastructure and the promise of opportunity that attracts people to settle in an area. A look at the evolution of India's 'Silicon Valley' and 'Garden City' of Bangalore is a clear illustration of the same.
Bangalore city, earlier defined by its petes and cantonments, rapidly expanded eastwards and southwards in the late 90s. Fueled by the IT boom and the construction of the Outer Ring Road, many villages rapidly became urbanized and a part of this ever-expanding city. We are now on the cusp of history repeating itself, with north Bangalore being the new theatre of development. The one major factor, which has brought about this boom, is the construction of the Kempegowda International Airport in Devanahalli, which opened in 2008. Already one of the country's busiest airports, it has become a key economic and real estate driver. We look at the changes this airport has already indirectly brought about and also the impact of some promising developments announced recently.
As the population is increasing day by day. the land rates in India will go on increase unless there is some serious issue in that area. If you invest money in some bank or in shares there will be no guarantee for that money to get double. But if you invest in property especially land it will surely get increased.
Why Sarjapur Road Is An Amazing Place To Stay?
Here are the 5 most convincing reasons:
1. IT careers
Multiple eminent IT companies including Accenture, Cisco, Wipro, HP, KPMG, Nokia, and others are well-set up in this area. With the swift growth of more and more such companies and startups, employment opportunities are expected to rise further – pulling more and more professionals to this area. And, nothing could be better when one can live in the vicinity of their workplace, isn't it?
2. Infrastructure And Connectivity
Bangalore International Airport (BIAL) from Sarjapur Road is at a distance of 1 hour and 55 minutes. The Majestic Bus Stand, KSRTC Bus Stand, and Bangalore City Railway Station are just 15 kilometers away from Sarjapur Road. The planned Peripheral Ring Road (PRR) which connects to Bellary Road, Hosur Road, Bellary Road, and Old Madras Road will boost the realty sector here. The imminent metro lines which are under construction will connect Sarjapur in the south-east and Yelahanka in the north. This location offers good road connectivity to key IT strips of Bangalore like Electronic City, Marathahalli, Silk Board, Whitefield, Koramangala, Madiwala, and a few more.
3. Educational facilities
Sarjapur houses a good list of schools promising high-quality education for children. So, if you are one of those who have a family and looking for the best education for your children then being at Sarjapur would give you ample of amazing options to choose from. Delhi Public School, Orchids International School, St. Peters, St. Francis, Indus International School, Harvest International School, Silver Oaks International School, Sarjapur has many schools who provide high standard learning for children. Also, parents will spend less time worrying about having their children to commute far from home just to receive a quality education
4. Shopping centers
Along with lots of commercial establishments, Sarjapur Road is also filled in with many good shopping destinations. Moms and homemakers who are too busy looking to balance work-home-children want shopping destinations close to the place they stay. From regular groceries to lavish fashion items, Sarjapur houses many shipping malls in close vicinity – Central Mall, Total Mall, Market Square Mall are just a few to name.
5. Capital & Rental Values
Despite several major policy reforms in the construction sector, the Sarjapur locality witnessed a surge of 2.6 percent. The average ask rate here varies between Rs 4,300 per sq. ft and Rs 5,700 per sq. ft. Considering rental values, the average rental rates for a 1BHK is around 10,500 Rs – 15,000 Rs, for a 2BHK is about 17,200 Rs – 21,000 Rs and 3BHK is in between 22,800 Rs – 29,500 Rs. Also, the demand for rental properties is at peak owing to the current prominent presence and growth of commercial development.
About Classic Ventures Builder:
Established in 2016, Classic Ventures offers properties with clear titles in select locations, at competitive prices. We strive to ensure our projects are eco-friendly and have a strong emphasis on design.
Classic Ventures – Reputed promoters with a proven track record. Classic Ventures is promoted by Classic Developers and Featherlite. Classic Developers is a reputed name with over 25 years of experience on the real estate landscape. Promoted by Shri. Y.C. Rama Reddy and Sandeep Reddy, Classic Developers has successfully completed several prestigious projects including Classic Crystal Park, Classic Elmwood, Classic Pleasant Ville and Classic Paradise.
Classic Ventures The Sanctuary Overview:
The Sanctuary is going to be the next residential hotspot in the long-forgotten "Garden City" that was once Bengaluru. With the Sanctuary, Classic Ventures LLP brings affordable luxury plots and world-class amenities to all its clients. All this at an affordable price, and everything already in place!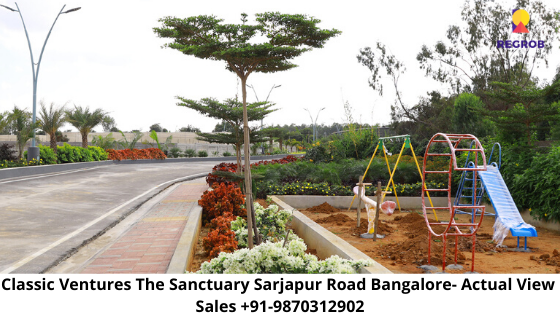 An excellent investment option, this layout has everything a discerning buyer looks for! Buying a plot here also gives you the option of getting your villa constructed by us, ensuring timely completion and top-quality material/finishes you desire, all within a tight budget.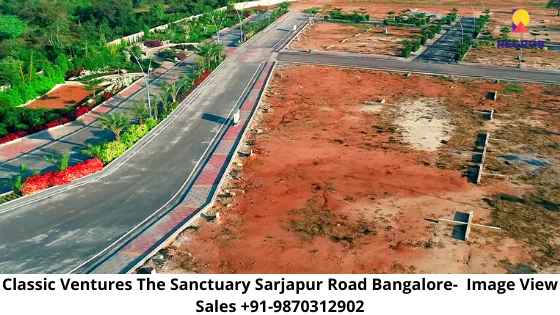 The hand-picked and carefully chosen widespread cover of trees/plants around the site helps in reducing pollution, providing fresh clean air and shade for all residents at The Sanctuary.
Our sprawling property has been adorned with meticulously handpicked flora that are naturally equipped to absorb higher quantities of pollutants and produce copious amounts of oxygen. These easily manageable trees, plants, shrubs, and flowering plants have been specifically chosen to own to their short growth period and thick foliage.  
Highlights:
Project Location – Off Sarjapur Road, Varthur Road
Total Land Area – 45 Acres
No. of Units 113 Plots
Unit Variants – 1200 – 1500 Sq.ft
Possession Time – Ready to Build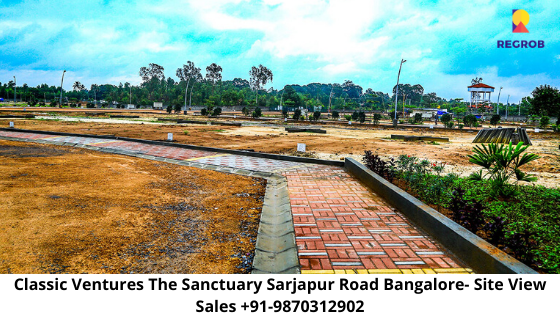 Location Advantages & Direction of Classic Ventures The Sanctuary:
When it comes to property, the importance of location can never be overemphasized. At Classic Ventures, we too invest the maximum amount of time on this crucial aspect. We are proud to state that The Sanctuary scores high on each of the parameters of evaluation.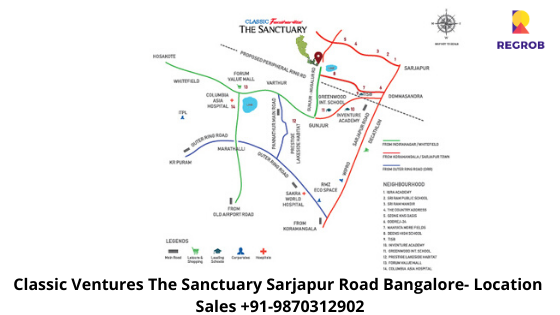 Located on Whitefield-Sarjapur Road, The Sanctuary is well connected to one of Bangalore's most vibrant and growing tech zones while offering an amazing green and serene ambiance. The project is also close to several shopping malls, hospitals, schools, colleges, etc. These coupled with quality amenities within the project make The Sanctuary a compelling buy for those who wish to live in peace without missing the action around.
Coming up close to the bustling locality of Whitefield, The Sanctuary offers great connectivity to most of the important tech hotspots in our city. It is strategically located almost in the centre of the Sarjapur-Whitefield corridor and connects ITPL, all the way to Electronic City.
Top international schools and reputed education institutions are just a short ride away.
Located in close proximity to the project, are major shopping malls, hospitals, schools, colleges etc. thus offering a preferred destination for home seekers – close proximity to the city, yet away from the noise, pollution, and bustle. Also, a big positive is that it is being developed in an area that lies next to a green zone and the upcoming Peripheral Ring Road, which will improve all-around connectivity while giving you the calmness and quiet that you crave.
Key Area Area:
Iqra Academy 
Sri Ram Public School
Sri Ram Mandir
The Country Address.
Ozone Kns Oasis
Godrej-24
Manyata More Fields
Deens High School
Tisb
Inventure Academy
Greenwood Int. School
Prestige Lakeside Habitat
Forum Value Mall
Columbia Asia Hospital
Master Plan of Classic Ventures The Sanctuary: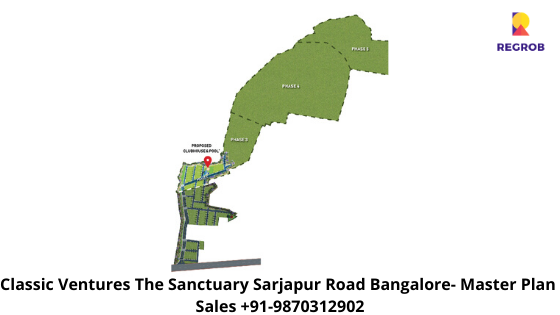 Q- As a man is said to have a right to his property, he may be equally said to have a property in Classic Ventures the Sanctuary which a property seeker should buy?
| | | |
| --- | --- | --- |
| TYPE | Area | Price |
| 30 x 40 | 1200 | INR 39 Lakhs Onwards |
| 30 x 50 | 1500 | INR 49 lakhs Onwards |
Q- I always say if the house I live in is comfortable, and I have all the amenities I need, then what more can you ask for? Talking about the Amenities in Classic Ventures The Sanctuary: –
The following are the various amenities offered by project to its residents: –
Amenities
Children's Play Area
Jogging Track
Meditation Zone
Handpicked Flora
Rainwater Harvesting
Clubhouse
Swimming Pool
Gym
Multipurpose Hall
Indoor Games Area
Classic Ventures The Sanctuary Review Video:
Watch Actual Video of Residential Project In Sarjapur Click Here
For More Info or Site, Visit Call Us at +91 – 9870312902
We also have some other options of residential projects for you in Bangalore Click Here