A look at our history books would tell us that most great civilizations of the past came up near river banks or coastlines. Moving to the present, the story has changed somewhat. Nowadays, it's the physical infrastructure and the promise of opportunity that attracts people to settle in an area. A look at the evolution of India's 'Silicon Valley' and 'Garden City' of Bangalore is a clear illustration of the same.
Bangalore city, earlier defined by its petes and cantonments, rapidly expanded eastwards and southwards in the late 90s. Fueled by the IT boom and the construction of the Outer Ring Road, many villages rapidly became urbanized and a part of this ever-expanding city. We are now on the cusp of history repeating itself, with north Bangalore being the new theatre of development. The one major factor, which has brought about this boom, is the construction of the Kempegowda International Airport in Devanahalli, which opened in 2008. Already one of the country's busiest airports, it has become a key economic and real estate driver. We look at the changes this airport has already indirectly brought about and also the impact of some promising developments announced recently.
As the population is increasing day by day. the land rates in India will go on increase unless there is some serious issue in that area. If you invest money in some bank or in shares there will be no guarantee for that money to get double. But if you invest in property especially land it will surely get increased.
Why Sarjapur Road Is An Amazing Place To Stay?
Here are the 5 most convincing reasons:
1. IT careers
Multiple eminent IT companies including Accenture, Cisco, Wipro, HP, KPMG, Nokia, and others are well-set up in this area. With the swift growth of more and more such companies and startups, employment opportunities are expected to rise further – pulling more and more professionals to this area. And, nothing could be better when one can live in the vicinity of their workplace, isn't it?
2. Infrastructure And Connectivity
Bangalore International Airport (BIAL) from Sarjapur Road is at a distance of 1 hour and 55 minutes. The Majestic Bus Stand, KSRTC Bus Stand, and Bangalore City Railway Station are just 15 kilometers away from Sarjapur Road. The planned Peripheral Ring Road (PRR) which connects to Bellary Road, Hosur Road, Bellary Road, and Old Madras Road will boost the realty sector here. The imminent metro lines which are under construction will connect Sarjapur in the south-east and Yelahanka in the north. This location offers good road connectivity to key IT strips of Bangalore like Electronic City, Marathahalli, Silk Board, Whitefield, Koramangala, Madiwala, and a few more.
3. Educational facilities
Sarjapur houses a good list of schools promising high-quality education for children. So, if you are one of those who have a family and looking for the best education for your children then being at Sarjapur would give you ample of amazing options to choose from. Delhi Public School, Orchids International School, St. Peters, St. Francis, Indus International School, Harvest International School, Silver Oaks International School, Sarjapur has many schools who provide high standard learning for children. Also, parents will spend less time worrying about having their children to commute far from home just to receive a quality education
4. Shopping centers
Along with lots of commercial establishments, Sarjapur Road is also filled in with many good shopping destinations. Moms and homemakers who are too busy looking to balance work-home-children want shopping destinations close to the place they stay. From regular groceries to lavish fashion items, Sarjapur houses many shipping malls in close vicinity – Central Mall, Total Mall, Market Square Mall are just a few to name.
5. Capital & Rental Values
Despite several major policy reforms in the construction sector, the Sarjapur locality witnessed a surge of 2.6 percent. The average ask rate here varies between Rs 4,300 per sq. ft and Rs 5,700 per sq. ft. Considering rental values, the average rental rates for a 1BHK is around 10,500 Rs – 15,000 Rs, for a 2BHK is about 17,200 Rs – 21,000 Rs and 3BHK is in between 22,800 Rs – 29,500 Rs. Also, the demand for rental properties is at peak owing to the current prominent presence and growth of commercial development.
Dasta Concerto Overview:
At Dasta Concerto, for some reason, we've attracted a large number of young families who have moved in. 90 Families have comfortably moved into the building. Rising 15 storeys into the air, the tower has 2 BHK and 3 BHK apartments. They range in cost between 59 lakhs and 88 lakhs.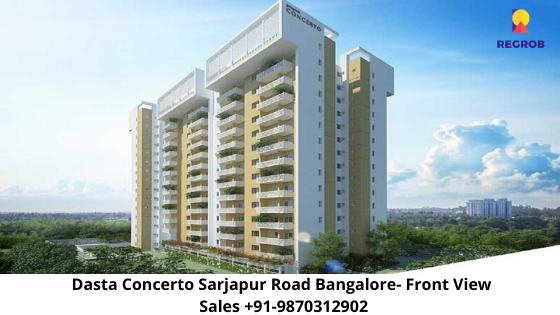 Importantly, Concerto is also located roughly 20 – 25 minutes away from Whitefield, Electronic City, and the Sarjapur – Outer Ring Road Junction. Concerto overlooks 50 acres of a naturally occurring bamboo grove. This green vegetation is part of Sompura Lake that is behind the property. Being government-protected land, this view is preserved and will ideally never change.
The most iconic component of the building is the Jali. With an elegant lace-like texture, this architectural element has its roots in Indian Architecture. Its purpose is not purely aesthetic. It also satisfies 2 additional design requirements.
It replaces elaborately painted MS railings that are prone to rust, reducing the cost of ongoing maintenance. The Precast Concrete Jali and simple Mild Steel handrail together ensure the right level of safety on all balconies.
The dual requirement of easing vehicular movement and ensuring the safety of pedestrians is met by broad maneuverable driveways and a defined grass-paved jogging track. This track also doubles up as a buffer between the ground floor apartments and the driveway while helping the building meet fire department standards. The grounds also include a Tree Avenue that hugs the driveway and a large landscaped zone on the eastern side.
The basement is well-ventilated with multiple inlets for natural light. Two separate ramps service the entry and exit of the basement. Both these ramps are 26 feet in width and lead to an 18 feet driveway within the basement.
The 18 feet driveways in the basement offer ample space to perform a Reverse-Two-Point parking maneuver with ease, every time.
Concerto's water management system is one of the more complex design problems we have solved. It delivers a higher quality of water than standard systems. A central water softening plant conditions a variety of different water sources and pipes soft water to all taps. Drinking water is conditioned in a centralised RO and piped to every kitchen, reducing the cost and the need for any personal water purifier.
All standard systems recycle flush water (black water) by mixing it with greywater, we don't. We discard flush water. Our recycled water is clear and odorless and had been Certified by DVGW & NSF for domestic use.
Beautiful And Opulent Common Spaces:
From the exterior of the building to its interiors, Concerto aims to emulate a five-star experience. Residents will be greeted by a double-height Lobby equipped with a Reception and a Waiting Area. Every apartment will enjoy expansive corridors. In terms of privacy, none of the apartments look on to each other and a majority of the units have a private entry.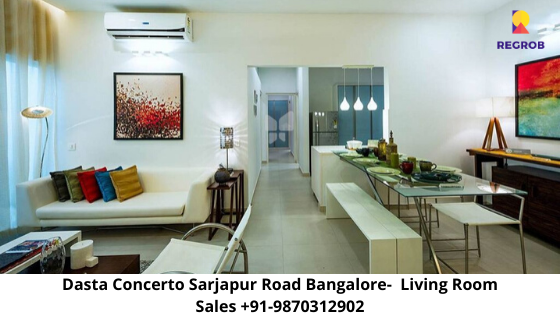 2 High-Speed Elevators (1 Stretcher Sized)
7' Wide Corridors
100% Lighting Power Backup
Led Lighting For Common Area
85 Cctv Cameras
100% Vastu Compliant
The Entire Site Has Been Layed Out To Comply With The Prerequisites Of Vastu.
Easy Maintenance. Efficiently Designed To Reduce Upkeep
The entire facade of the building has no horizontal surfaces like ledges or exposed beams. This prevents birds from nesting and thereby eliminates the maintenance hassles that come with bird droppings.
100% Led Lighting Uses Less Electricity
High Quality Exterior Paint Will Preserve The Building From The Elements
Centralized Dish Tv
Kitchens More Room To Cook In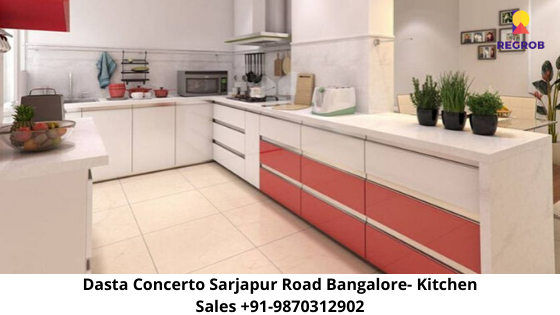 We have categorically focused on improving the usability of the kitchen. You'll need to walk into one to know the difference. The kitchens at Concerto are 35% bigger than the prevalent industry standard. We have also managed to build in 50% more kitchen counter space by optimizing the placement of the sink, the hob, and the fridge.
To further strengthen our commitment to optimizing the kitchen, we will deliver your apartment with additional functionality in the kitchen, at no extra charge.
Your kitchen will come with optimally designed cabinets that are fitted with soft closing hardware. A Granite countertop with a branded sink. We have also gone the extra mile to equip it with a Hob and Chimney.
Dasta Concerto Location Advantage & Direction:
Sarjapur is a locality situated in Bangalore. The accommodations in this area have been high in demand because of the fast developments that have been made in the field of software. The key regions of Bangalore city namely Whitefield, Electronic City, Marathahalli, Outer Ring Road, Silk Road & Koramangala are easily accessible via good road connectivity. Top companies such as Infosys and Wipro are located in this area thereby attracting many working professionals to reside here. Azim Premji Foundation, a world-class University also exists here. There are countless educational institutes located over this area such as Primus Public Educational institution, Indus worldwide school, Indenture academy, Green Wisdom institution as well as Greenwood High. Individuals are keenly interested to acquire property in Sarjapur since it has proven to become an emerging business region and comprises entertainment avenues.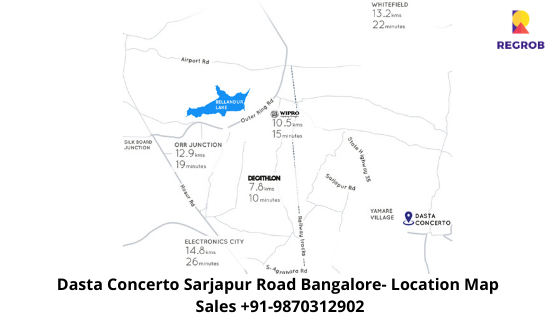 Whitefield – 13.2kms – 22minutes
ORR Junction -12.9kms – 19minutes
Decathlon – 7.8kms -10minutes
Wipro – 10.5kms – 15minutes
Electronic City – 14.8kms – 26 Minutes
Home Loans Has Been Pre-Approved By:
HDFC Bank
ICICI Bank
Punjab National Bank
Axis Bank
State bank of india
LIC HFL
IDBI Bank
Dasta Concerto Specifications:
Structure
RCC Frame Structure
Concrete Solid Block Masonry
Walls
Internal Walls – Plastered and Painted Internal Emulsion ( Asian / Berger or equivalent make).
Exterior Walls – Painted with Apex / External Emulsion ( Asian / Berger or equivalent make ).
Bath Room – Ceramic Tiles up to a height of 7 feet.
Outer Boundary – Shall be provided with a compound wall with M.S.Gates to a suitable height.
Floors
Living & Dining Room – Vitrified Tiles ( 2' x 2') ( Nitco / Soriso or equivalent make).
Upgrade : Living and Dining Room – Vitrified tiles manufactured in SACMI (Italy) machines using the tile printing technology ( 2' x 2') ( Nitco / Soriso / Sonex or equivalent make).
Master Bedrooms – Laminate Wooden Flooring With Wooden Skirting.
Bedrooms – Vitrified Tiles (2' x 2′) (Nitco / Soriso or equivalent make).
Upgrade : Bedrooms – Vitrified tiles manufactured in SACMI (Italy) machines using the tile printing technology ( 2' x 2') ( Nitco / Soriso / Sonex or equivalent make).
Kitchen – Vitrified Tiles (2' x 2') (Nitco / Soriso or equivalent make).
Upgrade : Kitchen – Vitrified tiles manufactured in SACMI (Italy) machines using the tile printing technology ( 2' x 2') ( Nitco / Soriso / Sonex or equivalent make).
Bath Room ( Master Bedroom ) – Ceramic Tiles ( 1' x 1' ) ( Simpolo / Nitco / Simola / Johnson or equivalent ).
Bath Room ( Others ) – Ceramic Tiles ( 1' x 1' ) ( Simpolo / Nitco / Simola or equivalent ).
Balconies – Matte Ceramic Tiles ( 1' x 1' ) ( Simpolo / Nitco / Simola or equivalent ).
Upgrade : Balconies – Vitrified Tiles manufactured in SACMI (Italy) machines using the tile printing technology (1' x 1') (Nitco / Soriso / Sonex or equivalent make).
Skirting – As per the floor tiles ( 3'' height ).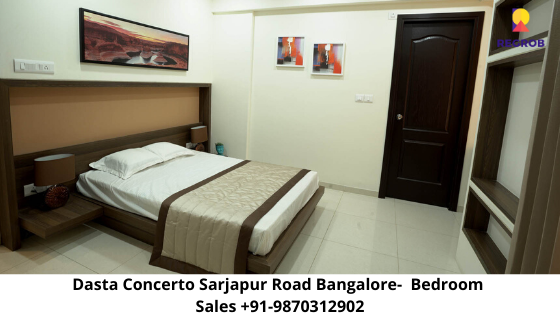 Windows
Windows – 3 Track powder coated aluminium framed windows with 4mm / 5mm clear float glass. Mosquito mesh in the master bedroom.
Upgrade : Windows – 2.5mm thick UPVC frame with SS rollers and 6mm toughened glass and mosquito mesh in all the Bedrooms.
French Windows – 3 Track powder coated aluminium framed windows with 4mm / 5mm clear float glass and mosquito mesh.
Upgrade : French Windows – 2.5mm thick UPVC frame with SS rollers and 6mm toughened glass.
Doors
Main / Entrance Door – Teak wood frame with flush shutter with veneer on both sides.
Other doors – Moulded Skin doors with paint / polish finish.
Hardware – All the doors have brass / stainless steel finish. The Main door will be provided with a night latch ( Godrej / Europa or equivalent make ).
Bathrooms
Sanitary Fittings – Hindware / Simpolo / Cera or equivalent make, all in white color.
Wash Basin – Porcelain wash basin with Half Pedestal.
Floor Trap – Detachable PVC Floor trap with lid.
Closet – Western style floor mounted closet with PVC cistern.
Faucets – Jaquar / Aquel or equivalent make.
Hot Water – A hot water connection will be provided to the shower
Kitchen
Counter Top – 19 MM Granite Counter Top provided.
Sink Cabinet & Caracas – Made of 16MM Marine Ply with Laminate
Cabinets Caracas – Made of 18 MM Particle Board
Laminate – 1 MM thick of Merino Brand or equivalent.
Shutters – MR Grade Plywood with 1 MM Lamination 4 sides edge Banded
Hinges – Hettich Brand or equivalent
Tandem – Hettich Brand or equivalent
Handles – Stainless Steel Brush Finish.
Upgrade : Handles – End to end in Aluminum Matte Finish.
Stainless Steel Sink for Kitchen – Single Bowl sink (18" x 16") without drain
board provided in the Kitchen area. Franke Brand or equivalent
Stainless Steel Sink for Utility – Single Bowl sink (18" x 16") without drain board provided in the utility area. Franke Brand or equivalent.
Electrical
Wiring – Finolex/Anchor/havels or equivalent make concealed in 19mm diameter, 2 mm thick PVC Conduit pipes. The wiring for 5 amps point shall be of 3/22 rating copper wire. FRLS Provided.
Power – 4 KVA power per 2 BHK apartment and 5 KVA power per 3 BHK apartment provided.
Earthing – 1 / 18 copper wire will be used for earthing using a loop system. One earth leakage circuit breaker and MCB shall be provided in each apartment. A lighting arrester and earth pits shall be provided with separate points for each elevator.
Switches – Anchor / G.M / Gold Medal.
Meters – Each apartment will be provided with a separate meter located on the mainboard at the place allocated and MCB within the apartment.
Generator – A generator from Kirlosker / Greaves / Mahindra / Cummins or equivalent make will be provided. This will provide power for all light points and 5 amps socket up to a capacity of 1000 watts per apartment. A separate change over switch and MCB will be provided for the generator. The generators will also provide power to the elevators, pumps and common lighting areas.
Switch Points – Switch points, sockets, phone points and television points come as standard points included in the basic cost.
Other points in room – Cable TV, with a centralized single dish antenna on the terrace.
Elevator
2 SCHINDLER Elevators – 6 Passengers 8 Passengers & 15 Passengers with stainless-steel finished interiors and a downward collective system.
Plumbing
Internal Plumbing – Concealed plumbing will be medium class CPVC pipes, hot water plumbing will be heavy class pipes.
External Plumbing – Waste water pipes and storm water drains will be PVC Pipes.
Railings, Grills And Staircases
Grills & Railings – M.S Fabricated and painted with synthetic enamel after anti rust treatment.
Staircase – Matte Ceramic Tiles / Granite
Q- As a man is said to have a right to his property, he may be equally said to have a property in Dasta Concerto which a property seeker should buy?
| | |
| --- | --- |
| Units | Size |
| Studio Apartment | 476sft |
| 2 BHK | 1148sft |
| 3 BHK | 1372sft |
Q- I always say if the house I live in is comfortable, and I have all the amenities I need, then what more can you ask for? Talking about the Amenities in Dasta Concerto: –
The following are the various amenities offered by project to its residents: –
Amenities
The clubhouse is located at the extreme end of the property, ideally placed to enthrall residents with the best view of the Bamboo Grove. This community zone is equipped with all the necessary amenities and features such as-
Amphitheatre
Jogging Track
Swimming Pool
Elder Zone
LandScape Area For Community Gathering
Gym With Steam Room
Column Free Multipurpose Hall
Lush Green Landscape
Area With Kids' Play Area
Dasta Concerto Master Plan & Floor Plan: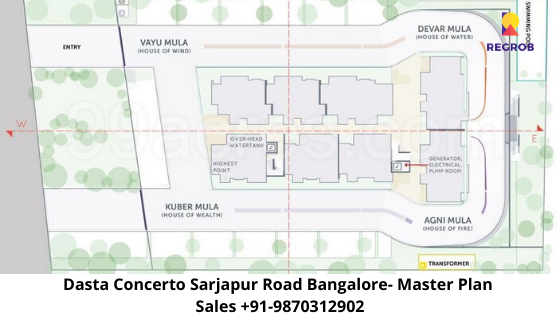 DastaConcerto Project Reviews:
Watch Actual Video of Residential Project In Sarjapur Click Here
For More Info or Site, Visit Call Us at +91 – 9870312902
We also have some other options of residential projects for you in Bangalore Click Here