If you're looking for premium residential projects in Raipur, we got you. We understand home is not just a roof over your head but a place you have been dreaming about for a long. And finding a dream home in the city you prefer is rather difficult. Sometimes it's the budget, sometimes it's the location, sometimes it's the lack of amenities and sometimes it just doesn't suit your taste. If you relate to it, one of the latest township projects in Raipur that you shouldn't be missing is Harsh Bhoomi. Designed to fulfill all everyday and occasional needs within the gated community of Harsh Bhoomi in Vidhan Sabha Road Donde Khurd, Raipur. It is complete with the best designs, modern amenities, in a bustling location and within the budget.
Harsh Bhoomi Overview:
Harsh Bhoomi is a gated community developed by Singhania Buildcon Pvt Ltdlocated in Vidhan Sabha Road, Raipur. The entire township is spread over 50 acres of land. It offers plots of various sizes starting from 800 to 1500 sq.ft. The status of the project is ready to move. Harsh Bhoomi is a plotted project in Raipur with wide-open areas, manicured parks, and exquisite gardens.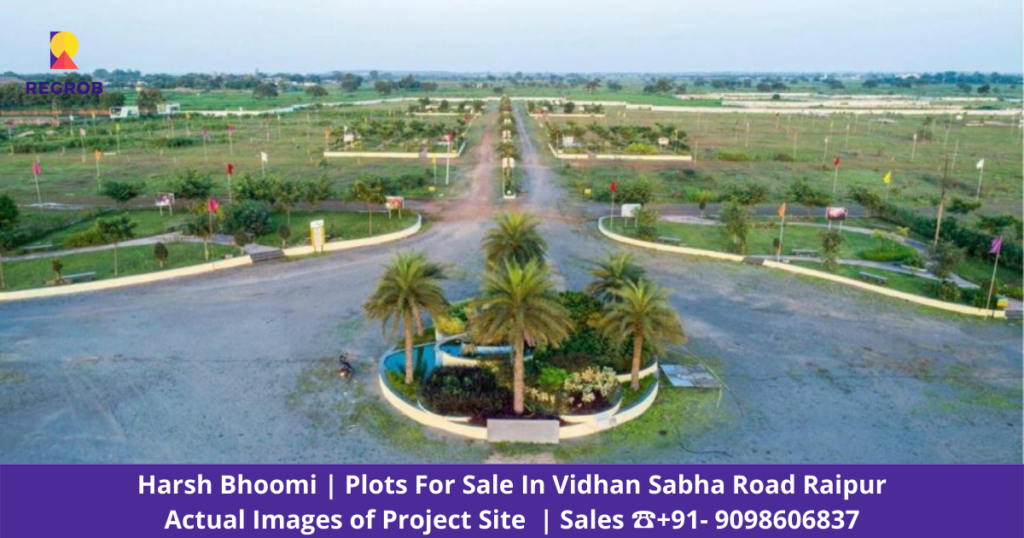 USP of the Project:
100% Greenery All around
50 Acres Of Land Area
Near DPS School
Total 17 Gardens & 4.25 Acres of Clubhouse Area
24 Hour Security
Gated Community
Ready To Move Plots
Facility like- Internal Road, Power Supply, Water Supply & Drainage System
Pocket-Friendly Rate – 1250/- per sqft.
Harsh Bhoomi Amenities:
Harsh Bhoomi, which translates to "land of happiness", is truly what it strives to achieve. It understands a house is more than just a place to sleep. It's the place you go after a long day at work. It's where your family feels secure. It's a place where there's plenty of laughing, warmth, and action. To achieve this simple happiness of living in Harsh Bhoomi, the developers designed it based on modern trends. Through the project, they want to give you access to world-class amenities that you would need to live a life of convenience and enjoy your time with the people you love. It focuses on helping you build the home of your dreams without jeopardizing your lifestyle. Some of the amenities that represent quality and convenience for residents are: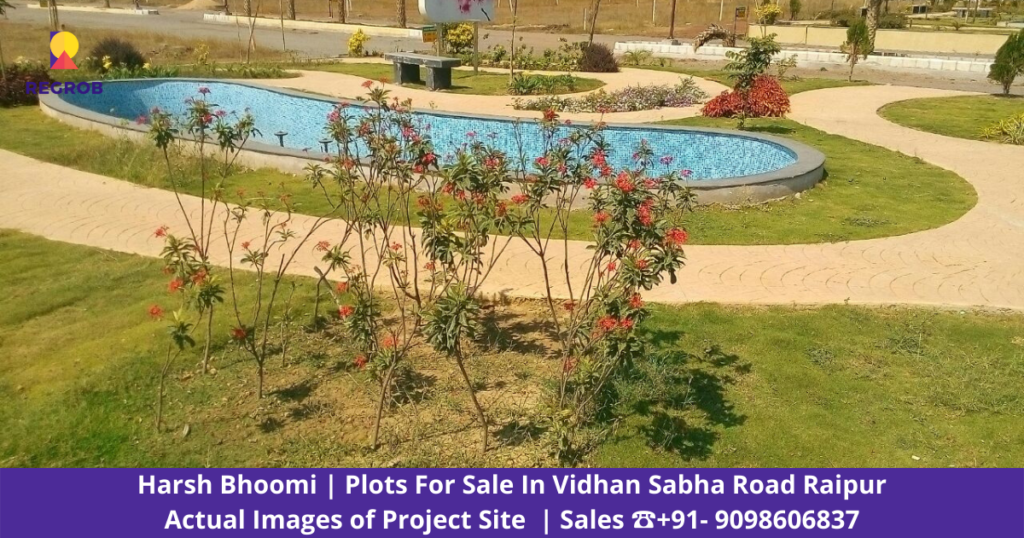 Internal Road & Footpaths
Water Supply Line
Storm Water Drainage.
Landscaping & Tree Planting.
Street Lighting
Power backup up (Generator)
Meticulously designed Garden
Open Park
Boundary Wall of Premises for added security
Security Service
Water Conservation to reduce unnecessary water usage
Rain Water Harvesting
Cycling, Basketball, Mini forest, Cricket , Jogger park, etc.
Rera Approved:
What does RERA mean and why is it necessary? If you are someone questioning this, you're not alone. Most first-time homebuyers are not aware of the importance of RERA. To put it simply, RERA verified projects have lesser or no chances of you getting scammed. RERA aims to safeguard homebuyers while simultaneously boosting your real estate investments. It gives you full authority to know everything there is to know about the project. One of the biggest advantages you get from RERA verified projects is that If there are any structural faults or quality issues within 5 years of possession, the builder must repair them within 30 days at no cost to the buyer. It is this intention of providing transparency, benefits even after purchase, security, and quality, we at Regrob bring you the best of RERA-approved projects that you trust your money with.
Harsh Bhoomi RERA No.: PCGRERA070718000488
Authorization from Banks:
If you are wondering whether you can get a home loan for Harsh Bhoomi residential plots near Vidhan Sabha road, the simple answer is yes. The property has been verified by top banks and is willing to offer a loan to fulfill your dream of living in your "own home." Some of the banks offering home loans are:
Axis Bank
HDFC Home Loan
ICICI Bank
IDBI Bank
SBI Bank
PNB Bank
To learn more about the details feel free to get in touch with us, we are always ready to offer our assistance.
Harsh Bhoomi Configurations & Price:
A township catering to hundreds of households with business and daily needs within a gated community. Harsh Bhoomi is a profitable project for investors that displays a commitment to delivering comprehensive home solutions.
The project is offering Residential Plots in Raipur, Chhattisgarh. Residential plots ranging in size from 800 to 1500 square feet and odd dimensions.
The BSP rate of Harsh Bhoomi Residential plots is 1250/- per sqft. The price of the plots starts from
10 Lacs onwards.
Plots Size 800 -1500 Sqft | Price 10 to 18.75 Lacs onwards
Owning a Harsh Bhoomi house makes perfect sense from every angle. A world-renowned landscape architect created Harsh Bhoomi with a perfect blend of comfort and visual harmony in mind. It marks the pinnacle of meticulous planning and attention to detail, providing you with all of life's conveniences.
Master Plan of Harsh Bhoomi Project:
Watch Actual Video of Harsh Bhoomi Plots:
Harsh Bhoomi Location Advantages & Directions:
Raipur is one of the fastest-growing cities. It is one of the real estate markets where the changes of appreciation are predicted positively. With the completion of a government-aided 4 lane highway, Vidhan Sabha road will become a major real estate hotspot.
The area embraces accredited schools and hospitals adding to the land value. There are also ongoing plans for building an airport near Raipur which on completion will tremendously boost the resale value. Pandri kapda market is joining the area in near future thus increasing the footfall of the city.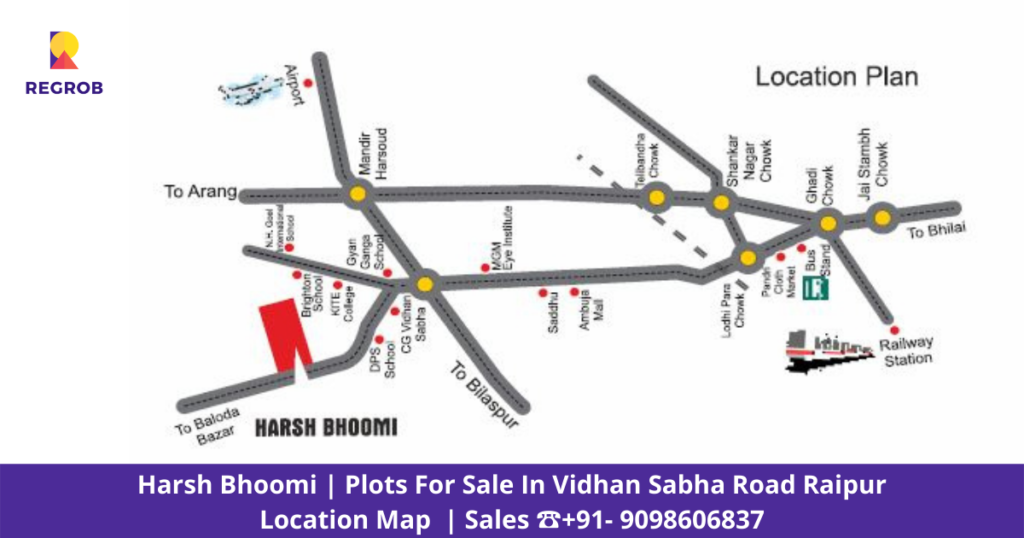 Important Destinations Nearby:
DPS School
Gyan Ganga School
Kite School
KIT School
MATS School
MGM Hospital
AIIMS Hospital (4.8km)
Sankalp Hospital (1km)
Railway station (7.5 km)
Colors mall (10.2km)
International Hockey Stadium (6 km)
Wonderland Park (2.3 km)
New airport near Raipur
Pandri kapda market
4 lane Project
With many projects under development, this is the best time to invest your money in harsh Bhoomi plots for real estate appreciation.
Considering all the above points we can say that Wallfort Sapphire is located in an ideal location, at an affordable range with top-class amenities to boast. The modern trends of society where all your needs are taken care of influenced the lifestyle you would live here. So, book your plots in Harsh Bhoomi and make a good investment. For more info, site visit & best deals Kindly call our property experts at ☎+91-9098606837.
Regrob is a Tech-Enabled Real Estate Brokerage Firm with more than 35 Branches in PAN India. We have our dedicated team in all branches that provide accurate and correct information about the project. We are the RERA-certified real estate brokerage company to work in Raipur under RERA ACT.