A look at our history books would tell us that most great civilizations of the past came up near river banks or coastlines. Moving to the present, the story has changed somewhat. Nowadays, it's the physical infrastructure and the promise of opportunity that attracts people to settle in an area. A look at the evolution of India's 'Silicon Valley' and 'Garden City' of Bangalore is a clear illustration of the same.
Bangalore city, earlier defined by its petes and cantonments, rapidly expanded eastwards and southwards in the late 90s. Fueled by the IT boom and the construction of the Outer Ring Road, many villages rapidly became urbanized and a part of this ever-expanding city. We are now on the cusp of history repeating itself, with north Bangalore being the new theatre of development. The one major factor, which has brought about this boom, is the construction of the Kempegowda International Airport in Devanahalli, which opened in 2008. Already one of the country's busiest airports, it has become a key economic and real estate driver. We look at the changes this airport has already indirectly brought about and also the impact of some promising developments announced recently.
As the population is increasing day by day. the land rates in India will go on increase unless there is some serious issue in that area. If you invest money in some bank or in shares there will be no guarantee for that money to get double. But if you invest in property especially land it will surely get increased.
How Increasing Demands of Millennials are Shaping Real Estate Market
1. Growing Purchasing Power:
The booming millennial workforce in the garden city has enabled Bangalore's real estate to grow significantly. Bangalore has always been one of the active residential markets and now is also known for having sustained demand for commercial space. According to a NASSCOM report, 2018, Bangalore is one of the fastest-growing technology start-up hubs in India with nearly 7,700 registered start-up firms. Of this, approximately 1,200 new start-ups were registered in 2018 alone.
2. Various govt. reforms:
The introduction of reforms like RERA & GST has made the sector go through significant improvements. As a business hub, the city caters to the technology and other services requirements of companies globally; no wonder then, that Bengaluru attracts a huge ratio of India's highly-skilled workforce.
3.  Rapid real estate growth in Bangalore:
The year 2018 re-established Bangalore's position in the commercial space. According to a JLL report, the city accounted for the highest absorption of office space at 7.9 million sq. ft. in the first nine months of the year. Bangalore also fared decently in the residential segment. According to a recently conducted research, about 870 projects were launched in 2018. About 50% of this new supply was in the mid-segment (Rs 40-70 Lakh), followed by 24% in the affordable segment (Less than Rs 40 Lakh) and 26% supply in the luxury segment (Rs 70 Lakh and above).
4.  Boost in the affordable housing segment:
Affordable housing witnessed a growth of 22% in sales during 2018. In the recent Budget announcement, the government has extended the deduction of interest on home loan by Rs 1.5 lakh to Rs 3.5 lakh and flat 1% rate for under-construction affordable housing to boost demand. Furthermore, the government has extended the benefit of Credit Link Subsidy Scheme (CLSS) on home loans for the Middle-Income Group (MIG) under the Pradhan Mantri Awas Yojana (Urban) till the end of March 2020 and this seems to be a major push for the progression of affordable housing segment.
5. Rising Rental Expenses :
Millennials favor homeownership over increasing rental expenses in the long run. Owning a home offers independence and flexibility that a rented home cannot. This generation would rather direct the money for monthly rent to pay off EMIs instead.
About Iconest-3
Icon Homz, the pioneers in compact housing now proudly present Iconest – 3. Located near Electronic City and in close proximity to work, healthcare, social infrastructure, and educational institutions, Iconest 3 is an architectural marvel.
Designed by ARC Studios, Singapore. who are reputed globally for their design aesthetics and space optimization concepts, Iconest – 3 will be a first of its kind in India.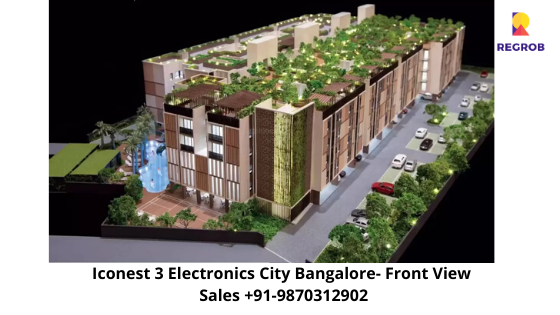 Loaded with luxurious amenities, these fully furnished apartments are all about the intelligent use of space and convertible furniture while providing the best that is normally provided in luxury apartments.
The reason why we included furniture and interiors at Iconest – 3 is when many customers told me about the challenges they faced while dealing with local contractors for interiors and also that they don't have a viable option to buy space saving furniture in India. This generation, increasingly being nuclear families are anyway looking for compact housing as it is easier to maintain while saving space and cost.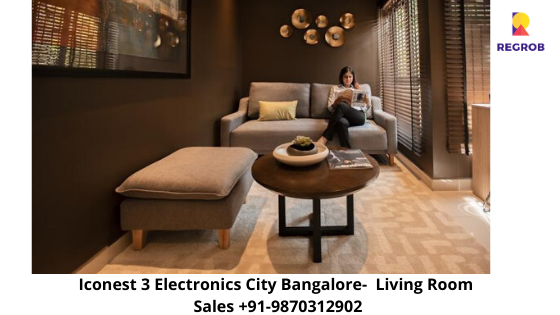 Secondly, what if a customer can enjoy 1200 sq. ft in 600 sq. ft. For example the bed occupies about 35 sq. ft. of dedicated space while the use of it is only for about 10 hours a day. brainstorming with the team we decided to take the bed to the wall and during the remaining time-space could be used for many other purposes. Keeping the customer challenge and the above thought, we decided to go in for space-saving furniture. The next step was to identify an Architect who could realize our vision.
We traveled to Hong Kong first looking for internationally reputed architects as Hong Kong has been in a compact housing for 3 to 4 decades. Finally, we were able to find a very good architect from Singapore. When we first met the team at ARC Studios our ideas and thought processes matched and we realized this team of architects were in a position to translate our ideas into reality. The biggest issue in space-saving furniture is the hardware. For the last 1 and a half years, we explored various options and have now identified a very good product, keeping in mind all the safety precautions and life of the product.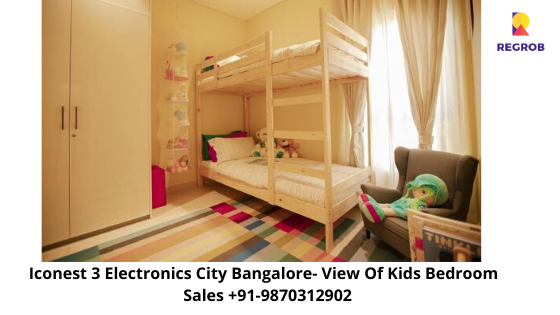 Compact housing, in my opinion, is not to be confused with affordable housing The speciations and amenities that we would be providing at Iconest -3 would be far superior that is being provided in the luxury segment that is costing over a crore. Take the sanitary ware, CP fitings, the plus, the amenities, etc., they are all on par with any super-premium apartment.  The basic objective at Icon Homz is providing fully functional spaces, each sq. ft should act as 2 sq. ft. with the help of our team and the team at Arc Studios am happy to say that we have achieved it to the fullest extent. 
At Icon Homz, it is our purpose to make a home for everyone.  Bangalore is growing leaps and bounds with people moving-in for education and work from all parts of the country, ultimately making the city their home. We are here to help them fulfill their dreams! Icon Homz has pioneered the concept of functionally furnished residences for the customer segment that we service. It is our wish and endeavors to meet and exceed our customer needs.
An Excellent Location:
Near Electronic City, Off Hosur Main Road, Behind Narayana Hrudayalaya
Close to Bommasandra Metro Station, Dmart, Decathlon, Renowned Schools & Hospitals
Easy Connectivity to Major IT Hubs –Electronic City, Sarjapura Road, Outer Ring Road, Whitefield.
Industrial Hubs – Bommasandra- Jigani, Attibele, Hosur.
Elevated Flyover Connects to famous residential place such as HSR Layout, BTM Layout, Jayanagar & JP Nagar
Nice Road connects with Bannerghatta Road, Mysore Road, Tumkur Road & Magadi Road.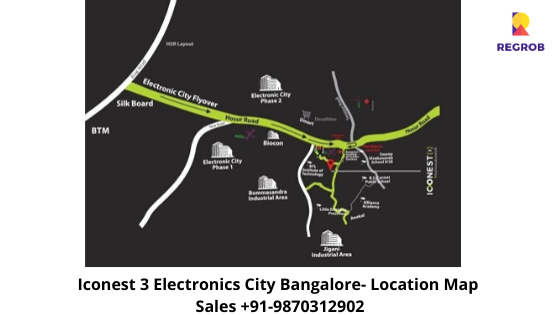 Health Care:
Narayana Hrudayalaya and Sparsh.
Education:
Red Bridge International School (9KM)
Techmore Academy (11 KM)
Candor International School (11 KM)
Treamis World School (7 KM),
Achievers Academy (5 KM)
Iconest 3 Floor Plans: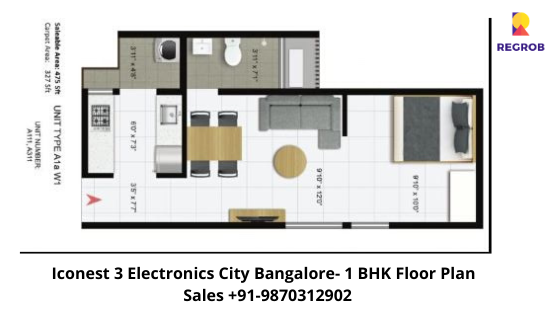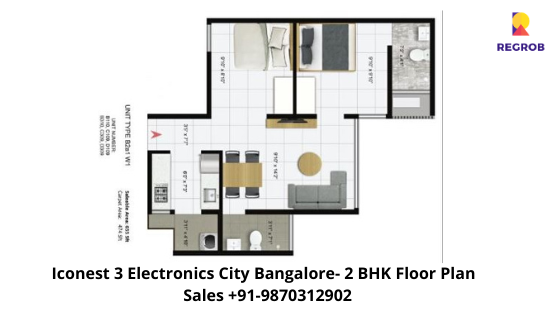 Iconest 3 Specifications:
Structure:
Slilt (RCC framed structure with RCC slab) with solid block masonry work. Seismic compliance External walls will be of 150 mm thick walls and internal walls will be 100mm thick walls.
Flooring:
Living/Dining /Kitchen/Bedrooms:  600 x 600 mm double charged vitrified tiles with skirting.
Toilet: 300 x 300 mm ceramic wall tiles & 300 x 300 mm and skid ceramic tiles flooring & dadoing up to the false ceiling (Grid FC).
Balcony/Utility: 300x 300 mm and skid ceramic tiles.
Common areas/staircase: Rustic finish vitrified tiles.
Kitchen dado: quartz dado of 2 ' height above kitchen countertop of 10mm thick quartz.
Kitchen countertop: Quartz countertop (20mm) with stainless steel sink.
Lifts: Branded fully automated passenger lifts of 8 passenger capacity in (A to D block) 13 capacity E block.
Painting: Weatherproof Emulsion paint for external and OBD for Internal.
Windows: MS safety grill & aluminum powder coated windows and ventilators, with Toughened glass of 5mm thick for safety & soundproof.
Handrails: Balcony & staircase: Mild steel railing as per Architect design.
Doors: Main door: Prehung – Solid wood frame  (150 mm x65mm width) with PU polished with Architrave & 35mm thick both side teak veneer with PU polished shutter with good quality hardware fixtures & door lock: Godrej/equivalent.
Common Bedroom:  Wooden sliding door with a high-quality slide tracking system.
Piped gas: Individual piped gas provision at the utility.
Electrical: Branded copper wiring in concealed PVC conduit (ISI branded) and branded modular switches Switches from Great White/Equivalent DG back up for common area lighting, pumps, lifts & 0.5 KW for each flat AC points in master bedroom Peripheral vigilance through CCTV /cameras.
Sanitary Fittings: High-quality single piece imported Floor mounted EWC sanitary fittings with nano-finishing  UF seat cover Essco brand-CP Fittings.
Watch this Video:
Q- As a man is said to have a right to his property, he may be equally said to have a property in Iconest4 which a property seeker should buy?
Current condition: – All of the mentioned below are under construction.
Highlights of the Project:
Fully Furnished Apartments 2 BHK @ 31.65L.
1st of its kind in India, This transformational homes with fully furnished interiors & Convertible Furniture.
Approved By: BMRDA
Project Area: 2 Acres of Land with 224 units.
Total Flats: 224 of 1 & 2 BHK.
1 BHK: 475 Sq.ft
2 BHK: 642 -727 Sq.ft
Q- I always say if the house I live in is comfortable, and I have all the amenities I need, then what more can you ask for? Talking about the Amenities in Iconest4: –
The following are the various amenities offered by project to its residents: –
Iconest 3 Amenities:
Badminton
CCTV Cameras
 Communal Tree
Community Farm
Cycling Track
 Entrance Lounge
 BQ Party Pavilion
 Creche
 Cyber Library
 Cycling Track
 DG PowerBack-up
 Fitness Corner
 Game Pavilion
 Games Room
 Gymnasium
 Hammock Corner
 Jogging Track
 Kids Play Ground
 Laundry services
 Medicinal Garden
 Multi-Purpose Hall
 Multisports Lawn
 Open Air Theatre
 Out Door Dining
 Reading Room
 Reflexology Path
 Retail Shop
 RWH
 Sand Pit
 Satellite Dish Zone
 Senior Citizen Area
 Solar Panel Zone
 STP
Terrace CCT
Vegetable Shop
Yoga
Stilt Floor Level:
Open Party Hall
Badminton Court
Swimming Pool
Children's/ Toddlers Pool
Changing Rooms
Communal Tree
Reflexology Path
Tiny Forest
Medicinal Garden
1st Floor Level:
Creche
Toy Library
Yoga & Meditation Hall
2nd Floor Level:
Gymnasium
Indoor Board games (Chess, Carom, TT & Foosball)
Stilt Floor Level:
Retail Shop/ Provision
Shop
Vegetable Shop
CCTV Cameras
Organic Waste Converter
Toilets for Drivers & Visitors
STP
RWH
DG Power Back-up
Terrace Area:
Entrance Lounge
Laundry Service corner
Laundry Drying area
Satellite Dish
Terrace CCTV
Out Door Dining
Master Plan of Iconest 3: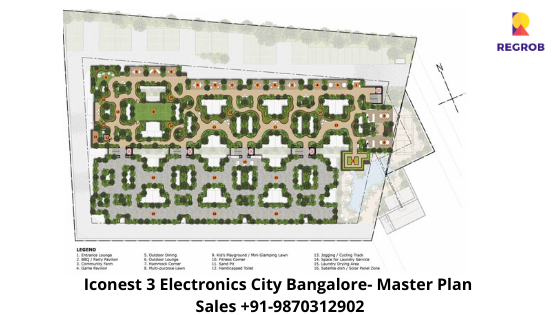 For More Info or Site, Visit Call Us at +91 – 9870312902
We also have some other options of residential projects for you in Bangalore Click Here