When an individual earns more than what his expenses are, it is likely that he intends to save the excess amount. Different individuals have different ways in which they utilize their savings. Some prefer to invest in gold, others prefer buying stocks or shares, but most of us prefer to invest in property. Since the time of our forefathers, immovable assets like land, a house or a commercial building are considered the best forms of investment. The infrastructure segment and real estate in Thane, Navi Mumbai and Dombivli are undergoing a rapid transformation, and it is time you understand the importance of investing in this area.
Here are a few aspects which will give you an in-depth understanding of why investing in property is considered a safe game.  
When we compare the different forms of investments, directing your funds towards procuring a property is considered as one of the best options. It is a more stable and reliable form of investment as compared to sectors like stocks or shares.
History bears witness that the value of properties keeps increasing over a period of time. It is very unlikely that a property has undergone a depreciation of value in the years that have lapsed.
Immovable assets are something that cannot be stolen, like in the case of cash or jewelry.
Not only does the value of a property enhance over a period of time, but one can even be assured of getting a rental income from it for as long as he owns it.
When you invest in stocks, shares or even a business, there is always a risk of financial loss. However, this does not happen in the case of a property. Your savings are parked safely, and you can be assured that along with your savings, you are in for more monetary gains.
Investment in a property is a long term commitment and is barely influenced by the changing political or socio-economic trends.
Investing in a property gives you great flexibility. Like for instance, if you invest in a second home, you can enjoy a rental income for as long as you rent it out. When the need arises, you can either occupy it as a retirement home, gift it to your children or use it as you wish. It is not only a great way to safeguard your savings, but it is also a wise move to ensure that you have something to rely upon in the later stages of your life. 
Owning a property can also help you get some tax deductions. You can redeem certain benefits owing to the wear and tear, repairs and maintenance of the building.
Buying a property requires a handsome amount of money, and hence, a large part of your savings go into buying this asset. But having a property in your name also gives you more stability in life as you can sell it anytime to procure a large sum of money. Be it a medical emergency, education of a child or any similar instance, your property investment is going to be a cushion for you in times of financial distress.
If you are buying the property on loan, not only are your savings secure, but you can also be assured that whatever you earn in the future, a part of it is already dedicated to a worthy cause. You can redeem certain tax benefits when you buy a property on a loan.
If your rental income is lesser than the interest you are paying for the loan, then you can further claim some more tax redemptions.
Hope you got a better understanding of the many benefits of investing in a property. You can buy a plot, villa, apartment, independent home or commercial property and be assured that you are going to enjoy good returns in the days to come. The sense of pride and the joy of owning your dream home, or any property is unmatched. The peace of mind you experience when you finally invest in something of this scale is going to help you lead a happy and content life. Now is the right time to invest your money in a real-estate property in Thane, Navi Mumbai and Dombivli.
Some of the Projects in Dombivli which are worth investing are:
1. Lodha Lakeshore Greens:
Designed for you to 'walk-to-everything', Lakeshore Greens offers an array of world-class amenities, including the Lakeside Park, an Olympic Sports Complex, a business district, a grand clubhouse and a Retail high-street. Here, you will always have the best of life – every day. All at a 5-minute drive from Kalyan-Shil Road. 1,2 and 3 BHK options are available in Lakeshore Greens where the cost of the property starts from 43.96 lakhs.
Lodha Lakeshore Greens has a total of 80 towers. The construction is of 18 floors. An accommodation of 6000 units has been provided.
2. Lodha Palava City (Smart Buy):
This project has various features such as affordability, connectivity, livability and accessibility. As the project is recently launched it is expected to be completed by 2022. The prices start from 37 lakhs with various options of 1, 2, 3 BHK's. This is a once in a decade opportunity for buying this property at this rate along with various features.
Amenities:
Lift(s)
Fire Fighting Systems
Intercom
Car Parking
Gymnasium
Club House
Children's Play Area
Badminton Court
Cricket Pitch
Football
Golf Course
Multipurpose Court
Squash Court
Swimming Pool
Table Tennis
Yoga/Meditation Area
Gated Community
Vaastu Compliant
Video Door Security
Waiting Lounge
Water Softener Plant
Wi-Fi Connectivity
Landscape Garden
Rain Water Harvesting
Sewage Treatment
Amphitheatre
Community Hall
Multipurpose Hall
Theatre
3. Runwal Gardens:
The project is developed on 115 acres of land. It is a subsidiary of the Runwal group. 1,2 and 3 BHK flats are available. The project is on the Manpada road and the property starts from 32.20 lakhs.
Amenities:
Lift(s)
Fire Fighting Systems
Car Parking
Gymnasium
Children's Play Area
24/7 Water Supply
24/7 Power Backup
Intercom
Club House
Badminton Court
Basketball Court
Chess
Cricket Pitch
Golf Course
Jogging Track
Lawn Tennis Court
Multipurpose Court
Skating Rink
Swimming Pool
Table Tennis
Yoga/Meditation Area
Amphitheatre
Banquet Hall
Barbecue
Gazebo
Pool Table
Reading Lounge
Senior Citizen Sit out
Theatre
Garbage Disposal
Landscape Garden
Reflexology Park
4. Runwal My City (Blossom City):
Runwal Developers presents the biggest opportunity of Dombivali. 40% of open spaces for beautiful and fresh air. In close proximity to the Central Greens. Largest Podium of Dombivli located in the Heart of City. With 1, 2, and 3 BHK Homes, this towering city offers you a fitness centre, a multi-purpose court, a reading corner and much more. Upcoming Educational Institute in close vicinity.
USPs of Runwal MyCity (Blossom City):
Many banks and Atms are near by this Runwal Blossom City Dombivali Mumbai.
NES International school is near by Runwal Blossom City Dombivali.
D Mart is near by Runwal Blossom City.
ACE Children's Hospital is near by Runwal Blossom City.
Many Restaurants and clubs are in nearby vicinity.
5. Regency Anantam:
The project is located in Vicco Naka, Dombivli east. The builder provides a lot of amenities along with a proper utilization of the space. 1 and 2 BHK flats are available for sale. And cost of the flat starts from 42 lakhs.
Amenities:
Mini Theatre
Acupressure Park
Swimming Pool
Business Lounge
Flower Garden
Aerobics Centre
Waiting Lounge
Steam Room
Creche/Day care
Skating Rink
Squash Court
Theatre
Gazebo
Pool Table
Cafeteria
Billiards
Library
Cricket Pitch
Sun Deck
Lawn Tennis Court
Video Door Security
Multipurpose Court
Amphitheatre
Toddler Pool
Community Hall
Table Tennis
Badminton Court
Entrance Lobby
Yoga/Meditation Area
Indoor Games
Sewage Treatment Plant
Jogging Track
Club House
Gymnasium
Landscape Garden
Children's Play Area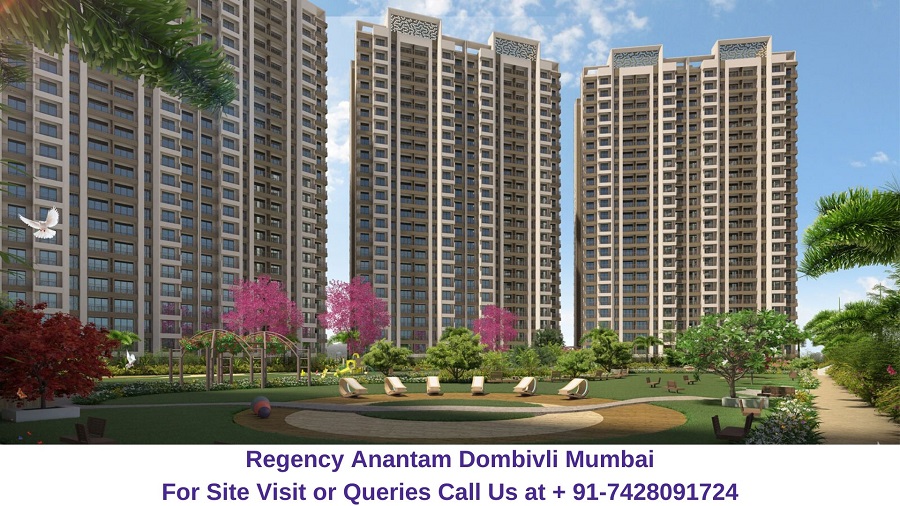 For Site Visit & Queries Call- +91-7428091724
You can watch the actual videos of other residential projects of Navi Mumbai Click here
You can also check some other residential properties in Navi Mumbai Click here