A look at our history books would tell us that most great civilizations of the past came up near river banks or coastlines. Moving to the present, the story has changed somewhat. Nowadays, it's the physical infrastructure and the promise of opportunity that attracts people to settle in an area. A look at the evolution of India's 'Silicon Valley' and 'Garden City' of Bangalore is a clear illustration of the same.
Bangalore city, earlier defined by its petes and cantonments, rapidly expanded eastwards and southwards in the late 90s. Fueled by the IT boom and the construction of the Outer Ring Road, many villages rapidly became urbanized and a part of this ever-expanding city. We are now on the cusp of history repeating itself, with north Bangalore being the new theatre of development. The one major factor, which has brought about this boom, is the construction of the Kempegowda International Airport in Devanahalli, which opened in 2008. Already one of the country's busiest airports, it has become a key economic and real estate driver. We look at the changes this airport has already indirectly brought about and also the impact of some promising developments announced recently.
As the population is increasing day by day. the land rates in India will go on increase unless there is some serious issue in that area. If you invest money in some bank or in shares there will be no guarantee for that money to get double. But if you invest in property especially land it will surely get increased.
How Increasing Demands of Millennials are Shaping Real Estate Market
1. Growing Purchasing Power
The booming millennial workforce in the garden city has enabled Bangalore's real estate to grow significantly. Bangalore has always been one of the active residential market and now is also known for having sustained demand for commercial space. According to a NASSCOM report, 2018, Bangalore is one of the fastest growing technology start-up hubs in India with nearly 7,700 registered start-up firms. Of this, approximately 1,200 new start-ups were registered in 2018 alone.
2. Various govt. reforms:
The introduction of reforms like RERA & GST has made the sector go through significant improvements. As a business hub, the city caters to the technology and other services requirements of companies globally; no wonder then, that Bengaluru attracts a huge ratio of India's highly-skilled workforce.
3. Rapid real estate growth in Bangalore:
The year 2018 re-established Bangalore's position in the commercial space. According to a JLL report, the city accounted for the highest absorption of office space at 7.9 million sq. ft. in the first nine months of the year. Bangalore also fared decently in the residential segment. According to a recently conducted research, about 870 projects were launched in 2018. About 50% of this new supply was in the mid-segment (Rs 40-70 Lakh), followed by 24% in the affordable segment (Less than Rs 40 Lakh) and 26% supply in the luxury segment (Rs 70 Lakh and above).
4. Boost in the affordable housing segment:
Affordable housing witnessed a growth of 22% in sales during 2018. In the recent Budget announcement, the government has extended the deduction of interest on home loan.
Builder Profile:
Since its inception in 2013, Keya Homes has been transforming lifestyles. The philosophy has always been to create homes that take a man to the future by bringing nature and technology to man.A philosophy that's been brought to life with green projects, solar power, and futuristic technology. This promise of sustainable living has been aptly complemented by smart designs and signature lifestyle choices. By nestling your every step with lush greenery and fresh air, we've restored the purity of nature. And by introducing your distinct tastes to contemporary amenities
The Green Terraces Overview: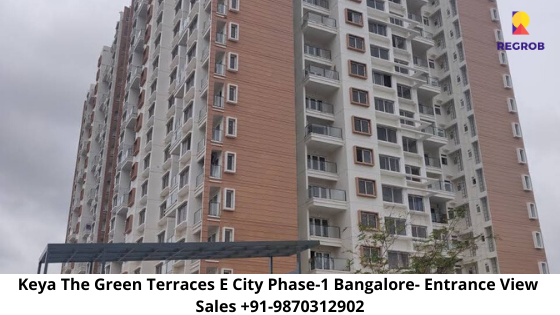 The joy of discovery will be at every turn. The freshest mornings will only be outdone by the freshest air. Distinguished Platinum seats will be available to view gorgeous golden sunsets. The smart will meet the sustainable. Nature will be pristine and everything else, premium. Your space will be unique, and your time, special. At The Green Terraces, every minute will evoke a sense of gratitude. Every moment will celebrate your decision to live in our homes. And every experience will be defined by only technology, nature and you.
Welcome to a civilization of pure joy. An idyllic, 2-acre abode that embraces nature, revolutionizes technology and above all, delivers happiness in every square foot. At The Green Terraces, the 1, 2 & 3 BHK homes offer 680-1498 sq ft of space, a charming private terrace, specifications seen only at high-end Villaments, and a life amongst trees, water bodies and gardens. To add to it, we've combined the purity of nature with the power of technology, and satisfied most of the property's essential requirements with solar energy. All this in a place strategically located away from the city's most polluted areas and within India's first integrated self-sustainable locality – Neotown in Electronic City Phase 1.
HIghlights
Project Location – Electronic City Phase 1
Total Land Area- 15 Acres
No. of Units – 947 Units
Towers and Blocks- 17 Blocks & G + 13 Floors
Unit Variants- 1,2,3 BHK
Location Highlights of Green Terraces: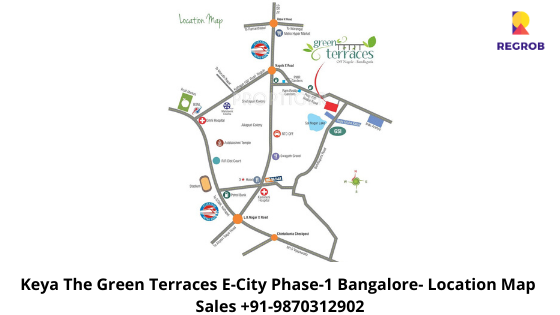 The Green Terraces by Keya Homes, located in Electronics City, Bangalore. Electronics City is situated at a distance of 18 kilometers from Bangalore City, connected via Hosur Road. It is one of the largest Electronic Industrial Parks of India and has now emerged to be a popular commercial and residential area. No wonder corporate giants like Wipro, Infosys, Tech Mahindra, CGI, Siemens, Genpact, Intel, TCS etc. have flocked this area. It offers good road, rail and air connectivity, while the Metro Rail line is under construction. The reputed educational institutions of the area include Silicon Valley High School, Condor International School, Nitte Institute of Technology, International Institute of Information Technology Bangalore, Symbiosis Institute of Business Management etc.
Highlights:
The Green Terraces is located in Electronic Citys Neotown – Bangalore's first integrated self – sustainable township.
Hospital– The Apollo Clinic and Narayana Hrudayalaya
Schools– Treamis, Sarala Birla Academy, Sherwood High and Ebenezer International
Leisure and Retail -Neomall, D – Mart and Metro Cash and Carry
Companies– Infosys, Wipro, Accenture, Cisco, HP, HCL, Biocon, TCS, Tech Mahindra and BHEL
Green Terraces Master & Floor Plan: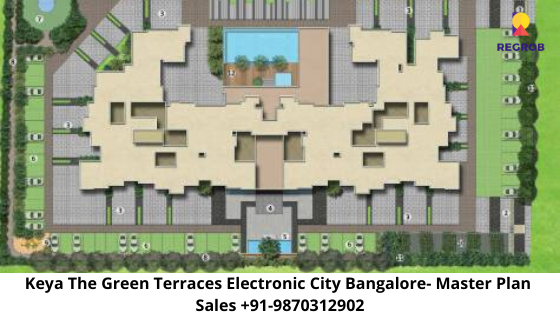 Watch The Green terraces Review Video:
Q- Why should we consider buying a property in The Green Terraces?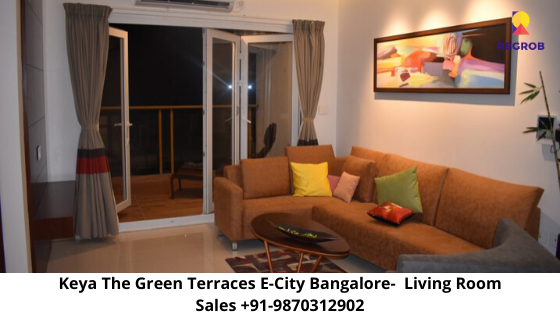 BAY WINDOWS- Discover a steady flow of natural light and larger rooms with exquisite bay windows
CENTRALISED WI-FI AND CABLE – High speed broadband throughout the property along with centralized cable connection of your choice
LED LIGHTING – Homes furnished with durable LED lighting that reduces up to ~80% of your electricity costs
FOLDABLE WINDOW – Connect your living room to your balcony and make your room airy and stylish in an instant through these windows
CENTRALISED GAS – With our distribution system, your home is guaranteed uninterrupted supply of gas
AUTOMATION-READY HOMES – Enjoy the comforts of your home with a few touches when you move into our automation-compatible home
AMPLE ELEVATORS – 2 passenger elevators and a separate service elevator per tower to ensure convenient and clutter-free movement
RFID GATES – Feel secure with advanced and automated RFID gate system to prevent trespassing
Open spaces on all slides ensure that every room is naturally lit from dawn to dusk
Strategic design that offers un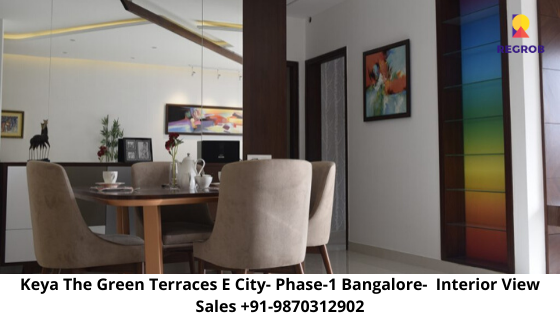 Q- As a man is said to have a right to his property, he may be equally said to have a property in The Green Terraces which a property seeker should buy?
| | | |
| --- | --- | --- |
| TYPE | SUPER AREA (in square feet) | Price |
| 1 BHK | 660 – 715 | ₹ 34.33 Lacs Onwards |
| 2 BHK | 910 – 1120 | ₹ 49.33 Lacs onwards |
| 3 BHK | 1430 – 1500 | ₹ 77.39 Lacs onwards |
Q- I always say if the house I live in is comfortable, and I have all the amenities I need, then what more can you ask for? Talking about the Amenities in The Green Terraces: –
The following are the various amenities offered to its residents: –
Swimming Pool
Restaurant
Security
Indoor Game Room
Spa
Internet
Gym
ATM
Children Play Area
Power Backup
Badminton Court
Basketball Court
Squash Court
Cycling & Jogging Track
Rainwater Harvesting
Community Hall
Landscaped Garden
Lift
Yoga Room
High-tech alarm system
Utility Shops
Business Center
Fire Fighting Systems
Watch Actual Video of Residential Project In Sarjapur Click Here
For More Info or Site, Visit Call Us at +91 – 9870312902
We also have some other options of residential projects for you in Bangalore Click Here