A look at our history books would tell us that most great civilizations of the past came up near river banks or coastlines. Moving to the present, the story has changed somewhat. Nowadays, it's the physical infrastructure and the promise of opportunity that attracts people to settle in an area. A look at the evolution of India's 'Silicon Valley' and 'Garden City' of Bangalore is a clear illustration of the same.
Bangalore city, earlier defined by its petes and cantonments, rapidly expanded eastwards and southwards in the late 90s. Fueled by the IT boom and the construction of the Outer Ring Road, many villages rapidly became urbanized and a part of this ever-expanding city. We are now on the cusp of history repeating itself, with north Bangalore being the new theatre of development. The one major factor, which has brought about this boom, is the construction of the Kempegowda International Airport in Devanahalli, which opened in 2008. Already one of the country's busiest airports, it has become a key economic and real estate driver. We look at the changes this airport has already indirectly brought about and also the impact of some promising developments announced recently.
As the population is increasing day by day. the land rates in India will go on increase unless there is some serious issue in that area. If you invest money in some bank or in shares there will be no guarantee for that money to get double. But if you invest in property especially land it will surely get increased.
Why Sarjapur Road Is An Amazing Place To Stay?
Here are the 5 most convincing reasons:
1. IT careers
Multiple eminent IT companies including Accenture, Cisco, Wipro, HP, KPMG, Nokia, and others are well-set up in this area. With the swift growth of more and more such companies and startups, employment opportunities are expected to rise further – pulling more and more professionals to this area. And, nothing could be better when one can live in the vicinity of their workplace, isn't it?
2. Infrastructure And Connectivity
Bangalore International Airport (BIAL) from Sarjapur Road is at a distance of 1 hour and 55 minutes. The Majestic Bus Stand, KSRTC Bus Stand, and Bangalore City Railway Station are just 15 kilometers away from Sarjapur Road. The planned Peripheral Ring Road (PRR) which connects to Bellary Road, Hosur Road, Bellary Road, and Old Madras Road will boost the realty sector here. The imminent metro lines which are under construction will connect Sarjapur in the south-east and Yelahanka in the north. This location offers good road connectivity to key IT strips of Bangalore like Electronic City, Marathahalli, Silk Board, Whitefield, Koramangala, Madiwala, and a few more.
3. Educational facilities
Sarjapur houses a good list of schools promising high-quality education for children. So, if you are one of those who have a family and looking for the best education for your children then being at Sarjapur would give you ample of amazing options to choose from. Delhi Public School, Orchids International School, St. Peters, St. Francis, Indus International School, Harvest International School, Silver Oaks International School, Sarjapur has many schools who provide high standard learning for children. Also, parents will spend less time worrying about having their children to commute far from home just to receive a quality education
4. Shopping centers
Along with lots of commercial establishments, Sarjapur Road is also filled in with many good shopping destinations. Moms and homemakers who are too busy looking to balance work-home-children want shopping destinations close to the place they stay. From regular groceries to lavish fashion items, Sarjapur houses many shipping malls in close vicinity – Central Mall, Total Mall, Market Square Mall are just a few to name.
5. Capital & Rental Values
Despite several major policy reforms in the construction sector, the Sarjapur locality witnessed a surge of 2.6 percent. The average ask rate here varies between Rs 4,300 per sq. ft and Rs 5,700 per sq. ft. Considering rental values, the average rental rates for a 1BHK is around 10,500 Rs – 15,000 Rs, for a 2BHK is about 17,200 Rs – 21,000 Rs and 3BHK is in between 22,800 Rs – 29,500 Rs. Also, the demand for rental properties is at peak owing to the current prominent presence and growth of commercial development.
Mana Tropicale Overview:
Mana Tropicale is a dense habitat of lush Greenery. It is home to more than 600 Silver Oak & Mahogany trees spread across a lush of 9.5 acres of space. It is hard to believe that it is located just 4 km from the Wipro Campus off Sarjapur Road, and yet a world far away from the chaos of the city.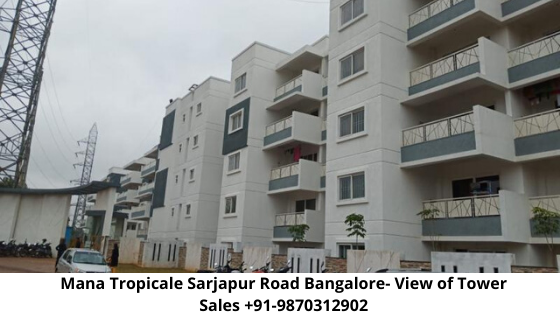 500 Trees
Tree hugging balconies – Homes that embrace nature in the truest sense. The balconies at Mana Tropicale make room not just for you but for lush greenery as well. Imagine spending an evening sipping tea in the shade of a mighty tree in your home. Architecture is about accommodating nature and nurturing it rather than changing it.
Nirvana zone
1 KM Nature trail
Tropicale trees
Hammocks Zone
Rainwater harvesting – Water is a life force, the 19 Rainwater harvesting
pits at Mana Tropical make the project as "Zero water discharge community". It is equipped to sustain water for the next 50 years!
Hit rewind in this fast-paced world. Switch off from the chaos of modern urban life and enjoy the life you were meant for. Quiet, blissful, and full.
USP of Mana Tropicale:
Neighboring the Bangalore IT territory
Can see and touch the trees from your beautifully carved balcony
Tree from your beautiful carved balcony
Zero Vehicular Movement in the residential space
Tropical amenities like 16 tree Nirvana Zone
Landscaping available under 690 trees (check)
Tree knowledge center
1 Km Nature trail
7 Hammock Zones
Vastu compliant
Mana Tropicale Location Advantage & Directions:
Mana Tropicale has been located at one of the major residential development areas in West Bangalore. Sarjapur road offers numerous advantages in terms of location. Ganpathi Nagar, New BDA Layout, Telecom Colony, Muneshwara Block and Girinagar surround this locality. It has good connectivity to STTR (Satellite Town Ring Road) which is at a distance of 10 mins, Sarjapur-Attibele road (10 min), and Electronic City (30min).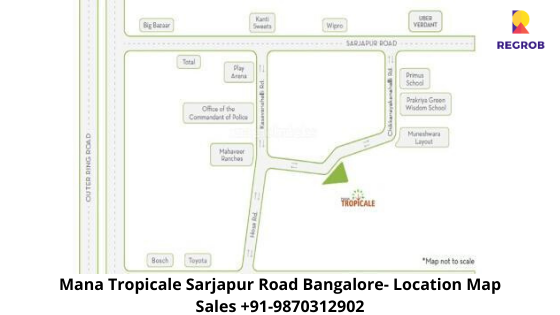 National Highway- 44 which is 40 mins away from this project. Wipro Campus at Sarjapur road is located just 4 km from these apartments. City Junction Railway Station is 5.5km from Sarjapur and 30-mins drive to HAL International Airport.
Educational Institutions near Mana Tropicale:
Indus International School – 2.1k
Greenwood high School – 5.6km
The International School Bangalore – 7km
Oxford medical college – 7km
Hospitals :
Narayana Harudhayalaya – 4.8km
Blossom Multispeciality Hospital – 4.5km
Sakra World Hospital – 8.7km
Ramakrishna Hospital – 7.2km
Supermarkets and Malls:
Virginia Mall – 14.1 km
Market Square Mall, Sarjapur Road – 6.5km
The Forum Mall – 13.6 km
Mana Tropicale Specifications:
Structure
Seismic-II zone compliant RCC Framed structure.
Solid concrete block masonry.
2 levels of covered car parking.
Plastering
Internal walls smoothly Cement plastered with lime rendering.
External walls Cement plastered with sponge finish.
Painting
Internal walls & ceiling with acrylic emulsion paint with roller finish
External walls with exterior grade emulsion paint.
Flooring
AC-4 grade Laminated Wooden flooring for one Bedroom.
Vitrified flooring & skirting for living, dining, kitchen, bedrooms.
Vitrified tile flooring & skirting for balconies and utility.
Superior quality anti-skid ceramic tiles for toilets.
Penthouses staircase in granite with MS railings.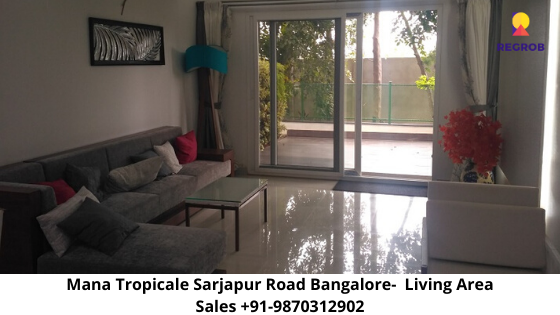 Doors & windows
Main Door: Teak wood door-frames with threshold for main door French polished with a teak veneered flush shutter (engineered wood shutter)
Bedroom & Toilet doors: Engineered door frames with Painted flush shutter.
Balcony Doors: Powder-coated aluminum / UPVC sliding door.
SS coated hardware for the main door with night latch. Bedroom doors with mortise lock. Baby-Latch and handles for a toilet.
Windows: Heavy-duty powder-coated aluminum/UPVC Modular windows with mosquito mesh shutter. As per architectural elevation design windows (except ground floor) may have wider glazing/increased height windows.
Ground Floor apartment windows would be provided with grill.
Duplex Penthouses would be provided with double-height glazing with balcony doors sliding/casement type for the living/dining area.
Toilet ventilators shall be in powder-coated aluminum.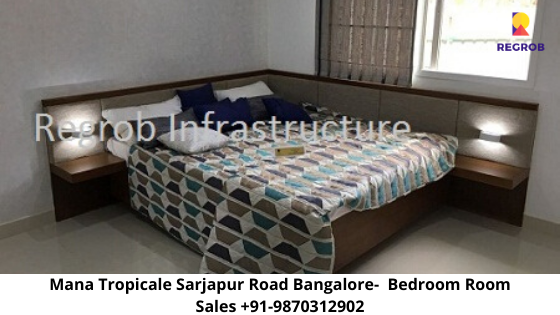 Kitchen
Granite platform with stainless steel single bowl sink with sink mixer in the kitchen.
Ceramic glazed tile dadoing for walls above the counter up to 2'0" height. Ceramic glazed tile dadoing in Utility walls up to 4' height.
Provision for an aqua guard, geyser, and exhaust.
Provision for hob and chimney in Kitchen.
Provision for washing machine in utility area.
SS sink with drainboard in Utility for all apartments.
Ground floor apartment utility will be enclosed with a grill.
Electrical
T.V point in living and bedrooms in all apartments.
Telephone points in living and one Bedroom for all apartments.
Fire retardant electric wires of Havells/Lap/RR kabel or equivalent make.
Modular electrical switches of reputed Brand.
Power backup
1BHK | BESCOM SUPPLY – 3.0KW | DG BACK UP – 1.0KVA | A.C PROVISION – Only BR-1
2BHK+2Toilets | BESCOM SUPPLY – 4.0KW | DG BACK UP – 1.5KVA | A.C PROVISION – Living & All Bed rooms
3BHK+2Toilets | BESCOM SUPPLY – 5.0KW | DG BACK UP – 2.0KVA | A.C PROVISION – Living & All Bed rooms
3BHK+3Toilets | BESCOM SUPPLY – 5.0KW | DG BACK UP – 2.0KVA | A.C PROVISION – Living & All Bed rooms
4BHK+4Toilets + Powder room & Maids room | BESCOM SUPPLY – 6.0KW | DG BACK UP – 3.0KVA | A.C PROVISION – Living & All Bed rooms
Penthouse/Duplex | BESCOM SUPPLY – 7.5KW | DG BACK UP – 3.0KVA | A.C
Q- As a man is said to have a right to his property, he may be equally said to have a property in Mana Tropicale which a property seeker should buy?
| | | |
| --- | --- | --- |
| TYPE | Area | Price |
|   1 BHK | 568 – 771 SQ FT | ₹ 42.09 L Onwards |
|  2 BHK | 1228 – 1268 SQ FT | ₹ 54.78 L Onwards |
| 3 BHK   | 1320 – 2461 SQ FT | ₹ 67.11 L Onwards |
| 4 BHK | 2147 – 2221 SQ FT | ₹ 1.08 Cr Onwards |
Q- I always say if the house I live in is comfortable, and I have all the amenities I need, then what more can you ask for? Talking about the Amenities in Mana Tropicale: –
The following are the various amenities offered by project to its residents: –
Amenities
Open sky gym
Nirvana zone
Chess in the woods
Basket Ball
Hammocks zone
Elders zone
Meditation Zone
Tennis
Swimming pool
Pet Zone
Clubhouse
Nature trail
Multipurpose hall
Chess in the woods
Cricket
Gym
Grocery store
Skating
Concierge
Badminton
Mana Tropicale Master Plan & Floor Plan: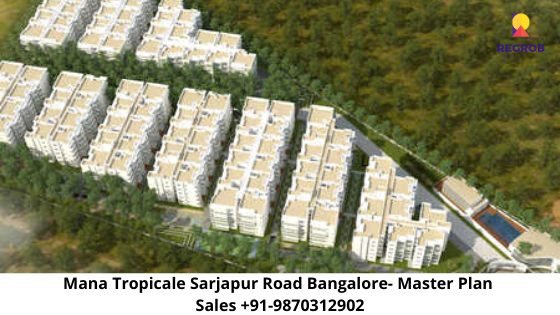 Mana Tropicale Project Review Videos:
Watch Actual Video of Residential Project In Sarjapur Click Here
For More Info or Site, Visit Call Us at +91 – 9870312902
We also have some other options of residential projects for you in Bangalore Click Here