Merlin Elements 3 BHK & 4 BHK Luxury homes
About The Developer:
Emanated in 1984, Merlin Group was the vision of Mr. Sushil Mohta and is now one of the pre-eminent conglomerates in the real estate industry in India, having a plenitude of prestigious residential and commercial complexes, office buildings and townships to its credit over the past three decades. Its presence spans across Kolkata, Ahmedabad, Raipur, Chennai as well as Colombo. With over 30 years of experience in the real estate industry, the promoters have a special taste in aesthetics which reflects in the innovations of the constructions, designs, layouts, fittings, and fixtures. Merlin's constant endeavor is to deliver global standards and quality through each and every inch of its projects. Merlin Group is a recognized and admired brand which has moved from strength to strength over the past three decades. The Group stands firm on commitments, not only to upkeep its tradition but to strive to improve its offerings and services in providing "A Home for Every Indian". Its accomplishments consist of over 50 residential and commercial complexes and 150 independent bungalows.
The Group's strength lies in the delivery of its promises through meticulous planning, emphasizing essential requirements such as the importance of location, connectivity and convenience, budget limitation of the customer, backed by quality material, workmanship and after-sales service followed by value addition to justify its success.
Merlin Elements Overview:
There is a reason why the merlin group has named this project "Merlin Element". Ancient Indian philosophy recognizes these elements like space, air, fire, water, and earth which are the building blocks of all material existence. But the elements offered by the merlin group stand for sunlight, fresh air, peace, happiness, and wellness for you & for the members of your family.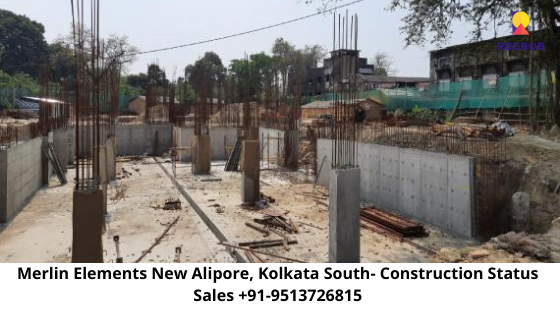 Conjunction joining the essentials of life, 'MerlingElements' is a horizon where your soul meets your mind. Spread over an area of 2.24 acres, Elements boasts of 3 glorious towers with expansive 3BHK & 4BHK AC lifestyle homes right in the heart of South Kolkata, conveniently located between New Alipore & Tollygunge.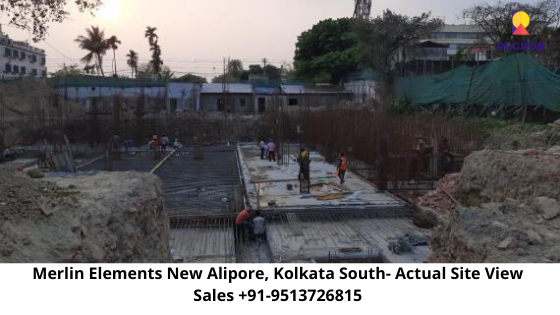 The apartments at Merlin Elements are designed to provide you with excellent cross-ventilated living space with a cool breeze. The effects of airflow promote comfortable cooling and remove solar heat from the building's interiors. With Vastu-compliant features, at Merlin Elements, they have preserved an age-old Banyan tree to welcome you home! Call it an ox pub or an energy park – at Elements, the outdoor fitness area, jogging trails, multi-experience sensory path, pedestrian-friendly pathways, welcomes you to a luxury happy retreat .
Merlin Elements Location Highlights:
The location of the project is very strategically decided by the Merlin group keeping in mind that the residents don't face any connectivity issue. Merlin Element is placed in close proximity to New Alipore and Tollygunge area which are two main areas of the south. It has excellent road connectivity via the James Long Sarani and Diamond harbour Road which connects it other areas of the south including Joka and Behala. With Tollygunge and Rabindra Sarovar metro station just 10 minutes away, one can connect to the northern and central areas of Kolkata like its just around the corner. The prince Anwar shah road is also situated in close proximity which connects its areas like Jadavpur and Gariahat. If we talk about location and quality then this is a project to look out for.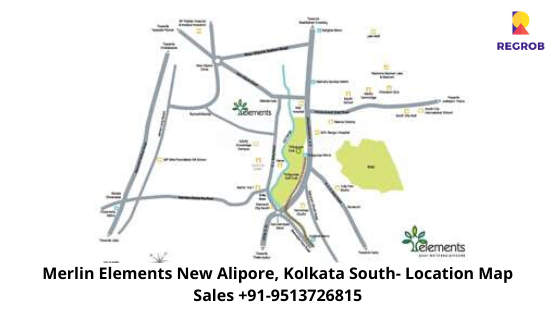 Metro Connectivity
Tollygunge Metro – 1.9 Km
Rabindra Sarobar Metro – 1.2 Km
Education
Sri Sri Academy – 2.5 km
Calcutta Institute of Engineering And Management – 3.0 KM
Bani Niketan High School – 1.7 KM
M P Birla Foundation Higher
Secondary School – 2.6 KM
Connectivity
Tollygunge Club – 1.2 Km
Royal Calcutta Golf Club – 1.9 Km
South City Mall – 2.7 Km
Lake Mall – 2.5 Km
Health
Rsv Hospital – 650 M
B P Poddar Hospital – 1.8 Km
M R Bangur Hospital – 1.0 Km
Merlin Elements Review Video:
Merlin Elements Master Plan: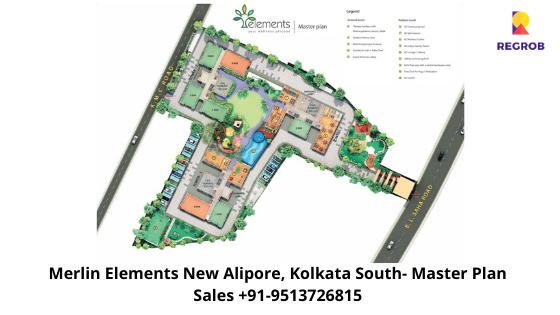 Merlin Elements Floor Plan: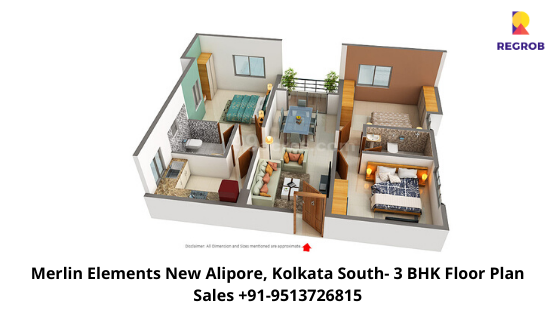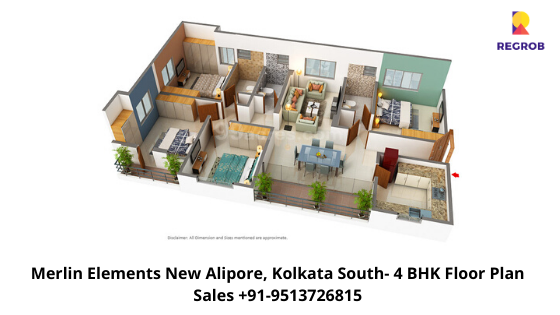 For Site Visit & Queries Call +91- 9513726815
You can watch the actual videos of other residential projects of Kolkata Click here
We also have some other options of the residential projects for you in Kolkata Click here