A look at our history books would tell us that most great civilizations of the past came up near river banks or coastlines. Moving to the present, the story has changed somewhat. Nowadays, it's the physical infrastructure and the promise of opportunity that attracts people to settle in an area. A look at the evolution of India's 'Silicon Valley' and 'Garden City' of Bangalore is a clear illustration of the same.
Bangalore city, earlier defined by its petes and cantonments, rapidly expanded eastwards and southwards in the late 90s. Fueled by the IT boom and the construction of the Outer Ring Road, many villages rapidly became urbanized and a part of this ever-expanding city. We are now on the cusp of history repeating itself, with north Bangalore being the new theatre of development. The one major factor, which has brought about this boom, is the construction of the Kempegowda International Airport in Devanahalli, which opened in 2008. Already one of the country's busiest airports, it has become a key economic and real estate driver. We look at the changes this airport has already indirectly brought about and also the impact of some promising developments announced recently.
As the population is increasing day by day. the land rates in India will go on increase unless there is some serious issue in that area. If you invest money in some bank or in shares there will be no guarantee for that money to get double. But if you invest in property especially land it will surely get increased.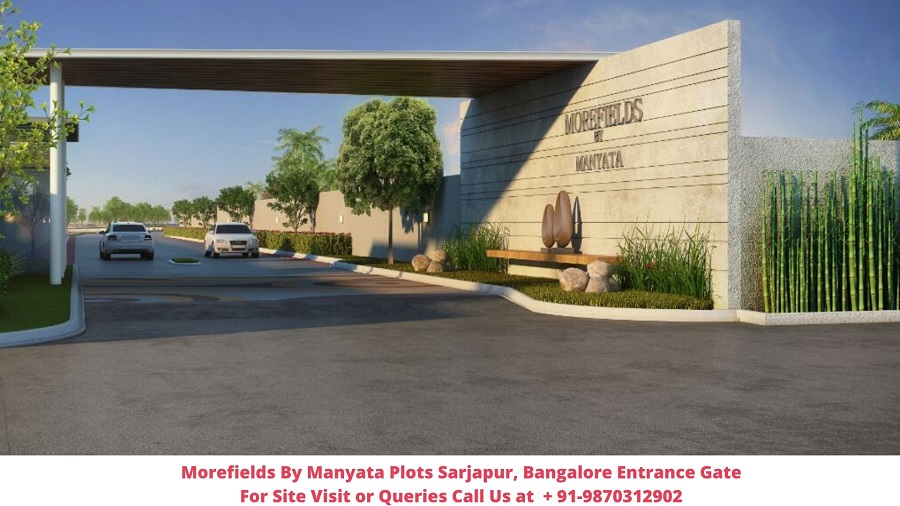 Why Sarjapur Road Is An Amazing Place To Stay?
Here are the 5 most convincing reasons:
1. IT careers
Multiple eminent IT companies including Accenture, Cisco, Wipro, HP, KPMG, Nokia, and others are well-set up in this area. With the swift growth of more and more such companies and startups, employment opportunities are expected to rise further – pulling more and more professionals to this area. And, nothing could be better when one can live in the vicinity of their workplace, isn't it?
2. Infrastructure And Connectivity
Bangalore International Airport (BIAL) from Sarjapur Road is at a distance of 1 hour and 55 minutes. The Majestic Bus Stand, KSRTC Bus Stand, and Bangalore City Railway Station are just 15 kilometers away from Sarjapur Road. The planned Peripheral Ring Road (PRR) which connects to Bellary Road, Hosur Road, Bellary Road, and Old Madras Road will boost the realty sector here. The imminent metro lines which are under construction will connect Sarjapur in the south-east and Yelahanka in the north. This location offers good road connectivity to key IT strips of Bangalore like Electronic City, Marathahalli, Silk Board, Whitefield, Koramangala, Madiwala, and a few more.
3. Educational Facilities
Sarjapur houses a good list of schools promising high-quality education for children. So, if you are one of those who have a family and looking for the best education for your children then being at Sarjapur would give you ample of amazing options to choose from. Delhi Public School, Orchids International School, St. Peters, St. Francis, Indus International School, Harvest International School, Silver Oaks International School, Sarjapur has many schools who provide high standard learning for children. Also, parents will spend less time worrying about having their children to commute far from home just to receive quality education.
4. Shopping Centers
Along with lots of commercial establishments, Sarjapur Road is also filled in with many good shopping destinations. Moms and homemakers who are too busy looking to balance work-home-children want shopping destinations close to the place they stay. From regular groceries to lavish fashion items, Sarjapur houses many shipping malls in close vicinity – Central Mall, Total Mall, Market Square Mall are just a few to name.
5. Capital & Rental Values
Despite several major policy reforms in the construction sector, the Sarjapur locality witnessed a surge of 2.6 percent. The average ask rate here varies between Rs 4,300 per sq. ft and Rs 5,700 per sq. ft. Considering rental values, the average rental rates for a 1BHK is around 10,500 Rs – 15,000 Rs, for a 2BHK is about 17,200 Rs – 21,000 Rs and 3BHK is in between 22,800 Rs – 29,500 Rs. Also, the demand for rental properties is at peak owing to the current prominent presence and growth of commercial development.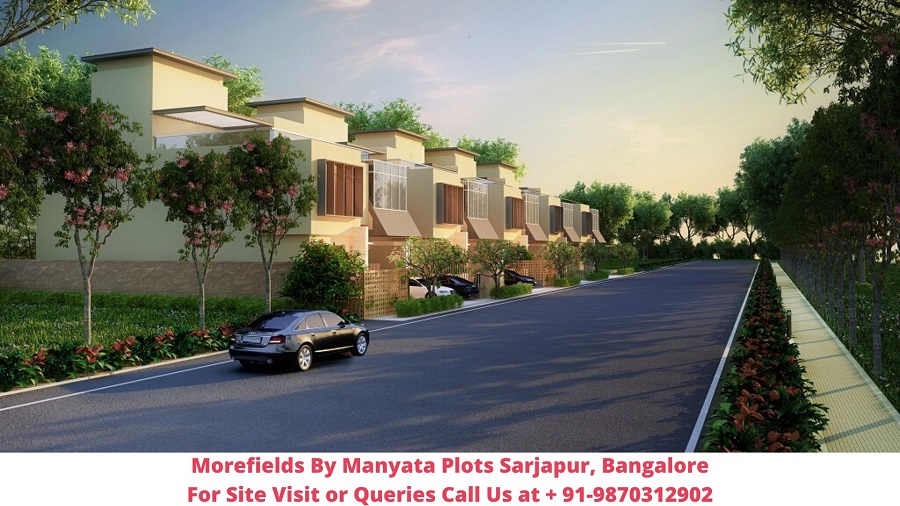 About Morefields by Manyata
Pioneering integrated technology townships, Manyata Tech-park is Asia's largest privately owned operational SEZ and has won national and international awards, and is the first-of-its-kind 330-acre integrated technology township in Bangalore, a landmark of epic proportions.
The vision ahead lies in transforming the country's landscape, one city at a time. Together with our leaders and partners, we aim to be the only company that translates its vision of large-scale future ready projects that are not just sustainable but are world-class in every aspect.
A trusted name in Indian real estate, Manyata is driven by a true entrepreneur whose strategy and vision guide the company forward.
Today, this vision can be realised in yet another excellent venture with Morefields, where an exclusive community of go-getters has the scope to achieve more.
Location
At Morefields, you will be at the center of Sarjapur. And right now, it's pegged as India's 3rd Fastest Growing Residential Hub, and one of the fastest growing IT corridors in the country. And that's not all, Sarjapur is also one of the most sought-after real-estate markets for office space for tech MNCs and is home to some of the best-known technology companies in the world, not to mention some of Bangalore's best international schools.
There's more to the story…
Upcoming Peripheral Ring Road – A signal-free 6-Lane corridor will reduce commute times.
Metro Rail – With the metro rail plane and widening of the Sarjapur Road will open new avenues.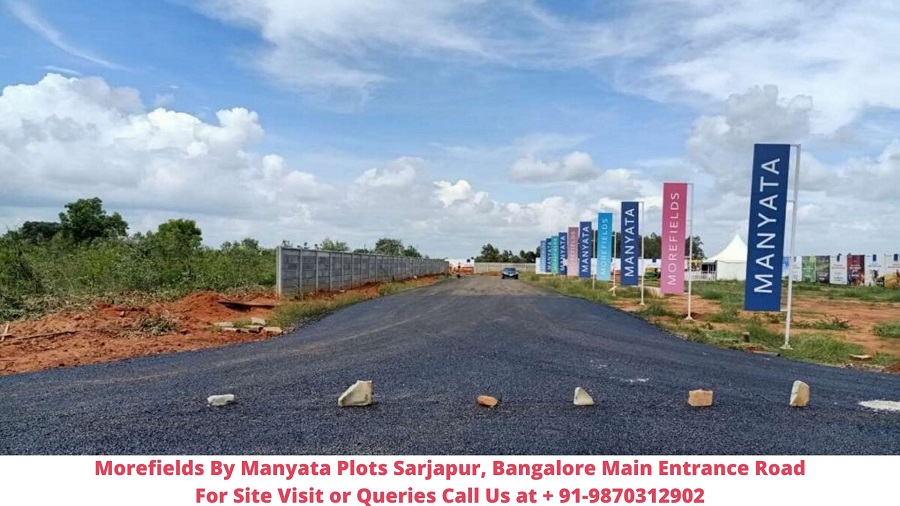 MORE NATURAL AND ORGANIC
Forest Fields
The Zen Garden (Elders Park)
Rain Garden (Temporary)
Bird Park with Birdbath & Birdhouses
The Big Banyan picnic spot
Sacred Garden
Organic Garden Patches
Avenue Plantations
Wetland Garden / Natural Ponds
Paved Tree Court
Dense Yoga Garden
Thick Tree Plantation
MORE FITNESS AND FUN
Jogging Track
Cycle Trails
Cricket Practice Nets
5 Aside Football Arena
Multi-Purpose Courts (Tennis/Badminton)
Volley Ball Court / Throw Ball Court
Basketball Half-Court
Outdoor Gym
Skating Rink
Sand Pit
Toddler Zone
Kids Play Area & Sandpit
MORE COMMUNITY AND ART
Open Air Theatre with Projector Facility
Barbeque Pit
Gazebo
Community Areas with Seaters
Graffiti Wall
Art Lawn
Pet Park
MORE PARKS TO EXPLORE
The Zen Garden (Elders Park)
Bird Park with Birdhouses, and Birdbaths
The Big Banyan Picnic Spot Pet park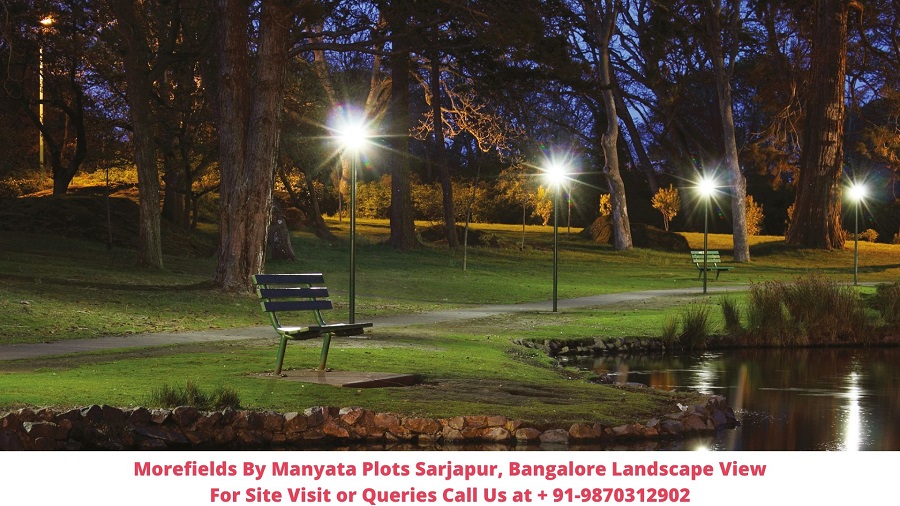 Landmarks of Morefields by Manyata
Schools
TISB
INDUS
DPS
GEAR
INDIA INTERNATIONAL SCHOOL
PRIMUS PUBLIC SCHOOL
RYAN INTERNATIONAL SCHOOL
INVENTURE ACADEMY
GREENWOOD HIGH INTERNATIONAL SCHOOL
IT Tech Parks
PRESTIGE TECH PARK
SALARPURIA TECH PARK
INTEL INDIA
RMZ ECO SPACE
CESNA TECH PARK
VRINDHAVAN TECH PARK
Hospitals
COLUMBIA ASIA
SAKRA
MOTHERHOOD
Lifestyle/Entertainment
TOTAL MALL
BANGALORE
CENTRAL
MORE
SPENCER
DECATHLON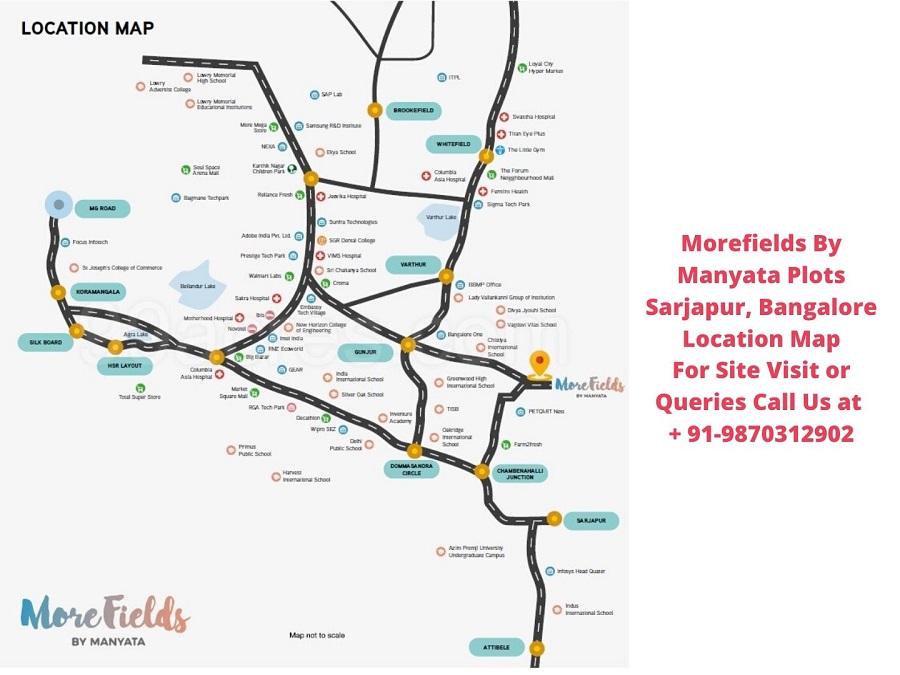 HIGHLIGHTS Of MOREFIELDS BY MANYATA:
22 Acres Exclusive Villa Plotted Community
Just 12 Plots Per Acre
Urban Oasis with Lush Greenery and 60% open spaces
1 Acre Forest Park with Zero Pollution and No Vehicle Movement
World Class Infrastructure for a Sustainable Urban Living
More Open space and More Outdoor Amenities for Everyone
In the Heart of the IT Corridor of Sarjapura , the Best International Schools of Bangalore
Next to the Upcoming Wipro SEZ and the Proposed Infosys Campus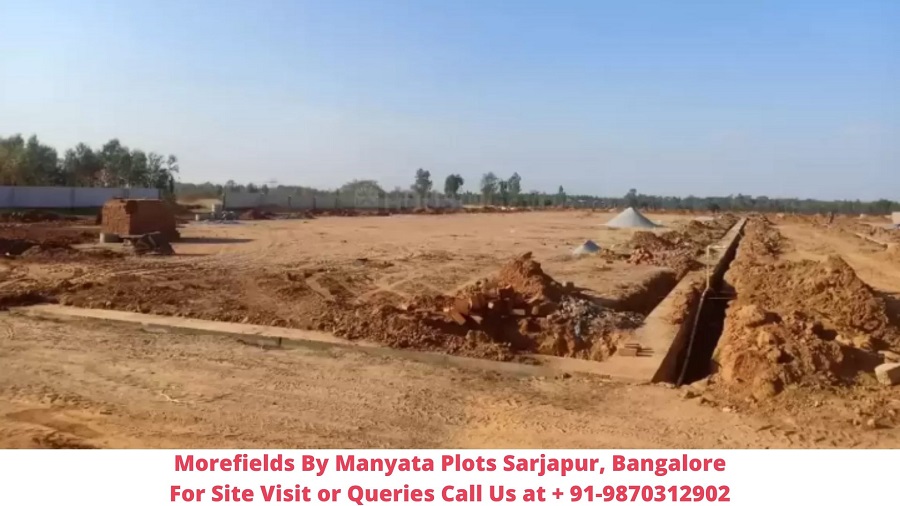 SPECIFICATIONS
All 247 plots are Vaastu-compliant, and thoughtfully planned with 9-meter wide networks that open up to 12-meter wide main roads ensuring traffic flows smoothly throughout Morefields.
Aesthetically Designed Plot Entry
Well-Connected Road Network
Well-Shaded Pedestrian pathways
All our power lines run underground –– telephones, cable TV, DTH and internet connection lines for all the plots, the resort, the security kiosks, villas and other necessary junctions, and any future upgrades.
Future-Ready Communication Network
Best-In-Class Electrical System
Energy-Efficient Street Lighting
100% Power Backup
Conserving water is not an option, and at Morefields, we have put together a comprehensive Water Management Plan, that will help conserve, and sustain a lifestyle that is green, verdant and pure.
Gravity Flow Water Network System
Storm Drain Network
Innovative Rainwater Harvesting Systems
Zero-Discharge Sanitary Network
Sewage Treatment Plants (STPs)
Morefields is an exclusive gated community that will have round-the-clock security with kiosks at all entrances and exits. Seasonal flowering trees, native to Bangalore, are planted throughout our avenues. 90% of the existing trees are preserved and taken care of.
24 Hour Security Systems
Awe-inspiring Landscaped Gardens
Aesthetically Designed Signages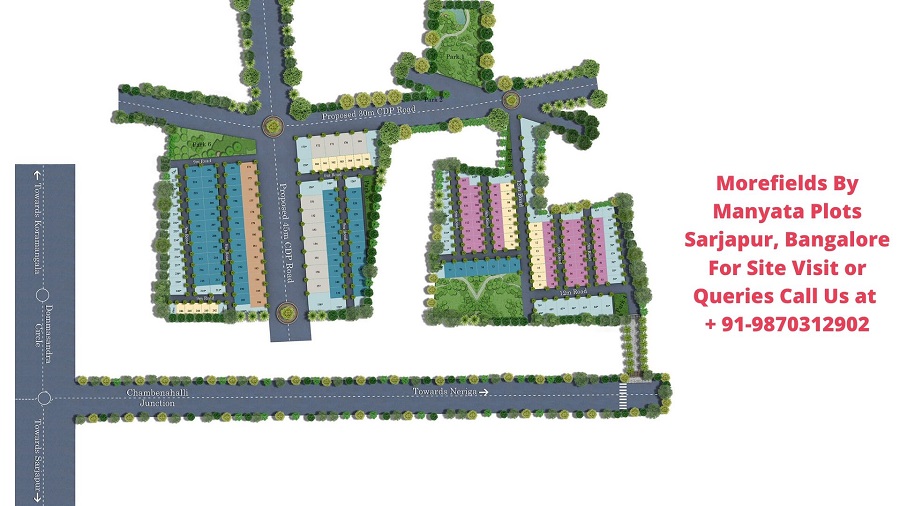 Q- As a man is said to have a right to his property, he may be equally said to have a property in Morefields By Manyata which a property seeker should buy?  
Current condition: – All of the mentioned below are under construction.
Choose from a variety of 247 premium plots. Or combine multiple plots to build your dream villa. All plots come with electric, water, and communication lines, so you can commence building your dream villa.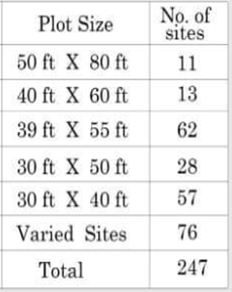 Q- I always say if the house I live in is comfortable, and I have all the amenities I need, then what more can you ask for? Talking about the Amenities in Morefields By Manyata: –
The following are the various amenities offered by Morefields by Manyata to its residents: –
Amenities & Facilities:
Grand Entrance
Security Cabin
Pedestrian Path
Avenue Plantations
Visitors Parking
Forest Fields
The Zen Garden
Rain Garden – Temporary
Bird Park
The Big Banyan – Picnic spot
Sacred garden
Pet park
Jogging Track
Cycle trails
Yoga Pavilion
Cricket practice nets
5 Aside football Arena
Multi-Purpose Court Tennis/shuttle
Volley Ball Court/Throw ball court
Half Basket Ball Court
Outdoor gym
Skating rink
Sand pit
Toddler zone
Graffiti wall
Organic Farming
Open air theatre
Projector facility
Paved tree court
Barbeque Pit
Gazebo
Wetland garden / Natural Ponds
Street Lights
Seating Areas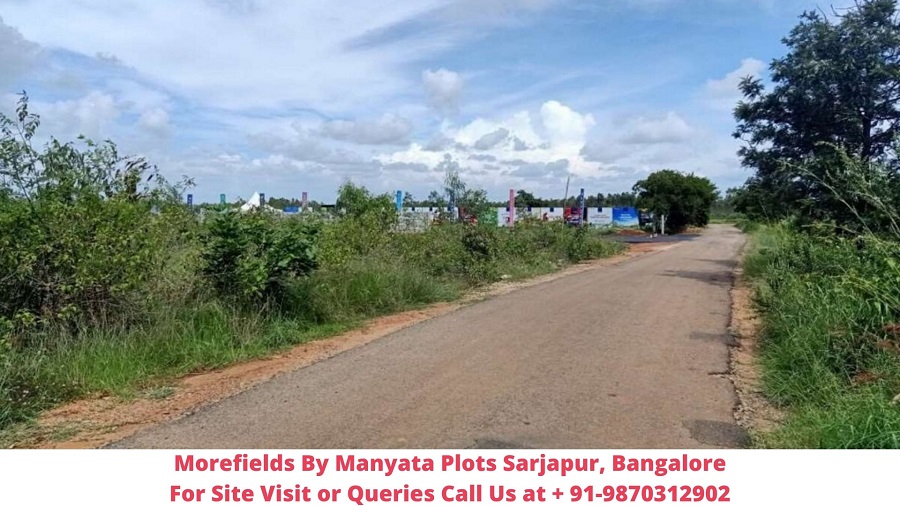 Visit Our Website: https://bit.ly/3c0NNEz
For More Info or Site Visit Call Us at +91 – 9870312902
We also have some other options of residential projects for you in Bangalore Click Here