A look at our history books would tell us that most great civilizations of the past came up near river banks or coastlines. Moving to the present, the story has changed somewhat. Nowadays, it's the physical infrastructure and the promise of opportunity that attracts people to settle in an area. A look at the evolution of India's 'Silicon Valley' and 'Garden City' of Bangalore is a clear illustration of the same.
Bangalore city, earlier defined by its petes and cantonments, rapidly expanded eastwards and southwards in the late 90s. Fueled by the IT boom and the construction of the Outer Ring Road, many villages rapidly became urbanized and a part of this ever-expanding city. We are now on the cusp of history repeating itself, with north Bangalore being the new theatre of development. The one major factor, which has brought about this boom, is the construction of the Kempegowda International Airport in Devanahalli, which opened in 2008. Already one of the country's busiest airports, it has become a key economic and real estate driver. We look at the changes this airport has already indirectly brought about and also the impact of some promising developments announced recently.
As the population is increasing day by day. the land rates in India will go on increase unless there is some serious issue in that area. If you invest money in some bank or in shares there will be no guarantee for that money to get double. But if you invest in property especially land it will surely get increased.
Why Sarjapur Road Is An Amazing Place To Stay?
Here are the 5 most convincing reasons:
1. IT careers
Multiple eminent IT companies including Accenture, Cisco, Wipro, HP, KPMG, Nokia, and others are well-set up in this area. With the swift growth of more and more such companies and startups, employment opportunities are expected to rise further – pulling more and more professionals to this area. And, nothing could be better when one can live in the vicinity of their workplace, isn't it?
2. Infrastructure And Connectivity
Bangalore International Airport (BIAL) from Sarjapur Road is at a distance of 1 hour and 55 minutes. The Majestic Bus Stand, KSRTC Bus Stand, and Bangalore City Railway Station are just 15 kilometers away from Sarjapur Road. The planned Peripheral Ring Road (PRR) which connects to Bellary Road, Hosur Road, Bellary Road, and Old Madras Road will boost the realty sector here. The imminent metro lines which are under construction will connect Sarjapur in the south-east and Yelahanka in the north. This location offers good road connectivity to key IT strips of Bangalore like Electronic City, Marathahalli, Silk Board, Whitefield, Koramangala, Madiwala, and a few more.
3. Educational facilities
Sarjapur houses a good list of schools promising high-quality education for children. So, if you are one of those who have a family and looking for the best education for your children then being at Sarjapur would give you ample of amazing options to choose from. Delhi Public School, Orchids International School, St. Peters, St. Francis, Indus International School, Harvest International School, Silver Oaks International School, Sarjapur has many schools who provide high standard learning for children. Also, parents will spend less time worrying about having their children to commute far from home just to receive quality education
4. Shopping centers
Along with lots of commercial establishments, Sarjapur Road is also filled in with many good shopping destinations. Moms and homemakers who are too busy looking to balance work-home-children want shopping destinations close to the place they stay. From regular groceries to lavish fashion items, Sarjapur houses many shipping malls in close vicinity – Central Mall, Total Mall, Market Square Mall are just a few to name.
5. Capital & Rental Values
Despite several major policy reforms in the construction sector, the Sarjapur locality witnessed a surge of 2.6 percent. The average ask rate here varies between Rs 4,300 per sq. ft and Rs 5,700 per sq. ft. Considering rental values, the average rental rates for a 1BHK is around 10,500 Rs – 15,000 Rs, for a 2BHK is about 17,200 Rs – 21,000 Rs and 3BHK is in between 22,800 Rs – 29,500 Rs. Also, the demand for rental properties is at peak owing to the current prominent presence and growth of commercial development.
NVT Builders:
NVT Quality Lifestyle is a professionally managed real estate company dedicated to developing high-end residential and commercial projects. The company is part of the NVT Group established in 1995. NVT Group is run by professionals who are alumni from IIT, Carnegie Mellon, Purdue and Wharton. The group comprises of diverse set of businesses in area of Quality Certification, Consulting, Education and Training and Infrastructure Development.
NVT Arcot Vaksana Overview:
Set on 7 acres of fertile space, which once used to be The Arcot Farm. NVT Arcot Vaksana villa community is an oasis of green – a luxury that is truly invigorating and refreshing.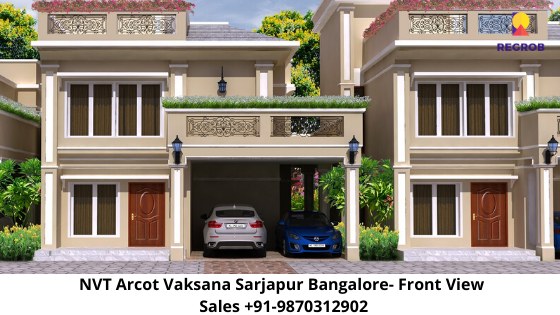 NVT Arcot Vaksana villa community is reminiscent of the grand Victorian era with large open spaces, artistic gardens, and beautiful walking boulevards around.
Grand Entrance
Surrounded by Greenery
International Architecture
Designed by professionals for professionals
USP of NVT Arcot Vaksana
Best Designers:
The Design Consultants are a Singapore affiliated design company with years of successful track record in a diversified range of projects.
Amenities:
Luxurious amenities help add to the time spent with family, friends, and neighbours with attention to the smallest details in the garden and community areas.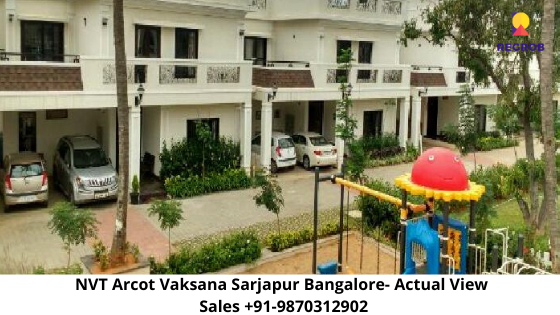 Lifestyle:
Villas close to large gardens and open spaces. Rooms with plenty of light and fresh air. Open architecture adding to the sense of space. The design philosophy is as simple as this.
Quality Builders:
A Group with a firm foundation, global reputation and professional approach offering services in the area of Quality Certifications, Consultancy, Education & Training and Infrastructure Development.
High-Level Specs:
No effort is spared to ensure the best quality lifestyle experience. Only the best materials are used in creating your home.
Location:
Close to schools and offices, everything you need is right next to you.
The Grand Club Vaksana:
One of the important things about creating a home is that you have the opportunity and the responsibility to create a living environment that you would like to spend time in. Building a villa is not a private affair; it's a house that must serve a whole family and friends. The overall community experience is as important as the experience within the home.
 NVT Arcot Vaksana Location:
NVT Arcot Vaksana, located at Sarjapura road, is next door to the proposed new Infosys Campus and Azim Premji University. It's just 20 minutes away from Electronic City, Whitefield, and the IT corridor of Outer Ring Road.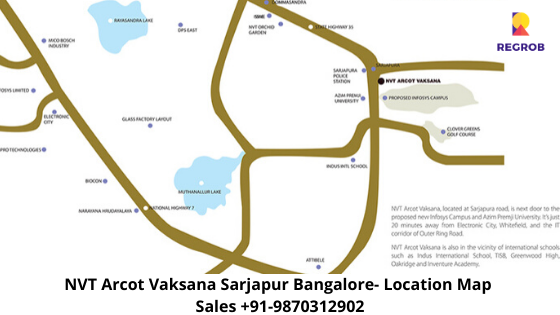 NVT Arcot Vaksana is also in the vicinity of international schools such as Indus International School, TISB, Greenwood High, Oakridge and Inventure Academy.
NVT Arcot Vaksana Specifications:
Structure
Foundation: Reinforced Cement Concrete Footings Super Structure: Reinforced Cement Concrete Framed Structure Roofing: Reinforced Cement Concrete External Walls: Solid Cement Block Masonry of 8'' thickness Internal Walls: Solid Cement Block Masonry of 4"/8"' thickness
Flooring and Tiling:Foyer, Living, Dining, Staircase and Family Area: Imported Marble Bedrooms: Wooden Laminate Kitchen and Utility Area: Vitrified Tiles with provision of Dado above platform Toilets: Antiskid Vitrified/ Ceramic Tiles with Dado upto 8 feet Terrace
Sitout and Balcony Area: Pressed Clay Tiles/ Anti-Skid Ceramic Servant Room: Anti- Skid Ceramic and Dado
Plastering and Painting
Internal Walls: Smooth Plaster Finish with Good Quality Emulsion Paint External Walls: Water Proof Plaster with Good Quality Exterior Grade Emulsion Paint Grills: Enamel Painting
Doors, Windows and Fittings
Main Door: Teak Wood Frame with Designer Flush Door Shutter Other Doors: Seasoned Hardwood Frame with Flush Door Shutter Windows: 3 track UPVC Shutters/ Aluminum Windows with Clear Glass Fittings: Stainless Steel/ Brass Hardware
Sanitary, CP and Other Fittings
Sanitary: EWC & Washbasin CP Fittings: Single Lever Diverter for all showers and Single Lever Mixer for all washbasins, Health Faucet and Accessories in all toilets except servant toilet Provision for Solar Water Heater to supply hot water to all toilets Provision for Exhaust Fans in all toilets. Granite Tops for the washbasin Mirror in all bathrooms except servant toilet Provision for Granite Platform with Stainless Steel Sink and Drain Board in kitchen
Electrical
Wiring: Concealed Wiring with PVC insulated Copper Wires and Modular Switches with sufficient Power Outlets and Light Points
Power: Upto 10 KW power for all villas for Backup Power of upto 5 KW to all villas and common services Service Cabling: TV and Telephone Points in living, family and all bedrooms
Safety: Earth Leakage Circuit Breaker and Individual Meters for all villas Provisions: AC point provisions in all rooms
Safety Feature
Estate is secured with a Compound Wall and entrances that will be manned by Security. Intercom from security to all villas Features: Provision for Video Door Phone
NVT Arcot Vaksana Master Plan & Floor Plan: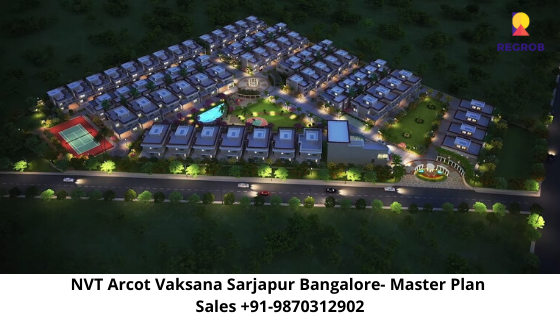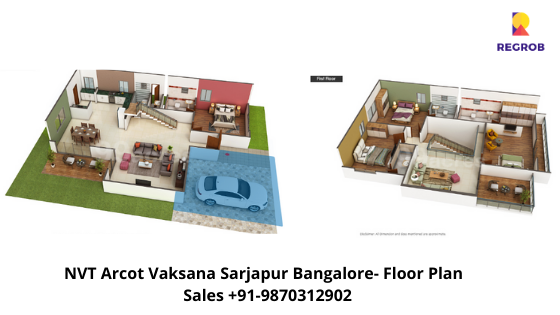 Q- As a man is said to have a right to his property, he may be equally said to have a property in NVT ARCOT VAKSANA which a property seeker should buy?

Highlights
Project Area
7 Acres
No: Of Units
66 Villas
Configurations- 4 Bhk
Built up area-2885 & 3664 Sft
Q- I always say if the house I live in is comfortable, and I have all the amenities I need, then what more can you ask for? Talking about the Amenities in NVT ARCOT VAKSANA: –
NVT Arcot Vaksana comes with everything you and your family need to keep fit both physically and spiritually.
From a sprawling clubhouse to an open-air tennis court, a swimming pool to a basketball court – there's nothing you'll find missing.
Amenities:
Club House
Tennis Court
Half Basketball Court
Swimming Pool
Children's Play Area
Badminton /Squash Court
Table Tennis
Activities Room
Gymnasium
Walking Boulevards
Basketball court
NVT Arcot Vaksana Villa Review:
Watch Actual Video of Residential Project In Sarjapur Click Here
For More Info or Site, Visit Call Us at +91 – 9870312902
We also have some other options of residential projects for you in Bangalore Click Here