India is expected to undergo one of the largest urbanizations ever by 2030, with its urban population growing from 350 million in 2015 (30% of total) to 600 million (38% of total). Imagine adding almost the total population of Europe to India's urban population over ten years-this is what India faces!
The extraordinary scale and pace of this transition is already placing an enormous burden on cities, and this reflects in their struggle to deliver even the most basic services to their citizens. Housing deficit, poor quality of city planning, vehicular population, rising pollution, poor quality of living and weak governance are challenges to be addressed. As of now, the list of unfinished and unattended items on the urbanisation agenda is long and daunting.
Going forward, whether these new cities become chaotic slums – or become truly sustainable, would depend on how city developers plan and respond to the urbanization challenge. The solution lies in how cities are planned, governed, and provide services to their citizens. Increasingly, experts are reiterating the need of a new model of urbanization that not only strives to improve liveability but also helps plan and build new future cities.
Now talking about Mumbai, it is referred to as the financial and business capital of India, accounting for more than 6% of India's economy. It ranked among world's top 30 cities by GDP, 4th fastest growing Asian city (by GDP growth in the period up to 2021 – Oxford Economics) and it accounts for 40% of India's foreign trade.
Despite Mumbai's success, over the years its growth has been severely constrained due to characteristic challenges faced by big cities across the globe. This is where Lodha Palava City steps into picture.
With 4500 acres of land, strategically located in the heart of Mumbai Metropolitan Region's growth corridor, Lodha Palava City is designed to grow intelligently, systematically and become a true model for "work-live-learn-play" development. The city is already bustling with opportunities and is home to over 100,000 people, making Palava India's fastest growing city. Over US$ 2 billion has already been invested into developing the city. And that's just the beginning. Palava is envisioned to have an economy of over 10 billion US$ by 2025, which will provide up to 100000 jobs.
As a green field city, every inch of Palava has been designed to make the setting-up and running of businesses more seamless and economical than ever before. There's no place in India that's more geared up to take businesses to the next level, while keeping employees happy and productive.
The city is designed for Lowest Operating cost and businesses will benefit from lower direct costs driven by Savings in rentals, lower electrical tariffs compared to commercial rates, low Property tax.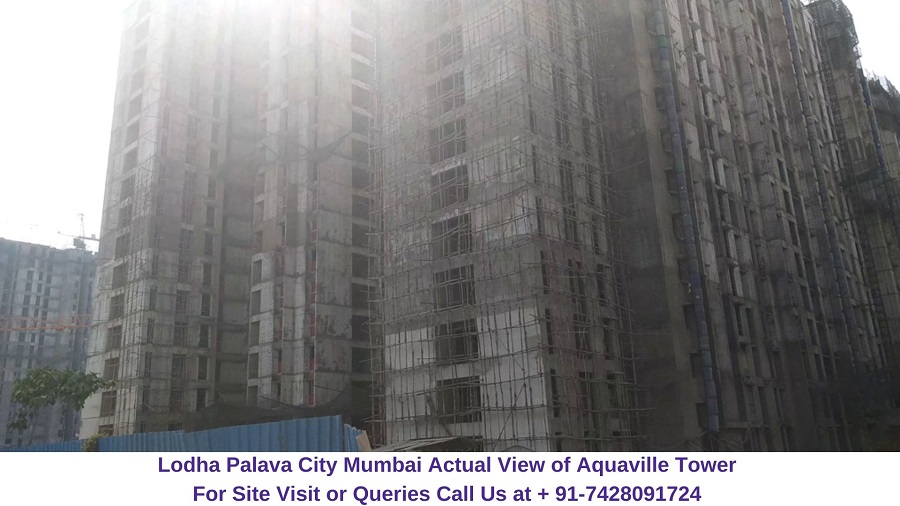 Why should we consider buying a property in Lodha-Palava City?
• Palava City removes the hassle from setting up and operating businesses with its unique 'Just Ask' service – a single window that helps businesses obtain all setup related permits and permissions. The city is managed by the ultra-efficient Palava City Management Association (PCMA), a private governing body that ensures Palava is run to international standards with an alignment to growing businesses and their productivity.

• Palava City's world-class infrastructure was conceived by global experts Sasaki and Buro Happold. 24 x 7 power availability with Express Feeders, abundant water availability, Fibre Optic high-speed internet, well shaded 3.5m wide footpaths, Round-the-clock
patrolling with private security etc. ensure employees and visitors get the best infrastructure to operate in and benefit from.

• Palava City also boasts of readily available pool of over 250,000 professionals at the lowest cost in the Mumbai Metropolitan Region. With its walk-to-work ecosystem, businesses will have healthier, productive employees that are easier to retain.

• Palava City is India's first 'green mobility' city that's designed for sustainability. Intelligent city design places everything you need – workplaces, schools, and parks – at just a 5 to 15-minute walk away. One will never need a car within the city- saving commuting costs, minimising travel time, and improving citizens' quality of life.

• Palava City is well on its way to become a model of innovation for urbanization. It's getting recognition globally but more importantly, in a short span of 8 years, it has been able to create a vibrant sustainable eco-system, for its thriving community, which focuses on a big city's aspirational appeal but also addresses its limitations. Innovative solutions delivered in Palava have been very successful and need to become the way ahead for all city planners still struggling with addressing the urbanization challenge.
Q- As a man is said to have a right to his property, he may be equally said to have a property in his rights. So, what are the different types of properties available in Lodha-Palava City which a property seeker should buy?
LAKESHORE GREENS
SMART BUY
DOWNTOWN
AQUAVILLE
Current condition: –
READY TO MOVE IN: –
| | | |
| --- | --- | --- |
| TYPE (all with balcony) | USUABLE AREA (in square feet) | PRICE (in lakhs) |
| 1 BHK | 506 | 47.04 |
| 2 BHK Optima | 636 | 59.62 |
| 2 BHK Ultima | 717 | 68.72 |
| 3 BHK Optima | 845 | 81 |
| 3 BHK Ultima | 939 | 88 |
UNDER CONSTRUCTION: –
| | | |
| --- | --- | --- |
| TYPE | USUABLE AREA (in square feet) | PRICE (in lakhs) |
| 1 BHK (without balcony) | 420 | 37 + 2 (for parking) |
| 2 BHK Optima | 519 | 45.5 |
| 2 BHK (without balcony) | 588 | 51 |
| 2 BHK Ultima (with balcony) | 632 | 57 |
| 3 BHK Ultima (with balcony) | 714 | 65 |
| 3 BHK Ultima (without balcony) | 845 | 80 |
| 3 BHK Ultima (with balcony) | 919 | 85 |
Notes:-
The above mentioned are all-in prices that is Total Cost of Ownership (TCO) of the individual properties.
There is zero stamp duty for each of the above-mentioned properties as per Lodha-Palava City norms.
Savings of over 20% in the case of ready to move-in vs under-construction:- No rent, no GST and no EMIs for the first 12 months which is paid by the developer, starting from the date of execution of the application form.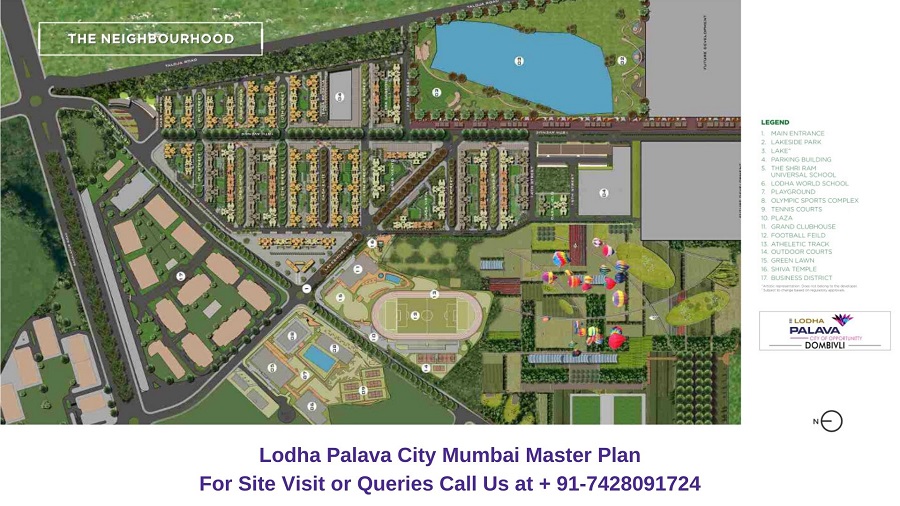 Q- I always say if the house I live in is comfortable, and I have all the amenities I need, then what more can you ask for? Talking about the Amenities in Lodha- Palava City: –
"LIVE, WORK, LEARN, PLAY."– This is the most heard slogan the citizens of Palava City tell others when someone asks them about their experience of living in this wonderful environment.
Now you must be wandering what is the big deal about this slogan? Well it is a great deal when you want to buy a flat in Lodha Palava City. The slogan can be explained in the following manner as shown below: –
LIVE: –
• Connectivity- Metro Line 12 is under construction which will connect Kalyan to Taloja and will be having 3 stations namely- Manapada, Hedutone and Kolegaon.
(Completion- 2024)
Dombivali Station is only 15 min from Palava City.
Nilje Station nearby Palava City has 16 passenger trains connecting various locations of Mumbai, Navi Mumbai and Thane.
Bus transport shuttles are also available inside Palava City for a convenient transport experience from Palava to nearby locations.
• Roads- 12 km Katai-Airoli Link Road is underway construction in tunnel form (Completion -2021) which after completion will lead to 20 min arrival time from Airoli to Palava City.
Internal Road of 1.6 km is also under construction connecting Dombivli and Palava City. (Completion- 2020)
• Temple- Shiva Temple (Ready)
Guruduwara which is under construction. (Completion- 2022)
Jain Temple which is under construction. (Completion- 2020)
General prayer hall which is under construction as well.
• Hospitals
AIIMS hospital which is under construction. (Completion- 2021)
Sanjeevani Clinics – 24 x 7 Ambulance Services
• Malls
New Age Mall (Biggest mall in India) spread over 20 acres of land currently under construction.
Lifeside Park with lush green environment ready and spread over 8.7 acres of land.
Central Park another park currently under construction.
Clubhouses having gymnasium, community meeting rooms, indoor/kid games etc. has been incorporated individually in each cluster of buildings.
WORK: –
• Commercial Hubs – 100 acres of land and variety of Job Opportunities
• Shops– 2.3 km High Street lane housing variety of retail shops
LEARN: –
• Schools-
5 ready to move in schools: –
Lodha World School- ICSE
Pawar Public School- ICSE
Lodha World School- CBSE
Sri Ram School- ICSE
Lodha World School- SSE
And 3 more schools which are under construction. (Completion- 2022/23)
PLAY: –
• Sports– 2 World Class Stadiums for Cricket and Football and one Olympic Style Sports Complex spread 7 acres of land.
• Various tie-ups with world famous academic institutions details included in the official brochure of Lodha-Palava City.
Check out all the videos of Lodha Palava City: Click Here
For Site Visit & Queries Call- +91-7428091724
You can watch the actual videos of other residential projects of Navi Mumbai Click here
You can also check some other residential properties in Navi Mumbai Click here