Paradise Sai Mannat is a ready to move residential project by Paradise Group. This project is located at one of the prime destinations i.e., Kharghar Sector 34 A, Navi Mumbai. Sai Mannat is spread across 4 acres of land. It consists of 5 Towers (A, B, C, D, E) of G+26 floors each with 338 numbers of units. This project will offer 2, 3, 4 BHK Apartments with all luxury amenities and features.
Each apartment of Paradise Sai Mannat is spacious, and is designed with proper utilization of space. Sufficient space is provided between the towers so that natural sunlight and fresh air can reach to every section of your dream home.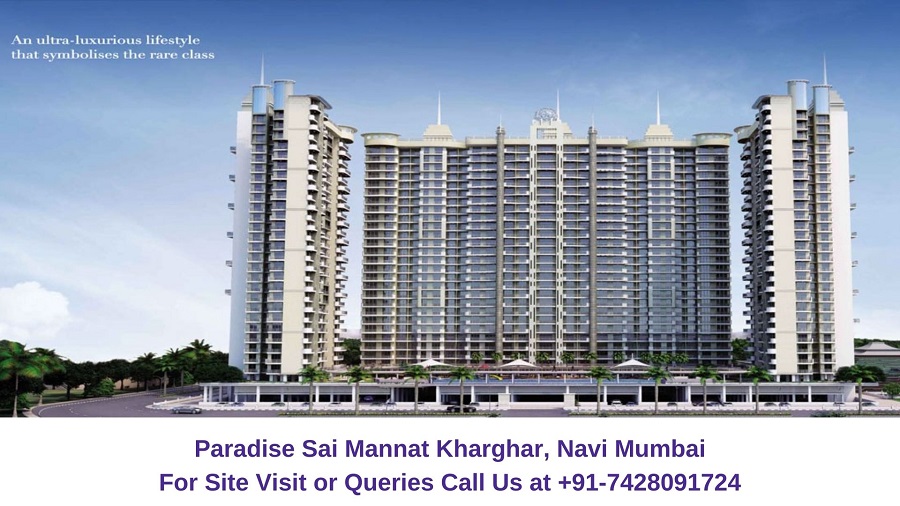 USPs of Paradise Sai Mannat:
G+26 storeyed residential landmark with 5 towers
Offering 2, 3, 4 BHK ultra luxury homes
Presenting well-planned and contemporarily styled architecture
Largest Podium lifestyle amenities in Navi Mumbai
Elevated Skywalk for Jogging
Close to Panvel Road
Embellished with world-class luxury, health, rejuvenation, recreation, entertainment and lifestyle amenities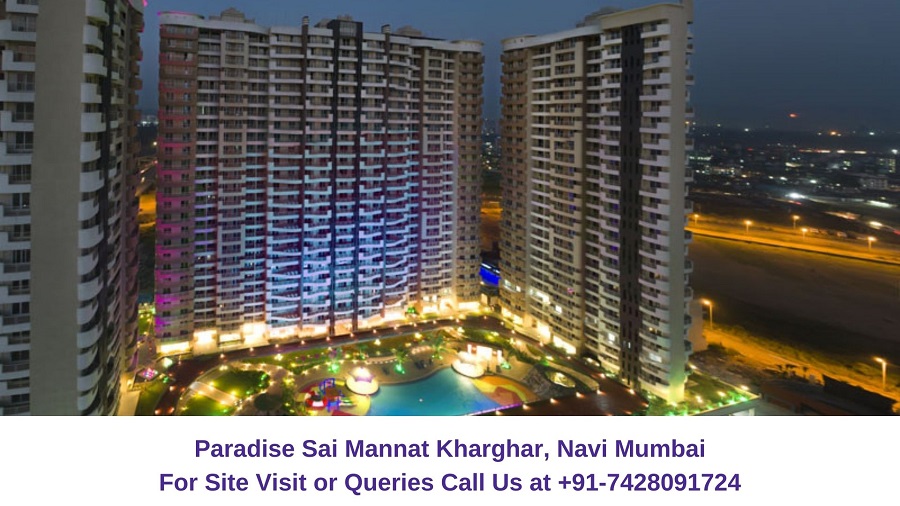 Bank Approvals:
Bank loan approved from HDFC Home Loans, HSBC, ICICI Bank, State Bank of India, City Bank, IDBI Bank Ltd, Bank of Maharashtra, Deutsche Bank, AXIS Bank, LIC Housing Finance Ltd, Tata Capital, Indiabulls and PNB Housing Finance Limited.
Sai Mannat Price:
The Price of the apartments in Sai Mannat project starts from 1.18 Cr (onwards)
2 BHK
Built-up Area: 1150,1225,1230, 1275 & 1305 Sq. ft.
Price: 1.18 Cr. Onwards
3 BHK
Built-up Area: 1660,1680,1780, 1810 & 2000 Sq. ft.
Price: 2.12 Cr. onwards
4 BHK
Built-up Area: 3205 & 3275 Sq. ft.
Price: 3.72 Cr. onwards
Sai Mannat Floor Plan:
2 BHK Floor Plan: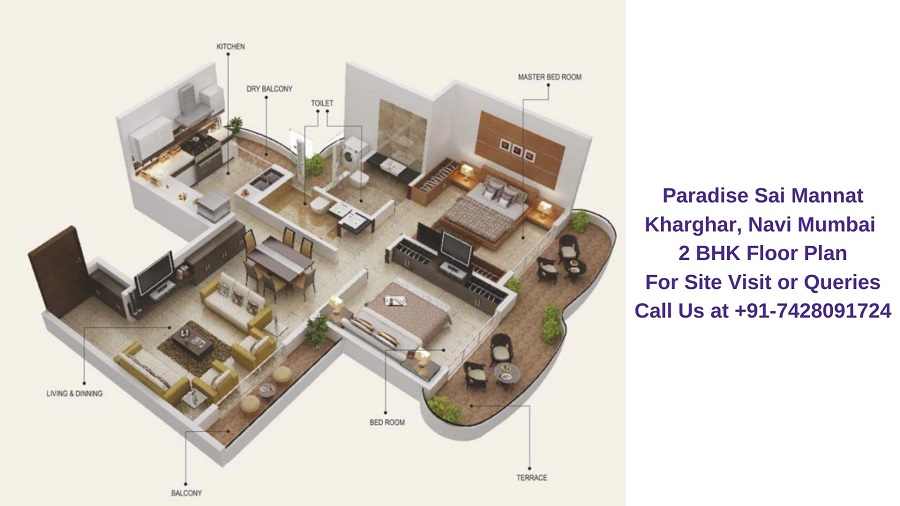 3 BHK Floor Plan: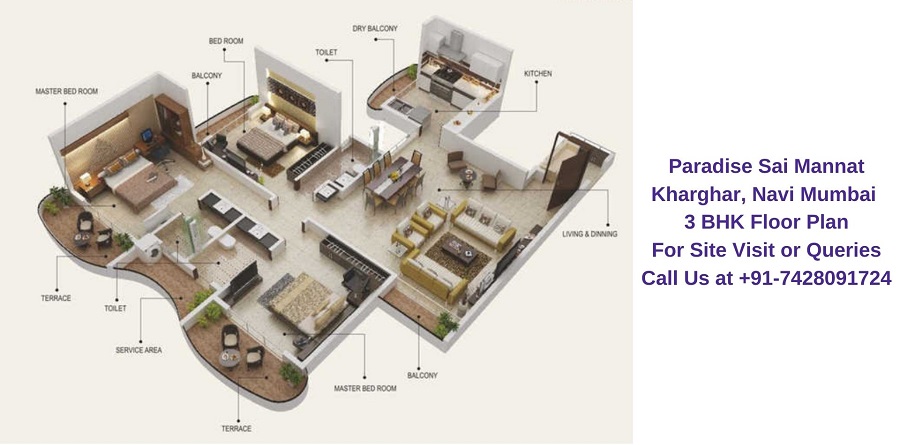 4 BHK Floor Plan: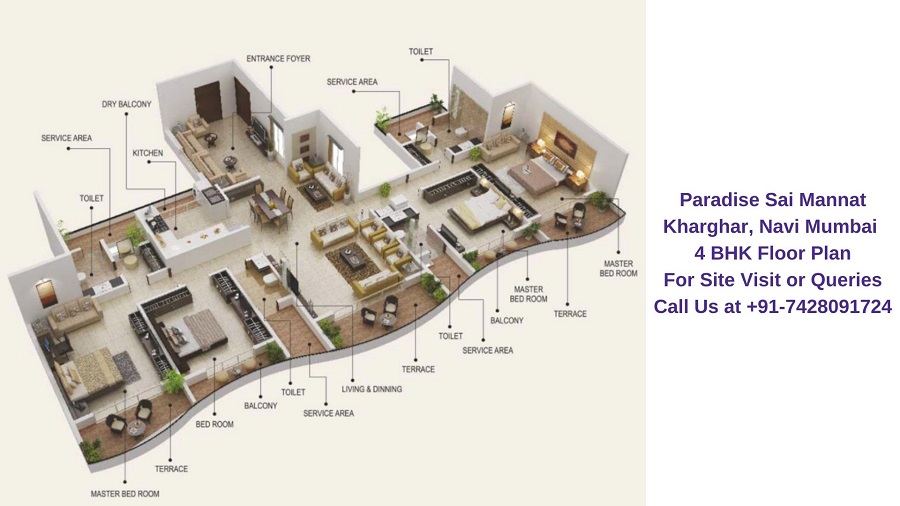 Location Advantages & Direction:
Sai Mannat is ideally located at Kharghar Secotr-34 A Navi Mumbai. This project enjoys seamless connectivity with all important part of the city. All major destinations like schools, hospitals, malls, bank, etc. are within close vicinity to the project.
Kharghar is among the mostly developed Nodes of Navi Mumbai. Located on the Mumbai- way, Kharghar enjoys seamless connectivity to all major points of interest in and around Mumbai. It is less than an hour's drive from Central Mumbai, 11 minutes from Navi Mumbai via Sion- way, 12 minutes from Link Road, 16 minutes from Vashi and 15 minutes from Kamothe via Sion- way.
Important Destination Nearby:
Close to proposed Metro Rail
ISKCON Temple nearby
TATA Cancer Hospital very close by
Entertainment centres like 'Utsav Chowk' and 'Shilp Chowk' nearby
Reputed educational institutes in close proximity
Golf Course nearby
5 kms. (approx.) from the proposed International Airport and D.Y. Patil Stadium
Connected with the Mumbai-Pune Highway
Schools:
Apeejay School
DAV International
VIBGYOR
Colleges:
NIFT
YMT
ITM
Bharti Vidyapeeth
Hospitals:
Motherhood
TATA Cancer
Sanjeevani
Om Navjeevan
Mall:
Little World Mall
Seawoods Central
Attraction:
Central Park
Golf Course
ISKCON Temple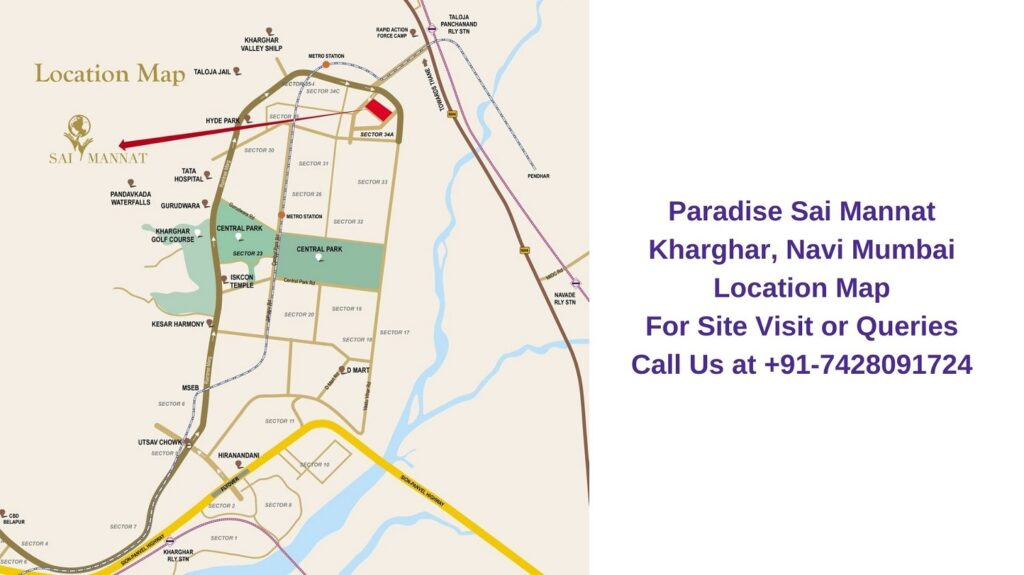 SAI MANNAT AMENITIES:
Tower Facilities:
Double height designer main entrance lobby
Air conditioned lounge with art gallery
Designer floor lobby on every floor landing
24 x 7 Generator backup for lift and common areas
Stretcher lift in each tower
Intercom system
Modern fire extinguishing system
Air-conditioned lounge with Art Gallery
Double-height designer main entrance lobby
Designer floor lobby on every floor landing
Intercom system
High-speed lifts
On call concierge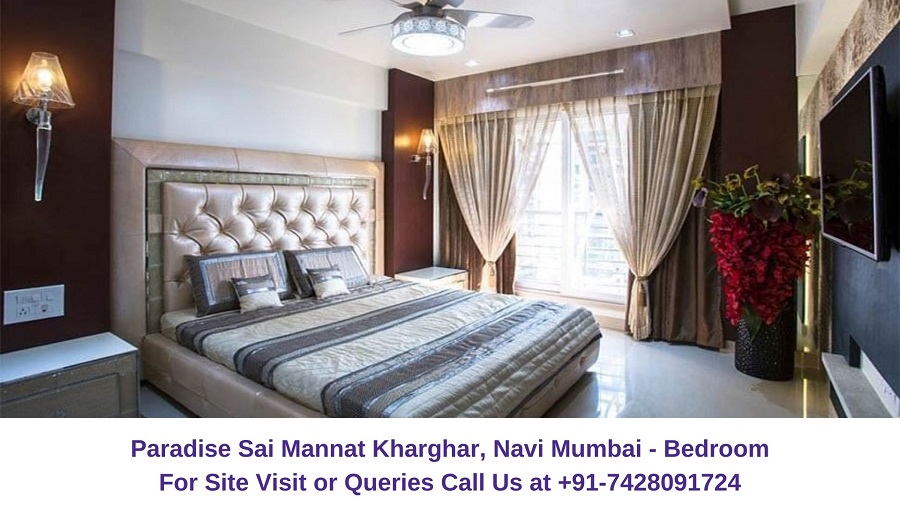 WORLD-CLASS FACILITIES:
Health & Fitness
Swimming pool, infinity pool & lap pool
Air-conditioned aerobics centre with personal trainer
Personal nutritionist with salad bar concept
Air-conditioned virtual golf course
Additional covered swimming pool with temperature control system in Oasis club house
Elevated jogging track (skywalk)
Landscape & Beauty
Landscaped garden with acupressure pathways
Rock fountains with water fall
Pergola/Gazebos
Zodiac & herbal gardens
Well-designed calming water bodies
Dancing fountain with color LED lights
Rejuvenation & Relaxation
Therapeutic spa
Air-conditioned meditation hall
2 Jacuzzis with temperature control systems
Rejuvenating eucalyptus trees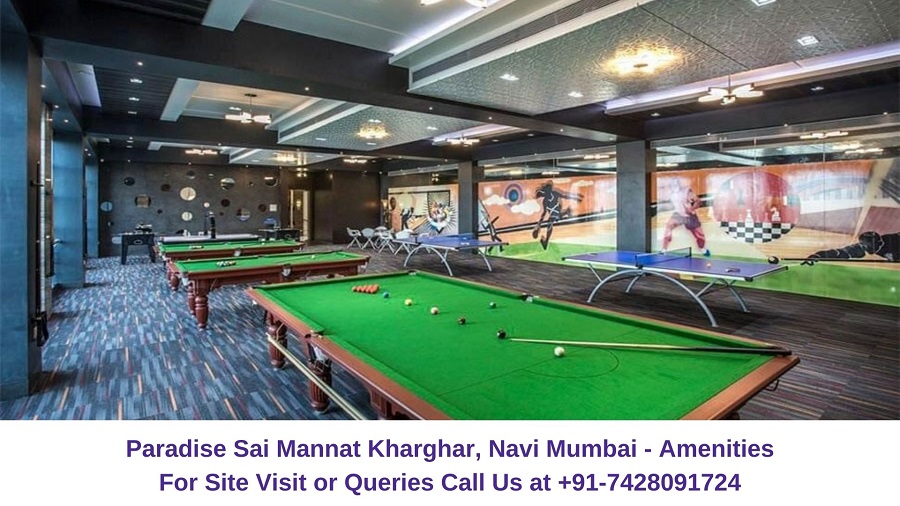 Children's Activities
Children's play area with Disney Park theme
Gaming zone & fun library in play area
Children's activity centre with fish aquarium
Kids pool with water slides
Music training room with guitars, piano saxophones and many more
Music room with dance floor for dance training
Video game parlour
Children's & toddler's park with rubber court
Drawing & painting room (fully equipped)
Air conditioned two tuition rooms for their studies
SPECIFICATIONS:
LUXURY
RAK Dubai morbonite flooring or equivalent
European wooden flooring in master bedroom
Plush spacious bedrooms
UPVC sound proof French windows
CONVENIENCE
Designer kitchen with branded steel sink
Chimney and hob
Water purifier and geyser in kitchen
Geyser in all bathrooms
Beautiful mix of antiskid vitrified tiles, glazed tiles and
Agglomerate Italianstyled marble in all bathrooms
Mirror partition in all bathrooms for dry and wet areas
SAFETY
Solidwood intricately carved door
Antiskid tiles on attached terraces and balconies
3 tier security system
Modern fire extinguishing system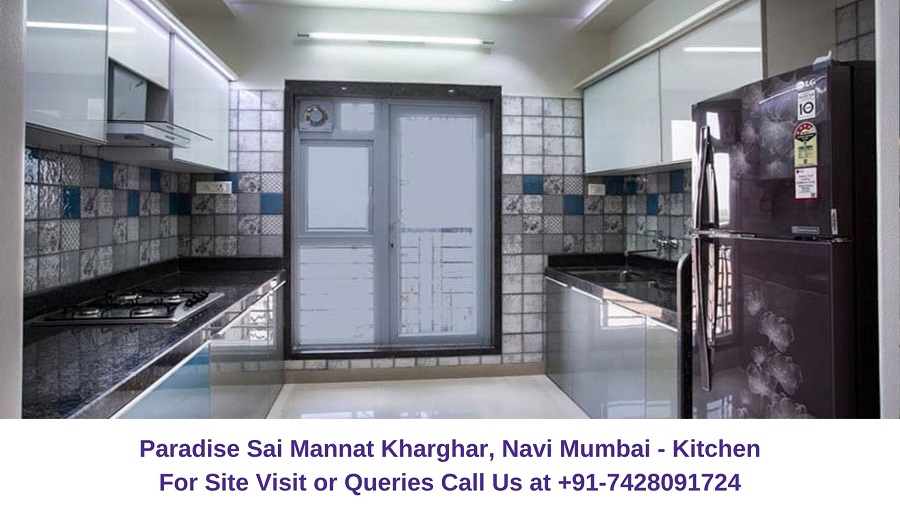 Frequently Asked Questions about Sai Mannat:
Q. Is Sai Mannat a good investment?
Ans. Yes, Sai Mannat is a very good investment Option. It is adorned with high-end lifestyle amenities that provide top-notch amenities for every resident. The entire project is spread across 4 acres of land. This project offers 2, 3 & 4 BHK ultra-luxury homes at the best price.
Sai Mannat project offers you world-class living that makes your life happier, healthier, and loveable. All apartments are well designed and spacious so that natural and fresh air can reach every section of your home.
Q. What are the flats available in Sai Mannat?
Ans. Sai Mannat offers spacious 2 BHK, 3 BHK & 4 BHK Flats. It offers ready to move flats of the following configurations:
2 BHK | Built-up Area: 1150,1225,1230, 1275 & 1305 Sq. ft.
3 BHK | Built-up Area: 1660,1680,1780, 1810 & 2000 Sq. ft.
4 BHK | Built-up Area: 3205 & 3275 Sq. ft.
The flats in Sai Mannat Project have been deliberately constructed keeping in mind the best structural design both from inside as well as outside. From trendy flooring to spacious balconies, standard kitchen sizes, and high-quality appliances, every little detail here gives it an attractive look.
So, if you are interested in buying a property in this Project, you can contact us at +91-7428091724 for a site visit & the best offers.
Q. How to do a site visit in Sai Mannat?
Ans. If you are planning to do a site visit in Sai Mannat, you have to take help or connect with a reputed firm like Regrob. We will help you with a smooth site visit to this project. Once you arrive on the site, we will help you to visit the site with Paradise's sales representative. All your questions and doubts related to the project will be explained only when you visit the site.
So, for the best offers & Site visits in Sai Mannat, call our expert team at +91-7428091724.
Q. How good is the connectivity of Sai Mannat Project?
Ans. Sai Mannat Project is located in Kharghar – the most developed node in Navi Mumbai, which is a major reason for investing in the project. This project is very close to the upcoming metro station at Kharghar.
Important Connectivity:
9 minutes from 255 Acres Central Park and ISKON Temple
9 minutes from 18 Hole Golf Course
10 minutes from Metro Station
7 minutes from Paradise Mall
12 minutes from Kharghar Station
3 Km from Banks, shopping malls, Multiplexes, Restaurants
7 minutes from VIBGYOR School
12 minutes from National Institute of Fashion Technology
13 minutes from Bharati Vidyapeeth College of Engineering
8 minutes from Tata Cancer
Consider this project if you are looking for apartments in Navi Mumbai. Have a free site visit with us of Sai Mannat. We will help you with free site visits and home loans.
To know more about Sai Mannat Project and Apartments for sale in Navi Mumbai make a call at +91-7428091724.
You can also watch the actual videos of other residential projects of Navi Mumbai Click Here
We also have some other options of residential projects for you in Navi Mumbai Click Here