Introduction about Thane:
Apart from Udaipur, another city of the southern suburb of India is known as the 'City of Lakes' which is Thane, a city in Maharashtra. Previously known as 'Thana', its name was changed to Thane. Spread in a space of 147 sq. km, it has a population of around 2 million people which goes beyond its municipal limits. Thane is also the third most industrialized district in Maharashtra. A part of the Mumbai Metropolitan Region, Thane has become almost a part of Mumbai due to its proximity. Thane not only shares its island with Mumbai but also Salsette Island. The famous hills, Hill of Yeoor and Parsik Hill surround this city which is elevated 7 meter above the sea level.
The city of Lakes reference has been derived due to the factor that the city features 35 lakes of which some are as follows:
Kausa Lake
Kharegaon Lake
Upvan Lake
Ambe Ghonsali Lake
Joshi lake and many more
The 2 main rivers Ulhas and Vaitarna pass through this district and has many tributaries too.These lakes add to the scenic beauty as many of them are located at the foothills of Yeoor and Parsik lake. The climate adds to the perfection with hardly any extremities but Thane is home to heavy rainfall. Thane is also home to many communities from Agri, Kohli and Wadavli which gives rise to variety in culture but Mahrashtrian culture prevails mostly thus making it a destination place for many temples like Ambarnath Temple, Shri Shani Mandir, Vajreshwari Temple etc. This also gives rise to festivals and fairs throughout the year.
Thane is famously known as the terminus for the first ever passenger train in India which was inaugurated between Chatrapati Shivaji Terminus and Thane. It is well connected to the neighboring suburbs through the Central and Trans- Harbor Suburban Rail network. Thane has a good network of roads for transportation purpose but it does not have a private Airport. The only airport close to it is in Mumbai which is 24 km away.
The close proximity of Thane to Mumbai has given it a cosmopolitan outlook though maintaining the ancient aspects. Thane has a mix of old screen talkies to multiplexes and also the largest malls in India. Some of the old and well known theatres are Anand Talkies, Ganesh Talkies, Malhar Talkies and Vandana Talkies, while some of the multiplexes like Cinepolis, Cinema Star, Inox are situated in malls like Big Mall, Eternity Mall, Hypercity Mall etc.
This city is well equipped with 5 star hotels and many upscale eateries and various restaurants lined up at the tourist spots. Even facilities for sports and leisure activities like Swimming, gymnasium and basketball and Dadoji Kondevv Sports Stadium being one of the most significant stadium in this district.
Thane, city closed to Mumbai is known to be the next hub for most of the things. Thane as district comprises of many cities within itself. Let's talk about Thane city specifically. There has been a drastic change in Thane in terms of development. Metro projects, wide roads, beautification of lakes, systematic control of Thane station and many more things. Thane railway station handles nearly 6 lakh commuters daily, to manage them is a difficult task and it managed very efficiently. A proposal for one more railway station is made so as to ease the pressure of Thane railway station.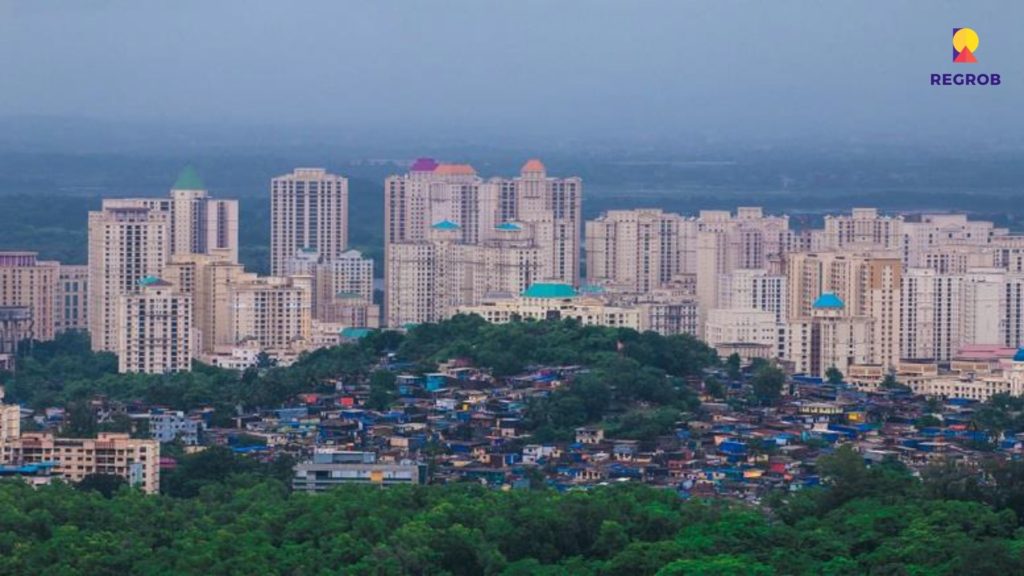 Hello everyone I am Akhilesh Shetty from REGROB Infrastructure Pvt. Ltd. Today I will be talking about how the location of Piramal Vaikunth is unique.
Piramal Vaikunth, Thane
Piramal Vaikunth is one of the most successful launch in Thane. There are many aspects of this projects that makes it unique and location is one of them. Piramal Vaikunth is located in central Thane with connections to Greater Mumbai ensuring the best of both worlds for its residents. They can enjoy the convenience of shopping and dining options, schools, and hospitals while being surrounded by lush hills, lakes, and nature reserves. Piramal Vaikunth is just minutes away from the finest cultural and cosmopolitan attractions of Thane.
60+ Schools
6+ Hyper Malls
35+ Lakes and Waterfronts
50+ Hospitals and Dispensaries
3+ Water and Amusement Parks
5+ Colleges
2+ Botanical Gardens
Hospitals:
2.8 km from Jupiter Hospital
3.7 km from Bethany Hospital
Shopping Malls:
1.3 km from Lake City Mall
2.8 km from Viviana Mall
Transportation:
1.3 km from Eastern Express Highway
5.1 km from Thane Station
25.2 km from Mumbai International Airport 
Schools:
2.4 km from DAV Public School
3.1 km from Holy Cross Public School
3.7 km from Smt. Sulochanadevi Singhania School
7.1 km from Hiranandani Foundation School.
These are some of the important things one looks for before buying a house. Today you may find a bit difficult to go from one corner to another corner but after these developments are completed it will be lot simpler. Thane is blessed with natural greenery thanks to the Sanjay Gandhi National Park which is one of the many attraction of the city.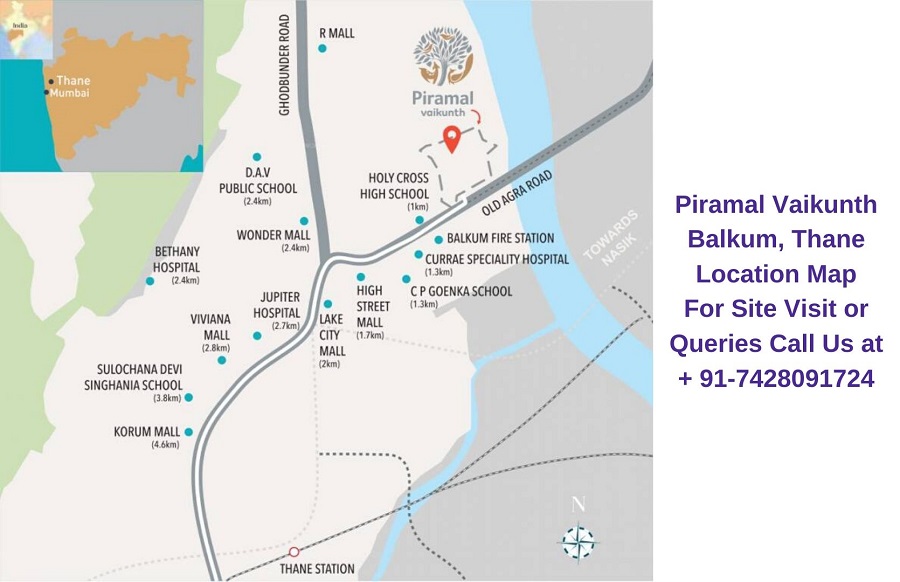 USPs of Piramal Vaikunth:
Conveniently located near the clubhouse
Unparalleled floor-to-floor height of 3.1 metres
Dual windows in the master bedroom to facilitate better ventilation and sunlight
Dedicated wardrobe space in every bedroom
Amenities provided within the complex:
Cafeteria
Banquet Hall
Crèche
ATM
Cycling Track (1.5 km)
Amphitheatre Seating
Multi-purpose Hall
Swimming Pool
Library
Gymnasium
Indoor Games Room
Toddler's Play Area
Kid's pool
Outdoor Chess
Picnic Area
Tree House
Dog Park
Urban Farming Zone
Toddler Pool
Yoga/Meditation Area
Sewage Treatment Plant
Rain Water Harvesting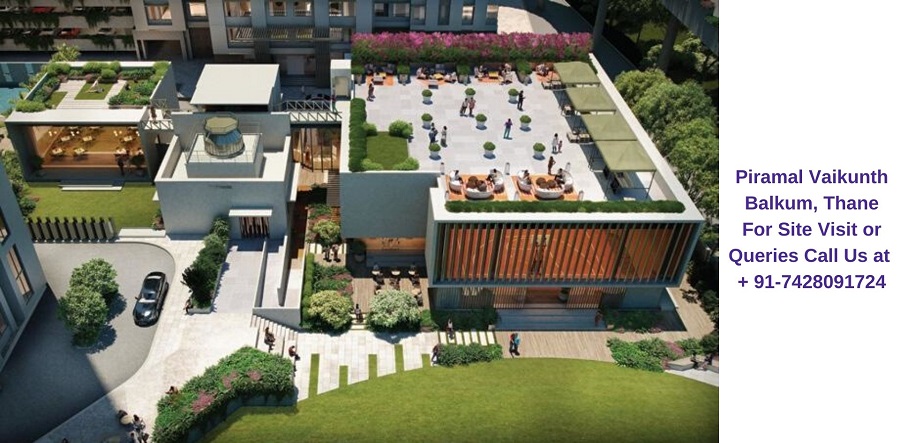 Prices:
| | | |
| --- | --- | --- |
| 1 BHK (C) | 1 BHK (R) | 2 BHK |
| 49 – 51 lakhs | 56 – 58 lakhs | 77 – 79 lakhs |
For Site Visit & Queries Call- +91-7428091724
You can watch the actual videos of other residential projects of Navi Mumbai Click here
You can also check some other residential properties in Navi Mumbai Click here