A look at our history books would tell us that most great civilizations of the past came up near river banks or coastlines. Moving to the present, the story has changed somewhat. Nowadays, it's the physical infrastructure and the promise of opportunity that attracts people to settle in an area. A look at the evolution of India's 'Silicon Valley' and 'Garden City' of Bangalore is a clear illustration of the same.
Bangalore city, earlier defined by its petes and cantonments, rapidly expanded eastwards and southwards in the late 90s. Fueled by the IT boom and the construction of the Outer Ring Road, many villages rapidly became urbanized and a part of this ever-expanding city. We are now on the cusp of history repeating itself, with north Bangalore being the new theatre of development. The one major factor, which has brought about this boom, is the construction of the Kempegowda International Airport in Devanahalli, which opened in 2008. Already one of the country's busiest airports, it has become a key economic and real estate driver. We look at the changes this airport has already indirectly brought about and also the impact of some promising developments announced recently.
As the population is increasing day by day. the land rates in India will go on increase unless there is some serious issue in that area. If you invest money in some bank or in shares there will be no guarantee for that money to get double. But if you invest in property especially land it will surely get increased.
How Increasing Demands of Millennials are Shaping Real Estate Market:
1. Growing Purchasing Power:
The booming millennial workforce in the garden city has enabled Bangalore's real estate to grow significantly. Bangalore has always been one of the active residential markets and now is also known for having sustained demand for commercial space. According to a NASSCOM report, 2018, Bangalore is one of the fastest-growing technology start-up hubs in India with nearly 7,700 registered start-up firms. Of this, approximately 1,200 new start-ups were registered in 2018 alone.
2. Various govt. reforms:
the introduction of reforms like RERA & GST has made the sector go through significant improvements. As a business hub, the city caters to the technology and other services requirements of companies globally; no wonder then, that Bengaluru attracts a huge ratio of India's highly-skilled workforce.
3. Rapid real estate growth in Bangalore:
The year 2018 re-established Bangalore's position in the commercial space. According to a JLL report, the city accounted for the highest absorption of office space at 7.9 million sq. ft. in the first nine months of the year. Bangalore also fared decently in the residential segment. According to a recently conducted research, about 870 projects were launched in 2018. About 50% of this new supply was in the mid-segment (Rs 40-70 Lakh), followed by 24% in the affordable segment (Less than Rs 40 Lakh) and 26% supply in the luxury segment (Rs 70 Lakh and above).
4. Boost in the affordable housing segment:
Affordable housing witnessed a growth of 22% in sales during 2018. In the recent Budget announcement, the government has extended the deduction of interest on home loan by Rs 1.5 lakh to Rs 3.5 lakh and flat 1% rate for under-construction affordable housing to boost demand. Furthermore, the government has extended the benefit of Credit Link Subsidy Scheme (CLSS) on home loans for the Middle-Income Group (MIG) under the Pradhan Mantri Awas Yojana (Urban) till the end of March 2020 and this seems to be a major push for the progression of affordable housing segment.
5. Rising Rental Expenses:
Millennials favor homeownership over increasing rental expenses in the long run. Owning a home offers independence and flexibility that a rented home cannot. This generation would rather direct the money for monthly rent to pay off EMIs instead.
About Poorvi Infinite Pvt Ltd
The company was established in 2003, we have grown from Individual contractors who are doing DRDO Projects in various parts of south India to currently builders and developers Poor, Infinite Pvt Ltd. We are also specialized in interior and furnishing work. Poorvi Champions Height is a showcase for future upcoming projects. started its own first project construction in the 2017 SS SOUTH CREST apartment in Electronic City Phase 1. Since then there is no looking back in its own apartment construction.
Poorvi Champions Height:
"Poorvi Champion Height is enchantingly designed around peace, amidst the pristine and serene ambiance of chikkabellandur, 10 minutes drive from the Wipro Corporate office and 15 mins drive from Cisco Campus on Outer Ring Road. Poorvi Champion Heights is spread over 1 acre of land with 65% of the available space retained for beautifully designed landscaped areas and amenities. The entire project comprises of 1 tower. A total of 90 flats are aesthetically designed among this tower."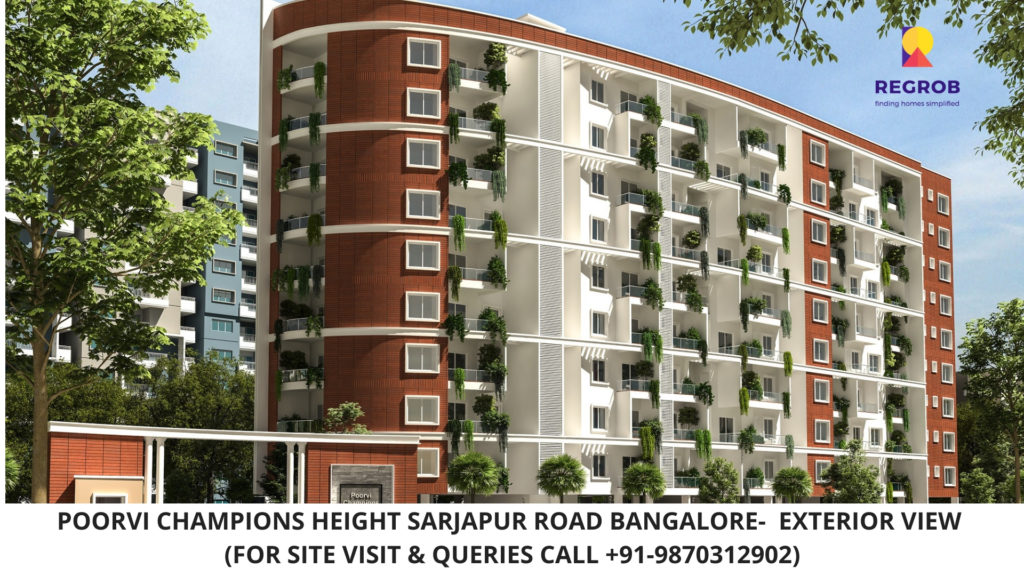 Poorvi champions Height, concentrates on the nuclear and medium-sized families with an average income, with all luxury facilities included with full Vastu homes built the project, not less than any other costly ventures which would normally be a dream for those who can't afford.
Wake up to stunning views in spacious homes and allow your loved ones to enjoy quality amenities designed to deliver an unmatched living experience. Geographically stands in the southeastern part of the Bangalore, well established Road Connections throughout the city and the surrounded ring road helps in order to reach the rest major zones of the city with ease. This project is also in very close proximity to all the civic amenities of daily life.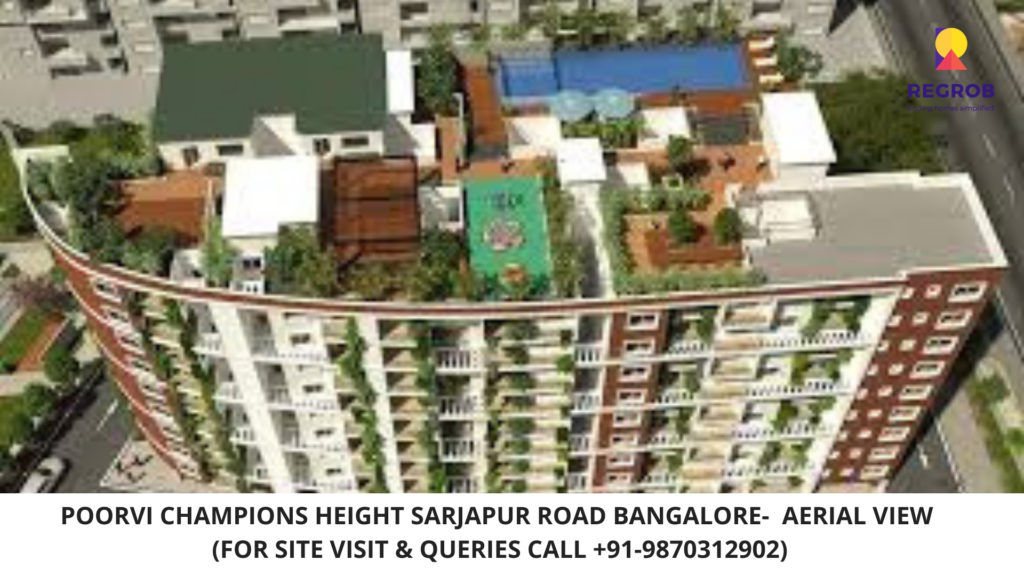 Modern & Creative:
The success of continuous growth is satisfied customers. Hence we ensure they receive the best possible service.
Utilities:
Centralized LPG connection from GAIL
Solar Lighting in common areas
24-hour power backup
Cauvery Connection
CCTV
Sewage Treatment plant
Round the clock security
Fire Extinguishing Systems
Smart Lockers for Deliveries
Car Wash Point
Common Toilet at amenities area
School Bus Pickup and Drop Off bay
The latest technology of rainwater Harvesting
Guest Car Parking Facility
Water Softeners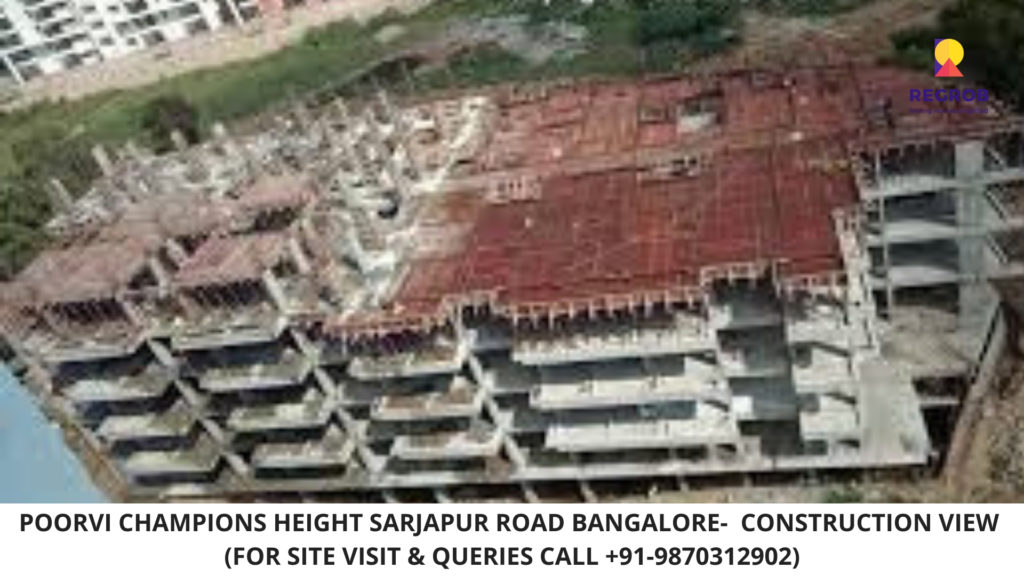 Specifications:
Video Door phones
Vitrified tile flooring in all the rooms
Projected landscape Balconies
Teak wood finished door frames and shutters with PU polish.
SS railing with toughened glass for Balcones and utilities
Sanitary ware and bathroom fixtures from Hindware
Shower curtain in Master bedroom bathroom
Superior quality antiskid ceramic flooring in bathrooms and utilities
Asian paint for walls and ceiling
Corridor tile cladding up to door height
Fire-rated doors for all staircases
UPVC French doors, windows, and Ventilators
Wipro switches and Anchor wiring
Poorvi Champions Height Floor Plans: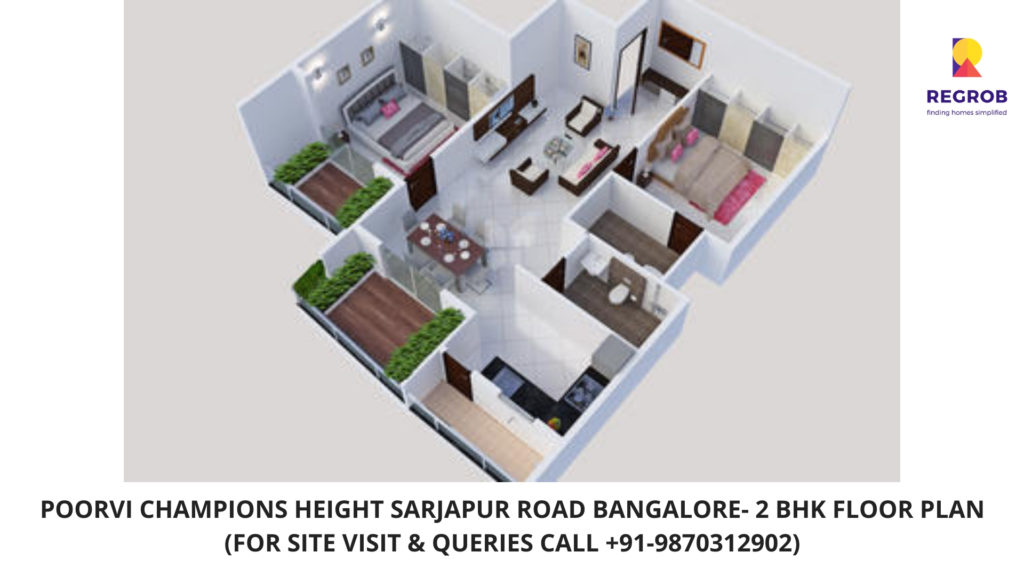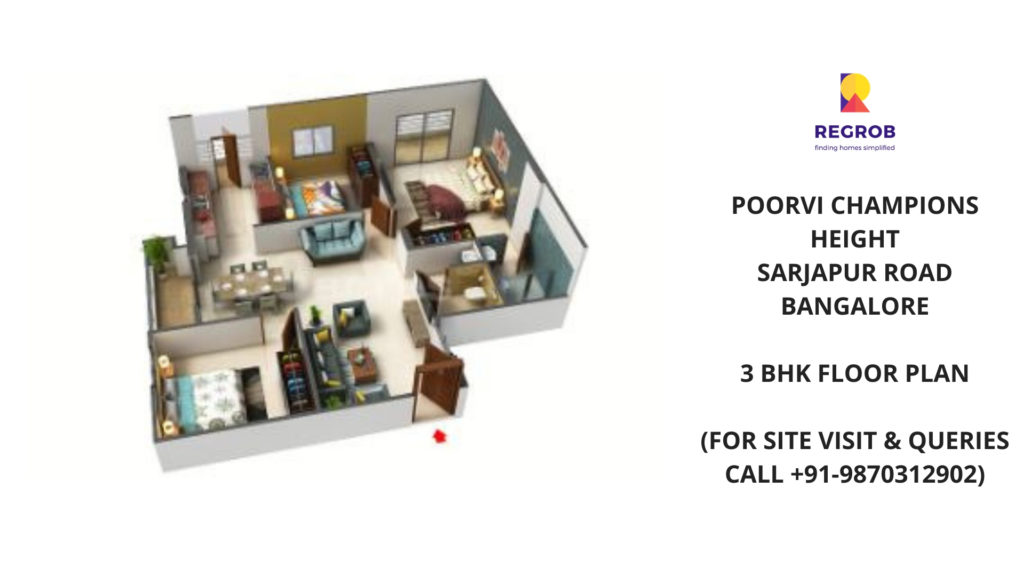 Poorvi Champions Height Location Advantages:
Proximity:
Hsr Layout (2 Kms)
Krishnarajapuram( 16 Kms)
Majestic(18 kms)
Silkboard (6 Kms)
Btm (7 Kms)
Vidhan Soudha(16.5 kms)
Belandur (3.5Kms)
Kormangala (7 Kms)
Electronic city (7.5 Kms)
Marathahalli (12Kms)
White Field (16 Kms)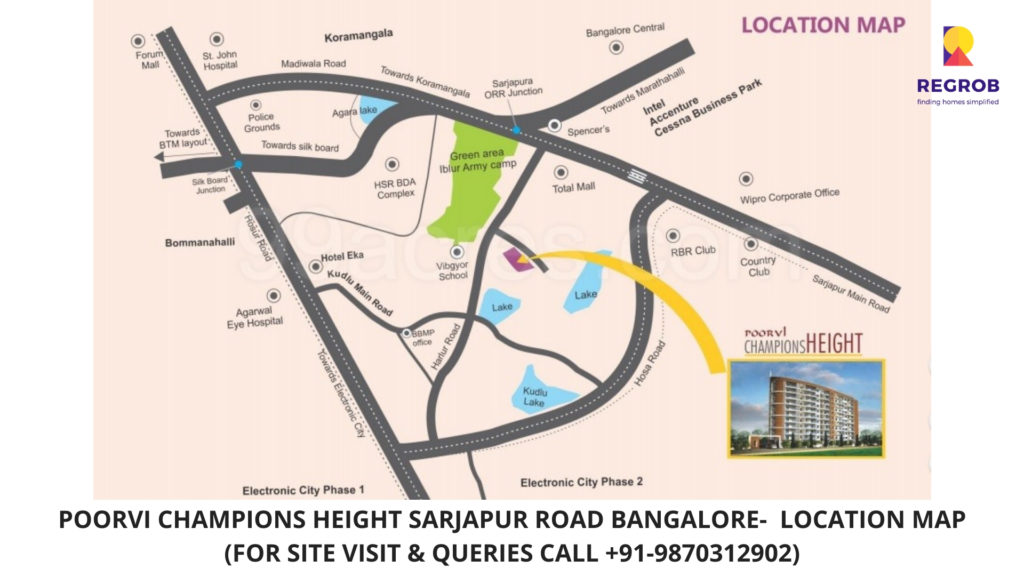 Nearby Schools:
Narayana Techno school ( 1 km)
Vibgyor High School (1 km)
Kidzee (1.2 km)
Eurokidz (1.3 km)
Samsidh Mount Litera Zee School (2.5 kms)
Orchid International School (4.6 kms)
Gnan Srishti School of Excellence (4.1 kms)
St. Patrick Academy (8.9 kms)
Lawrence high School (4.8 kms)
National Public School (5.1 kms)
Prakriya Green Wisdom School (6.4 kms)
Primus Public School (6.1 kms)
Cambridge High School (4.2 kms)
Sadhguru Sainath International School (2.9 kms)
Delhi Public School (10.9 kms)
Greenwood high (15 kms)
Gear Innovative International School (7.5 kms)
Nearby Hospitals:
Narayana Multispeciality Hospital (4.1 kms)
Motherhood hospital (4.2 kms)
Stanford Speciality Hospital (5.4 kms)
Sakara World Hospital (6 kms)
Columbia Asia Hospital (3.3 kms)
Nearby IT Companies:
RMZ Ecospace (5.9 kms)
Infosys E-city (8 kms)
R.G.A tech park (8.3 kms)
Embassy Tech Village (8.1 kms)
Prestige Tech Park (8.4 kms)
Bhagmane Tech Park, Emc2 (12kms)
Wipro (5.9 kms)
Nearby Super Market, Malls & Leisure:
Freshco Supermarket (1.1 kms)
Big Bazar (3.1 kms)
More Supermarket (4.5 kms)
Spencer (7.2 kms)
The fisherman's wharf (2.5 kms)
Central Mall (4.5 kms)
Big Brewsky (5.7 kms)
Watch this Video:
Q- As a man is said to have a right to his property, he may be equally said to have a property in Poorvi champions Height which a property seeker should buy?
Current condition: – All of the mentioned below are under construction:
Highlights of the Project:
Total Units – 90
Total no. of floors – 9
Project Area – 1 acre
Size – 1171-1541 sft
Project Status – Under Construction
Q- I always say if the house I live in is comfortable, and I have all the amenities I need, then what more can you ask for? Talking about the Amenities in Poorvi champions Height: –
The following are the various amenities offered by project to its residents: –
OUTDOOR AMENITIES:
Children's Play Zone
Basketball Court
Garden all around
Mini Volleyball Court
Walkway
Amphitheater
Terrace Amenities
Wall climbing for kids
Skating rink
Jogging Track
Cycling Path
TERRACE AMENITIES:
Infinity Swimming Pool
Kid Pool
Wooden Deck for Yoga
Mini Golf Putting
Party Area
Terrace Gardens
Water Body
Shack
Visit our website: Click here
For More Info or Site, Visit Call Us at +91 – 9870312902
We also have some other options of residential projects for you in Bangalore Click Here