A look at our history books would tell us that most great civilizations of the past came up near river banks or coastlines. Moving to the present, the story has changed somewhat. Nowadays, it's the physical infrastructure and the promise of opportunity that attracts people to settle in an area. A look at the evolution of India's 'Silicon Valley' and 'Garden City' of Bangalore is a clear illustration of the same.
Bangalore city, earlier defined by its petes and cantonments, rapidly expanded eastwards and southwards in the late 90s. Fueled by the IT boom and the construction of the Outer Ring Road, many villages rapidly became urbanized and a part of this ever-expanding city. We are now on the cusp of history repeating itself, with north Bangalore being the new theatre of development. The one major factor, which has brought about this boom, is the construction of the Kempegowda International Airport in Devanahalli, which opened in 2008. Already one of the country's busiest airports, it has become a key economic and real estate driver. We look at the changes this airport has already indirectly brought about and also the impact of some promising developments announced recently.
As the population is increasing day by day. the land rates in India will go on increase unless there is some serious issue in that area. If you invest money in some bank or in shares there will be no guarantee for that money to get double. But if you invest in property especially land it will surely get increased.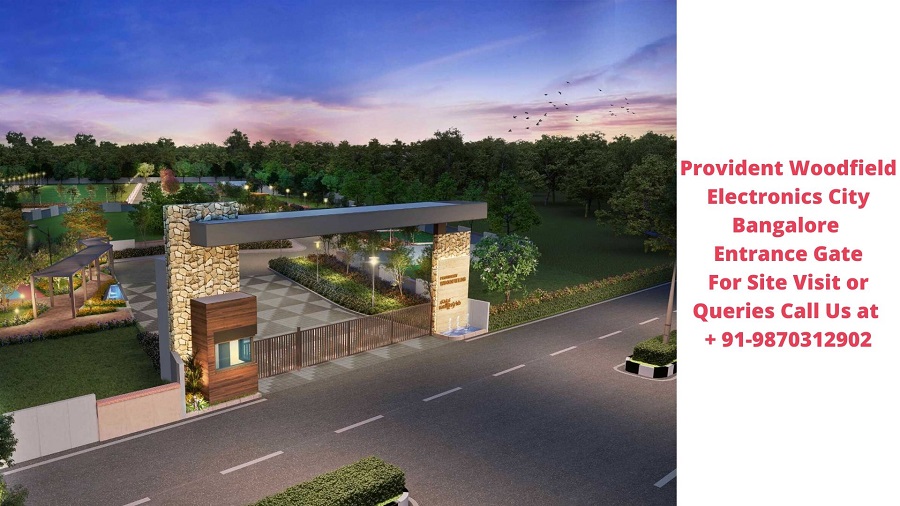 How Increasing Demands of Millennials are Shaping Real Estate Market
1. Growing Purchasing Power
The booming millennial workforce in the garden city has enabled Bangalore's real estate to grow significantly. Bangalore has always been one of the active residential market and now is also known for having sustained demand for commercial space. According to a NASSCOM report, 2018, Bangalore is one of the fastest growing technology start-up hubs in India with nearly 7,700 registered start-up firms. Of this, approximately 1,200 new start-ups were registered in 2018 alone.
2. Various Govt. Reforms
The introduction of reforms like RERA & GST has made the sector go through significant improvements. As a business hub, the city caters to the technology and other services requirements of companies globally; no wonder then, that Bengaluru attracts a huge ratio of India's highly-skilled workforce.
3. Rapid Real Estate Growth in Bangalore
The year 2018 re-established Bangalore's position in the commercial space. According to a JLL report, the city accounted for the highest absorption of office space at 7.9 million sq. ft. in the first nine months of the year. Bangalore also fared decent in the residential segment.
4. Boost in Affordable Housing Segment
Affordable housing witnessed a growth of 22% in sales during 2018. In the recent Budget announcement, the government has extended the deduction of interest on home loan.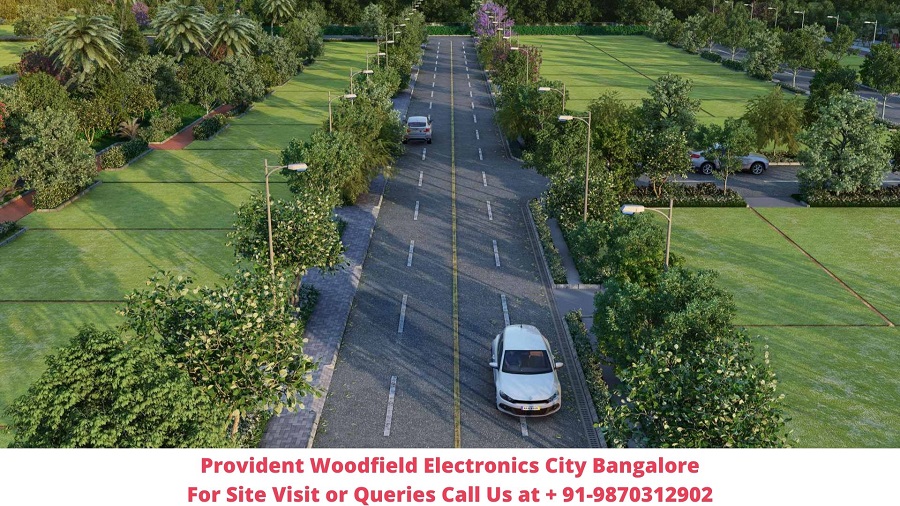 ABOUT PROVIDENT
Provident Housing Limited, a 100% subsidiary of Puravankara, is a pioneer in developing "Premium-Affordable" homes in India. The company has accomplished over 18 million sft. of constructed space across Bangalore, Chennai, Coimbatore, Goa, Hyderabad and Mangalore.
With over 16+ projects, Provident has sold homes to 15,000+ families and delivered over 7500 homes to the delighted customers across the country. Provident Woodfield is the firstplotted development project by Provident which is poised to redefine the way plots are identified, developed and sustained. The project promises large wide boulevards with beautifully manicured landscaped gardens, plethora of amenities, luxury clubhouse, community infrastructure and underground concealed services planned to seamless perfection.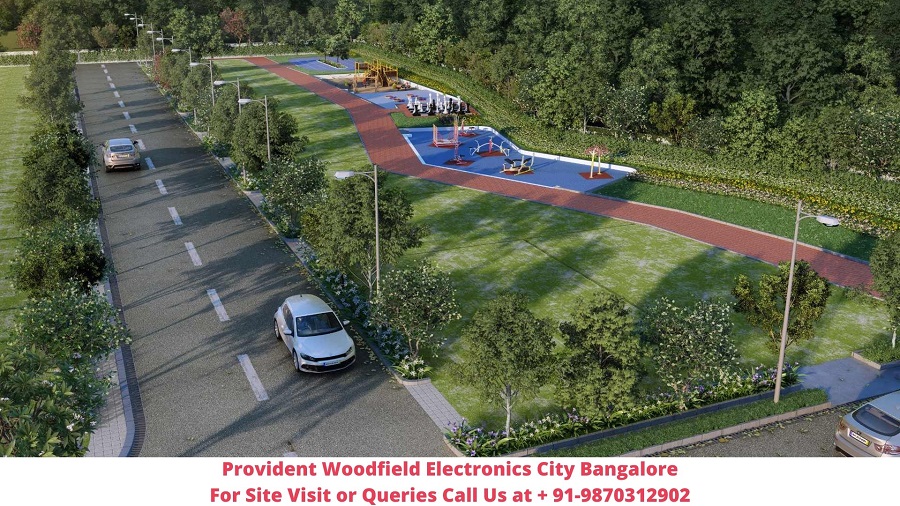 Provident Woodfield Plots for sale Bommasandra Electronic City
Provident Woodfield Plots for sale Bommasandra, Electronic City is the first plotted development from Provident Housing. The Project Plots dimensions are 30ftX 40ft, 30ftX 50ft, 40ftX 60ft, Odd Sizes, Commercial Sites. The developers quote that this project is going to redefine the way plots are identified, developed and sustained. Which includes huge and wide boulevards with eye catching manicured landscaped gardens. Provident Woodfield Plots offer superfluity of world class amenities and is planned for seamless perfection.
Provident is a pioneer in premium housing and is ranked among the top 4 developers of India. Also spanning up with Puravankara Group Limited who are 45 years for now into Real Estate.
Why Provident Woodfield Plots?
The simple answer would be, provident have pioneered ourself in premium value housing segment and are a part of 45 years in buisness Puravankara Group, who have been titled as Top 4 developers in India. This is a premium and 100% subsidiary of Puravankara Group brand where people can trust, as they are PAN INDIA Real Estate major with over 45 years of experience. Not to forget it's Proximity To Metro – Just few minutes of drive from the upcoming Metro Station. Great Investment opportunity- Investments into land has shown some good appreciation exponentially over the last couple of decades and are likely to give best ROI. Safe & Secure – Provident Woodfield Plots are safe and a good gated community with 24/7 round the clock security.
And there are very less developers who is coming up with best ventures to invest / move into plots / Apartments. But Provident Housing has come up with a solution to this problem coming up with Provident Woodfiled Plots, after taking lot of surveys into consideration, the developers have come up with Provident Woodfiled provides an ultra-modern luxury facility to the Grand Club House. Provident Woodfield Plots presents more open space in the community and accessibility from multiple parts of the city. The latest Launch Community would provide several apps to keep children healthy and active every day.
The best part of this project is it's BMRDA approved plots, in electronic city. Which makes it a wise and safe decision to invest into or end use the same. As the ancestor in the model is addressed to the customer in future, the prototype or software accepted for BMRDA is considered a safe deal. It is free in legal disputes. The underlying technology is fully developed and passed to the client. Layouts authorized by the BMRDA are entitled to a minimum issue banking loan. You can be confident that short-term deposits in such assets are valued. In brief, you can purchase property with your eyes closed and not think about losing money. In all of the wide open space with dense shade created by evergreen trees, Project is not only beautiful but also jubilant.
The bulk of the city is part of this challenge for rich greens, which also renders it a lovable spot for its citizens. The plots cost is completely conventionalist and moderate. Productive vehicle office pursued by sorted out infrastructural advancement is one of the fundamental variables which have helped in expanding the land improvements in and around Electronic City.
It is wise to invest on high ROI plots with high rents / returns in the future due to its extraordinary location. Perfect Plot can deliver the plot, which is organized in the Prime Electronic CITY Area, in different sizes. Even the most fascinating facilities include lake, workout space, exercise, Badminton garden, indoor basketball, children's playground, teens playing in a field, a storm cellar for the car from the city, 24-hour water supply, 24-hour safety benefits and finished kindergartens.
PEACE OF MIND IS BUYING LAND FROM A TRUSTED BRAND
TRUSTED BRAND – Provident is a pioneer in developing premium affordable homes and a 100% subsidiary of Puravankara Group the pan India real estate major with over 45 years of experience.
PROXIMITY TO METRO – Just 10 minutes from the upcoming Metro Station.
GREAT INVESTMENT – Investments in land have appreciated exponentially over the last couple of decades and are expected to give excellent ROI.
SAFE & SECURE – A safe gated community with 24/7 security.
WELL-DEVELOPED LAYOUT – Lifestyle amenities, landscaped, wide roads, underground electric conduiting, water and sewage lines.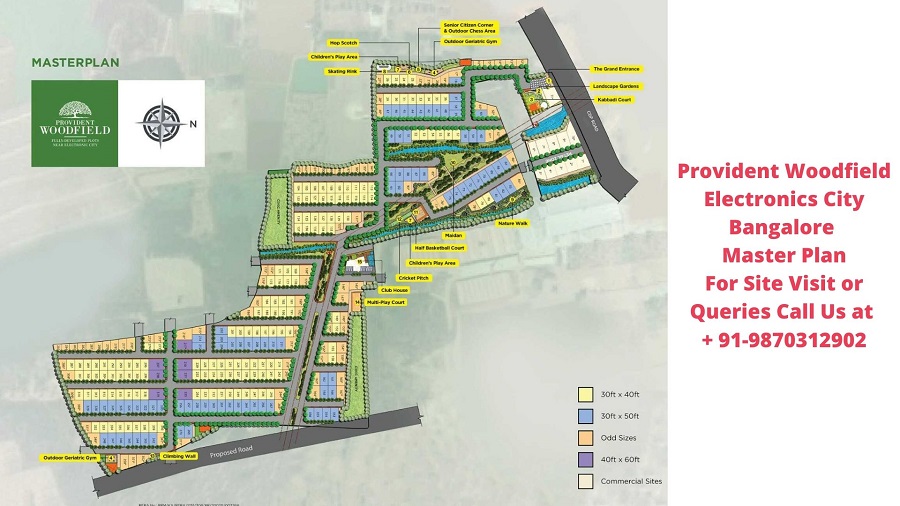 WHERE YOU LIVE IS AS IMPORTANT AS HOW YOU LIVE
Provident Woodfield is at the epicentre of Bangalore's 1T hub Electronic City. Well-connected by highways, flyovers and the upcoming Metro Network, the place is in close proximity to Koramangala, HSR.
Layout and BTM Layout. All the ITBT majors like Infosys, Wipro, TS and Biocon are closeby. Commute to offices, schools and entertainment hubs can be accomplished in mere minutes. In fact, this location retains the charm of a quiet getaway that's a far cry from the chaos of the city.
Important Landmarks
Infosys
Wipro
Tech Mahendra
TCS
Biocon
Narayana Hrudhayala
Schools and Institutions Nearby
Schools &Colleges in the Area
Achiever's Academy
Ebenezer International School
Treamis World School
Surana Vidyalaya
D American International School
Nazareth School
Manipal International School
Edify School
Sri Chaitanya School
BTL Institute of Technology & Management
Narayana college of Nursing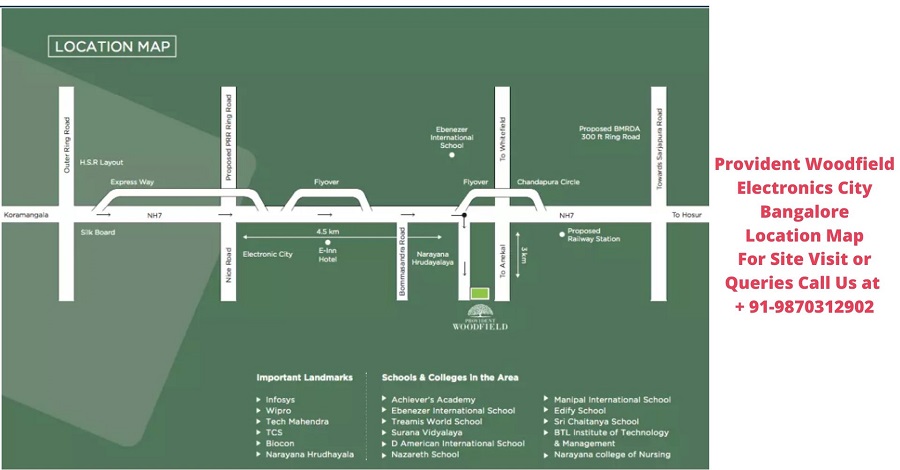 PROVIDENT'S PLOTTED DEVELOPMENTS ARE NOTHING SHORT OF WORLD-CLASS
Unlike a conventional plotted-development, Provident Woodfield believes in a masterplan-based community development, where every road, amenity, corner, green zones and community infrastructure are planned to seamless perfection.
PEDESTRIAN INFRASTRUCTURE:
Pedestrian sidewalks are a part of the road network constructed using concrete pavers, lending the whole affair a polished & aesthetic look.
ROAD NETWORK:
We provide well-designed asphalt roads with adequate drainage & service network that ensures the roads are never flooded during rains, thus outlasting many conventional city roads.
TREE-LINED AVENUES:
Landscape is designed with seasonal flowering trees on the side of the roads, giving a green ambience to the whole development.
SEWAGE TREATMENT PLANT:
The principal objective of STP is to allow human effluents to be disposed without danger to human health. A modified biological process like SBR method is proposed for the same. After the treatment, the treated water can be used for landscaping & toilet flushing.
SUSTAINABLE DRAINAGE SYSTEMS:
Soil & waste pipes are an integral part of the drainage system which carry foul and ablution wastes from the fixtures to the sewer system outside the building.
RAINWATER HARVESTING:
Rainwater harvesting does recharging of the ground water by soak/ percolation pits running along the drain.
MODERN ELECTRICIAL CABLING:
From ground transformers to underground cabling, the infrastructure will be far more effective and far less intrusive.
WATER SYSTEM:
The water supply system is designed to provide reliable service, easy maintenance and most hygienic conditions for the project. Through a suitable capacity Overhead tank, water is supplied via a gravity distribution system enhancing the flow pressure for each plot.

CONNECTIVITY AND VICINITY:
A mere 10 min drive through Hosur Road, ECC connects Bannerghatta road, Kanakapura road, Mysore road, Magadi road via the existing NICE expressway.
The connectivity to Sarjapur road, Old Madras Road, Hennur Road, and Bellary Road through the proposed Rs. 11,950 crore Peripheral Ring Road,will ease the traffic further.
Bommasandra and Jigani industrial areas cater to huge manufacturing facilities enhancing employability.
The 367 km satellite Town Ring Road is all set to de-congest traffic within the city. Once developed, commuting will get much easier from ECC to Anekal, Kanakapura, Ramanagaram, Magadi, Nelamangala, Doddaballapur, Devanahalli and Hosakote.
The project is located amidst a thriving commercial hub with the Electronic City IT Industry, Bommasandra and Jigani Industrial Hub & The Hosur Manufacturing Industry Belt, etc.
Q- Why should we consider buying a property in Provident Woodfield?
Land is about 22 acres which is one the largest gated community offered by any reputed developer in electronic city. It is branded gated community with advance living to all its home buyers.
It's a freehold property which is registered by town planning and also Registered Under RERA. Individual Khata will be created in names of respective buyers. Buy hassel free, legal plots at Electronic City.
Prices for specific plots are available on request. We offer plot with various dimensions and sizes to meet every home buyer looking to build a house or investment.
Q- As a man is said to have a right to his property, he may be equally said to have a property in Provident Woodfield which a property seeker should buy?
Current condition: – All of the mentioned below are under construction.
| | | |
| --- | --- | --- |
| TYPE | SUPER AREA (in square feet) | All-in Value |
| 30*40 | 1200 | Rs 36.99 Lacs to Rs 39.99 Lacs |
| 30*50 | 1500 | Rs 46.99 Lacs to Rs 49.99 Lacs |
| 40*60 | 2400 | Rs 73.99 Lacs to Rs 76.99 Lacs |
| Odd Sized Plots | 650 – 1050 | Rs 21.49 Lacs to Rs 33.49 Lacs |
| Odd Sized Plots | 1051 – 1450 | Rs 33.99 Lacs to Rs 45.99 Lacs |
| Odd Sized Plots | 1451- 1450 | Rs 45.99 Lacs to Rs 75.49 Lacs |
Q- I always say if the house I live in is comfortable, and I have all the amenities I need, then what more can you ask for? Talking about the Amenities in Provident Woodfield: –
Amenites:
Fountain
Kabaddi Court
Outdoor Gym
Senior Citizen's Court
Hopscotch
Childrens Play Area
Skating Rink
Swimming Pool
Nature Walk
Grass Pavers
Pathway
Bush Tree
Saucer Drain
Half Basketball Court
Childrens Play Area
Cricket Practicing Pitch
Climbing
Multi Purpose Court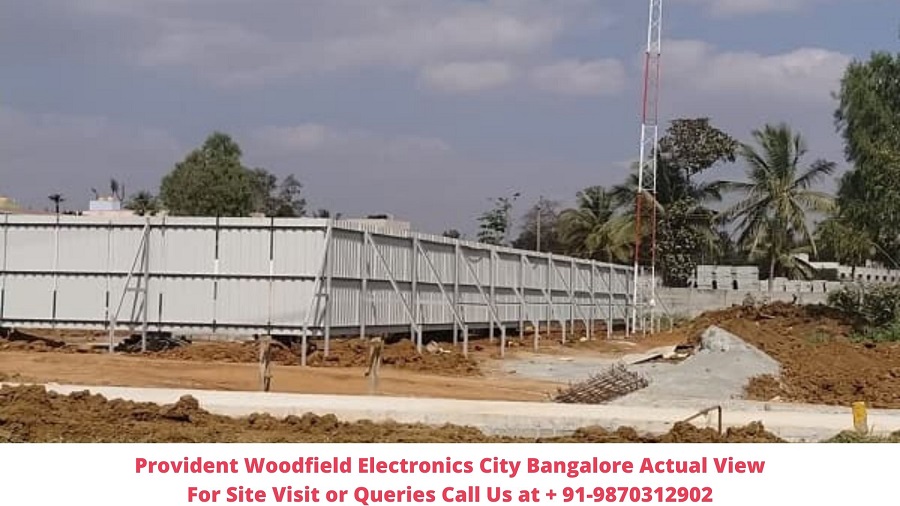 Visit Our Website: https://bit.ly/3c2cDE9
For More Info or Site Visit Call Us at +91 – 9870312902 
We also have some other options of residential projects for you in Bangalore Click Here