Bangalore or the now Bengaluru, is one of the fastest developing metros of India. With the IT boom that hit the city, came in a confluence of cultures as a number of people relocated from various parts of the country only to make this beautiful city their home. Being a homely city catering to both young and the old, the real estate segment in Bangalore has always been an attractive proposition, encouraging more and more buyers to invest in the city.
With companies setting up their offices in several pockets of the city, development as far as real estate is considered got scattered all over the city. There are various properties for sale available in various areas of Bangalore, consisting of both older redeveloped properties and newly constructed apartments with the best of amenities and infrastructure. You could be looking at property investment or ready to move in residential property in Bangalore, be rest assured the options to choose from are aplenty and hence it requires careful analysis and thinking to make sure you make the right investment decision.
Here are some important factors you should take into account before making a purchase decision of properties in Bangalore:
What kind of Property are you looking at?
When it comes to home buyers there are various factors that influence investors, to put their money into a specific property. People buy property for various reasons such as investment purposes or for upgrading lifestyle and the location or property you decide to invest in should suit your requirements of buying a house. There are many properties for sale that are available for cheap around the outskirts of Bangalore city, however, these may suit those who are looking at investing for a long-term perspective. For those looking at residential properties, North or South Bangalore have a number of residential properties that provide for luxurious and stylish living in the heart of the city.
The builder developing the project
There are several builders who have their ongoing developing projects in the city of Bangalore. Before deciding upon the builder you'd like to invest in it is important to do a background check of the builder and take a look at the various projects that have been completed by the builder to get an idea of the kind of work the builders are doing. Reputed builders like Indya Estates are known for their futuristic projects in various parts of Bangalore. Thoughtful designs and well-planned projects by these builders are backed by functionality and practicality, becoming the obvious choice for investors and those intending to move in.
Budget
The budget you have in mind or can stretch up to is yet another important factor that lets you decide upon the property you want to buy. Getting the maximum value for the money invested should be one objective when investing in the property, and getting maximized future returns should be yet another consideration when investing in the property of your dreams.
How Increasing Demands of Millennials are Shaping Real Estate Market
1. Growing Purchasing Power
The booming millennial workforce in the garden city has enabled Bangalore's real estate to grow significantly. Bangalore has always been one of the active residential market and now is also known for having sustained demand for commercial space. According to a NASSCOM report, 2018, Bangalore is one of the fastest growing technology start-up hubs in India with nearly 7,700 registered start-up firms. Of this, approximately 1,200 new start-ups were registered in 2018 alone.
2. Various govt. reforms:
The introduction of reforms like RERA & GST has made the sector go through significant improvements. As a business hub, the city caters to the technology and other services requirements of companies globally; no wonder then, that Bengaluru attracts a huge ratio of India's highly-skilled workforce.
3. Rapid real estate growth in Bangalore:
The year 2018 re-established Bangalore's position in the commercial space. According to a JLL report, the city accounted for the highest absorption of office space at 7.9 million sq. ft. in the first nine months of the year. Bangalore also fared decently in the residential segment. According to a recently conducted research, about 870 projects were launched in 2018. About 50% of this new supply was in the mid-segment (Rs 40-70 Lakh), followed by 24% in the affordable segment (Less than Rs 40 Lakh) and 26% supply in the luxury segment (Rs 70 Lakh and above).
4. Boost in the affordable housing segment:
Affordable housing witnessed a growth of 22% in sales during 2018. In the recent Budget announcement, the government has extended the deduction of interest on home loan.
Builder Profile:
Since its inception in 1975, Puravankara has believed that there is only one mantra for success: Quality. This credo combined with uncompromising values, customer-centricity, robust engineering and transparency in business operations, has placed it among the 'most preferred' real estate brands in both residential and commercial segments.
The Company has grown from strength to strength, having successfully completed 48 residential projects and 2 commercial projects spanning up to 23.54 million square feet (PPL's economic interest –20.93 msft). Currently, it has 24.87 million square feet / 17,895 units (PPL's economic interest – 22.03 msft/ 16,188 units) of projects under development, with an additional 22.73 million square feet(PPL's economic interest – 18.98msft) in projected development. An ISO 9001 certification by DNV in 1998 and a DA2+ rating by CRISIL are testaments to Puravankara's reputation as a real estate developer of the highest quality and reliability standards. The Group commenced operations in Mumbai and has established a significant presence in the metropolitan cities of Bangalore, Kochi, Chennai, Coimbatore, Hyderabad, Mysore and overseas in Dubai, Colombo and Saudi-Arabia.
Puravankara has the distinction of being the first developer to obtain FDI in the Indian real estate industry. It achieved so through its joint venture with Singapore based Keppel Land Limited, the property arm of the 54% government-owned conglomerate, Keppel Corporation Limited. The joint venture company, Keppel Puravankara Development Private Limited, has several ongoing housing projects in India. Puravankara prides itself on continual innovation to meet evolving market needs. Provident Housing Ltd., a wholly-owned subsidiary was launched in 2009, to cater burgeoning demand in the affordable housing segment. Nearly 12 million square feet of projects are under development at the present. The company plans to expand its presence with the continued unabated demand in the market.
The Puravankara Group Companies has the distinction of being awarded 'Finaliste, International Prix d' Excellence –1998′ for its project "Purva Park" in Bangalore. The award was adjudged under the group residential category by FIABCI in Paris, the International Federation of Real Estate. Puravankara has also bagged the Realty Plus Excellence Award – 2012 in the category 'Popular Choice – Developer of the Year: Residential.' Ravi Puravankara, Chairman, has received the 'Lifetime Achievement' award. Jackbastian K. Nazareth, CEO, was deemed "Most Enterprising CEO." Puravankara has a workforce of over 900 skilled personnel, including 205 engineers and in-house architects who fuel the organization's vision of delivering quality products to its consumers perpetually.
Purva Skydale Overview: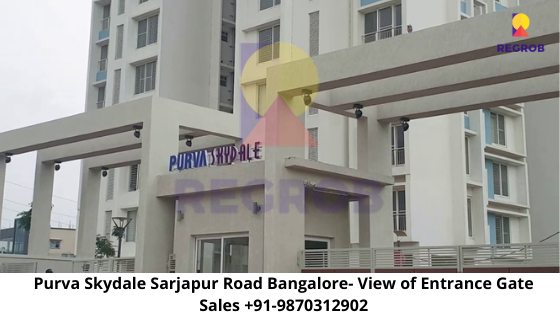 Homes that speak of beauty in every aspect.

Experience an enchanting world of shimmering lakes and exquisite gardens at Purva Skydale, spacious 2 & 3 BHK apartments located off Sarjapur Road, Bengaluru. Complemented by all the modern amenities, lush greenery, water features and with no common walls these beautiful homes transcend the expectations of urban living.

These residences are conveniently located and are well-connected to arterial roads like Hosur road, Sarjapur road, outer ring road and Electronic City. With vast stretches of landscaped greenery inviting you at every nook and corner of the property, here's an amazing lifestyle you can experience every day. Come home to Purva Skydale where life is as beautiful as you want it to be.
Purva Skydale is a ready to move residential Apartment project in Haralur Road, Off Sarjapur Road, Bangalore. The residential enclave Purva Skydale features the very best in Puravankara's luxury living segment. The project offers spacious Apartments with luxurious features.
Sprawled across 4.5 acres of land, this project comprises of 2 and 3 BHK Units. In this project, there will be 3 towers of G+ 17 floor rise each.  With total 288 units
Beautiful landscapes all around this project makes it more special & Elite.
The builder is guaranteed to bring a quality living experience to the community of Haralur Road, Sarjapur Road, East Bangalore with brilliant architecture and equivalent lifestyle in Purva Skydale.
Purva Skydale Location has excellent connectivity & it is located at the crux of Haralur Road, Sarjapur Road near existing and upcoming communities & facilities. Amenities at Purva Skydale include a fully equipped clubhouse, landscaped gardens, gymnasium, swimming pool, recreation rooms, outdoor sports courts, children's play area, party hall, and meticulously planned with utmost importance to state-of-the-art 24/7 securities.
Purva Skydale Location Advantage & Directions:
Purva Skydale is located on the Sarjapur Main Road, Harlur. It is one of the prime localities in Bangalore.
It is located 2.5 km off Hosur Road.
It is 3 km from HSR Layout.
Moreover, it is 4 km from Sarjapur Road-Outer Ring Road Junction.
It is 5 km from Electronic City.
Also, these luxury residences connect you to the important hubs of Bangalore.
Vinayaka Hospital is 17 min and 4.3 km away.
Vidya Vardhaka Sangha is 19 min and 8.1 km.
Important Location nearby Purva Skydale:
Schools
VIBGYOR High Haralur-1.0 km- 4 mins
Up To School Worksheets-2 km-11 mins
Kara 4Kids-3 km14 minutes
Gnan Srishti School Of Excellence-1 km-14 mins
Bus Stop
Haralur-4 km2 mins
Somasundarapalya Bus Stop-0 km8 mins
Bovi Calony-2 km14 mins
Somasundarapalya-0 km8 mins
Shopping Mall
Big Bazaar Express-1 km-8 mins
Vas It's My Store-5 km-4 mins
Rangmanch-9 km-12 mins
Hospitals
Levine Memorial Hospital-3.3 km-9 mins
Live 100 Hospital-7 km19 mins
Devi Eye Hospital-4 km15 mins
Apple Hospital-2 km13 mins
Banks/ATMs
Karur Vysya Bank ATM-7 km4 mins
South Indian Bank ATM-1 km14 mins
Axis Bank ATM-0 km8 mins
Specifications of Purva Skydale:
Fixtures & Fittings:
Doors: The main door will be made of teak wood door frame with teak wood panelled shutter polished with PU lacquer, in matt finish. The bedroom and bathroom doors will be made of the engineered solid core door frame with a shutter consisting of veneer on the top of plywood on both sides. The frame for bedroom and the bathroom doors will be done in solid wood rails with tubular chipboard infills and will be coated with PU lacquer outside. The bathroom doors will be polished outside and laminated/waterproofed inside. The doors will be provided with good quality hinges, lock, and handle. The main door will also have a security eye. The bathroom doors will be fitted with a thumb turn lock. The living, dining balcony doors, and bedroom balcony doors will have glazed French windows with heavy gauged UPVC/Aluminium frames with sliding or hinged shutters and mosquito mesh. The utility door will be UPVC/Aluminium glazed door-cum-window with sliding/hinged shutters.
Windows: Heavy-gauge, UPVC/Aluminium frames with glazed, sliding or hinged shutters with mosquito mesh and M.S. grills.
Ventilators: Heavy-gauge, UPVC/Aluminium frames with glazed louvered/ hinged/fixed shutters with provision for an exhaust fan.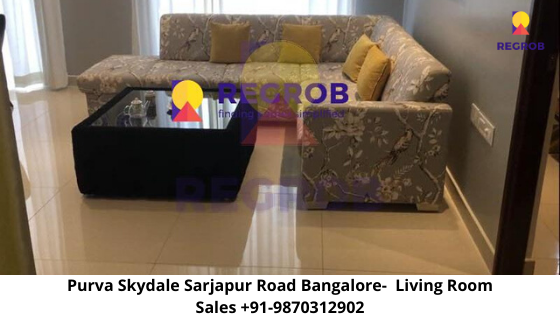 Plumbing And Sanitary Fittings
Toilets: The bathroom for the master bedroom will have a glass partitioned shower with rain shower and bath spout with diverter. The bathrooms in other bedrooms will have bath spout with diverter and head rose in the shower area. The countertop of the washbasins will be made of good quality granite. They come with a basin mixer (hot and cold water) with a bottle trap. The EWC will be wall-mounted with a seat cover, flush valve (button type), and health faucet. Premium branded sanitary wares and CP fittings will be used in all the bathrooms.
Electrical
Your apartment will contain the best quality cables through PVC conduits that would be concealed in walls and ceilings. The bedrooms shall have an adequate number of light, fan, exhaust, power, call-bell, TV, telephone, and AC points. There will be a provision for an AC point in the living/dining area. Each 4-bedroom apartment will have 7000 W and a 3-bedroom apartment will have 6000 W power supply.
Tv, Telephone & Data Points
FTTH (Fibre-To-The-Home) is to be provided to facilitate multiple services like cable TV, telephone, data and intercom in the living area and in all the bedrooms.
D.G., Elevators & Hi-Tech Security
The apartments will have automatic lifts with emergency phone facilities to security cabin, backed with DG back-up. 100 percent power back-up for the common area lighting, pump, lifts, and apartments are ensured. To provide a secure living, panic buttons will be fitted in the master bedroom and dining area. The kitchens will be provided with gas leak detectors. The security of the apartment is further enhanced through peripheral vigilance by means of CCTV/cameras and boom barriers at the entrance.
Inter-Communication System
An inter-communication facility has been ensured from security to each apartment and among apartments within the complex.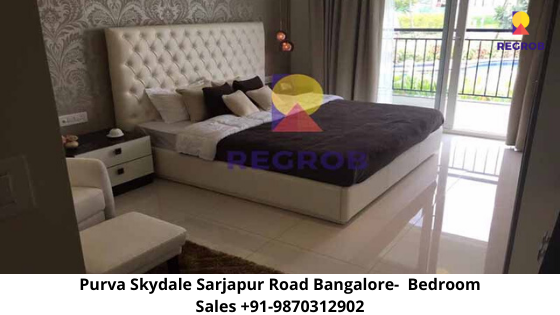 Finishes
Flooring: The ground floor main entrance lobby will be aesthetically balanced with highly polished granite or equivalent or a combination of granite and marble. The living, dining, passages to the bedrooms would be laid with large format vitrified tiles. The master bedroom will have laminated wooden flooring and the toilets will have anti-skid/matt ceramic designer tiles. The other bedrooms, kitchen and the utility area will be laid with vitrified tiles. Anti-skid/matt finished vitrified tiles will be used for flooring in the balcony and unit terraces.

Walls: All interior wall faces will be plastered and smoothly finished with putty and painted with plastic emulsion. The dado over the kitchen counter will be up to the full height, laid with vitrified tiles. The bathroom walls will be laid with colored glazed/matt finish designer tiles from the floor to the false ceilings. The exterior fascia of the building will be plastered and painted with acrylic/cement-based paint and textured surfaces in selective places, as per architect's design, to render your home with an elegant look. The ceilings will be finished with putty and painted with OBD. POP/Polystyrene cornices will be made in the living, dining, and foyer area. The staircase will have M.S. railing as per architect's design while the balcony railings will be a combination of stainless steel and glass railings, as per architect's design.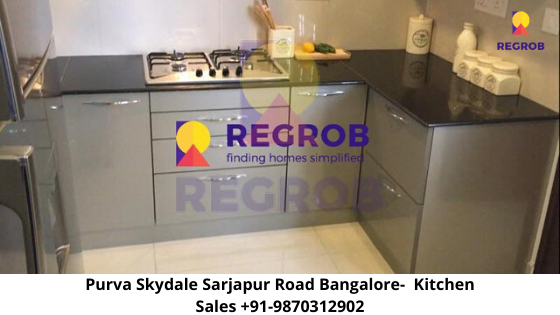 Structure
The building structure will be a reinforced cement concrete framed structure. Parking is provided in the basement and stilt floor. The apartments are spread over from the 1st floor to the 12th floor. All the floors can be accessed by both lifts and staircases.
Q- Why should we consider buying a property in PURVA SKYDALE?
FLOORS                  B,G + 18
UNITS                     312
LOCATION             Off. Sarjapur Road Bengaluru
PRICE                      ₹ 6650/sft
LAND AREA           4.65 Acres
Q- As a man is said to have a right to his property, he may be equally said to have a property in  PURVA SKYDALE which a property seeker should buy?
| | | | | |
| --- | --- | --- | --- | --- |
| TYPE | SUPER AREA (in square feet) | | | All-in Value |
| 2 Bed Apartment | 1340 TO 1370 SFT | | | Rs. 83 Lacs Onwards |
| 3 Bed Apartment | 1700 TO 1929 SFT | | | Rs. 1.11 Crore Onwards |
Q- I always say if the house I live in is comfortable, and I have all the amenities I need, then what more can you ask for? Talking about the Amenities in  PURVA SKYDALE: –
The following are the various amenities offered by Purva Skydale to its residents: –
Gymnasium
Clubhouse
Swimming Pool
Games Room
Basketball Court
Jogging Track
Outdoor Courts
Table Tennis
Landscaped
Gardens
Kids Play Area
Retail Spaces
Party Area
Purva Skydale Master & Floor Plan: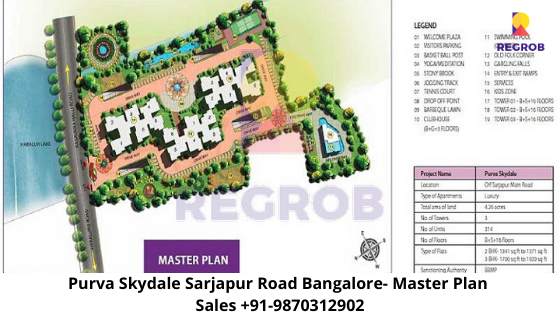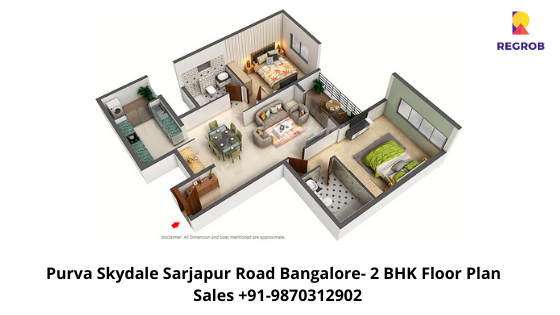 Purva Skydale Review Video:
Purva Skydale Actual Video:
Watch Actual Video of Residential Project In Sarjapur Click Here
For More Info or Site, Visit Call Us at +91 – 9870312902
We also have some other options of residential projects for you in Bangalore Click Here