Mumbai's real estate landscape is fast evolving, particularly if you take emerging micro markets and townships into account. Being India's costliest city for real estate, Mumbai has witnessed a deluge of buyers shifting towards peripheral zones in search of comparatively affordable housing options and better amenities. Navi Mumbai has been a major beneficiary of this paradigm shift along with Thane. Together, these two housing markets contribute a major portion of overall real estate sales in Maximum City's property sector. Kharghar is one of the fastest growing residential real estate hotspots in Mumbai and is perceived by many as Navi Mumbai's Crown Jewel for its infrastructure, amenities, quality of life and rapidly emerging housing options.
Strategic Location and Connectivity are Key USPs for the Locality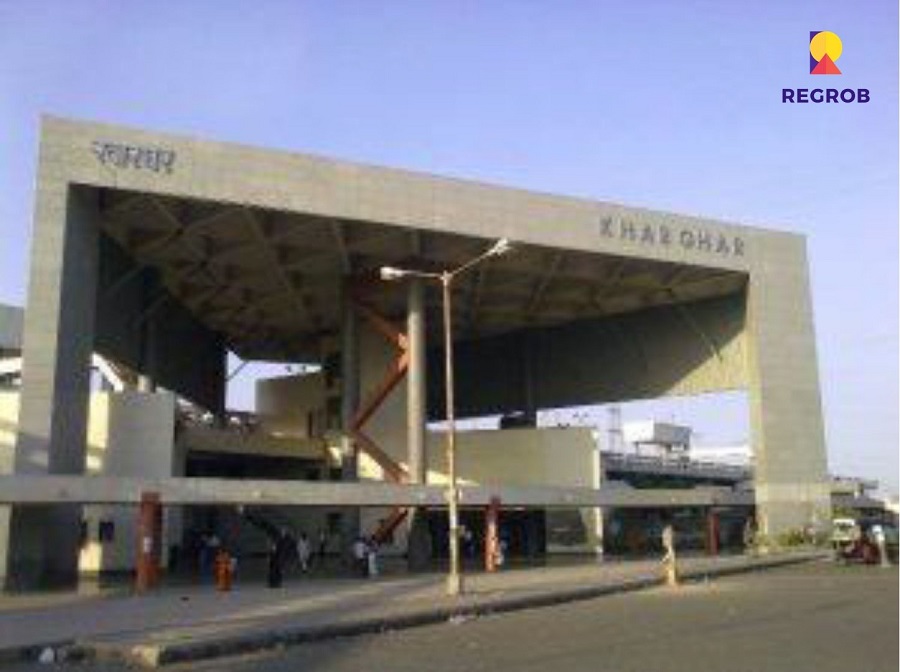 Kharghar is one of the most developed areas in Navi Mumbai with the initial thrusts being given in the early 90s and it has since gone through a major transformation of sorts. It offers several locational benefits to residents and this is a major reason behind its burgeoning popularity in the residential real estate segment.
Kharghar is located beside two key highways and is located in close proximity to the CBD (Central Business District) in Belapur as well. Mumbai city is only an hour away from Kharghar even during peak office hours. Kharghar is also well connected to several destinations via the Harbour Line of the Mumbai railway network. The upcoming Navi Mumbai Metro network (Phase 1) should have at least 7 stops only in Kharghar as per the proposed plan.
The Sion-Panvel Expressway links Mumbai and Navi-Mumbai within a radius of 45 minutes and is easily accessible from Kharghar. The proposed 8-lane tunnel through Turbhe and the Coastal Road going to the Airport will definitely boost overall connectivity. Kharghar also offers easy access to the Mumbai-Pune Expressway which starts from Kalamboli. The Chhatrapati Shivaji International Airport is situated just 35 kilometres away from Kharghar. This takes an hour through the Eastern Freeway. The SCLR (Santacruz-Chembur Link Road) connects Kharghar to the Lokmanya Tilak Terminus in approximately 45 minutes. There is good road access to Thane, Pune, Nashik and Kalyan. NMMT buses are readily available along with BEST buses which run till Vashi, Dadar, Sion and Ghatkopar among other locations.
Proposed Infrastructural Developments to Boost Connectivity and Real Estate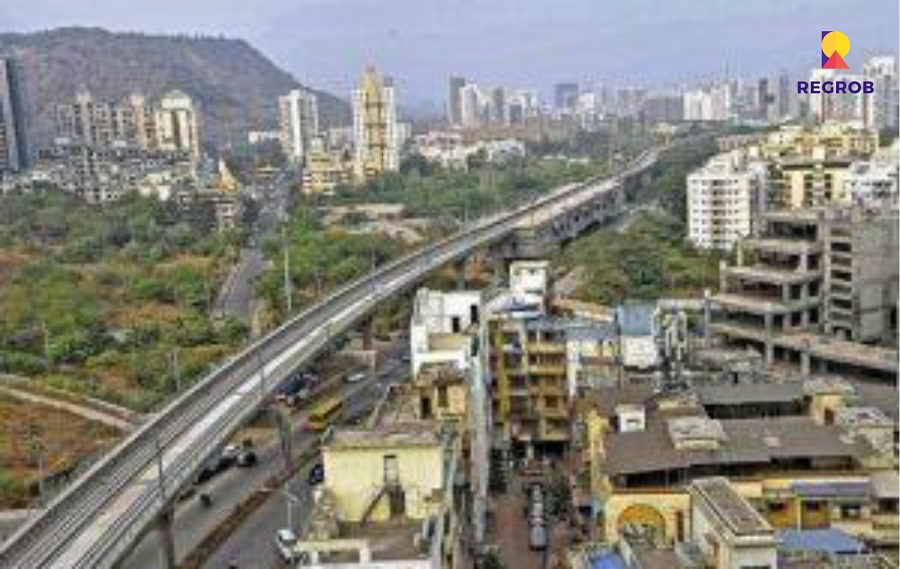 Kharghar will benefit in the near future from multiple mega infrastructural developments which will undoubtedly boost overall connectivity while also helping increase real estate demand and values alike. Here's taking a look at some of the major projects on the anvil-
Navi Mumbai Metro Phase 1 between Belapur and Pendhar through Kharghar. The project is expected to be operational soon and is being supervised by CIDCO.
New Navi Mumbai International Airport is coming up near Kharghar and will be developed in four phases. The first phase is expected to be completed soon. Proximity to the new airport will boost real estate immensely in Kharghar and other surrounding areas. Kharghar is just 15 km away from the new airport which equates to a drive of 30 minutes approximately.
Proposed Sea Link between Sewri and Nhava Sheva will naturally make the new airport easily accessible for residents of Navi Mumbai including Kharghar.
Proposed CIDCO Corporate Business Park spanning 140 hectares to come up at Kharghar which will be modelled on the BKC (Bandra-Kurla Complex). This will be developed into a major business district of the future.
Hyperloop between Pune and Mumbai will boost infrastructure and connectivity considerably in Kharghar. This will start from Pune through the Mumbai-Pune Expressway and will be able to reach BKC in only 25 minutes via the Navi Mumbai International Airport.
Upcoming 5 million sq. ft. IT Park named Q PARC at Ghansoli nearby which will have offices of leading companies like Accenture, Capgemini and L&T Infotech among others.
Foxconn and IKEA in plans to establish mega operations in nearby Navi Mumbai areas close to Kharghar.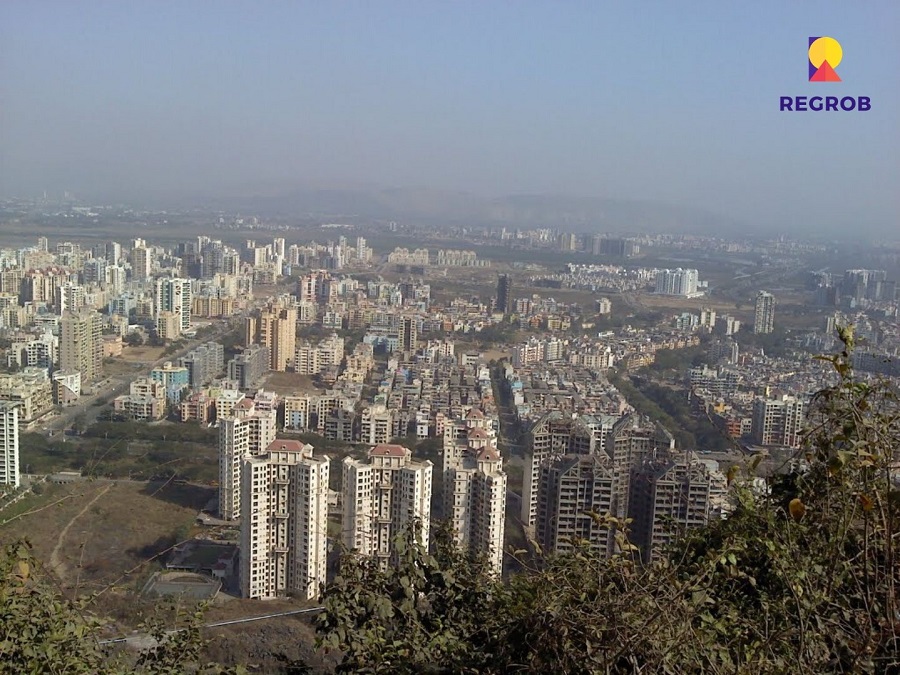 Kharghar is Benefiting from Favourable Perception of Navi Mumbai
Kharghar is one of the direct beneficiaries of the favourable perception of the general public regarding Navi Mumbai, particularly in terms of cleanliness and infrastructure. With Mumbai city becoming more congested and saturated, Navi Mumbai is a green oasis of peace and tranquillity for residents in several micro markets including Kharghar. Navi Mumbai is a planned city which also won the first position in the Swachh Survekshan (Swachh Bharat Mission) last year for its excellent waste management practices. Additionally, the NMMT (Navi Mumbai Municipal Transport) buses can be monitored in real-time via the IITMS (Integrated Intelligent Transport Management System) which was established in the year 2017. Commuters can track all buses via the NMMT App.
Kharghar has also been in the spotlight for various initiatives including public systems for sharing bicycles, e-bike rentals at various points and so on for lowering pollution. Interestingly, Navi Mumbai is also known for offering the swiftest download speed which equates to 8.1 Mbps, in the entire region. Kharghar, like much of Navi Mumbai, offers good social infrastructure, planned roads and ample housing options both in the affordable and luxury categories. Overall, Navi Mumbai is being perceived as the future growth hub for residential real estate and even various business sectors who are poised to make the shift from traditional CBDs owing to the announcement of the metro network expansion, new international airport and other infrastructural initiatives.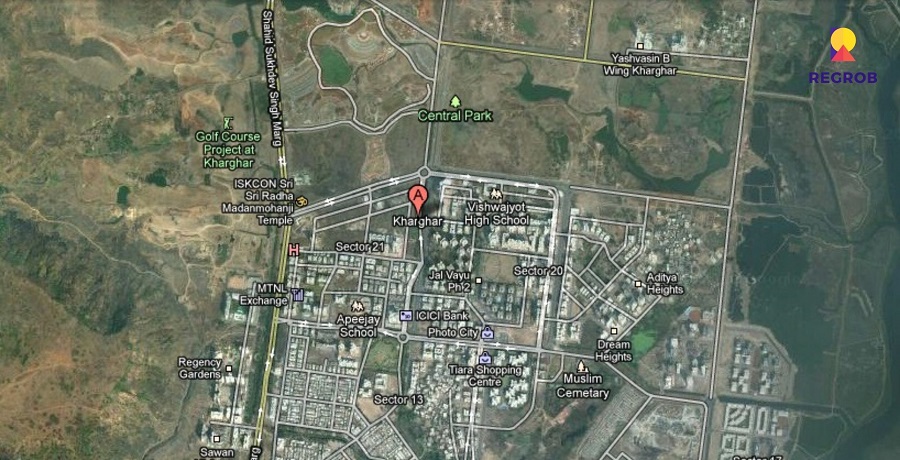 Residential Housing Market in Kharghar
Kharghar is a key residential market in Navi Mumbai now and is home to several premium projects by leading developers. Property prices in Kharghar usually range between Rs. 9-12,500 per sq. ft. and can vary depending on the location, project and developer.
1 and 2 BHK apartments are the predominant housing configurations available here although 3 BHK apartments can also be found. Some of the top projects in Kharghar include Tricity Eros, Paradise Sai Symphony, Gami Viona, SMB United Emporio, Juhi Niharika Absolute, Dream Emerald and Arihant Clan Aalishan to name a few. There are quite a few premium and luxury housing projects coming up in Kharghar along with mid-range offerings.
You Can Check Some Residential Properties in Kharghar, Navi Mumbai Click Here
Social Infrastructure and Amenities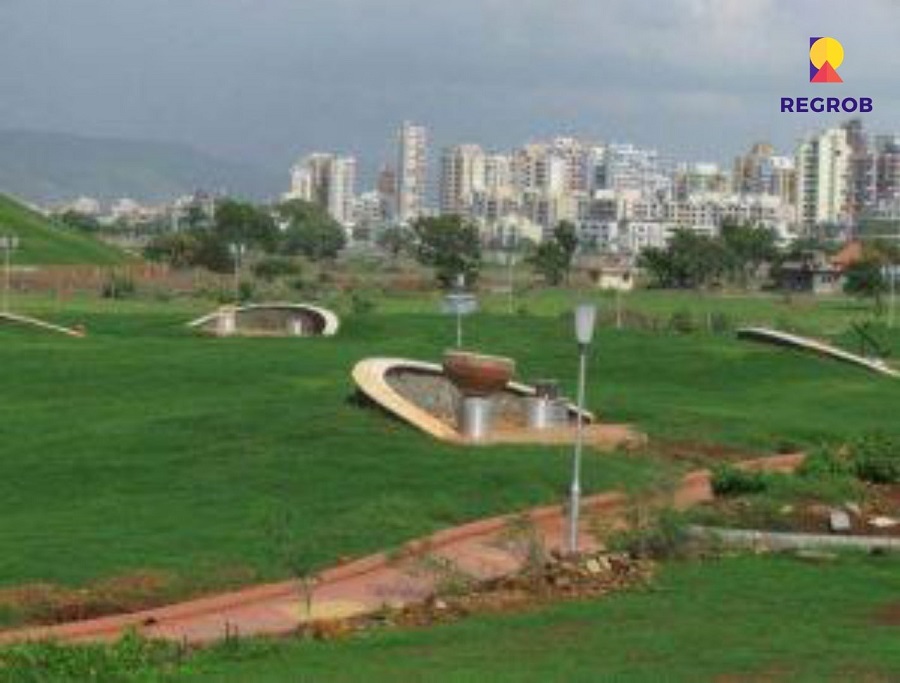 Kharghar has witnessed the development of ample social infrastructure over the years. This is another key reason behind its popularity as a residential real estate hub in recent times. Kharghar is home to several leading hospitals including MGM, Fortis, Apollo and Tata Memorial among others.
Reputed educational institutions include Ryan International, DAV International, Delhi Public School and Fr. Agnes in addition to SIES, NMIMS, NIFT, ITM and other colleges. CIDCO has already developed an 18-hole golf course in Kharghar along with the beautiful Central Park which is a major recreational hub for residents of the area. The area itself has a lovely backdrop encompassing waterfalls and reserved forests. The 80 acre Central Park comes with food courts, a track for joggers, amphitheatre, botanical gardens, conservatory and theme parks. There are several shopping malls, utility stores, retail outlets and supermarkets in the area along with multiplexes, theatres, restaurants and hotels. ISKCON temple is a famous place of worship nearby while there are several bank branches here as well.
The Kharghar Skywalk is the longest in the country at 1780 m and is a major attraction for residents and visitors alike. Sector 12 in Kharghar has the Krantiveer Phadke Garden while there is a CIDCO Park at Sector 20 which is frequented by children, senior citizens and also joggers. There is the Little World Mall and Glomax Mall which are key malls in the neighbourhood. Both these shopping malls have their own multiplexes. There are some movie screens like the one at Tiara Complex in proximity to Raghunath Vihar. DMart, Star Daily, More and Reliance Fresh are some of the major supermarkets in the locality.
Future Prospects
Kharghar is well linked to both Nashik and Pune and hence investors from both these cities will be investing more in Kharghar in the future. Kharghar will also get an influx of commercial real estate investments courtesy the upcoming corporate park and upcoming business developments. The new airport and metro line will naturally spur demand for residential real estate in this locality along with driving up property prices in the long term.
Kharghar is well planned, has abundant social amenities and offers a vibrant backdrop complete with mountains, greenery and open spaces. The Golf Course, Central Park and Skywalk are among the key aspects which add to the appeal of the locality. There could be an appreciation of 20-30% in real estate prices in Kharghar over the next 1-2 years as per reports, with the commencement of operations at the Navi Mumbai International Airport and metro railway network. With more big-ticket real estate projects on the anvil and prices set to shoot up in the near future, it is definitely a good time to invest in Kharghar.
For Site Visit & Queries Call- +91-7428091724
You can watch the actual videos of residential projects of Navi Mumbai Click here
You can also check some Residential Properties in Navi Mumbai Click Here