A look at our history books would tell us that most great civilizations of the past came up near river banks or coastlines. Moving to the present, the story has changed somewhat. Nowadays, it's the physical infrastructure and the promise of opportunity that attracts people to settle in an area. A look at the evolution of India's 'Silicon Valley' and 'Garden City' of Bangalore is a clear illustration of the same.
Bangalore city, earlier defined by its petes and cantonments, rapidly expanded eastwards and southwards in the late 90s. Fueled by the IT boom and the construction of the Outer Ring Road, many villages rapidly became urbanized and a part of this ever-expanding city. We are now on the cusp of history repeating itself, with north Bangalore being the new theatre of development. The one major factor, which has brought about this boom, is the construction of the Kempegowda International Airport in Devanahalli, which opened in 2008. Already one of the country's busiest airports, it has become a key economic and real estate driver. We look at the changes this airport has already indirectly brought about and also the impact of some promising developments announced recently.
As the population is increasing day by day. the land rates in India will go on increase unless there is some serious issue in that area. If you invest money in some bank or in shares there will be no guarantee for that money to get double. But if you invest in property especially land it will surely get increased.
Why Sarjapur Road Is An Amazing Place To Stay?
Here are the 5 most convincing reasons:
1. IT careers
Multiple eminent IT companies including Accenture, Cisco, Wipro, HP, KPMG, Nokia, and others are well-set up in this area. With the swift growth of more and more such companies and startups, employment opportunities are expected to rise further – pulling more and more professionals to this area. And, nothing could be better when one can live in the vicinity of their workplace, isn't it?
2. Infrastructure And Connectivity
Bangalore International Airport (BIAL) from Sarjapur Road is at a distance of 1 hour and 55 minutes. The Majestic Bus Stand, KSRTC Bus Stand, and Bangalore City Railway Station are just 15 kilometers away from Sarjapur Road. The planned Peripheral Ring Road (PRR) which connects to Bellary Road, Hosur Road, Bellary Road, and Old Madras Road will boost the realty sector here. The imminent metro lines which are under construction will connect Sarjapur in the south-east and Yelahanka in the north. This location offers good road connectivity to key IT strips of Bangalore like Electronic City, Marathahalli, Silk Board, Whitefield, Koramangala, Madiwala, and a few more.
3. Educational facilities
Sarjapur houses a good list of schools promising high-quality education for children. So, if you are one of those who have a family and looking for the best education for your children then being at Sarjapur would give you ample of amazing options to choose from. Delhi Public School, Orchids International School, St. Peters, St. Francis, Indus International School, Harvest International School, Silver Oaks International School, Sarjapur has many schools who provide high standard learning for children. Also, parents will spend less time worrying about having their children to commute far from home just to receive a quality education.
4. Shopping centers
Along with lots of commercial establishments, Sarjapur Road is also filled in with many good shopping destinations. Moms and homemakers who are too busy looking to balance work-home-children want shopping destinations close to the place they stay. From regular groceries to lavish fashion items, Sarjapur houses many shipping malls in close vicinity – Central Mall, Total Mall, Market Square Mall are just a few to name.
5. Capital & Rental Values
Despite several major policy reforms in the construction sector, the Sarjapur locality witnessed a surge of 2.6 percent. The average ask rate here varies between Rs 4,300 per sq. ft and Rs 5,700 per sq. ft. Considering rental values, the average rental rates for a 1BHK is around 10,500 Rs – 15,000 Rs, for a 2BHK is about 17,200 Rs – 21,000 Rs and 3BHK is in between 22,800 Rs – 29,500 Rs. Also, the demand for rental properties is at peak owing to the current prominent presence and growth of commercial development.
About Reliaable Dollars Colony
Reliaable Developers are doing Residential Plots for eighteen years and have completed 15 residential layouts, which now consist of multiple schools and hospitals.
This has made them one of Bangalore's most trusted developers of plotted residential layouts in the private sector. They are truly proud to be a leader in developing BDA-approved residential layouts.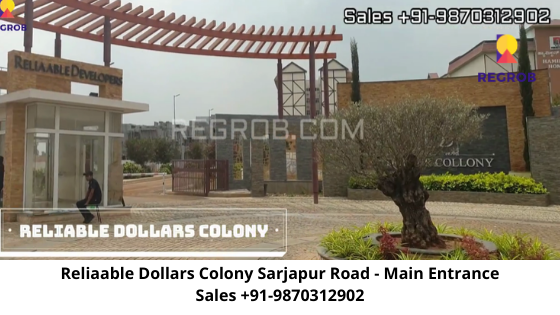 The company was established in 1999 by Dr. A. Rama Reddy and Mr. H.P. Rama Reddy. Recognized as one of the most prolific and world-class property developers in Bangalore. They have developed both top qualities urban and luxury living spaces in over 10,000 BDA approved plots spread across 1000 acres in the last 2 decades.
We have developed properties around HSR layout as large as a couple of its sectors while offering customers value for their investment. Their properties have developed to become self-sufficient, encompassing schools, colleges, hospitals and shopping complexes like Vibgyor School, Bmax Hospital, Mount Zee School, Narayan E-tech and Eurotech to name a few.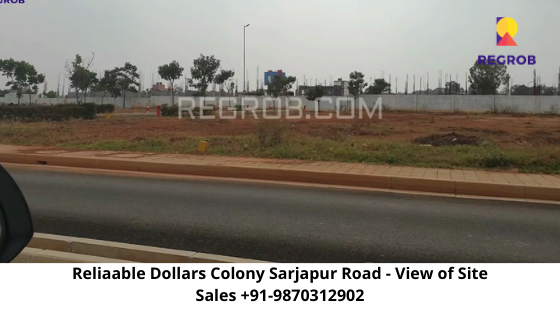 Reliaable Dollars Colony Overview
Reliaable Developers have come up with a new project called Reliaable Dollars Colony in Hosa Road. This luxurious residential villa plot is set on 60 acres of land area wherein 8 acres of land is fixed for green foliage comprising of man-made forest, parks and open space. This BDA approved project is offering 115 luxury villa plots of sizes 1200 Sqft and 1500 Sqft (30×40, 30×50) respectively. This developer is also providing a number of well-equipped amenities within the same development. Some are like water recycling, rainwater harvesting, solid waste management, CCTV Cameras, 24/7 security, extensive storm-water management, etc. and many other features.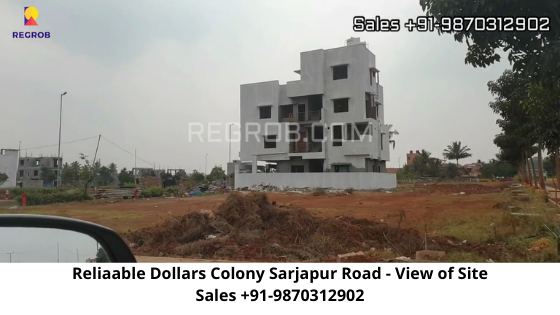 Location Highlights:
Reliaable Dollars Colony is positioned in a convenient location close to HSR Layout, Off Hosa Road, East Bangalore. This part of the city is known for its numerous IT/ITES companies like Wipro, TCS, Infosys, etc. and several MNC's. It has also developed as a residential area due to the constant demand from the professionals for an affordable home. Hosa Road is smoothly connected to Electronic City, HSR Layout, Outer Ring Road, Silk Board Junction, Metro Station, NICE Road and other parts of Bangalore. The residents of Sobha Supreme Tower will have easy access to famous schools, colleges and Entertainment zones like Oxford Engineering college, VIBGYOR High School, St. Joseph English High School, Total Mall, Vishal Mart, Big Bazaar, etc.
Reliaable Dollar Colony is the flagship project of Reliaable Developers. It is Bangalore's largest BDA-approved residential layout that comes with clear titles and is fully owned by Reliaable Developers.
It is an expansive plotted development ( 82 acres to be developed in phases) close to HSR Layout and not far from Sarjapur Main Road.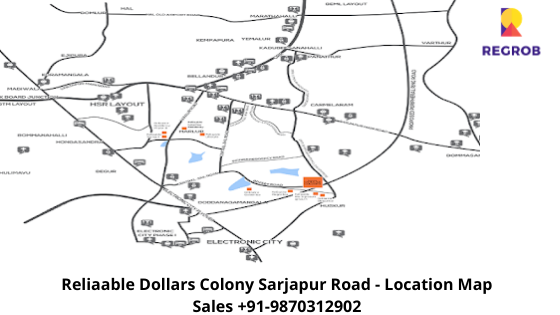 The flagship project is our testament to realizing the dream of luxury housing in a gated residential layout that not only offers spacious settings amidst picturesque environments but also embodies the little elements that piece together to form a harmonious and luxurious international lifestyle.
IT/Business Districts:
Bosch Limited
Ozone Manay Tech Park
Wipro Corporate Office
RGA Tech Park
Global Technology Park
RMZ Ecospace
Cisco
Prestige Tech Park II
Educational Institutions:
Ebenezer International School
PESIT South Campus
VIBGYOR High School
National Public School
Primus Public School
Harvest International School
Delhi Public School
Silver Oaks International School
TISB
Inventure Academy
Greenwood High
Global Indian International School
New Horizon Gurukul
Restaurant:
Time Traveller
Paradise Food Court
The Fisherman's Wharf
Village – The Soul of India
La Casa
Xtreme Sports Bar & Grill
Kanua
Big Brewsky
Hotels:
Svenska Design Hotel
Lemon Tree Hotels
Lords Plaza
Keys Hotel
Hotel Ibis
DoubleTree Suites by Hilton
Octave Hotel & Spa Center
Fairfield by Marriott
Hotel Novotel
Park Plaza
Malls, Stores & Theatres:
More Supermarket
Decathlon
HSR BDA Complex
Total Mall
Forum Mall
Soul Space Spirit
Innovative Multiplex
Hospitals:
Kiran Mazumdar Cancer Center
Narayana Hrudhayalaya Clinic
Ramakrishna Smart Hospitals
Apollo Hospitals
Narayana Multi-speciality Hospital
Narayana Hrudhayalaya
Dr. Levine Memorial Hospital
Sakra World Hospital
Q- As a man is said to have a right to his property, he may be equally said to have a property in Reliaable Dollars Colony which a property seeker should buy?
Current condition: – All of the mentioned below are under construction.
| | | | |
| --- | --- | --- | --- |
| Plots Dimension | Plot Area | Rate Per Sq Ft | Rate |
| 30 * 40 | 1200 | Rs 4100/- | 51 Lakhs Onwards |
| 30 * 50 | 1500 | Rs 4100/- | 64 Lakhs Onwards |
| 40 * 60 | 2400 | Rs 4100/- | 1 Crore Onwards |
Q- I always say if the house I live in is comfortable, and I have all the amenities I need, then what more can you ask for? Talking about the Amenities in Reliaable Dollars Colony: –
Watch this Video:
The following are the various amenities offered by project to its residents: –
Community Amenities:
Club House
Creche
Guest Accommodation
Indoor Games
Snooker or Billiards
Spa
Squash Court
Swimming Pool
Table Tennis
Biggest Pvt BDA Approved Layout
Two Club Houses
Two Swimming Pools
Ten acres of Themed Parks
Three Restaurants with Bar
Five Outdoor Gyms
A massive amphitheater
Grand Arch
Guest Rooms
Squash Court
Indoor Badminton Court
Billiards Room
Spa
Children's Creche
Banquet Hall
Table Tennis
Yoga/Aerobics Hall
Mini Theatre
Multipurpose Hall
Other Amenities:
24-hour security
Rain Water Harvesting
Pedestrian Infrastructure
Underground Electricity Cables
Asphalted Roads
Over Head Tanks
STP
Master Plan of Reliaable Dollars Colony: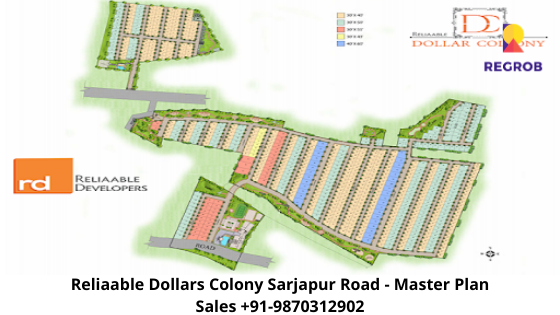 For Site Visit & Queries Call +91- 9870312902
Watch the actual videos of other residential projects of Sarjapur Bangalore Click here
You can also check some other options of residential property in Sarjapur Bangalore Click here