Affordability is the highest now, yet dampened outlook is holding the buyers. We think that real estate prices will soon start climbing based on various drivers such as increasingly affordability, tapering new launches, decreasing inventory, positive outlook and increase in transparency. Hence, we suggest serious buyers should bargain hard and buy their dream home now than waiting.
"Is it the right time to buy, or should I wait for prices to correct further" are some of the key questions in the mind of buyers today. Buyers are worried as the sector continues to be affected by slowdown and prices have fallen in multiple pockets. Since real estate is a large ticket purchase, buyers are holding off in expectation of further price fall. But will this price fall continue or are we at an inflection point? Before answering the question, let us look back into history to find if this is the first time the prices have fallen, or have we seen this before?
To many of us, it will come as a surprise that real estate prices have fallen and risen multiple times in India. However, since the cycle is so long and drawn out, about 10 – 15 years, that people tend to forget it. Last cycle was from 1997 to 2013. Price fell from 1997 – 2003, then rose slightly before gaining pace in 2006. From 2010 to 2013, prices tripled in many pockets before coming to a screeching halt in 2014.  For the last four years, the prices have fallen again in most parts of India, a clear reminder of 1997 – 2003.
Hence, the historical facts clearly indicate that the current price fall will reverse. The question is not "if" but "when". In our analysis provided below, we think that real estate prices will soon start climbing based on various drivers such as high latent demand, increasingly affordability, lower new supply, decreasing inventory, positive outlook and increase in transparency.
High Latent Demand
Having own roof above one's head has been one of the strongest desires of all of us. This is especially true for India, where demand is propelled by the following:
Historical affinity towards real estate
Several incentives from the government such as income tax breaks and relief from capital gains tax if the amount is re-invested
Right to inheritance in India helps people transfer wealth to the next generation without any tax incidence and hence, people do not need to do tax planning as in the United States and some other countries
Rapid urbanization leading to high demand. % urban population in India has increased from about 20% in 1970 to about 33% in 2016. The shift is expected to be faster as country is expected to enter nest stage of growth
Average age of people buying their first house has been declining as the per capita income of the country has been increasing. While earlier, people used to buy their first house in late forties, now people in early thirties form significant number of first time buyers.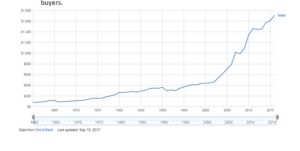 High Demand from Existing Owners with Surplus Cash
There are several second-time buyers sitting on the fence with cash and will jump into the fray with slight improvement in outlook. These are the same people who bought in 2010-11, have made money and have repaid loan (average tenor of home loan in India is about 8 years). They have strong ability as well as willingness to purchase new properties.
Increasing Affordability
By affordability, we mean value of real estate purchase for average person divided by his annual income (as income is directly linked to person's ability to service housing loan). As per HDFC, affordability is the highest in the last 20 years! This is because, while annual income has increased continuously, recent fall in prices have resulted in strong jump in affordability.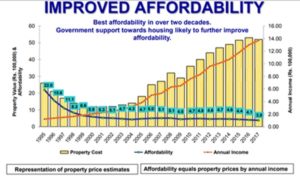 Source: HDFC
New Launches at its Lowest
New launches drive supply in the market. Let us take a step back to understand the trend in new launches which have resulted in the current levels of supply. In pre-2014 era of price rise which started around 2010-11, there was high level of demand. High demand and high profitability (which was driven by sudden price rise) led to increase in number of industry participants resulting in high rate of launches. As the projects typically take 3 – 5 years to get completed, there was a deluge of supply in 2014-15. The supply glut exacerbated the situation already dampened by sky-rocketing prices and reducing GDP growth. As a result, the prices fell and have continued to fall. However, the situation seems to be improving now as new project launches have declined to a trickle – launches are lower by 41% in H22017 compared to 2016) (source: Knight Frank).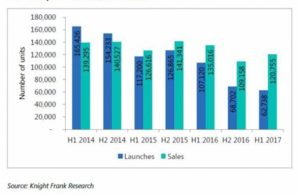 Decrease in Unsold Inventory
Unsold number of units (i.e. inventory level) is down from peak levels of 7.2 lakhs in 2014 to 5.3 lakhs in December 2017, a 37% decline (source: Knight Frank).
Positive Economic outlook
Many of the economic parameters have turned positive in the recent months, and we think that either worst is behind us or bottoming out now. The tone of investor reports from leading real estate developers has turned positive from being cautious a year ago. The stock market has also taken a note and responded positively. Share prices of listed leading companies such as Godrej Properties have risen substantially over the last 1-2 years.

RERA to increase investor confidence
The joker in the pack is RERA, or Real Estate Regulation and Development Act. RERA will bring transparency and lead to better corporate governance practices in the sector. As this plays out, fly-by-night developers will cease to exist leading to higher investor confidence in the sector in medium to long term. This will attract large investments in the sector leading to strong growth.
Summing up
Based on above analysis, we think the real estate market in India is either near its bottom or has already bottomed-out. Demand-supply gap is expected to get better with time. This has also started to show up in some micro markets where price fall has either halted or there has been marginal increase.
So why is sentiment still low? The answer is simple, because of information asymmetry. Retail investors come to know about change in sentiment when prices have already gained momentum and hence, typically enter the market near its peak as shown below:

Therefore, since we think that the real estate sector is either near the bottom or past it, this seems to be the right time to buy. For serious buyers, deep discounts are available in the market, trick is to negotiate hard. As the sentiment improves, getting good deals will become difficult. Just remember to buy quality properties as they are always at premium.
In case, you have zeroed in on a property and are unable to buy it because of lack of upfront contribution (which is about 30% of property costs), take a personal loan. You can either approach banks or peer to peer lending platforms such as i2ifunding which are equally good and at times better in terms of speed and cost. One can get funded in about 2-3 and the whole process is easy and transparent.
Hope this information have been of help. If you have any queries, feel free to message me in the comment section. Will try to respond at the earliest.