The entertainment capital of India, Mumbai is also the most populated city in India and the 4th most populated in the world. Presently, Mumbai has a population of over 20 million. The number of people who migrate to Mumbai every year is countless. This has given rise to growing demands for residential homes in the city and also the growing price of homes. According to a study by the Reserve Bank of India (RBI), the price of houses to the monthly income ratio is highest among major Indian cities*. This means that the average monthly income required to own a house is quite high, making housing prices not accessible to the majority of the city's population. At this rate, finding a perfect flat in Mumbai is tougher than getting a job.
Owning a home is a financial milestone that every Indian looks forward to achieving. India's millennial generation, too, does not shy away from the same aspirations. But what differentiates Gen Y's home-buying approach is that they are more careful and prefer to wait for the right home that will fit into their tech-savvy, connected lifestyle.
With India's millennial population being one of the largest workforces in the world and a dominant player in the economy, this generation is sure to be a challenging new prospect for real estate developers. Here are the many reasons why millennials are moving towards buying a home slowly but steadily!
1. Growing Purchasing Power
Growing Purchasing Power Millennials make up 47% of India's working population and are the chief wage earners. This means, millennials generate a large share of disposable income at a younger age, as compared to the generations earlier. With the increase in purchasing power, investing in a home is perceived as a stable and profitable opportunity.
2. Need for Smart Homes
A digitally connected lifestyle has become the need of the hour for netizens. Gen Y prefers smart technology that helps simplify their life, and these latest advancements need to extend to their home. Home automation, IoT, energy-efficient appliances, state-of-the-art digital security features, and flexible living spaces is what this generation is seeking.
3. Exhaustive Research Online
Gen Y is independent when it comes to making financial decisions, but these are always backed by comprehensive information and insights from the internet. The netizen buyer will research online, reviews the credentials of the developer and assess the market before making a choice. This generation looks for quality housing projects, whether ready-to-movein
or under-construction, from renowned builders.
4. Sustainable Living
Where sustainability is the only way forward, millennials will go the extra mile to make a conscious and mindful purchase. More and more buyers opt for residences that are sustainably built to be eco-friendly, cost-effective, energy-efficient and help reduce the carbon footprint.
5. Rising Rental Expenses
Millennials favour home ownership over increasing rental expenses in the long run. Owning a home offers independence and flexibility that a rented home cannot. This generation would rather direct the money for monthly rent to pay off EMIs instead.
6. Expansion of Affordable Housing
Government initiatives like 'Housing for All' has been a game changer for India's affordable housing segment. Credit subsidies coupled with great options in affordable housing has swayed millennials from rental options to purchasing a home.
A great project for millennial buyers to invest in is Runwal MyCity. MyCity is an expansive integrated township built around the needs and desires of its future residents. Sprawling across 156 acres, the township is planned to construct residential clusters in multiple phases over the years. The township offers 1, 2 and 3 BHK residences with a sports complex spread over 8 acres, central greens spread over 6 acres, 15 acres of green spaces across the entire township, along with health care facility and educational institute.
Q- Why should we consider buying a property in Runwal MyCity?
The Largest Podium of Dombivli spread over 75,000 square feet: – Blossom City property inside Runwal MyCity is a place where the air is filled with fragrance of flowers, top-of-the-line amenities, and endless opportunities. Indulge yourself in Blossom City with 12 stunning towers, multiple levels of podium parking and your very own dedicated clubhouse. Rejoice in the essence of nature and give yourself a home that you deserve at Blossom City.
Good and healthy living environment: – Take a breath of fresh air and experience a sense of serenity away from the chaos in Smart City property inside Runwal MyCity. Spread across 6.5 acres, comprising of 12 towers, it is packed with every amenity to make your life comfortable. With the green spaces and activity areas radiating from it, Runwal MyCity is truly your little piece of heaven.
Location Advantage: – Runwal MyCity, with your home strategically located within the radius of all the important landmarks, enjoy connectivity to Kalyan, Vashi, Panvel, Bhiwandi and MIDC through the Kalyan-Dombivli Municipal Transport. But even with a great connectivity, you'll rarely feel the need to go out as all the social amenities are just a stone's throw away from you.
Location Map: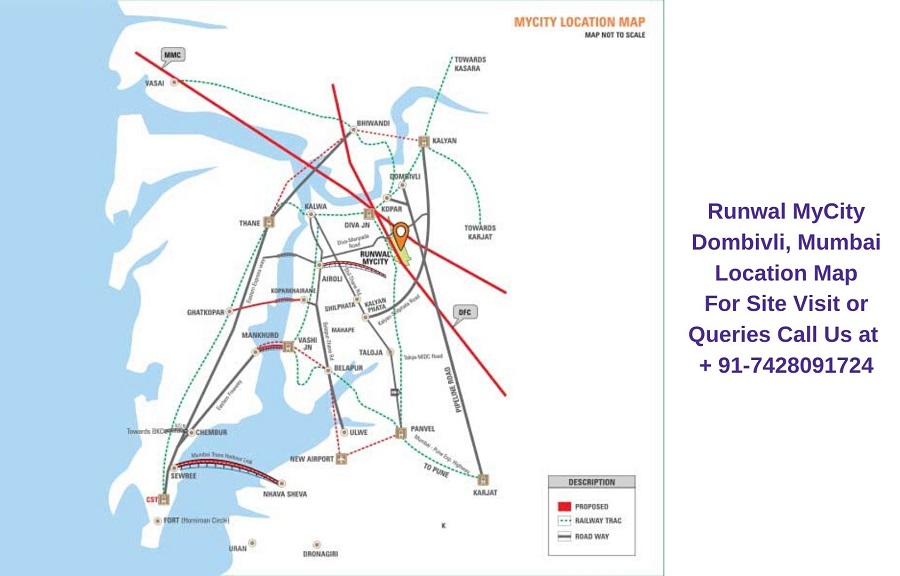 Convenience in a city that has it all: – When you step into Runwal MyCity, you step into a 156-acre township, that puts your needs and convenience first. From acres of open spaces to state-of-the art amenities. From being located in the centre of the economic triangle to providing you with amazing connectivity and easy accessibility. Come, find your dream home turn into reality, at Runwal MyCity.
All roads lead to MyCity (Future Development): – Easy connectivity to Mumbai & Navi Mumbai, extended Mumbai Urban Infrastructure Project, Thane-Bhiwandi-Kalyan Monorail Corridor, close to the upcoming Navi Mumbai International Airport, JNPT, MTHL and DFC, multimodal corridor reduces travel time from Virar to Alibaug by 50%, booming logistics sector and the Government's focus on further organizing the warehousing industry, plans to develop commercial complexes in the region is expected to boost the service industry in the region, subway tunnel elevated to connect Katai Toll to Airoli, upgradation of Diva station to prime junction in central line and approved new line to Navi Mumbai (Kalwa – Airoli), new railway connection coming up, connecting western and central lines.
Q- As a man is said to have a right to his property, he may be equally said to have a property in his rights. So, what are the different types of properties available in Runwal Gardens which a property seeker should buy?
Blossom City (Under-construction, completion date-2023)
Smart City (Under-construction, completion date-2020)
Vista City (Ready to move-in)
Current condition: – All of the mentioned below are under construction.
| | | | |
| --- | --- | --- | --- |
| TYPE | USABLE AREA (in square feet) | Agreement Value (in lakhs) | All-in Value (in lakhs) |
| 1 BHK Optima | 372 | 32.74 | 37.33 |
| 1 BHK Ultima | 409 | 36.67 | 41.49 |
| 2 BHK Optima | 510 | 47.42 | 52.90 |
| 2 BHK Ultima | 570 | 58.07 | 64.17 |
| 3 BHK | 777 | 79.98 | 90.87 |
Notes:-
The above-mentioned prices involve time linked plans with the exclusion of Stamp Duty and Goods & Service Tax (GST).
Plus, Runwal MyCity is currently giving a limited time offer on its bookings and this scheme goes by the name of '9-91'. In this scheme, the customer has to pay only 9% during the booking of the residence and the remaining 91% on offering possession.
No Bank Loan is required.
Car park for 1 BHK and 2 BHK optima is additional.
Q- I always say if the house I live in is comfortable, and I have all the amenities I need, then what more can you ask for? Talking about the Amenities in Runwal MyCity: –
Find yourself in the midst of a range of amenities at the podium curated for all your family's needs and recreation. The following are the various amenities offered by Runwal MyCity to its residents: –
CITY OF CITIES – MYCITY – 156 ACRES TOWNSHIP
12 RESIDENTIAL CLUSTERS
40% OPEN SPACES
BREATHTAKING VIEWS OF PARSIK HILLS & CITYSCAPES
6 ACRES CENTRAL PARK
8 ACRES SPORTS COMPLEX
FOOTBALL GROUND, CRICKET PITCH, 4 TENNIS COURTS & 2 MULTI-PURPOSE COURTS
OPEN AMPHITHEATRE WITH 3000+ CAPACITY
75000 SQ FT OF PODIUM SPACE – LARGETS PODIUM IN DOMBIVLI
VEHICLE FREE PODIUM SPACES
DEDICATED CLUBHOUSE FOR EVERY CLUSTER
1 LAKH SQUARE FEET EDUCATIONAL INSTITUTE
OFFICE SPACES
CONVENIENT RETAIL, HEALTH CARE FACILITY
500+ POSSESSIONS, 3000+ CUSTOMERS ARE A PART OF MYCITY FAMILY
For Site Visit & Queries Call- +91-7428091724
You can watch the actual videos of other residential projects of Navi Mumbai Click here
You can also check some other residential properties in Navi Mumbai Click here