A look at our history books would tell us that most great civilizations of the past came up near river banks or coastlines. Moving to the present, the story has changed somewhat. Nowadays, it's the physical infrastructure and the promise of opportunity that attracts people to settle in an area. A look at the evolution of India's 'Silicon Valley' and 'Garden City' of Bangalore is a clear illustration of the same.
Bangalore city, earlier defined by its petes and cantonments, rapidly expanded eastwards and southwards in the late 90s. Fueled by the IT boom and the construction of the Outer Ring Road, many villages rapidly became urbanized and a part of this ever-expanding city. We are now on the cusp of history repeating itself, with north Bangalore being the new theatre of development. The one major factor, which has brought about this boom, is the construction of the Kempegowda International Airport in Devanahalli, which opened in 2008. Already one of the country's busiest airports, it has become a key economic and real estate driver. We look at the changes this airport has already indirectly brought about and also the impact of some promising developments announced recently.
As the population is increasing day by day. the land rates in India will go on increase unless there is some serious issue in that area. If you invest money in some bank or in shares there will be no guarantee for that money to get double. But if you invest in property especially land it will surely get increased.
How Increasing Demands of Millennials are Shaping Real Estate Market
1. Growing Purchasing Power
The booming millennial workforce in the garden city has enabled Bangalore's real estate to grow significantly. Bangalore has always been one of the active residential markets and now is also known for having sustained demand for commercial space. According to a NASSCOM report, 2018, Bangalore is one of the fastest-growing technology start-up hubs in India with nearly 7,700 registered start-up firms. Of this, approximately 1,200 new start-ups were registered in 2018 alone.
2. Various govt. reforms:
The introduction of reforms like RERA & GST has made the sector go through significant improvements. As a business hub, the city caters to the technology and other services requirements of companies globally; no wonder then, that Bengaluru attracts a huge ratio of India's highly-skilled workforce.
3. Rapid real estate growth in Bangalore:
The year 2018 re-established Bangalore's position in the commercial space. According to a JLL report, the city accounted for the highest absorption of office space at 7.9 million sq. ft. in the first nine months of the year. Bangalore also fared decently in the residential segment. According to a recently conducted research, about 870 projects were launched in 2018. About 50% of this new supply was in the mid-segment (Rs 40-70 Lakh), followed by 24% in the affordable segment (Less than Rs 40 Lakh) and 26% supply in the luxury segment (Rs 70 Lakh and above).
4. Boost in the affordable housing segment:
Affordable housing witnessed a growth of 22% in sales during 2018. In the recent Budget announcement, the government has extended the deduction of interest on the home loans.
About Shriram Properties:
Shriram Properties is private real estate developers and builder. They promise to provide quality. And affordable housing and commercial properties in Bangalore, Chennai, Vizag, and Kolkata. The company is managed by highly qualified professionals. They are fully engaged to ensure that the company maintains its high standards. Standards in quality construction, timely delivery, and customer satisfaction.
Shriram Summitt Overview: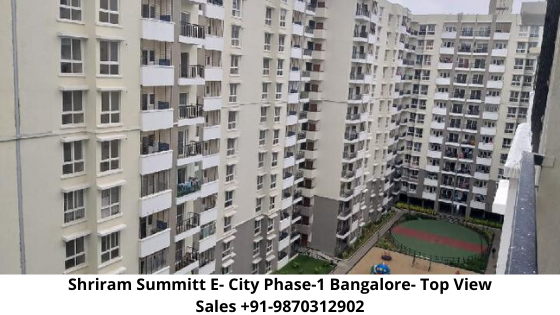 Shriram Summitt is a 17 block project developed on a 15+ acre land. Located in the prime locality of Electronic City Phase 1, these quintessential living spaces check all the boxes for daily commuters who are looking for means to avoid the dreaded traffic of the fast-paced city of Bengaluru.
The USP of Shriram Summitt lies in its strategic location. With leading software giants situated at a stone's throw away, you will be living in the heart of the Silicon Valley – where half of Bengaluru goes to work!
Narayana Health City – 5 kms
Ebenezer International School – 6 kms
Walking distance from IT giants like Infosys, Wipro and HP
A Short distance from leading malls like D Mart and Forum
The residential enclave features the very best in Shriram Properties's luxury living segment. The project offers spacious Apartments with luxurious features. Beautiful landscapes all around Shriram Summitt make it more special & Elite.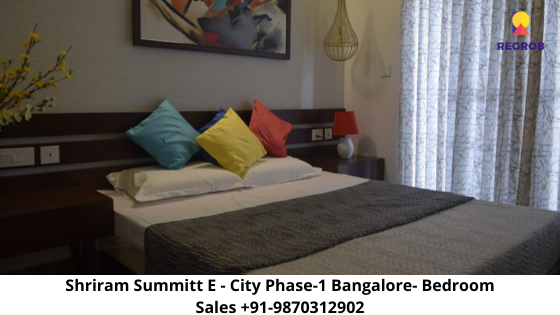 The builder is guaranteed to bring a quality living experience to the community of Electronic City Phase 1, South Bangalore with brilliant architecture and an equivalent lifestyle in Summitt.
Shriram Summitt Location has excellent connectivity & it is located at the crux of Electronic City Phase 1 near existing and upcoming communities & facilities. Amenities at Shriram Summitt include a fully equipped clubhouse, landscaped gardens, gymnasium, swimming pool, recreation rooms, outdoor sports courts, children's play area, party hall, and meticulously planned with utmost importance to state-of-the-art 24/7 securities.
Highlights
Project Location – Electronic City Phase 1
Total Land Area- 15 Acres
No. of Units – 947 Units
Towers and Blocks –  17 Blocks with  G + 13 Floors
Unit Variants- 1,2,2.5,3 BHK
Shriram Summitt Location Advantages & Direction:
Electronics City is situated at a distance of 18 kilometers from Bangalore City, connected via Hosur Road. It is one of the largest Electronic Industrial Parks of India and has now emerged to be a popular commercial and residential area. No wonder corporate giants like Wipro, Infosys, Tech Mahindra, CGI, Siemens, Genpact, Intel, TCS etc. have flocked this area.
Bus Stops Nearby
Shikaripalya – 0.7 KM
Neo Town Road – 0.9 KM
Electronic City Wipro Gate – 1.0 KM
Gollahalli Bus Stop – 1.1 KM
Gollahalli – 1.1 KM
ATMs Near Shriram Summitt
State Bank Atm – 0.9 KM
Citibank Atm – 0.9 KM
Icici Bank Atm – 1.0 KM
Citibank Atm – 1.1 KM
State Bank Atm – 1.1 KM
Cinema Theaters Nearby
Srinivasa Chetramandira – 2.2 KM
Sri Venkareshwara Theatre – 3.5 KM
Pvr Cinemas – 5.3 KM
Narasimha Chitramandira – 8.3 KM
New Vinayaka – 8.6 KM
Temples Near Shriram Summitt
Ganesha Temple – 1.0 KM
Shiva Temple – 1.4 KM
Shiva Temple – 1.5 KM
Saneshwara Temple – 1.7 KM
Sri Rama Temple – 1.9 KM
Hotels, Lodges Nearby
Murari Classics – 0.8 KM
Radha Regent – 0.9 KM
Starlit Suites – 1.1 KM
Compact Maple Leaf E-City – 1.3 KM
Rentandrealestate.Com – 1.3 KM
Hospitals Near Shriram Summitt
Sri Vijayalakshmi Medical & General Stores – 1.1 KM
5c Network (India) Pvt Ltd – 1.1 KM
Trust Chemists – 1.1 KM
Anjana Child Care And Polyclinic – 1.8 KM
Centre For Human Genetics-Chg – 1.8 KM
Petrol Bunks Nearby
Sree Surya Gas – 1.8 KM
Bp Petrol Bunk – 2.0 KM
Petrol Pump – 2.4 KM
Indian Oil Petrol Bunk – 2.6 KM
Bharat Petroleum Petrol Pump – 2.7 KM
Colleges Near Shriram Summitt
Icfai University – 1.8 KM
International Institute Of Information Technology Bangalore (Iiitb) – 2.0 KM
Nettur Technical Training Foundation – 2.5 KM
Sfs Pu Junior College – 2.7 KM
Distance Mba Courses Bangalore – 2.8 KM
Schools Nearby
Kidzee Neotown – 0.2 KM
Eoxys Systems India Pvt. Ltd. – 0.8 KM
Mount Litera Zee School Electronic City – 1.0 KM
Klay Electronic City – 1.4 KM
Kidzee Electronic City – 1.7 KM
Shriram Summitt Master Plan & Floor Plan: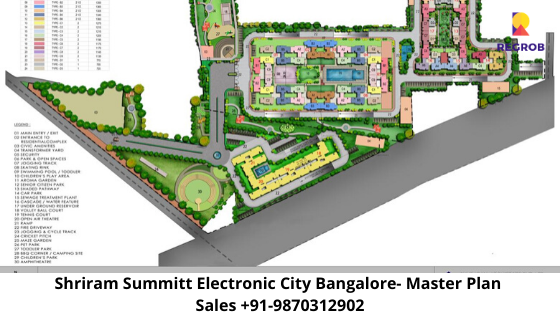 Project Review of Shriram Summitt:
Q- Why should we consider buying a property in Shriram Summitt?
STRUCTURE – Classic RCC frame structures with footing, column, beams, concrete slab etc.
FLOORING – Vitrified Tiles
TOILETS – Anti-skid ceramic flooring
DOOR – Teak wood main door and other doors with Deluxe Godrej fittings
WINDOW – Teakwood shutters and glass panels and M.S grill protection.
KITCHEN – Polished Granite Slab, Stainless steel sinks with quality Jaquar or equivalent sanitary fittings
PLASTERING -Neeru finish plastering for internal walls and sand finish plastering for external walls
PAINTING – Asian Paint for the internal walls and APEX or ACE for external walls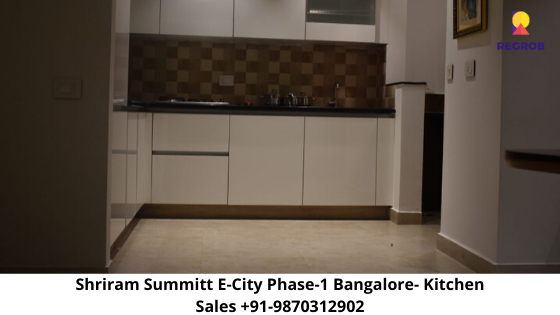 Q- As a man is said to have a right to his property, he may be equally said to have a property in Shriram Summitt which a property seeker should buy?
| | | |
| --- | --- | --- |
| TYPE | SUPER AREA (in square feet) | Price |
| 1 BHK | 755 | 35 lacs onwards |
| 2 BHK | 1175 – 1275 | 64.55 L – 65.92 Lacs onwards |
| 2.5 BHK | 1325 – 1340 | 73.34 L – 73.61 Lacs onwards |
| 3 BHK | 1365 – 1595 | 74.99 L – 87.62 Lacs onwards |
Q- I always say if the house I live in is comfortable, and I have all the amenities I need, then what more can you ask for? Talking about the Amenities in Shriram Summitt: –
The following are the various amenities offered to its residents: –
Clubhouse with party lounge
Amphitheatre
Swimming pool/toddler pool
Children's play area
11 community parks
Tennis court
Gymnasium
Volleyball
Watch Actual Video of Residential Project In Sarjapur Click Here
For More Info or Site, Visit Call Us at +91 – 9870312902
We also have some other options of residential projects for you in Bangalore Click Here