A look at our history books would tell us that most great civilizations of the past came up near river banks or coastlines. Moving to the present, the story has changed somewhat. Nowadays, it's the physical infrastructure and the promise of opportunity that attracts people to settle in an area. A look at the evolution of India's 'Silicon Valley' and 'Garden City' of Bangalore is a clear illustration of the same.
Bangalore city, earlier defined by its petes and cantonments, rapidly expanded eastwards and southwards in the late 90s. Fueled by the IT boom and the construction of the Outer Ring Road, many villages rapidly became urbanized and a part of this ever-expanding city. We are now on the cusp of history repeating itself, with north Bangalore being the new theatre of development. The one major factor, which has brought about this boom, is the construction of the Kempegowda International Airport in Devanahalli, which opened in 2008. Already one of the country's busiest airports, it has become a key economic and real estate driver. We look at the changes this airport has already indirectly brought about and also the impact of some promising developments announced recently.
As the population is increasing day by day. the land rates in India will go on increase unless there is some serious issue in that area. If you invest money in some bank or in shares there will be no guarantee for that money to get double. But if you invest in property especially land it will surely get increased.
Why Sarjapur Road Is An Amazing Place To Stay?
Here are the 5 most convincing reasons:
1. IT careers
Multiple eminent IT companies including Accenture, Cisco, Wipro, HP, KPMG, Nokia, and others are well-set up in this area. With the swift growth of more and more such companies and startups, employment opportunities are expected to rise further – pulling more and more professionals to this area. And, nothing could be better when one can live in the vicinity of their workplace, isn't it?
2. Infrastructure And Connectivity
Bangalore International Airport (BIAL) from Sarjapur Road is at a distance of 1 hour and 55 minutes. The Majestic Bus Stand, KSRTC Bus Stand, and Bangalore City Railway Station are just 15 kilometers away from Sarjapur Road. The planned Peripheral Ring Road (PRR) which connects to Bellary Road, Hosur Road, Bellary Road, and Old Madras Road will boost the realty sector here. The imminent metro lines which are under construction will connect Sarjapur in the south-east and Yelahanka in the north. This location offers good road connectivity to key IT strips of Bangalore like Electronic City, Marathahalli, Silk Board, Whitefield, Koramangala, Madiwala, and a few more.
3. Educational facilities
Sarjapur houses a good list of schools promising high-quality education for children. So, if you are one of those who have a family and looking for the best education for your children then being at Sarjapur would give you ample of amazing options to choose from. Delhi Public School, Orchids International School, St. Peters, St. Francis, Indus International School, Harvest International School, Silver Oaks International School, Sarjapur has many schools who provide high standard learning for children. Also, parents will spend less time worrying about having their children to commute far from home just to receive a quality education.
4. Shopping centers
Along with lots of commercial establishments, Sarjapur Road is also filled in with many good shopping destinations. Moms and homemakers who are too busy looking to balance work-home-children want shopping destinations close to the place they stay. From regular groceries to lavish fashion items, Sarjapur houses many shipping malls in close vicinity – Central Mall, Total Mall, Market Square Mall are just a few to name.
5. Capital & Rental Values
Despite several major policy reforms in the construction sector, the Sarjapur locality witnessed a surge of 2.6 percent. The average ask rate here varies between Rs 4,300 per sq. ft and Rs 5,700 per sq. ft. Considering rental values, the average rental rates for a 1BHK is around 10,500 Rs – 15,000 Rs, for a 2BHK is about 17,200 Rs – 21,000 Rs and 3BHK is in between 22,800 Rs – 29,500 Rs. Also, the demand for rental properties is at peak owing to the current prominent presence and growth of commercial development.
SJR Builder
At SJR, each iconic residence is designed in a way that aims at better utilization of spaces & resources, while incorporating simpler management systems and smart planning. projects are in sync with international trends and perfect for the modern-day property buyers who seek comfort, luxury, style, and convenience. Superior construction, with high-end fixtures and a keen eye for achieving utmost perfection, has made us the leading and most preferred builders for commercial and residential segments.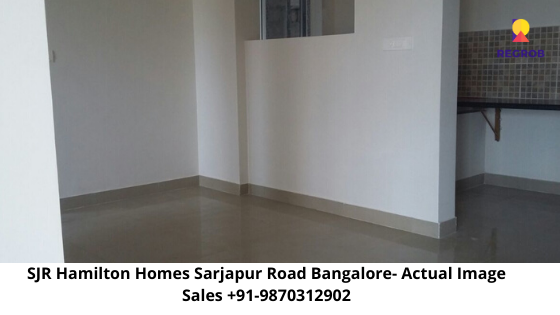 SJR Hamilton Homes Overview
The stylish sophistication of SJR Hamilton Homes is evident right from the moment you arrive at the grand yet understated entrance plaza. Elegant, low-rise B+G+5 floor apartment blocks spread across 4.9 acres honor the aesthetics of traditional Spanish design. The 408 homes stand around vast courtyards that offer soothing spaces to relax, amidst beautiful greenery. The quiet, peaceful ambiance is the perfect setting to take your evening constitutional – strolling past the G+2 floor 12,000 sft Sherlock clubhouse, or the rooftop swimming pool, play areas, and landscaped gardens.
The concept of regal living holds an enduring fascination for all of us. The 1,2 and 3 BHK apartments at Hamilton Homes ensure exactly this lifestyle. A quiet, secluded locale, styling influenced by English architecture, and amenities fit for a monarch, all come together to make for refined living Think Design is our approach to architecture that not only improves the quality of everyday life but also creates an experience of delight and wonder. From discreetly private bedrooms and balconies to vibrantly refreshing landscapes and world-class fittings and materials, Think Design takes care of the fine things that matter much.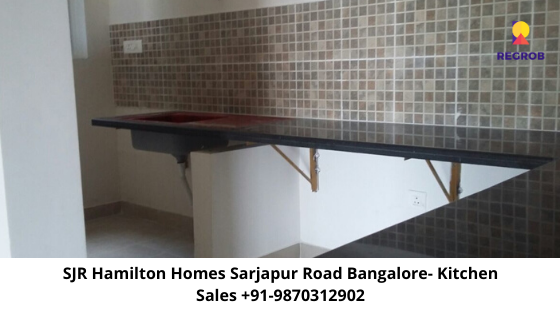 The stylish sophistication of Hamilton Homes is evident right from the moment you arrive at the grand yet understated entrance plaza, low- rise BiG:5 Boor apartment bocks spread across acres the aesthetics of traditional English. The 405 homes stand around vast courtyards that offer soothing spaces to greenery, The quiet. The ambiance is the perfect setting to take pour evening- trolling past the rooftop swimming pool, play areas, and landscaped gardens.
Discerning resident. you will surely appreciate the privacy carefully designed to ensure maximum freedom of movement you enjoy at Hamilton Homes. Every apartment has been and space. Combined with the abundance of natural light, it's the ideal setting to relax and spend time with family.
SJR Hamilton Homes Location
Located off Sarjapur Road, just about 3 kilometers from Hosur Road Junction, Hamilton Homes is ideally positioned in the heart of Bangalore's 1T Zone. Just minutes away from a roll call of
multinational companies and business bigwigs that surround the enclave. Not to mention, of course, a host of world-class schools, colleges, hospitals, and glorious restaurants and shopping center.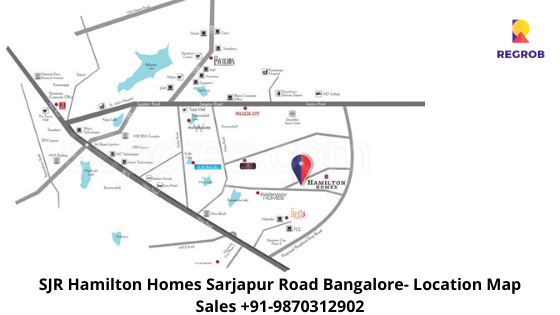 IT/Business Districts:
Sarjapur Road
Electronic City
Hosur Road
Mahindra Satyam
Infosys
Wipro Corporate Office
Educational Institutions:
Oxford School
Sorsfort International School
Blue Bell Public School
New Bishop Cotton High School
VIBGYOR School
Shopping Centres:
Total Mall Sarjapur
Coupon Hosur Road
Central Outer Ring Road
Hospitals:
Narayana Hrudayalaya
Live 100 Hospital
Ram Krishna Hospital
SJR Hamilton Homes Floor Plan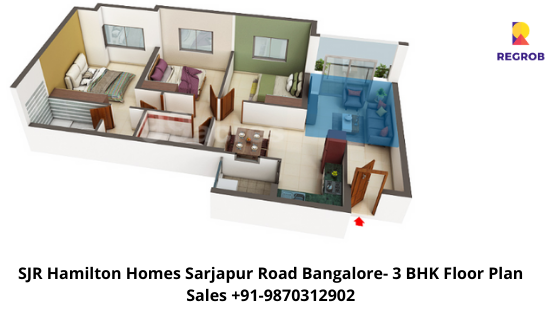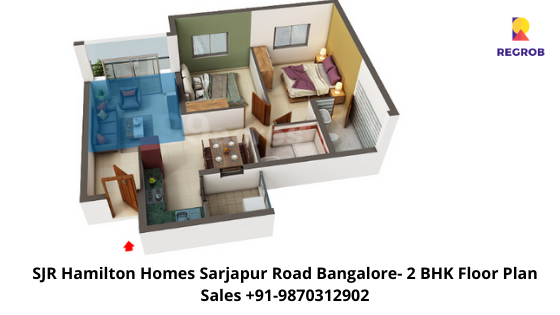 Specifications:
STRUCTURE
RCC ‐ framed structure designed as per seismic compliance
block ‐ masonry/ Equivalent
FLOORING
Granite/Marble(GF & FF),vitrified tiles in upper floors.
Granite flooring with textured wall paint for the main entrance lobby of each block
PAINTING
Interiors with emulsion/acrylic emulsion.
Exteriors with weather shield cement paints.
POWER
Real Power: 1 BHK & 2BHK – 3KVA
3BHK ‐ 4KVA
Backup Power:1 BHK & 2BHK – 1.00KVA
3BHK ‐ 1.5 KVA
LIFTS
Elevators of reputed make.
ELECTRICAL
One ELCB for each flat for safety.
One MCB for each circuit provided at the main distribution box in each flat
Elegant modular switches of Anchor / Roma / Cabtree / Equivalent make
Telephone points in living room & all the bedrooms.
TELEVISION POINTS
1 BHK – Living, Master B/R
2 BHK – Living, Master B/R & Children's B/R
3 BHK – Living, Master B/R & Guest B/R
Fire-resistant low smoke electrical wires
Provision for internet point in Living & Master B/R in all 1 BHK, 2 BHK & 3 BHK
AC point provision in Living & Master B/R in all 1 BHK, 2 BHK & 3 BHK
DOORS & WINDOWS
All other doors with hardwood frames and flush shutters/skin doors / polish enamel paint with premium fittings or imported ready-made door.
UPVC / Aluminum/ Equivalent for all windows with mosquito mesh wherever required.
KITCHEN
2′ dado with premium designer tiles in the kitchen.
Provision for washing machine & PowerPoint for an iron board in utility area.
BATHROOMS
Wall-mounted EWC / Sanitary ware with concealed flush valve & washbasin of Rocca / Kohler / equivalent make.
Hot-cold water mixer with a single controlled bath & shower valve of Rocca / Kohler / equivalent make.
Health faucet for all toilets with wall tiles dadoes up to 7′.
Wall tiles dado up to 7′ height.
Watch this Video:
Q- Why should we consider buying a property in SJR Hamilton?
SJR Hamilton is an exclusive residential offering of luxurious 1, 2, 3 and 4 BHK apartments.
The total area for the project is spread over 4.9 acres.
Located at Off Sarjapur road.
The structure of the towers is the B+G+5 floor.
G+2 floor 12,000 sft Sherlock clubhouse
Q- As a man is said to have a right to his property, he may be equally said to have a property in SJR Hamilton which a property seeker should buy?
Current condition: – All of the mentioned below are under construction.
| | |
| --- | --- |
| TYPE | SUPER AREA (in square feet) |
| 1 BHK | 640 |
| 2 BHK | 940 |
| 3 BHK | 1240 |
| 4 BHK | 1400 |
Q- I always say if the house I live in is comfortable, and I have all the amenities I need, then what more can you ask for?
Talking about the Amenities in SJR Hamilton:
The following are the various amenities offered by project to its residents: –
Amenities
Sherlock Clubhouse
Rooftop Swimming Pool
Children's Pool
Mini Theater
Gym
Badminton
Gaming Room
Kids' Play Area
Library
Master Plan of SJR Hamilton Homes: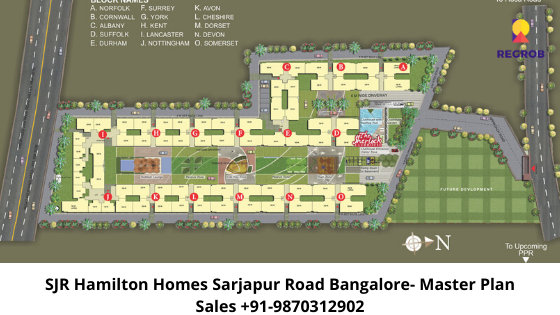 For Site Visit & Queries Call +91- 9870312902
Watch the actual videos of other residential projects of Sarjapur Bangalore Click here
You can also check some other options of residential property in Sarjapur Bangalore Click here