Bangalore or the now Bengaluru, is one of the fastest developing metros of India. With the IT boom that hit the city, came in a confluence of cultures as a number of people relocated from various parts of the country only to make this beautiful city their home. Being a homely city catering to both young and the old, the real estate segment in Bangalore has always been an attractive proposition, encouraging more and more buyers to invest in the city.
With companies setting up their offices in several pockets of the city, development as far as real estate is considered got scattered all over the city.
There are various properties for sale available in various areas of Bangalore, consisting of both older redeveloped properties and newly constructed apartments with the best of amenities and infrastructure. You could be looking at property investment or ready to move in residential property in Bangalore, be rest assured the options to choose from are aplenty and hence it requires careful analysis and thinking to make sure you make the right investment decision.
Here are some important factors you should take into account before making a purchase decision of properties in Bangalore: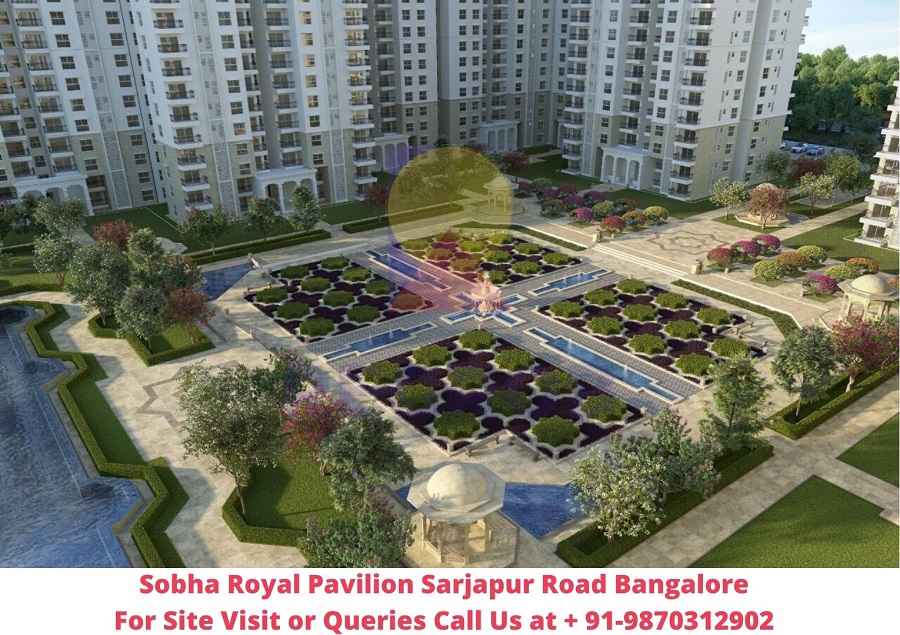 What kind of Property are you looking at?
When it comes to home buyers there are various factors that influence investors, to put their money into a specific property. People buy property for various reasons such as investment purpose or for upgrading lifestyle and the location or property you decide to invest in should suit your requirements of buying a house. There are many properties for sale that are available for cheap around the outskirts of Bangalore city, however these may suit those who are looking at investing for a long-term perspective. For those looking at residential properties, North or South Bangalore have a number of residential properties that provide for luxurious and stylish living in the heart of the city.
The builder developing the project
There are several builders who have their on going developing projects in the city of Bangalore. Before deciding upon the builder you'd like to invest in it is important to do a background check of the builder and take a look at the various projects that have been completed by the builder to get an idea of the kind of work the builders are doing. Reputed builders like Indya Estates are known for their futuristic projects in various parts of Bangalore. Thoughtful designs and well-planned projects by these builders are backed by functionality and practicality, becoming the obvious choice for investors and those intending to move in.
Budget
The budget you have in mind or can stretch up to is yet another important factor that lets you decide upon the property you want to buy. Getting the maximum value for the money invested should be one objective when investing in the property, and getting maximized future returns should be yet another consideration when investing in the property of your dreams.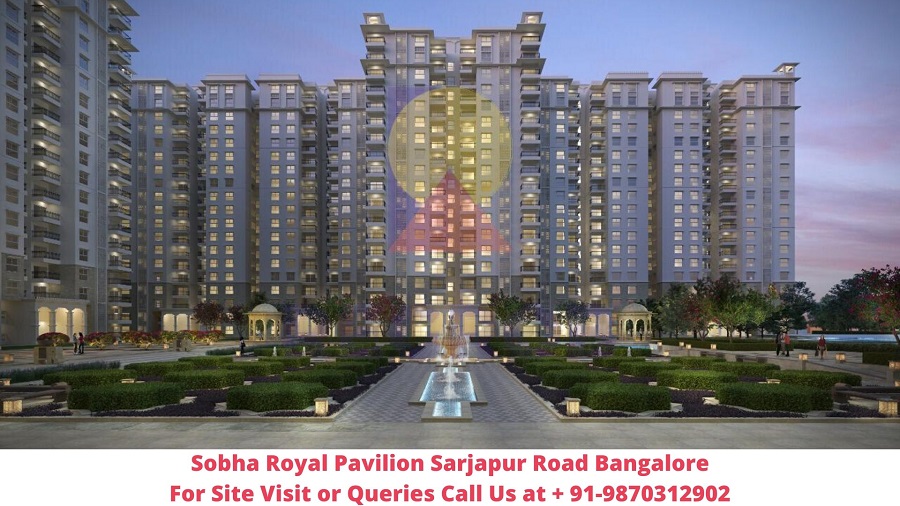 How Increasing Demands of Millennials are Shaping Real Estate Market
1. Growing Purchasing Power
The booming millennial workforce in the garden city has enabled Bangalore's real estate to grow significantly. Bangalore has always been one of the active residential market and now is also known for having sustained demand for commercial space. According to a NASSCOM report, 2018, Bangalore is one of the fastest growing technology start-up hubs in India with nearly 7,700 registered start-up firms. Of this, approximately 1,200 new start-ups were registered in 2018 alone.
2. Various Govt. Reforms
The introduction of reforms like RERA & GST has made the sector go through significant improvements. As a business hub, the city caters to the technology and other services requirements of companies globally; no wonder then, that Bengaluru attracts a huge ratio of India's highly-skilled workforce.
3. Rapid Real Estate Growth in Bangalore
The year 2018 re-established Bangalore's position in the commercial space. According to a JLL report, the city accounted for the highest absorption of office space at 7.9 million sq. ft. in the first nine months of the year. Bangalore also fared decent in the residential segment. According to a recently conducted research, about 870 projects were launched in 2018. About 50% of this new supply was in the mid-segment (Rs 40-70 Lakh), followed by 24% in the affordable segment (Less than Rs 40 Lakh) and 26% supply in the luxury segment (Rs 70 Lakh and above).
4. Boost in Affordable Housing Segment
Affordable housing witnessed a growth of 22% in sales during 2018. In the recent Budget announcement, the government has extended the deduction of interest on home loan.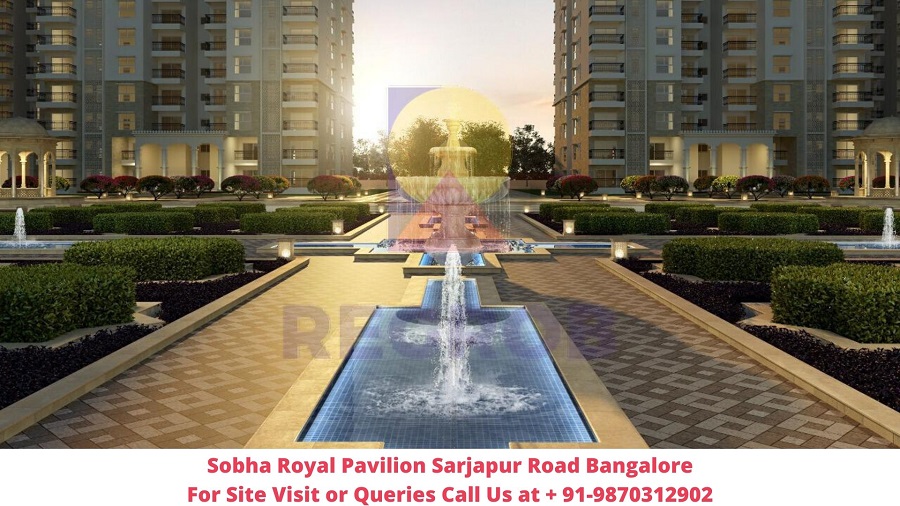 ABOUT SOBHA
At SOBHA, we have always strived for benchmark quality, customer centric approach, robust engineering, in-house research, uncompromising usiness ethics, timeless values and transparency in all spheres of business conduct. This has helped us in becoming the most preferred real estate brand in India. Our track record of being the most reliable and trustworthy builder with a repertoire of award-winning properties across India speaks for itself. We have changed the skyline in Bangalore, created several landmark developments in Kerala and have stepped into Delhi – NCR, Chennai, Coimbatore, Mysore, Pune and many more to follow.
SOBHA epitomizes its philosophy of "passion at work" in totality. For us it is not a catch phrase but our core value which guides everything that we do. It serves as a compass in our mission of creating world class quality products and workmanship. It guides us to be transparent in all our dealings and adhere to delivery on time, each time.As we peep into the future, we remain firmly committed towards creating urban living spaces where people can live, work and play smart.
Backward integration is what drives the organisation's turnkey projects. In a turnkey scenario, we bring the expertise of all our divisions to focus on every single aspect of a project. In other words, everything from precision engineering to aesthetic design and from quality metal glazing to high-class interiors is done in-house. This allows for stringent control on quality, which in turn gives our customers a fine combination of precision and aesthetics. The Infosys centres in Bangalore, Mysore and several other cities are fine examples of our expertise in turnkey construction.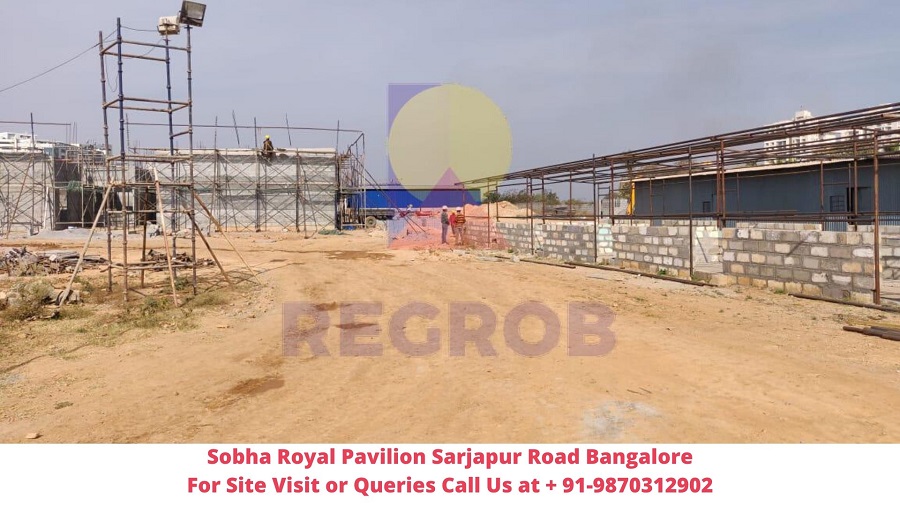 OVERVIEW OF SOBHA ROYAL PAVILION
SOBHA Royal Pavilion is a splendid testimony to this great country's regal past. It is a fitting tribute to the architectural style patronized by emperors of Rajasthan and comes adorned with intricate carvings, wide arches, beautiful Jharokha and jaalis, grand galleries, gorgeous gardens, alluring courtyards and stylish pavilions. It heralds a renaissance of classical Indian
art and architecture for the coming generations to cherish and take pride in.
An epitome of classical elegance, the property is spread over 24 acres and offers 2, 3, and 4 Bed luxury apartments.
It is strategically located on Sarjapur Road, one of the most hip and happening places of Bengaluru. Known as the educational hub of the city Sarjapur Road has several finest and in- demand schools like TISB, Oakridge International, Inventure Academy, Greenwood High, Silver Oaks, and DPS within an easy reach. Several tech giants and MNCs have either their headquarters or offices on the stretch. It is also well connected to all significant places of Bengaluru through Outer Ring Road, Elevated Expressway and proposed Namma Metro line. The project is in the close proximity to malls, specialty stores, super specialty hospitals, and
places of worship.
Why Sobha Royal Pavilion?
Sobha Royal Pavilion located in Sarjapur Road, is an imposing architectural
creating decked in breathtaking gardens, magnificent carvings, beautiful chatris, stunning jhakrokhas and designer parks… Sobha Royal Pavilion Bangalore is our Rajasthan themed residential development close to Outer Ring Road, Marathahalli and Silk Board. Royal Pavilion from Sobha will be having 2, 3 and 4 Bedroom Luxury Apartments spread in 23.62 Acres of Land Area. This upmarket luxury and self sustaining apartments are best suited for cosmopolitan Banglorens, who have experienced the best in the world and who desire an exclusive lifestyle in a regal property with advantages of being close to the city.
The property located in Sarjapur Road has got well developed social and
infrastructural facilities. Proposed Namma Metro Line, IT Hubs, Best Education Institutions, Recreation zones and Reputed hospitals are very easily accessible from the project.
It is no wonder that people from varied spectrum of life evinced an interest in Sobha Royal Pavilion, making it the talk of the town. Sobha Royal Pavilion has everything that Bengaluru can offer for its most successful citizens.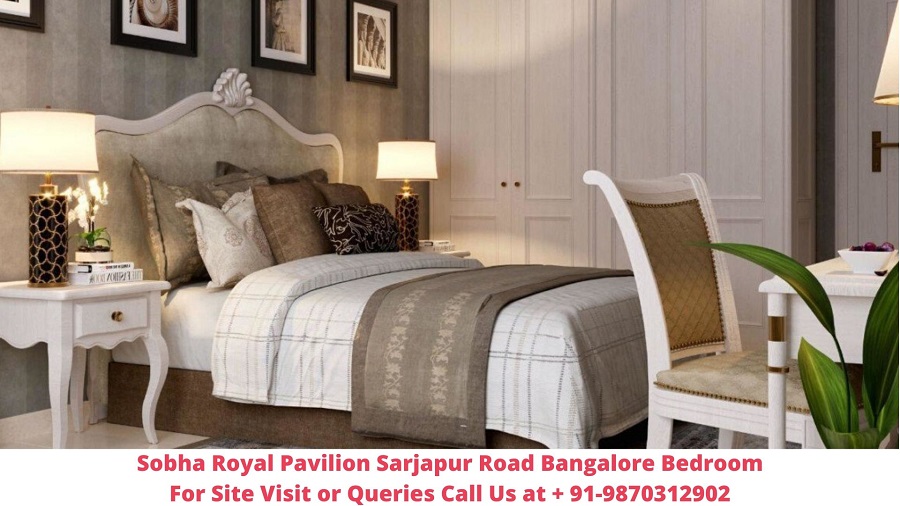 Important Landmarks
Decathlon
Central Mall
Big Brewsky
CORPORATE PARKS
RGA Tech Park
Wipro
Embassy Tech Village
RMZ Eco- Space
ENTERTAINMENT
Market Square Mall
Country Club
Brand Factory
Big Bazar
Hospitals
Colombia Asia
Motherhood
Sakra
Cloud9
Schools and Institutions nearby
Delhi Public School
Krupanidhi Group of Institutions
St. Patrick's School
St. Francis College
Primus International
St. Johns College of Nursing
Harvest International Oakridge
GEAR Innovative PU College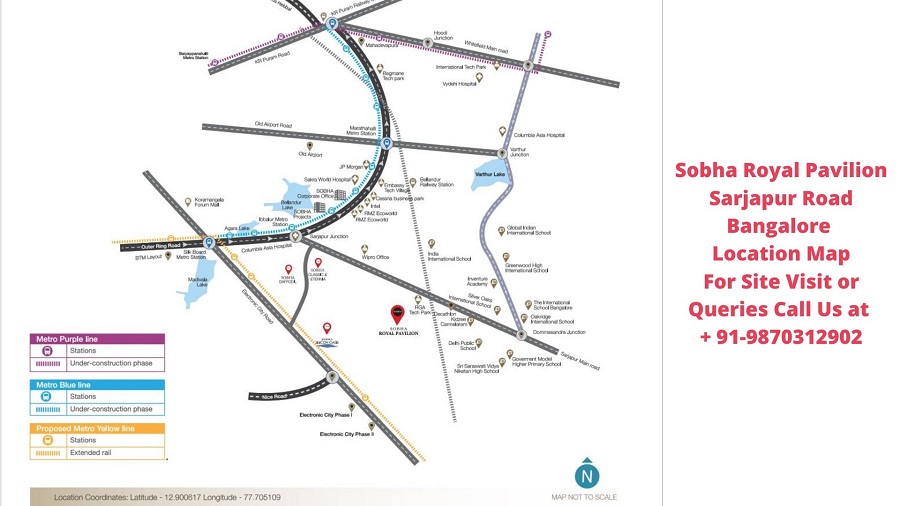 SOBHA ROYAL PAVILION ARE NOTHING SHORT OF WORLD-CLASS
Every Work of Art Deserves The Perfect Finish – When it comes to the finishing details of your home, we leave no stone unturned. Sobha blend together design and convenience into every little detail.
WE BUILD CONVENIENCE INTO CAR PARKS – The parking facilities on any SOBHA property have a host of features all designed with one intention, your convenience. Sobha also ensure that the parking area remains as beautiful as the rest of the property.
FLAWLESSNESS WE DEMAND IT EVEN FROM DOORS AND WINDOWS- Every SOBHA home has doors and windows that we personally manufacture, so you can be sure of impeccable quality. Sobha also have several features that enhance the aesthetic and functionality of these fixtures.
We Build Homes To Meet Our High Standards, And Yours Too- We follow detailed clearance procedures for all homes and common areas to ensure that you get impeccable quality in every little detail.
Homes That Make The Most Of The Sunshine- Every SOBHA home has features that make it highly energy efficient. Sobha have designed them to use solar energy for lighting and heating purposes to cut down on the consumption of electricity.
The Most Important Factor That Determines The Quality Of A Home Is The Very People Who Build It- At SOBHA have established an academy of learning and development for everyone who builds homes for you. Sobha call it the SOBHA Academy.
Long-Lasting Elegance And Functionality On Every Surface – We pay special attention to the surfaces in your house. And our eye for detail extends to every floor and every wall. That is why SOBHA homes look new and pristine for years on end.
Homes Painted In Perfection – We understand that a good looking home is a source of pride. That's why we use special primers and paints to keep your home looking new for years.
Beautiful Homes Deserve Roads And Pathways To Match – We believe that the roads and pavements that lead up to your home should be as beautiful as your home itself. That's why we use our own construction materials for pavements in each of our properties.
Nothing Wastes At A Sobha Home – Organic Waste Converters are featured on all properties to convert organic waste into manure.
Strive For Perfection. Even In Your Bathrooms – Maintaining a bath room has always been a challenge. But not with a SOBHA home. Because we build bathrooms with special features that make them easy to clean, easy to maintain and even easy on the eye.
Have High Standards In Quality – When it comes to quality, there can be no compromise. That's why we manufacture our own high quality no low construction blocks. They provide greater structural strength and keep your home looking good for years.
Make Every Raindrop Count – Rainwater harvesting systems are installed on all SOBHA properties. They increase the ground water table and also reduce the requirement for external fresh water supplies.
Soft Water. No Matter The Location – To ensure that you have a constant source of soft water, every SOBHA property features its own water Treatment Plant.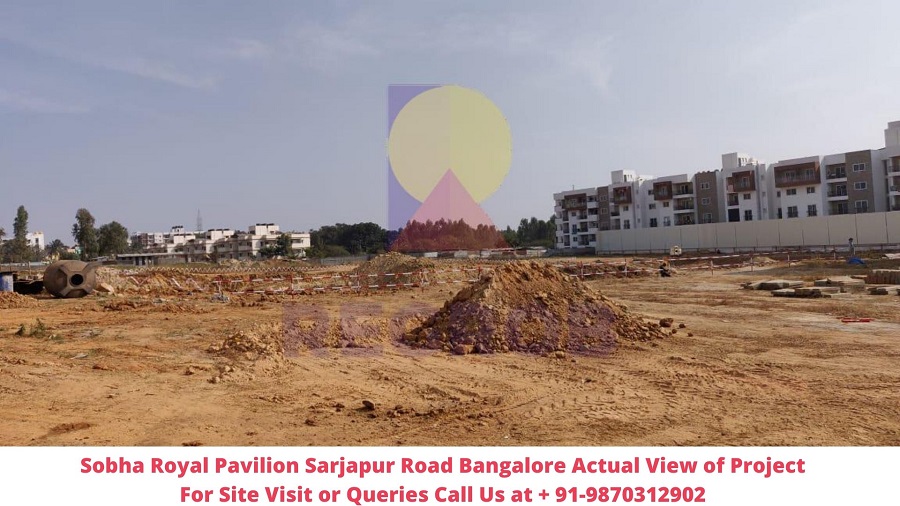 Q- Why should we consider buying a property in SOBHA Royal Pavilion?
Total Land Area is 23.62 Acres for the project.
Number of Units are 1248.
Total number of Blocks are 16 Blocks.
Floors: 2B + G + 18 Floors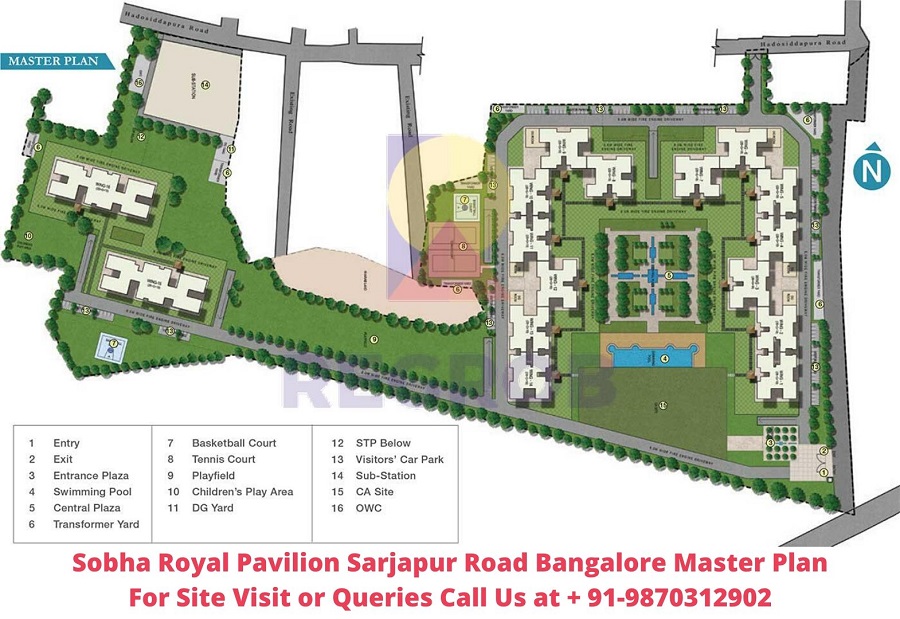 Q- As a man is said to have a right to his property, he may be equally said to have a property in SOBHA Royal Pavilion which a property seeker should buy?
Current condition: – All of the mentioned below are under construction.
TYPE
SUPER AREA (in Square Feet)
All-in Vlaue
2 Bed Apartment
84.46 Sqm to 105.5 Sqm 913.41 Sft to 1135.8 Sft
–
3 Bed Apartment
100.13Sqm to 123.2 Sqm 1077.8 Sft to 1330.65 Sft
1.35 Cr to
1.65 Cr
4 Bed Apartment
151.1 Sqm to 151.7 Sqm 1626.5 Sft to 1632.9 Sft
2.20 Cr
Onwards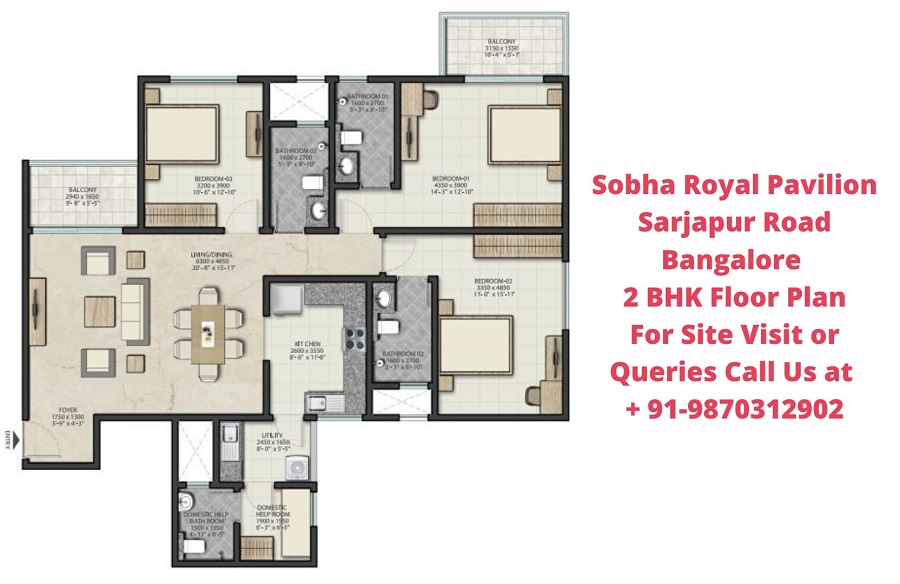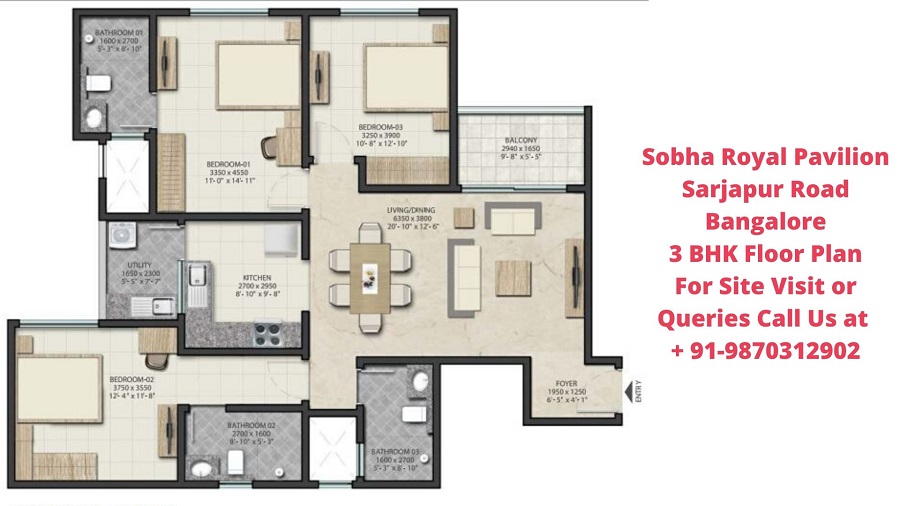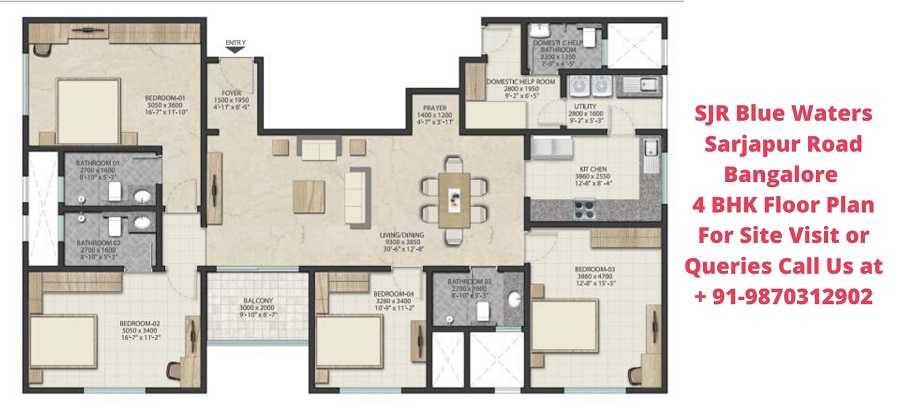 Q- I always say if the house I live in is comfortable, and I have all the amenities I need, then what more can you ask for? Talking about the Amenities in SOBHA Royal Pavilion: –
Pavilion Club, the 40,000 sq.ft clubhouse of SOBHA Royal Pavilion, is inspired by Rajasthan palaces. The club is your own palace-themed resort where you can enjoy exclusive access to unrivalled amenities. The opulent clubhouse has an equally magniicent swimming pool surrounded by beautiful stone motifs and richly-carved chhatris. Here, you will never be short of things to do and your friends will only be happy to be invited into.
FOUNTAIN PLAZA
Beautiful fountains and elegant waterbodies mimicking clouds and rains are an integral part of Rajasthani architecture. Extensive waterbodies dotting the property pave the perfect mood for your regal strolls.
CHHATRI PLAZA
These are ornate, dome-shaped and elevated pavilions or canopies. They stand as a symbol of honour and pride. There are multiple chhatri decks across the property that work as a cozy corner for the residents to pause and rest.
UPMARKET AND SELF-SUSTAINING
Cosmopolitan Bengalureans, who have experienced the best in the world and who desire an exclusive lifestyle in a regal property with all the advantages of city living, would love to call SOBHA Royal Pavilion their home.
The surroundings are serene yet have all the conveniences of modern day living like best of Bengaluru schools, a well-developed social infrastructure, commercial and IT hubs. Strategically located on Sarjapur Road, one of the most happening places of Known as the educational hub of the city, Sarjapur Road has several finest and in- demand schools like TISB, Oakridge International, Inventure Academy, Greenwood High, Silver Oaks, and DPSs within an easy reach. Several tech giants and MNCs have either their headquarters or offices on the stretch.
The project is in close proximity to malls, speciality stores, super specialty hospitals, and places of worship. SOBHA Royal Pavilion has everything that Bengaluru can offer for its most successful citizens. It is no wonder that people from a varied spectrum of life evinced an interest in SOBHA Royal Pavilion making it the talk of the town.
OF ROYAL ABODES AND REGAL LIFE
An imposing architectural creation decked in breathtaking gardens, magnificent carvings, beautiful chhatris, stunning jharokhas and designer parks… SOBHA Royal Pavilion, our Rajasthan-themed residential development on Sarjapur Road, is regal in its demeanor and in experiences it offers.
Amenities:
FOUNTAIN PLAZA
PARTY LAWN
SWIMMING POOL
ROYAL ATRIUM
BOUGAINVILLAEA GARDEN
LAWN
PLAYGROUND
CRICKET PITCH
THE FORT PLAY PARK
PLAY FIELD
TENNIS COURT
HALF BASKETBALL COURT
AMPHITHEATRE
ACTIVITY LAWN
GARDEN PROMENADE
TOPIARY GARDEN
GRAND PORTICO
PICNIC GROVE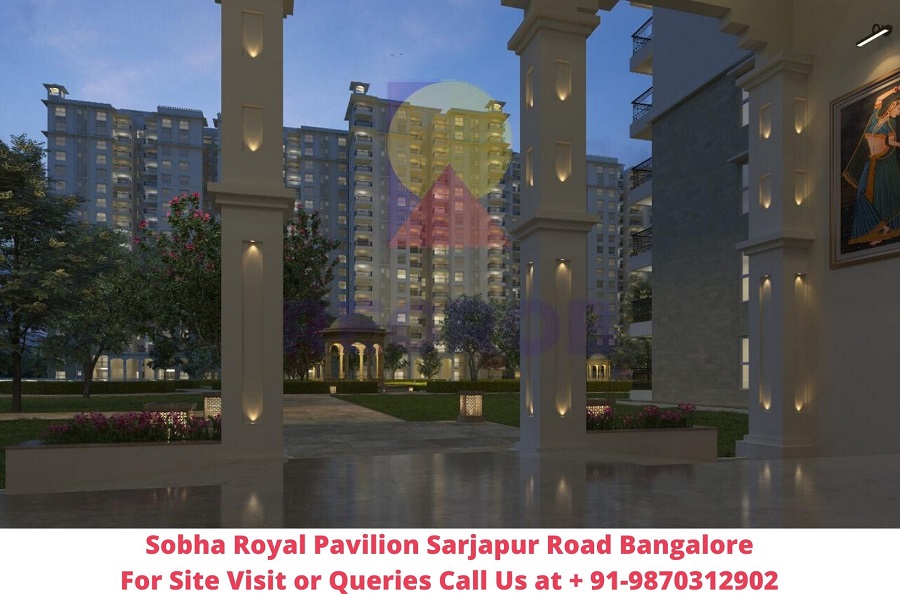 Visit Our Website:  https://bit.ly/2UHXguY
For More Info or Site Visit Call Us at +91 – 9870312902
We also have some other options of residential projects for you in Bangalore Click Here