A look at our history books would tell us that most great civilizations of the past came up near river banks or coastlines. Moving to the present, the story has changed somewhat. Nowadays, it's the physical infrastructure and the promise of opportunity that attracts people to settle in an area. A look at the evolution of India's 'Silicon Valley' and 'Garden City' of Bangalore is a clear illustration of the same.
Bangalore city, earlier defined by its petes and cantonments, rapidly expanded eastwards and southwards in the late 90s. Fueled by the IT boom and the construction of the Outer Ring Road, many villages rapidly became urbanized and a part of this ever-expanding city. We are now on the cusp of history repeating itself, with north Bangalore being the new theatre of development. The one major factor, which has brought about this boom, is the construction of the Kempegowda International Airport in Devanahalli, which opened in 2008. Already one of the country's busiest airports, it has become a key economic and real estate driver. We look at the changes this airport has already indirectly brought about and also the impact of some promising developments announced recently.
As the population is increasing day by day. the land rates in India will go on increase unless there is some serious issue in that area. If you invest money in some bank or in shares there will be no guarantee for that money to get double. But if you invest in property especially land it will surely get increased.
How Increasing Demands of Millennials are Shaping Real Estate Market?
1.  Growing Purchasing Power
The booming millennial workforce in the garden city has enabled Bangalore's real estate to grow significantly. Bangalore has always been one of the active residential markets and now is also known for having sustained demand for commercial space. According to a NASSCOM report, 2018, Bangalore is one of the fastest-growing technology start-up hubs in India with nearly 7,700 registered start-up firms. Of this, approximately 1,200 new start-ups were registered in 2018 alone.
2.Various govt. reforms:
The introduction of reforms like RERA & GST has made the sector go through significant improvements. As a business hub, the city caters to the technology and other services requirements of companies globally; no wonder then, that Bengaluru attracts a huge ratio of India's highly-skilled workforce.
3. Rapid real estate growth in Bangalore:
The year 2018 re-established Bangalore's position in the commercial space. According to a JLL report, the city accounted for the highest absorption of office space at 7.9 million sq. ft. in the first nine months of the year. Bangalore also fared decently in the residential segment. According to a recently conducted research, about 870 projects were launched in 2018. About 50% of this new supply was in the mid-segment (Rs 40-70 Lakh), followed by 24% in the affordable segment (Less than Rs 40 Lakh) and 26% supply in the luxury segment (Rs 70 Lakh and above).
4.  Boost in the affordable housing segment:
Affordable housing witnessed a growth of 22% in sales during 2018. In the recent Budget announcement, the government has extended the deduction of interest on home loan by Rs 1.5 lakh to Rs 3.5 lakh and flat 1% rate for under-construction affordable housing to boost demand. Furthermore, the government has extended the benefit of Credit Link Subsidy Scheme (CLSS) on home loans for the Middle-Income Group (MIG) under the Pradhan Mantri Awas Yojana (Urban) till the end of March 2020 and this seems to be a major push for the progression of affordable housing segment.
5. Rising Rental Expenses:
Millennials favor home ownership over increasing rental expenses in the long run. Owning a home offers independence and flexibility that a rented home cannot. This generation would rather direct the money for monthly rent to pay off EMIs instead.
SPA Eco City Overview:
Located Off Sarjapur in Bengaluru, SPA Eco City is luxury community consisting of villa and villa plots. SPA Eco City is a real estate gold as it is located in rapidly developing region. Sarjapura road has good road connectivity and is well connected to prime centres of the city such as Whitefield, Hosur Road Electronic City, Outer Ring road, Marathahalli and Koramangala. Less than 40 km from Bengaluru, Hosur is ideal for frequent flyers since it will have a domestic airport as planned by the Tamil Nadu government.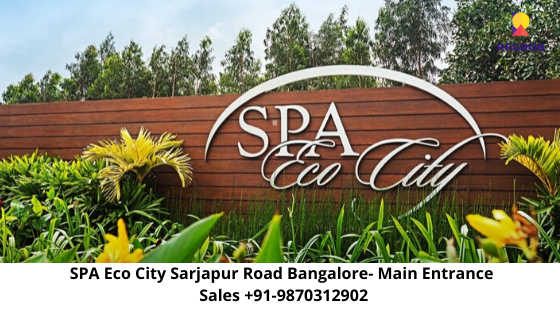 With many infrastructural projects going on in Hosur at present, in the years to come Hosur will be a prime location for residential houses with ample space to facilitate contemporary lifestyle.
Built with modern infrastructure, SPA Eco City is a next generation residential project consisting of ultra-spec villa and villa plots. Spread over 40+ acres of luscious greenery, SPA Eco City has all the modern amenities needed for ultra-modern lifestyle. There are over more than 300 varieties of utility services in SPA Eco City.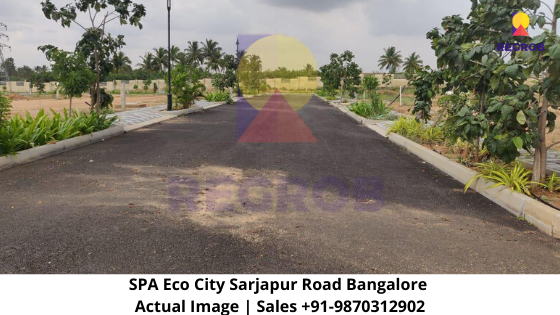 SPA Eco City comprises of 380 meticulously planned Villa and Villa Plots in Krishnagiri. SPA Eco City has limited individual Villa and Villa plots of land. There may not be any such change in the future. Therefore, owners of villa and villa plots can be certain that their investment will constantly be in demand as a result of which, its price will continue to appreciate. If you buy villa or villa plot at SPA Eco City, consider it an investment. The value of the property at SPA Eco City will appreciate in the years to come giving better value appreciation and resale value. Located at Off Sarjapur, this area has great real estate potential for rentals from the residential & commercial projects.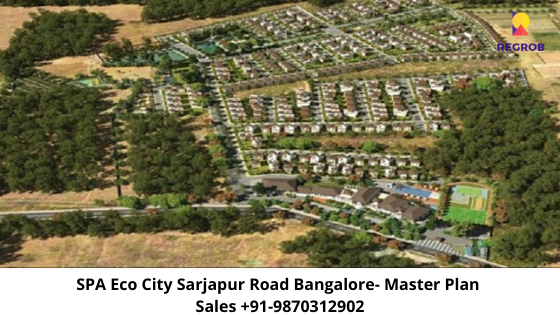 9 Themed Parks For Every Family Member:
My Playground
My Playground gives children and young adults the space to play outdoor sports like gully cricket, football etc., for as long as they like here at SPA Eco City. It is strategically secluded from the villas and villa plots.
Mowgli World
Mowgli World is a zone dedicated to the little ones – children below the age of 12 – where they can run, jump, climb and play to their heart's content in complete safety and freedom. It is located away from the villa and villa plots.
Urban Forest
Experience fresh air/ forest experience while staying at Home with 1 acres of area
Nature's Trail
Polluted air outdoors, stale AC air indoors, ears assailed by noisy traffic, tired eyes glued to phone and laptop screens… our senses take a beating as we go through our daily grind. The Villas and Villa Plots at SPA Eco City has been designed to reduce the stress from such external factors.
Conservation Triangle
There is nothing quite as stress-busting and invigorating as spending time with one's pets. The unconditional affection that they give you is the perfect antidote to life's worries.
Fresh & Organic
Today, we are going back to basics. After decades of polluting ourselves with chemically boosted agriculture, we are re-discovering the wisdom of our ancestors and moving to traditional, organic farming methods.
Celebration Park
Celebrating a festival or special occasion outdoors has an altogether different feel. There is an exhilaration about being close to Nature and breathing in the fresh cool air that can never be experienced within the four walls of a hall.
Life @60
Life @ 60 is a space dedicated to senior citizens at SPA Eco City– for them to safely and conveniently spend time walking and exercising, or simply enjoying the company of friends.
Cricket Pitch
Cricket Pitch is a quarter acre of land for cricket dedicatedly solely at SPA Eco City.
Location Advantage of SPA Eco City:
Located in Off Sarjapur, villas and villa plots at SPA Eco City resonates with innovation and design excellence when it comes to project development. SPA Eco City has a 6-acre resort with 50+ world-class amenities, 9 Themed Parks built around your lifestyle and 10 life-changing conveniences. Even amidst modern living, SPA Eco City values serenity. That is why there is ample space for greenery. The vast expanse of SPA Eco City are filled with a variety of carefully selected flora and fauna. To address environmental stress, SPA Eco City incorporated landscaping design that is not detrimental to the surrounding ecosystem or communities.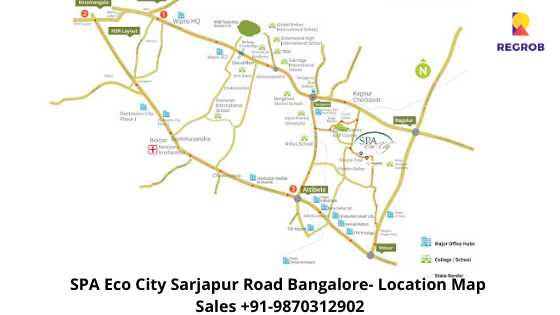 Schools
Indus International School
TISB School
Inventure Academy
Hospitals
Columbia Asia
Town Hospital
Narayana Hrudayalaya
Offices
RGA Tech Park
Wipro (New Campus)
TVS Motors
Malls & Stores
D-Mart
Decathlon
The Forum Neighbourhood Mall
Encompassing Green Enriching your Well-being
At SPA Eco City, we put the highest value on natural surroundings. Each Villa and Villa Plots has been designed adhering to the highest environmental standards. We believe that green living is a practice benefiting our environment as well as health and well-being. Apart from its known benefits, greenery also adds value to individual villa homes and villa plots making the quality of life better. That is why, to harness all the goodness of luscious greenery for your mind, body, and soul, we have planted over 6000 trees and more than 200 plants at SPA Eco City. Dispersed around the area are exotic trees and plants such as Passion fruit trees, Water apple trees, Sapodilla trees, Avacado trees, Star fruit trees, Litchi trees and many more. The trees and plants have been brought from different parts of the world.
Price details:
The BSP of the project is 2700/sqft
The super built-up area of plots ranges from 1200 sqft – 5400 sqft. Price of plots ranges from 32.40 Lac onwards.
Specifications Of SPA Eco City:
Marble Flooring in Living & Dining Areas
Wooden Flooring
(100% Waterproof with 20yrs Guarantee)
Wooden Flooring Deck
Wet and Dry Kitchen
Black Galaxy Counter Tops for Kitchen
Bathroom Vitrified Wall Tiles from Floor to Ceiling
Bathroom so Modish with Kohler or Equivalent Fitting
Soft Touch Veneered Polished Door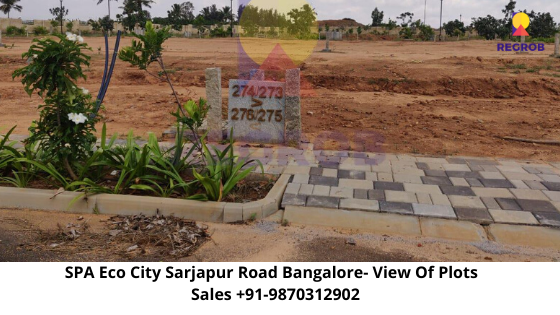 Q- As a man is said to have a right to his property, he may be equally said to have a property in SPA Eco City which a property seeker should buy?
Highlights:
Choice of Villa and Villa Plots
Located strategically at Off Sarjapur
Modern and Contemporary-Resonating Innovation and Design
6-Acre Resort with 50+ World-Class Amenities
9 Themed Parks Built Around your lifestyle
Carefully selected Flora and Fauna
Future Proof and Self-Sustainable Infrastructure available
Strategically Located between 3 National Highways (NH35, NH44 & NH 648)
In close proximity to RGA Tech Park and upcoming Wipro Campus
Close to Azeem TISB School, Indus International School and Premji University
Close proximity to Attibele, Hosur, Varthur and Iblur Junction
Value of property is bound to appreciate in the near future
Signature Villas Starting @ 67 Lacs & Also Available Uber Luxury Villa Plots @ 36 Lakhs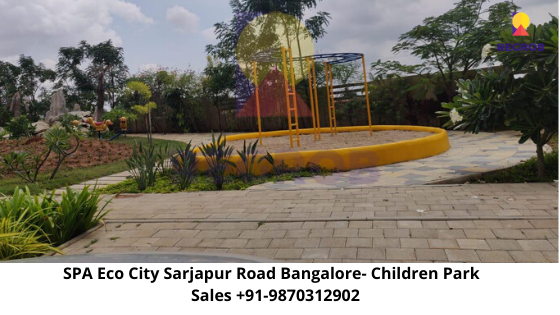 SPA Eco City Review Video:
SPA Eco City Actual Video:
Watch Actual Video of Residential Project In Sarjapur Click Here
For More Info or Site, Visit Call Us at +91 – 9870312902
We also have some other options of residential projects for you in Bangalore Click Here