You are wondering whether to invest in a plot or not, maybe confused about whether to choose constructed property or construct a home your way. One of the best investments and advantages in residential properties is High profitability and flexibility. These two and many more advantages-equipped residential property in Raipur is Sumeet Landscape. Buying a plot is cheaper than buying a constructed home and with Sumeet Landscape located at a prime location; the property is not just affordable but also reinforced with modern infrastructures, making life ultra-comfortable. If you are still unsure whether to invest your hard-earned money on residential plots in Sumeet Landscape, Raipur here's a short guide on the whys and bouts of Sumeet Landscape.
Sumeet Landscape Overview:
Sumeet landscape is a plotted development project by Classic Ventures spread across 75 acres of land. It is strategically located at Vidhan Sabha Road, Raipur. Thus, has convenient access to everyday amenities and social requirements. The residential plot size of Sumeet Landscape varies from 1000 sq ft to 3000 sq ft. It is in an affordable range for all pockets. And has 824 units to choose from. Moreover, these plots are equipped with world-class amenities with the touch of modern architecture. More on which we will discuss further.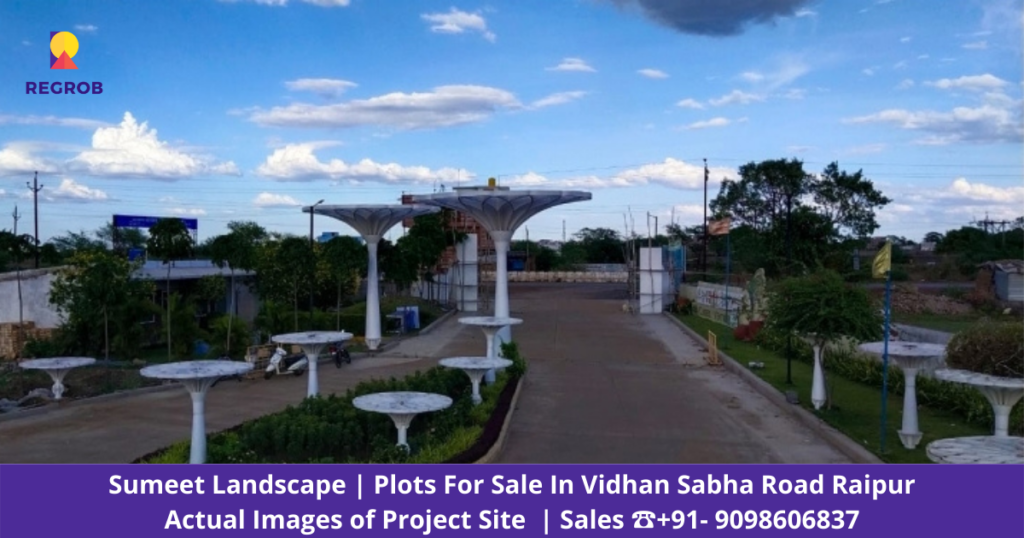 USPs of Sumeet Landscape Plots:
Spread across 75 acres of land
Accommodates Modern-day amenities
Project by CRISIL accredited Classic Ventures
Affordable pricing with the option to choose your desired plot size
Living space amidst greenery
High resale value
Located at a favorable location
Why choose Residential plots in Raipur?
According to new Raipur property rates, Raipur has been witnessing upscale growth in the past few years. The recent lowest price trend in Raipur is approx 1700/sq ft. His price is certain to rise with more development in the district. Raipur has been attracting more dwellers since the trend of work from home started because of its available and affordable properties. It has been targeted by real estate investors as the future of Raipur real estate seems positive and growth-oriented.
Sumeet Landscape being located at Vidhan Sabha road, close to Delhi Public school, adds extra value to the residential plots.
Sumeet Landscape Amenities:
If you are buying the plot for housing purposes, Sumeet Landscape has paid special attention to make life comfortable living here. There's a large, lavishly designed clubhouse that satisfies all your fitness and sports cravings. Wanna get in shape? There's a gym dedicated to all fitness enthusiasts. And there's a Zumba zone for all those looking for fitness with fun. If you are someone with kids, there's a toddler park so your children can grow in a safe and learning environment. If you are someone who keeps their weekend booked for a good match of basketball or dinner dates, then there are amenities for that as well. There's so much for you to enjoy without leaving your residential community.
Here's a brief list:
Swimming pool
Vitascope Theatre
Central Park
Sitting Zone
Bamboo Zone
Yoga & Meditation
Open Gym in Central Park
Bird Zone Gazebo
Outdoor Game Zone
Sumeet Landscape Plots Price:
Sumeet Landscape has different sizes of residential plots that match your requirement. It ranges from 1000 to 3000 sq ft with prices starting at 1300/- per sq ft to 1650/- per sqft.
Plots Size 1000 – 3000 Sqft | Price starts from 13 lacs – 30 lacs onwards
Other Charges:
Clubhouse: 75,000/-
Electrification: 30,000/- (2KW)
Society Formation: 5000/-
Total Charges: 1,10,000/-
Sumeet Landscape Master Plan:
Sumeet Landscape Location Advantages & Directions:
Sumeet Landscape offers plots for sale located on Vidhan Sabha Road Raipur. This project is a good investment location. Sumeet Landscape offers greenery and a calming environment, which is probably what you are looking for. There are also schools, hospitals, and malls for any rare or everyday visits nearby. Some are:
Schools
DPS
Gyan Ganga School
Champion school,
N.H. Goel World School
Colleges
Disha college
Kruti Institute of tech.
Hospitals
Shri Laxmi Narayan Hospital
Gautam Multispeciality hospital
MGM hospital
Mall
Watch Actual Video of the Project:
Why choose Classic Ventures?
The most trusted Real Estate Group In Raipur, Chhattisgarh. Classic ventures Classic City has been globally accredited with CRISIL (Credit Rating Information Services of India Limited), one of the most prestigious accreditations given to only some properties. This CRISIL score is the reflection of essential standards being met by real estate developers. This score certifies Classic Ventures abide by all parameters to deliver a quality living space with fair and transparent transactions. To sum up, no hidden charges.
In addition, classic ventures are focused on fusing affordability with luxury. They aim to deliver luxurious houses within your budget.
Considering all the above points we can say that Sumeet Landscape is located in an ideal location, at an affordable range with top-class amenities to boast. The modern trends of society where all your needs are taken care of influenced the lifestyle you would live here. So, book your plots in Sumeet Landscape and make a good investment. For more info, site visit & best deals Kindly call our property experts at ☎+91- 7669634395.
Regrob is a Tech-Enabled Real Estate Brokerage Firm with more than 35 Branches in PAN India. We have our dedicated team in all branches that provide accurate and correct information about the project. We are the RERA-certified real estate brokerage company to work in Raipur under RERA ACT.