Svamitva Floresta Overview:
Svamitva Floresta is the uber-luxury Plotted Development project in Thathaguni just off Kanakapura Road, South Bangalore.
The residential enclave, Svamitva Floresta features the very best in Svamitva Infra's plotted development segment. The project offers just 43 large-sized spacious Villa plots ranging from 2400sft to 4000 sft garden plots with luxurious features.
Beautiful landscapes, open spaces, tree-lined parks, gardens, and more eco-conscious features all around Svamitva Floresta make it more special & Elite.
The builder Svamitva Infra is guaranteed to bring a quality living experience to the community of Thathaguni with brilliant architecture and an equivalent lifestyle in Floresta.
Svamitva Floresta Location has excellent connectivity & it is located at the heart of Thathaguni off Pipeline Road at the crux of Kanakapura Road, NICE Junction road, Bannerghatta Main Road, and Thalaghattapura.
Some of the Amenities at Floresta include a fully equipped clubhouse, landscaped gardens, recreation areas, children's play area, party zone, and meticulously planned with utmost importance to state-of-the-art 24/7 securities.
Key Highlights of Project:

Project Location
Thathaguni,
Off Kanakapura Road

Total Land Area
7 Acres
No. of Units
43 Plots
Towers and Blocks
N.A.
Unit Variants
2500 to 3900 sq.ft
Possession Time
Dec 2023 Onwards
Legal Approvals & Possession:
| | |
| --- | --- |
| RERA ACT. No | ACK/KA/RERA/1251/310/PR/020322/005727 |
| Possession Time | Dec 2023 Onwards |
Svamitva Floresta Price:
| | | |
| --- | --- | --- |
| Plot Type | Size in Sq.Ft | Approx. All Inclusive Price |
| Villa Plots | 2259 | Rs. 1.35 Crore Onwards |
| Villa Plots | 2532 | Rs. 1.51 Crore Onwards |
| Villa Plots | 2547 | Rs. 1.52 Crore Onwards |
| Villa Plots | 2790 | Rs. 1.66 Crore Onwards |
| Villa Plots | 3002 | Rs. 1.79 Crore Onwards |
| Villa Plots | 3921 | Rs. 2.33 Crore Onwards |
| Villa Plots | 5494 | Rs. 3.25 Crore Onwards |
| Villa Plots | 5560 | Rs. 3.29 Crore Onwards |
| Villa Plots | 5881 | Rs. 3.47 Crore Onwards |
| Villa Plots | 5986 | Rs. 3.53 Crore Onwards |
| Villa Plots | 6001 | Rs. 3.54 Crore Onwards |
| Villa Plots | 6157 | Rs. 3.63 Crore Onwards |
| Villa Plots | 6372 | Rs. 3.76 Crore Onwards |
| Villa Plots | 6591 | Rs. 3.89 Crore Onwards |
| Villa Plots | 6613 | Rs. 3.90 Crore Onwards |
Svamitva Floresta Amenities: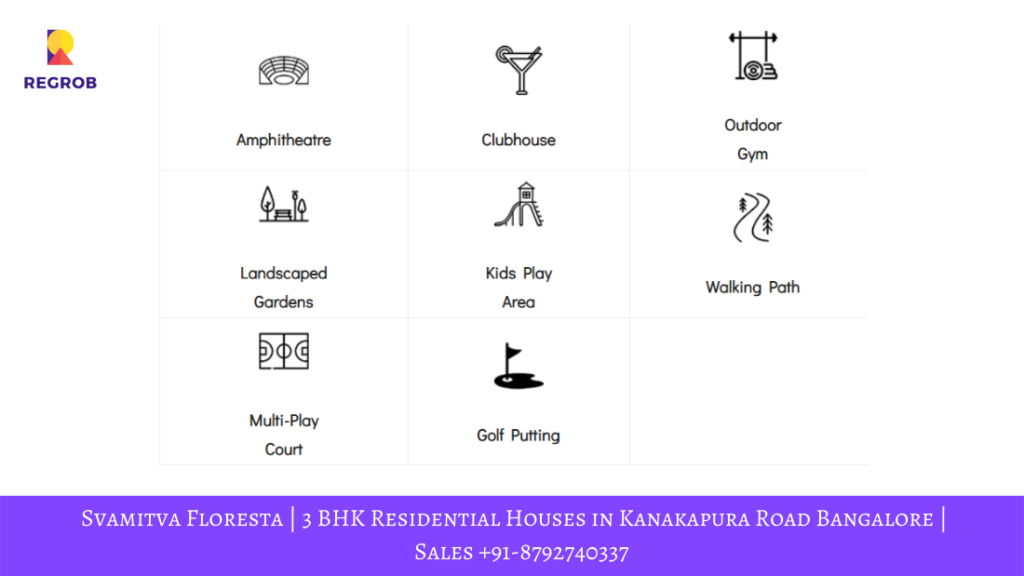 Svamitva Floresta Master Plan & Floor Plan: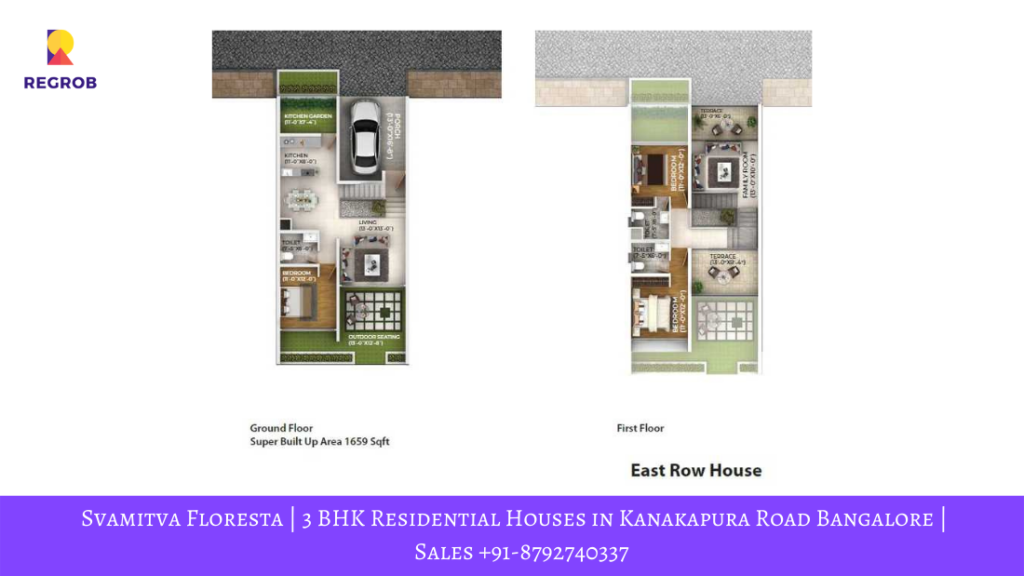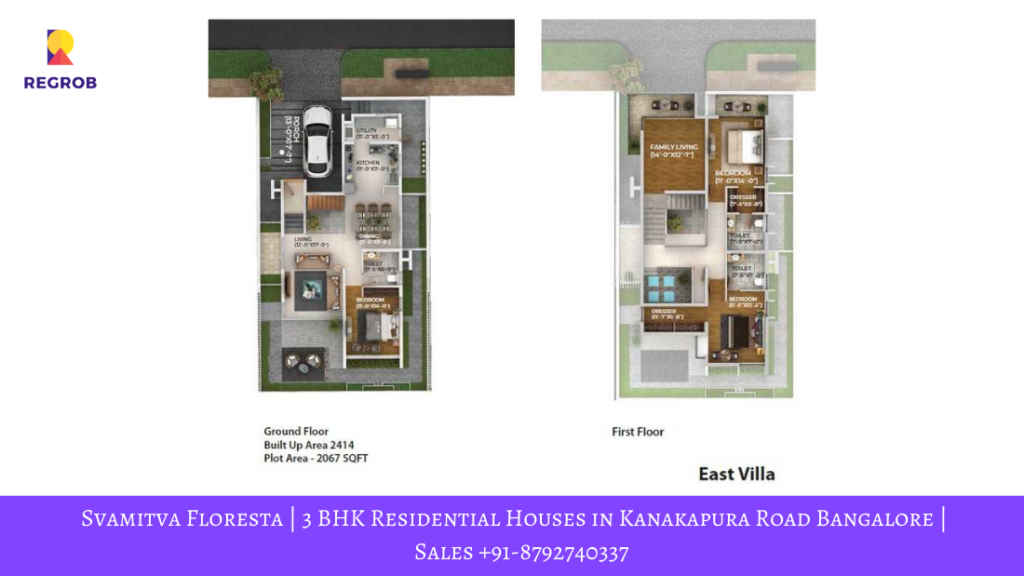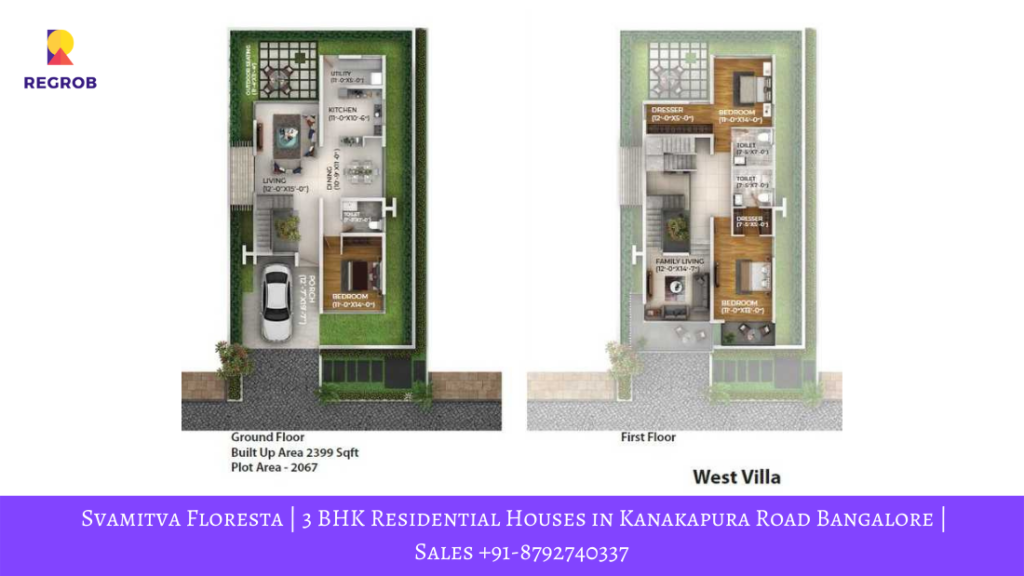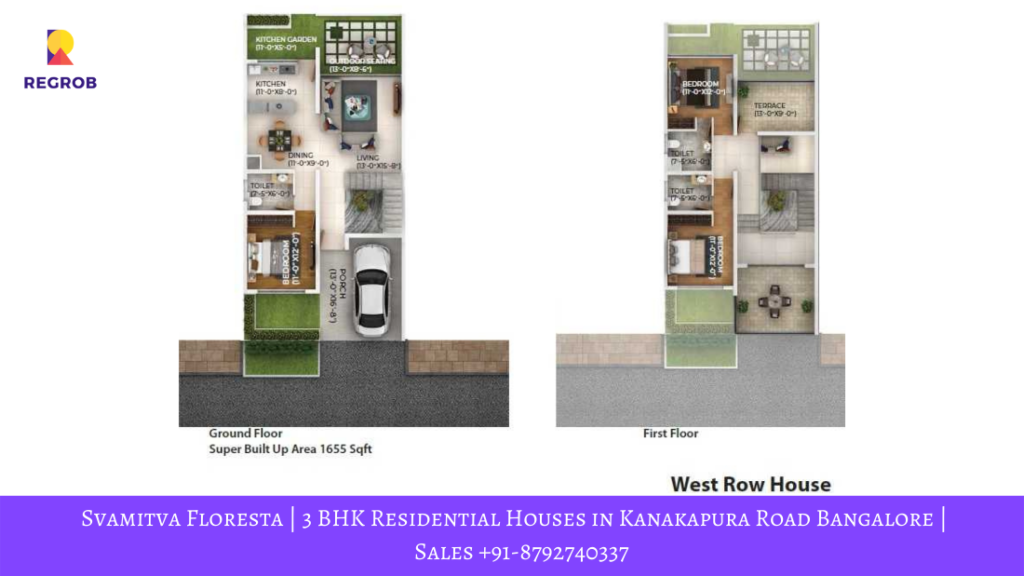 Svamitva Floresta Specifications:
Infrastructure
Road network with Concrete/Concrete Blocks as per design.The pavement on one side/either side of the roads with curbs and pavers as required by design.Entrance Portal with Security Kiosk as per design.Roads, footpaths, Parks as per Design & Sanction requirements.
Security
Elevated Compound Wall Along The Project Boundary24/7 security with CCTV surveillance at major vantage points
Green Features
Landscaped Parks and open spaces.Lighting fixtures with cables in landscaped parks.Streetside Landscape as per design.
Energy and Power
HT, LT works, Feeder pillars, and RMUs for power supply – Capacity & Locations as per design.Underground cabling network in the layout with power cable terminated at each plot (power allocation as per design requirements)Street light Cabling, poles with electrical fixtures on either side/one side as per design.
Plumbing &
Water Conservation
Underground Water supply pipelines from the Overhead tank servicing each plot, as per design requirement.Overall layout Underground Sump & Overhead tank –Storage capacity & supply as per Design calculations.Water Supply pipeline for externally sourced water/municipal water (as available).Water Treatment Plant as per design with rainwater harvesting.Sewage treatment plant of required capacity, located as per design.
Location Advantages & Directions:
Svamitva Floresta is an uber-luxury plotted development located off Kanakapura Road, Bangalore South. This project has been designed to fulfil every wish of its residents. The project houses Large Format Villa Plots ranging from 2,500 to 3,900 Sq.Ft. and features several amenities that make life better. It is also conveniently located to ensure that life remains connected.
The project spans over 7-Acres of pristine land just off Kanakapura Road and NICE Road in Thathaguni with the Plotted Development area surrounded by a green cover, tree parks, gardens, and housing just 43 limited uber-luxurious villa plots.
This self-sufficient villa plots development is located right in Thathaguni at the crux of Kanakapura Road, NICE Junction, Thalaghattapura, Bannerghatta Road, Banashankari, and many existing residential and commercial landmarks and offers Excellent Connectivity to many other Major Roads & Business hubs of South East Bangalore.
Svamitva Infra's unique style of designs and construction, Competitive pricing for this region, clear titles, and limited edition luxury villa plots are all very good for Investment/Self-use.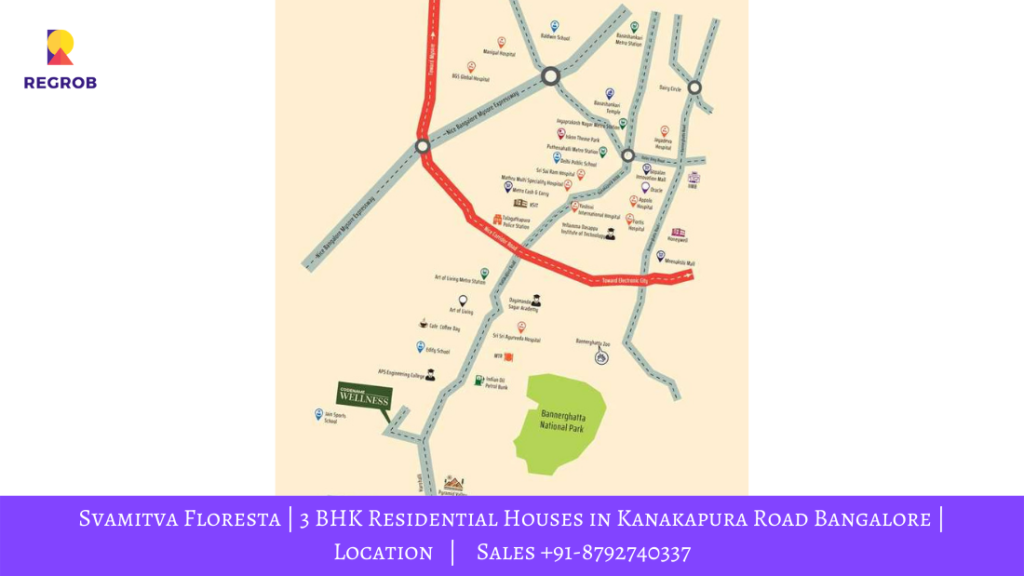 About the Builder – Svamitva Infra
The Svamitva Group has been engaged in the business of Real Estate and Construction for a period of 30 years and has established an excellent track record in the Industry. The large amount of goodwill that the Svamitva Group has garnered over these years has been completely built upon trust, reliability, and the assurance of quality that we provide in all our ventures.
Throughout the years, Svamitva Group has shown constant and unwaveringly persistent progress combined with continued growth in the business of the real estate. The group has also diversified its operations in Melbourne Australia by joining hands with ASTRACORP known as SVAMITVA ASTRACORP, this has majorly been possible due to the state-of-the-art management techniques that are employed in the daily activities. The legal documentation is always in place and in line with any existing government laws and rules. Such decisions have always led to mitigating any problems with our customers being exposed to the least risks when they become a part of our ventures
Frequently Asked Questions About Svamitva Floresta
Where is Svamitva Floresta located?
A:- It is located in Kanakapura Road, Bangalore
What type of Plots is available in Svamitva Floresta?
A:- 2500 to 3900 sq. ft Plots are available in Svamitva Floresta.
How much is the total area of Svamitva Floresta?
A:- 7 Acres.
So friends, if you are looking for flats in Svamitva Floresta Bangalore, Kindly Call our experts on +91- 8792740337 or fill out the Contact Us form. Our team will call you and help in finding your dream home.
Regrob is a Tech-Enabled Real Estate Brokerage Firm with more than 35 Branches in PAN India. We have our dedicated team in all branches that provide accurate and correct information about the project. We are the RERA certified real estate brokerage company to work in Bangalore under RERA ACT with RERA Number- PRM/KA/RERA/1251/310/AG/180626/000997