Hello friends, today we will discuss about Tata Avenida Residential Project in Newtown Kolkata.
Tata Avenida is a residential development by Tata Housing. This project is located at Newtown, Kolkata. This project is offering well designed and spacious 3 BHK and 4 BHK apartments. The area of this project varies from 1080 Square feet to 2972 Square feet. Price of this project starts from Rs. 84 Lacs.

Base Price of Tata Avenida Project is approx. 7800 rupees per square feet. This is indicated pricing. You may call us at 7604092445 for correct pricing and do free site visit of Tata Avenida Project in Newtown, Kolkata.
The area of 3 BHK apartments ranges from 1080 Square Feet to 2281 Square Feet. Carpet area of 3 BHK flats ranges from 864 Sq. Feet to 1825 Sq. Feet. The price of 3 BHK units in the project ranges from Rs. 84 Lacs to Rs. 1.70 Cr.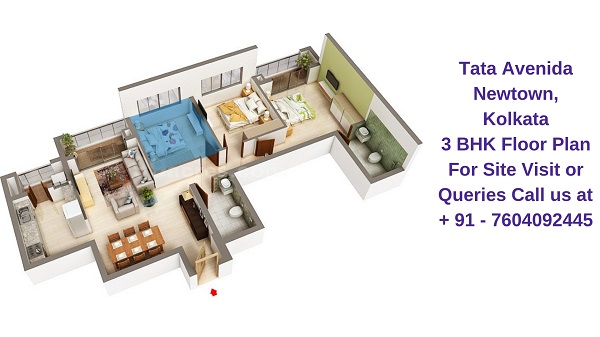 The area of 4 BHK apartments ranges from 2056 Square Feet to 2972 Square Feet. Carpet area of 4 BHK flats ranges from 1645 Sq. Feet to 2378 Sq. Feet. The price of 4 BHK units in the project ranges from Rs. 1.60 Cr. to Rs. 2.32 Cr.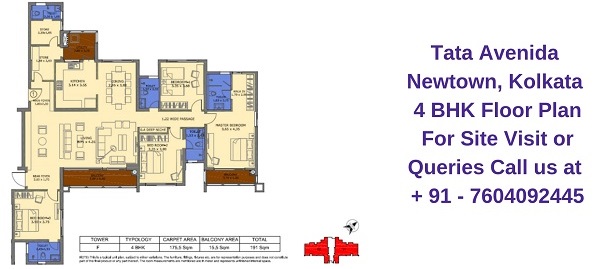 You may call us at 7604092445 to get our services free of cost. We will also help you to get the home loan. We will help you to find flats for sale in Kolkata within your budget. Tata Avenida offers facilities such as Cycling Track, open space, Art Gallery, Festival Pavilion, Juice Bar, reserved car parking, Pet Park, Gym, Swimming Pool and many more.
Master Plan of Tata Avenida Project is also very good. The project is spread over a total area of 13 acres of land. This project is divided into 2 Phases. First Phase is ready to move. Second Phase is Under Construction. Possession of Second Phase will be given by Dec. 2020. This project has a total of 7 towers. The construction is of 28 floors. An accommodation of 783 units has been provided.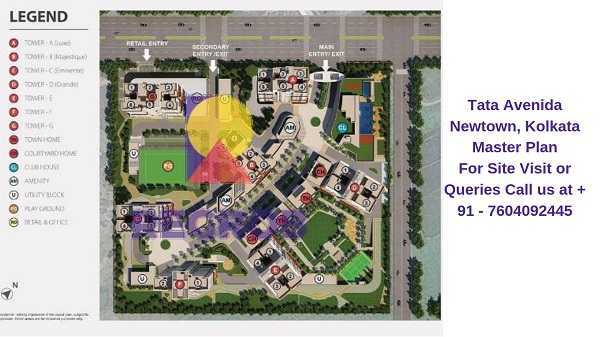 New town is a fast-developing locality situated in the eastern zone of Kolkata. With an influx of people from different parts of the city, the locality has witnessed rapid construction activities over the years. This project is just 12 Km away from the International Airport. Major schools and hospitals situated at a distance of 5 km. Tata Memorial Cancer Hospital is just 2 Km away from this project. Delhi Public School is only 2 Km far from the project.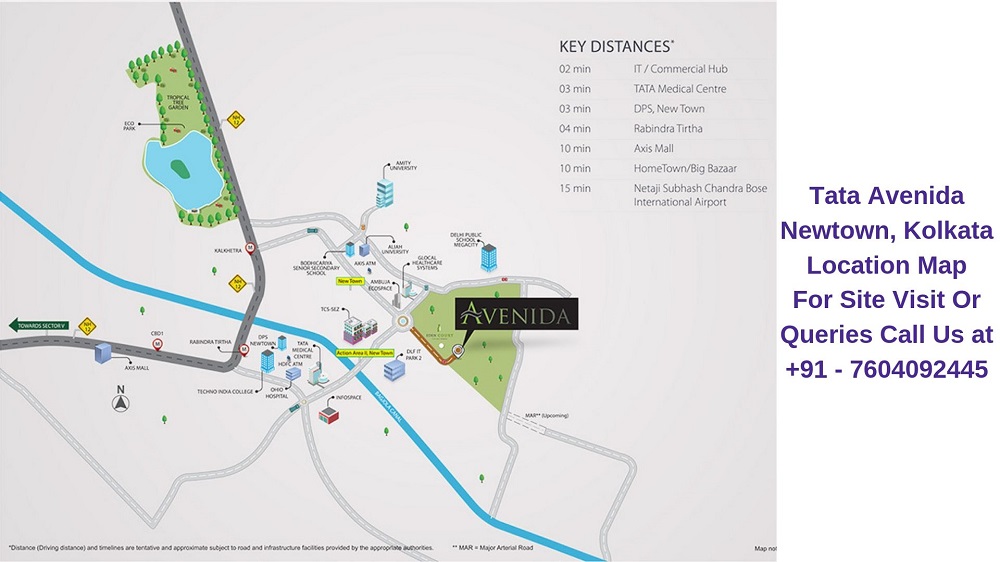 Consider this project if you are looking apartments in Rajarhat – Newtown, Kolkata. Have a free site visit with us of Tata Avenida Project. We will help you with the free site visits and home loans.
To know more about Tata Avenida Project and Apartments for sale in Kolkata make call at +91 – 7604092445
You can also watch the actual videos of other residential projects of Kolkata Click Here
We also have some other options of residential projects for you in Kolkata Click Here