Introduction
"Buy land, they're not making it anymore." -Mark Twain
Water Scarcity has scared us a lot and now it's the time for the land to leave a mark on us.
It's always "better late than never" as every day gives us an opportunity to venture into the land investment and get the best out of it. We Indians, always have a dream of owning something for as long as we can be it land or property or any person too.
We have always be brought up by our parents saying that "you get settled in life only when you have an intangible asset in your name." and we all have been running behind this for far too long now. I hereby could also assure you that one can never get a better place than Chennai as its surrounding areas has served as an important administrative, military, and economic center for many centuries. Just to remind you all I would like to bring to your notice that the Portuguese first arrived in 1522 and built a port called 'São Tomé' after the Christian apostle, St. Thomas, who is believed to have preached in the area between 52 and 70 CE. Isn't that a historic moment? one would definitely be proud of me for owning land in this part of the world especially.
But Why to invest now?
We have seen so much of economic developments taking place in our country over the period of time due to which our standard of living can come a long way when compared to a few decades back. We all have become smarter nowadays when it comes to investing our money with the advent of technology. And it is that technology which has been the reason for our downfall as well.
It is getting riskier each day to invest our money in the banks as everyone would be aware of how even renowned banks like PNB & YES bank have literally crumbled in recent times.so the next thing that comes to everyone's mind would be to invest in the stock market. Needless to say, we all have seen the current scenario of BSE and NSE which has been blown away by the COVID'19 and even experts have been saying that it would take many months to regain stability. To make things worse the recession period is going to hit us hard in the coming months.
It was Demonetization yesterday, it is CVOID'19 today and it can be any other thing tomorrow before we start realizing. So for how long are you going to depend on all these uncontrollable factors? Well, the simple answer is that "Till we start investing in the land". Probably you can think of investing your money in gold but trust me, even that is not a safe bet as it has become an unproductive asset now as you can neither use it nor it is going to produce anything substantial.
so now the only best viable alternative that we have is the investment in the land or property. The main problem with a full build property is that it invades our imagination as we are forced to get settled with what we are being given by the builder. Why on earth should we get settled with other ideas when we can do far better at it? Well, this can be done only if we could own land which can be easily constructed as per our needs and desires. So what are you still waiting for when a well-known brand like TATA with all its top-notch facilities announces its first plotted development in Chennai If this is not the right time then I'm not sure when it would be.
Tata Crescent Enclave Overview:
To begin with, did we ever even dreamt of the Old Mahabalipuram Road which was once located on the outskirts of the city to become the IT Hub of Chennai a few years back.
Not surprisingly it has now become the go-to destinations for all the activities and also it's only going to get even better in the upcoming days with the proposed metro and the evolution of world trade centre in the pipeline. This shows that development can happen anywhere anytime. But it would be an icing on the cake when you can get Pre-Engineered plots with a host of well-maintained amenities at a place which is already developing quite rapidly.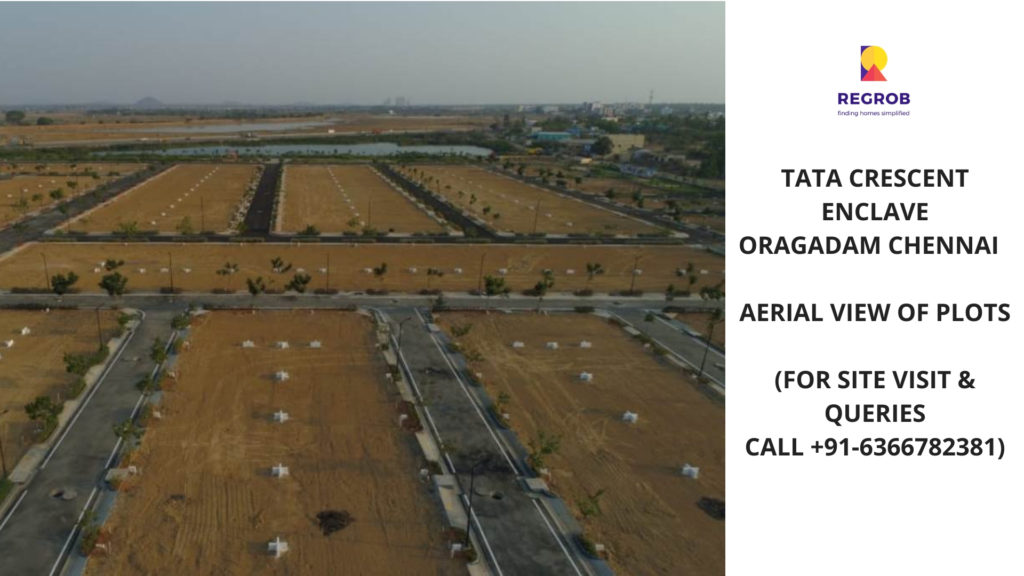 Hence, the time has come for us to stop investing in the uncertain sources and having a close look at it frequently with lots of suspicion and anxiety and start venturing into the Real estate as land is the only asset which has the history of only appreciating no matter what. This project offers a place where abundant nature, superior connectivity and excellent infrastructure let you paint your dream home.
Tata Crescent Enclave Location Advantages:
The land is where the Heart is-Location Advantages:
The focal point in purchasing land would always be its location. When the project is strategically located bang on the six-lane state highway connecting Vandalur and Oragadam, it can rub off all the doubts from the investor's mind. Located at Oragadam – one of the fastest-growing suburbs of Chennai, this project has the potential to change your lifestyle as Oragadam is fast emerging as a prime destination for the automotive, electronic & manufacturing sectors.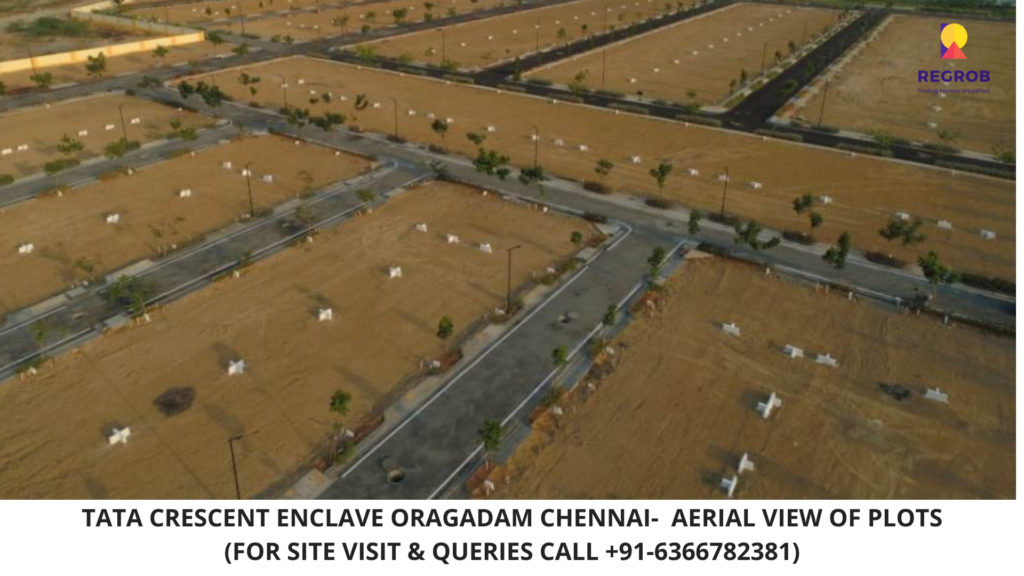 The growth resulting from this is equally matched by the state government's initiatives to upgrade the infrastructure around the oragadam industrial corridor. This development eventually ensures enhanced connectivity. Together these factors contribute to the growth of the location. Therefore this property promises exemplary returns owing to its location and also offers an edge over the continental land investment. No wonder the industry experts have referred to this stretch as South Asia's biggest industrial hubs.
So here is the location map of the Project under discussion.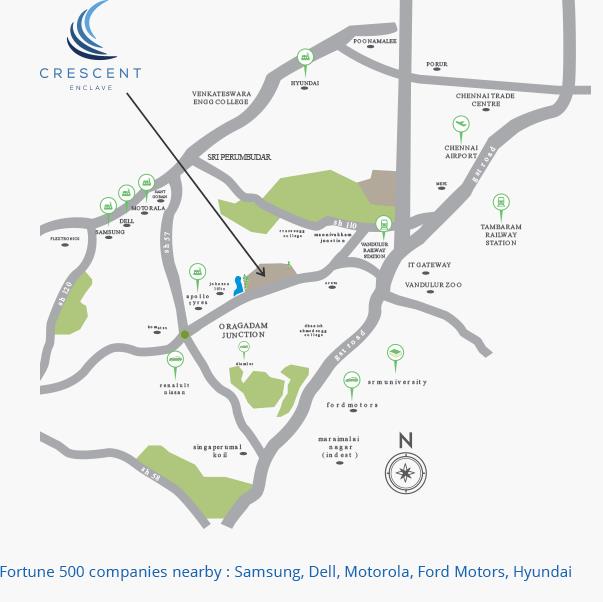 As you can see in the image, it's the nearby companies that add value to the project and can it get better if there could be over 20 fortune 500 companies close to the project. The other important thing to note here is the fact that this project is located in between two bus stops namely serapananchery bus stop and Krishna Engineering college Bus stop. The development is adjoining a 6 lane highway and also is well connected between Southern Trunk Road and Grand Western Trunk Road.
The State government has also recently proposed a Guduvancheri-Sriperumbudur railway link that will pass through Oragadam and is waiting for the approval from the centre. Over one lakh workforce having their foot here in the surrounding companies like Daimler, Royal Enfield, and Apollo Tyres & Nissan currently will only increase the demand for the residential market.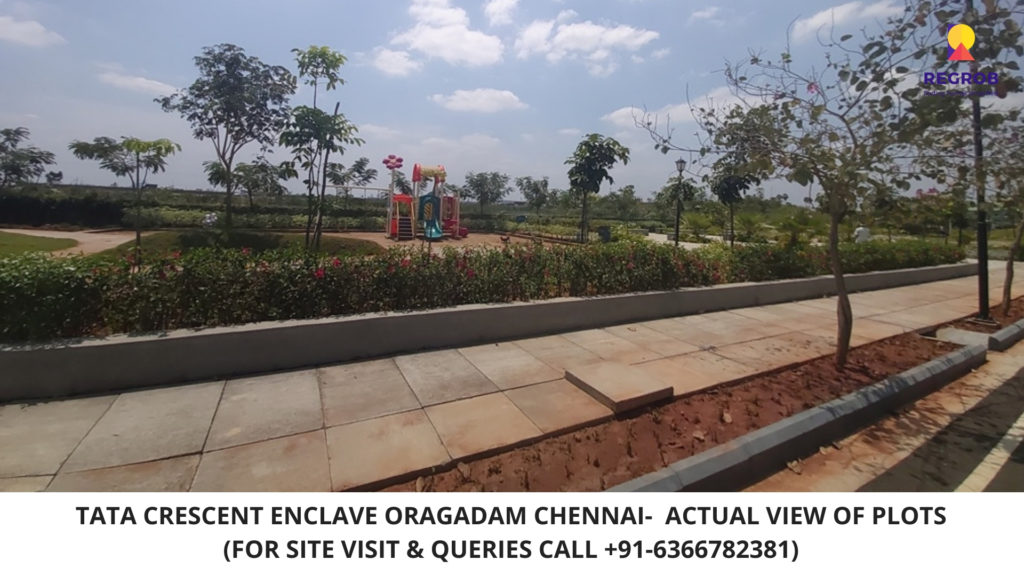 Now let's get deeper into this by looking at the nearby essentials in the vicinity of just 4 km:
Hospitals:
Balaji Hospital (0.71 Km.)
Sree Balaji Rural Health Centre Padappai (0.72 Km.)
Madha medicals (0.3 Km.)
School/University:
Government School (0.34 Km.)
Karunakarya Community College (3.64 Km.)
Bhaarathi Vidyashram School (0.59 Km.)
Shopping Places:
SLR XEROX & STATIOANRY (0.23 Km.)
Sri Vanaparvathi Store (0.26 Km.)
Sri Chendur Tiles (1.27 Km.)
And this not the end of the list by any stretch of the imagination. This project is surrounded by lush greeneries having quick access to Outer ring road, NH45 & NH4 and also having close proximity to the SIPCOT industrial park.
Timeline:
| | |
| --- | --- |
| Place | Approx. time taken |
| Oragadam Junction | 10 Mins |
| Vandaloor Railway station | 20 Mins |
| Tambaram Railway Station | 30 Mins |
| Mahindra World City | 50 Mins |
| Aringnar Anna Zoological Park | 26 Mins |
| Kishkintha Theme Park | 35 Mins |
These would have given a clear idea about the exact location of the project. To put things into perspective, the project is within an hour from the Chennai International Airport.
How this project is different from the rest:
Over the years, people have an image that the Real estate is backed by the Mafia's But when an established Brand like TATA comes up with this kind of a project with all the required approvals from the RERA and other regulatory authorities, there cannot be any second thoughts. Spread across approximately 15 acres, this project offers 252 residential plots with 5 plots being exclusively allocated for the commercial space.
The Commercial space which would be inside the premises is touted to have all the basic amenities including an ATM, Pharmacy, supermarket etc. This is ready to move project with a perfect combination of contemporary architecture and features to provide a comfortable living. Unlike all the other Standalone plots this offers a variety of unique features and facilities which can only charm the investors.
No Plan B after Looking at the Master Plan:
The plots are ready to occupy and the construction can take place immediately once it is purchased as it is pre-engineered for a smooth and convenient construction.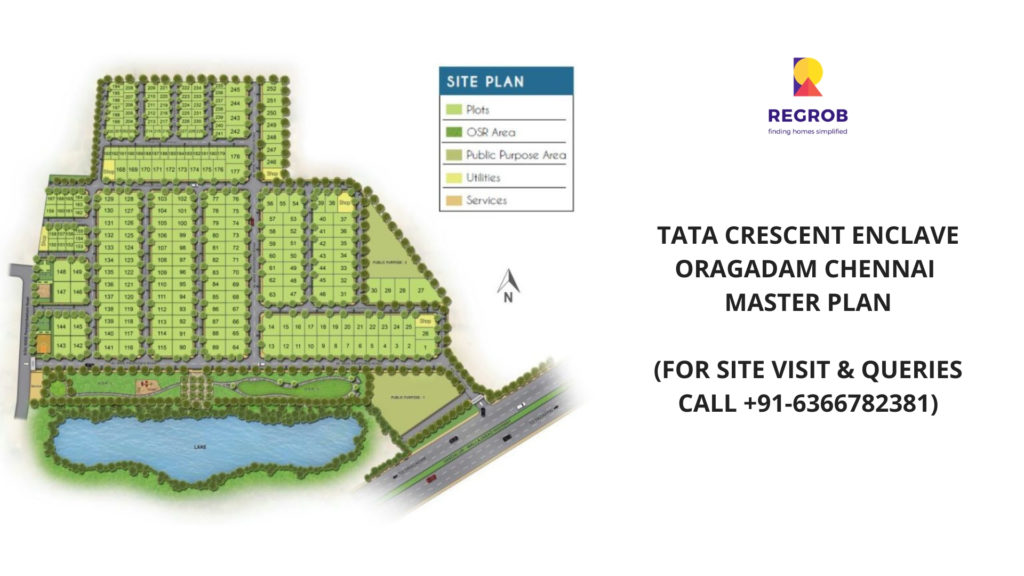 You can see a lake as well in the master plan pic which can brush aside all your concerns about the so-called water scarcity concerns. The sizes of the Plots vary from as low as 601 sq. ft to as high as 2000 sq. ft. This project is also surrounded by TATA's next project for which the building is in the under-construction stage.
Tata Crescent Enclave USP:
Each project has its own unique selling point but when a project offers something extra ordinal then it has to be really unique. Isn't it? Well, it is secured gated community which can creep away all the security concerns too from your mind. To add on to this, it has 40 ft internal roads with Concrete black top having an Inclined Terrain for Seamless stormwater drainage. So do you still need to worry about water logging? I guess not. All these can only assure you with higher returns. When our team had visited this project, we had got that sense of calmness and peacefulness around it.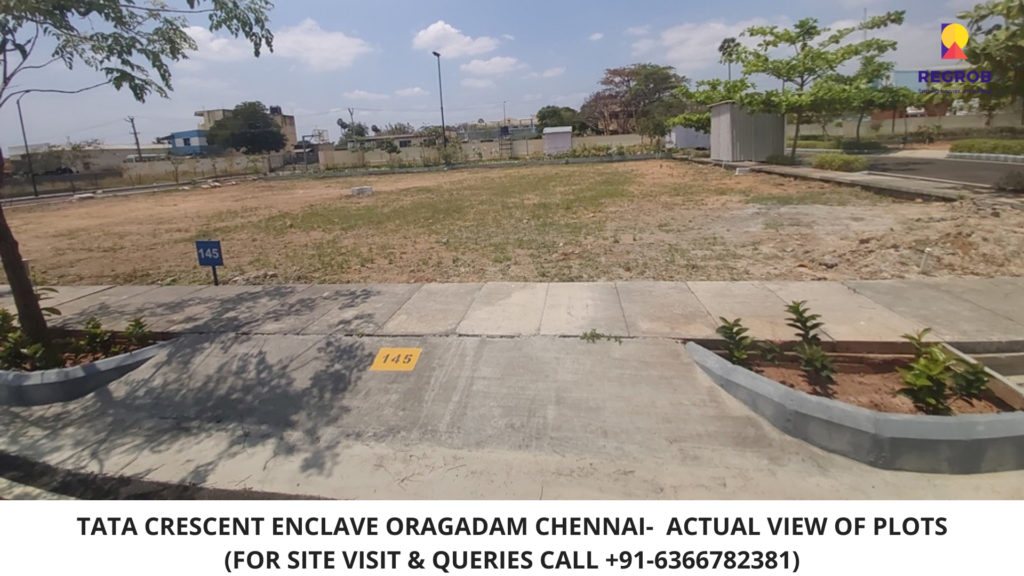 Tata Crescent Enclave Amenities & Offerings:
The Amenities should be provided for easy use and not just for the sake of it. Considering the basic amenities and requirements for habitation, the plots are with the plug and use model where the amenities can be used at ease.
Wide Internal Roads
RCC storm Water drainage
Underground sewage Connection
Provision for communication cables and Electrical connection.
Domestic water supply
Paved sidewalks
Half Basketball court and play area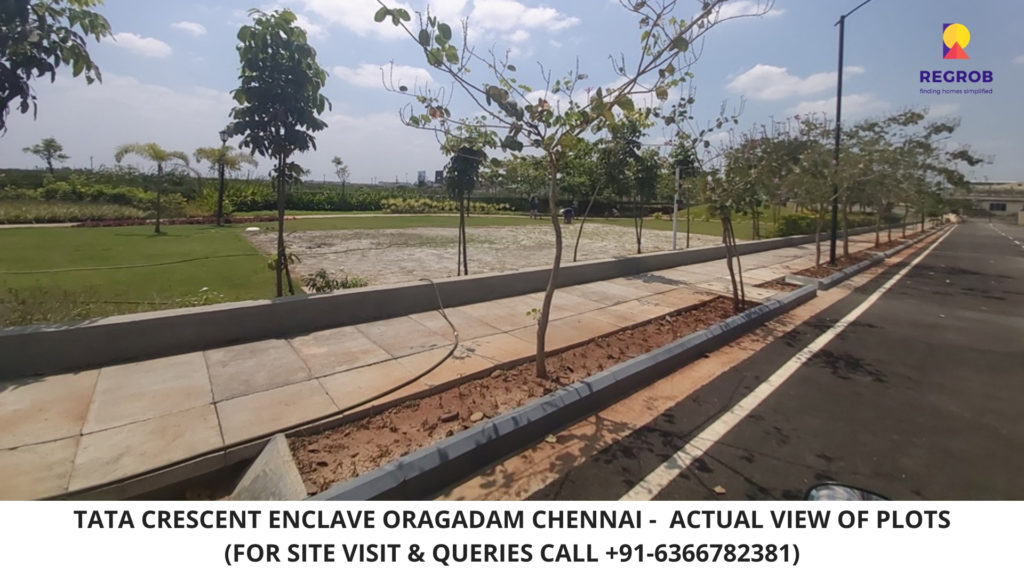 Tata Crescent Enclave Pricing:
A penny earned is a penny saved. An investment in this project can only save your pennies and can earn you at an alarming rate too. You can certainly not afford to lose out on this kind of an opportune.
| | | |
| --- | --- | --- |
| SIZE | Rate/SQFT | Total Cost * as on March 2020 |
| 601 Sq.ft | 2450 | 17,000,000 |
| 1502 sq.ft | 2450 | 38,00,000 |
| 2000 sq.ft | 2450 | 55,00,000 |
These are the all-inclusive price and there would be no other hidden charges as this also includes the maintenance charges as well. This has to be the lowest in the surrounding micro markets.
For site visit & Queries Call +91-6366782381
You can watch the actual videos of other residential projects of Chennai Click here
We also have some other options of residential projects for you in Chennai Click here