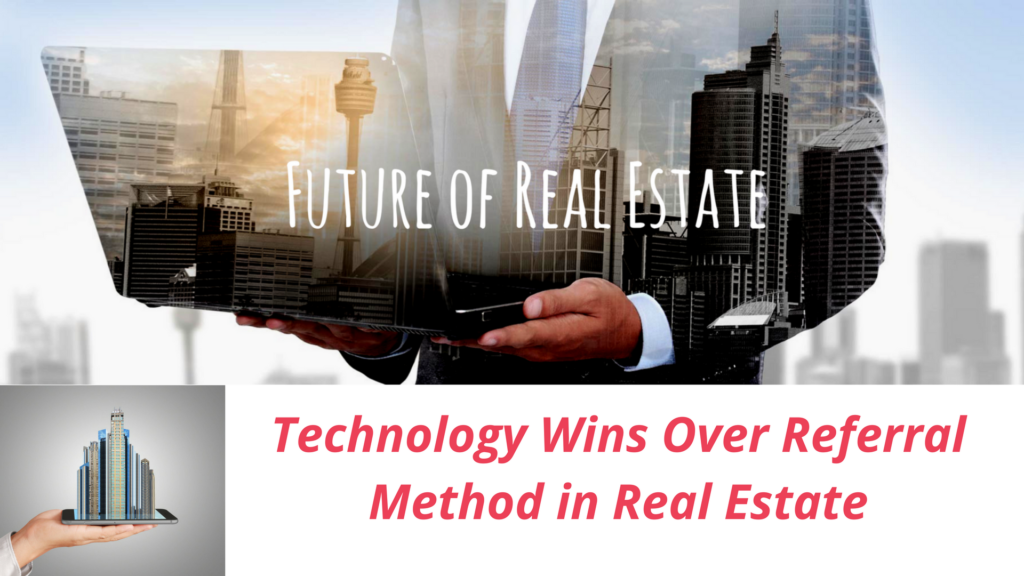 Indian Real Estate is the second most profitable and huge sector after Agriculture. The sector provides good returns and maximum profit, if one invests here with his/her heart and soul. It means Real Estate takes care of its employees and business man working in the sector, by giving them great opportunities and high profit. Also, we can't ignore the fact that latest technological development in Real Estate market is helping them in their business 24*7. The good point is the innovation in technology that has changed the Real Estate Market for the betterment. Earlier, it was really difficult to deal-in Real Estate and was considered as a huge headache for the business man operating in this Sector. But, now technology has transformed the Real Estate Sector completely (we can better describe it by the phase "KAYA PALAT").
The informal methods have completely vanished from the market. And the Real Estate sector has become more organized, formal and professional- given the new laws and innovation of perfect technology. The change is not just limited to the sellers but it has changed the buyers too. Instead of asking friends, family and visiting property dealers and praying them for the best deal, they search online sitting comfortably at their home. The hustle and the irritating process of searching property have become very simple. Now, customers look for their dream homes by sipping coffee in their one hand while using their laptops, mobile, tabs in their other hand.  The tantrums of property dealers have completely ended as people have started believing in the gizmos & gadgets.
Basically, we need to focus on two things, that changed the picture of Indian Real Estate Market entirely- Enactment of strict laws and latest technological development. And thanks to both of them, we can make put our investment in Real Estate without a second thought. The laws have provided security of our funds and at the same time, technology has presented the comfort and convenience to Real Estate Market.
When we think of laws related to Indian Real Estate Market, the thought that they are useless comes to our mind instantly. The reason being – earlier they were just written on papers but never got implemented. But now, many laws are passed by Indian Panel Court and are implemented on a very serious note. The Modi Government after successfully transforming the other sectors of Indian Economy has now moved towards property sector. These steps are clearly seen in the recent enactment of various acts -RERA (Real Estate Regulation and Development Act), Benami Transaction Property Act and Transfer of Property Act. All these acts are the foundation stones of the organized Real Estate sector.
RERA, on the one hand, provides for proper rules and regulation in the Real Estate Market. And the rules were so crystal clear that it gained the confidence of people in Real Estate Market and helped to overcome their insecurities. On the other hand, Benami Transactions (Prohibition) Amendment Act left no scope for the circulation of Black money and corruption. Similarly, the transfer of property Act gives strict rules for transfer of property in Indian Real Estate. So, all these laws are made to make the Real Estate market more powerful and transparent. The transparency helps to overcome the practice of frauds in the market, hence welcoming more and more investment in Indian Real Estate Market. All in All, we can expect less crime rate and more profit rate for everyone dealing in Real Estate Market.  We are grateful to the promising laws…surely!
If we are discussing about the positive changes in Indian Real Estate, we can't do that without discussing the great contribution of technology in Real Estate. Frankly, it has changes the whole scenario of Indian Real Estate Market. And now we can't even describe the real Estate without the touch of latest technology. We all know that technology is a blessing for every sector of the Indian Economy, but the role of technology in Real Estate is above all.

When we talk about technology, it involves everything- From an online search of prospective buyers to closing a deal by the seller. The fact that have to be noticed before understanding the role of technology in Real Estate – 90 percent of the buyers are educated and believes in searching comfortably sitting at their home . And secondly, buyers are moving one step ahead and make use of technology in every possible aspect.
While buyers search online for best available option for them, they compare it too with the other buyers. As the sellers are smart, buyers are even smarter. They don't just see their dream house on various sites and prepares their mind, they even compare the reviews of various Real Estate company before approaching them through their cell phones. And after reading the best reviews, they contact that buyer. Also, they believe in brand name for Real Estate, instead of going to any individual buyer randomly. The old tradition of asking from a friend or a family about a particular flat, floor or bungalow has completely vanished. Technology is a new friend for the buyers in Real Estate.
If we consider sellers and big brand name in Real Estate, technology is like a GOD FATHER to them. Now, the practice of sitting in a typical Property Dealer shop is outdated. The trend is to – put the advertisement about your Franchise and brand name on goggle and let people know about you. After that, they go by a proper procedure – make blogs about the property under them, write content about the particular flat or house or hire a professional content writer, promote the house by uploading beautiful pictures of the house from different angles, upload videos of the house in different position and latest 2D and 3D version (which helps in providing the complete feel to the buyer). Even, the small sellers in Real Estate promote the houses online before doing anything else. Buyer makes their mind by seeing the pictures and videos of their dreamland and starting dreaming about them…And then they come to you for realizing their dreams.
The magic of technology doesn't end here- After making the leads, sellers can convert them into prospective buyers and can convince them easily for closing a deal. When someone searches for home, the technology automatically provides the name of those expected buyers to you. And the technology like CRM (customer relationship management software) and IVR (interactive voice response) helps you in maintaining long list of clients easily. It assists in making the huge date base of the customer and you can contact them all, with just your one click. So, not only it helps in saving the contact details of clients, but also helps in maintaining healthy relations with them (you can wish them festivals or important days of their life with the help of customer information).
Regrob is one such great name in Real Estate that has access to all sorts of technology. Once you take the Franchise of Regrob, you can look forward for much need assistance and support in your business. Technology can change the referral methods for sure. Only you need to change. And believe me, with Regrob, you are in a safe hand. This company not only provides you with latest technology but holds your hand in facing every challenge of your business.  It is always better to change with changing time…No one can make you rich and successful but only you can…