The Maharashtra government recently passed Rs. 12,157 crores worth MMRDA projects to boost infrastructure in the state. Out of these, Rs 50,000 crores have been earmarked for Thane district for projects such as metro corridors, Mumbai Trans Harbour Link, development of flyovers, creek bridges and improving its overall infrastructure and connectivity. This will surely boost the real estate market of Thane and give it a further upward momentum in terms of its growth and investments.
The Chief Minister recently performed the bhoomi pujan for the Elevated Road and Tunnel connecting Thane-Belapur road and National Highway (NH-4). The construction of this 3.5 km stretch has been promised to be completed in 40 months.
The work on Mumbai Trans Harbour Link, Metro Railway, Coastal Road, Water Transport, Ro-Ro services are also in various phases of progress and the various government organizations are determined to complete these projects at the earliest.
The biggest metro projects are in Thane and will be completed within next two to three years.
Thane is thus gearing up for its mega infrastructure deals. The flyovers at Kalyan Phata, Shil Phata, Almera Chowk, Meenatai Thackeray Chowk and Post Naka Chowk are in various stages of planning.
There has been a very long standing demand for the widening of the Kopri Bridge. Rs.90 crores has been sanctioned and Kopri bridge project will be started soon by the MMRDA.
The TMC has already proposed to have one underground tunnel from Ghodbunder to Borivali to cut travel time between Thane and the city.
Besides Thane has been selected in the 98 list of the Smart City's planned. Thane Municipal Corporation is the only civic body to have completed the Impact Assessment Study of this project.
The plan for the biggest IT campus to come up in Thane with an area of 3 million sq ft has already been sanctioned. This will have an employment potential for around 25,000 people.
All these infrastructure projects will certainly redefine the dynamics of Real Estate in Thane and propel its growth exponentially.
Today Thane, especially Ghodbunder Road tops the chart for end users as well as investors as it boasts of widespread roads and highways providing seamless connectivity. Investing in any property is about investing in the right property at the right location for the correct price. Keeping these parameters in mind investing in Ghodbunder Road Thane is most ideal real estate market as it has shown a significant growth not only in infrastructural developments but also in terms of ROI for investors.
Real estate experts believe that property buyers here have enjoyed a 300% growth in the last five years! Economic advisors and analysts suggest an estimated 40% increase of employment opportunities in the Mumbai Metropolitan Region (MMR), including Thane. Such a predicted hike in jobs would entail a major increase in the demand for housing and subsequently could generate further capital appreciation for real estate investments in Thane.
Consequently the residential, commercial and the retail sector here has seen a good appreciation in terms of principal appreciation as well as rental income. Thus today Thane tops the chart for home buyers and investors in the affordable as well as luxurious segment which has resulted in various eminent developers shaping its landscape by creating iconic landmarks in par with global standards.
Piramal Vaikunth, Thane
Piramal Vaikunth is one of the most successful launch in Thane. There are many aspects of this projects that makes it unique and location is one of them. Piramal Vaikunth is located in central Thane with connections to Greater Mumbai ensuring the best of both worlds for its residents. They can enjoy the convenience of shopping and dining options, schools, and hospitals while being surrounded by lush hills, lakes, and nature reserves. Piramal Vaikunth is just minutes away from the finest cultural and cosmopolitan attractions of Thane.
60+ Schools
6+ Hyper Malls
35+ Lakes and Waterfronts
50+ Hospitals and Dispensaries
3+ Water and Amusement Parks
5+ Colleges
2+ Botanical Gardens
Hospitals:
2.8 km from Jupiter Hospital
3.7 km from Bethany Hospital
Shopping Malls:
1.3 km from Lake City Mall
2.8 km from Viviana Mall
Transportation:
1.3 km from Eastern Express Highway
5.1 km from Thane Station
25.2 km from Mumbai International Airport
Schools:
2.4 km from DAV Public School
3.1 km from Holy Cross Public School
3.7 km from Smt. Sulochanadevi Singhania School
7.1 km from Hiranandani Foundation School.
These are some of the important things one looks for before buying a house. Today you may find a bit difficult to go from one corner to another corner but after these developments are completed it will be lot simpler. Thane is blessed with natural greenery thanks to the Sanjay Gandhi National Park which is one of the many attraction of the city.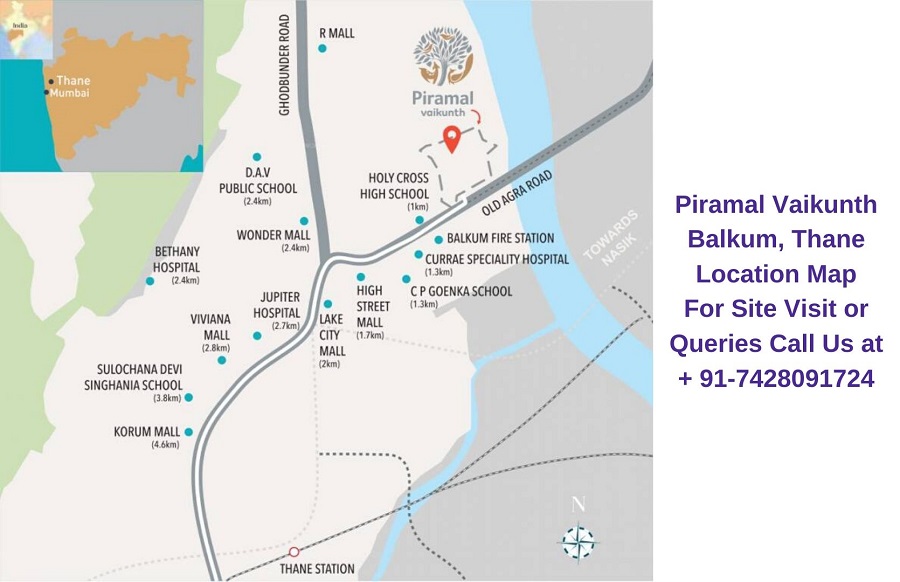 USPs of Piramal Vaikunth:
Conveniently located near the clubhouse
Unparalleled floor-to-floor height of 3.1 metres
Dual windows in the master bedroom to facilitate better ventilation and sunlight
Dedicated wardrobe space in every bedroom
Amenities provided within the complex:
Cafeteria
Banquet Hall
Crèche
ATM
Cycling Track (1.5 km)
Amphitheatre Seating
Multi-purpose Hall
Swimming Pool
Library
Gymnasium
Indoor Games Room
Toddler's Play Area
Kid's pool
Outdoor Chess
Picnic Area
Tree House
Dog Park
Urban Farming Zone
Toddler Pool
Yoga/Meditation Area
Sewage Treatment Plant
Rain Water Harvesting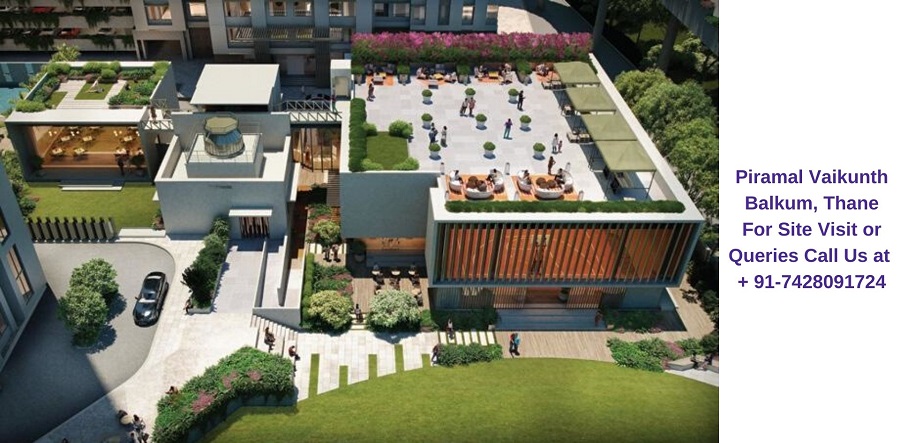 Prices:
| | | |
| --- | --- | --- |
| 1 BHK (C) | 1 BHK (R) | 2 BHK |
| 49 – 51 lakhs | 56 – 58 lakhs | 77 – 79 lakhs |
For Site Visit & Queries Call- +91-7428091724
You can watch the actual videos of other residential projects of Navi Mumbai Click here
You can also check some other residential properties in Navi Mumbai Click here