The House of Abhinandan Lodha is creating a new kind of legacy. They are introducing New Generation Land for the New Generation of India.
The House of Abhinandan Lodha is bringing land into the 21st Century – making it easy to own, secure, liquid, mobile and much more of everything you never thought it could be.
The builder are building a platform that will bring anyone who wants to create wealth to join the New Generation Land revolution. Now is your time. You can buy, maintain and liquidate land with amazing ease, confidence and trust. Whether you're a first time buyer or a seasoned investor, they've got you covered.
This project ensure a completely secure experience for our members by keeping track of every single nuance of the ownership journey to put your mind at ease.
For More Information & Best Offers, Call us @ +91-7428091724
New Generation Land is:
Easy: Owning land just became possible at a click of a button. HoABL sells New Gen land 100% virtually.
Liquid: Assistance with timely exits ensures liquidity for owners of New Generation Land
Safe: 100% legitimate title deeds for the most secure land parcels in the country
Exciting: Curated and thematic land parcels with a range of lifestyle amenities and services.
Mobile: The builder has simplified the swapping of assets making ownership of New Generation Land mobile and easy.
Legacy: Land is the only asset that has delivered long term intergenerational wealth
This launch created a new category – The Virtual sale of land and the lower ticket sized opened up access to a whole new set of customers and target groups for partners to tap into.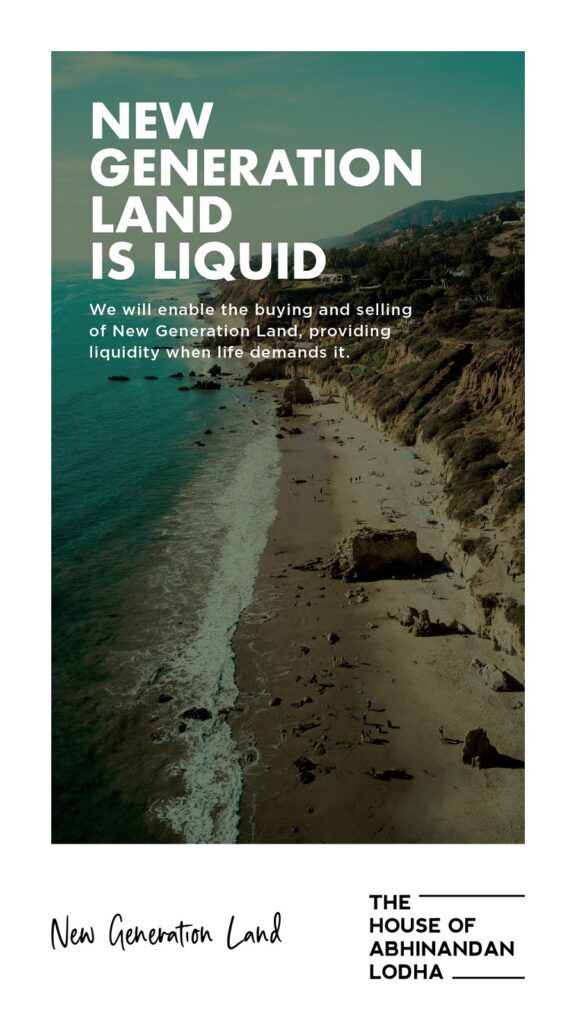 Price Details:
Millennia Row House Plots | Carpet Area: 1017 Sq. Ft. | Price @ 11.99 Lacs*
Luxuria Plots | Carpet Area: 2713 Sq. Ft. | Price @ 29.99 Lacs*
Offers till 15th October..
Facilities by The House of Abhinandan Lodha:
Ownership documnents titled 7/12 extract
Thematic Development with 10+ World Class Amenities
Professionaly managed & Secure for complete peace of mind
All insured infra already provided Electricity, Water, Roads
Land pre-cut & packaged in an easy to acquire plot
Journey Together to The Land of Tomorrow:
A scenic drive through the picturesque green hills of the Western Ghats.
A pristine stretch of beaches alongside green mountains.
Well known for Alphonso Mangoes and Cashew nuts, exported around the world.
The anuural Anjarle turtle festival to witness the birth of rare Olive Ridley Turtle.
Rich Cultural Heritage (Suvarnadurga Fort, Panhalakaji Caves, Unhavare hot-water springs, Parshuram Bhumi, Kadyavarcha Ganapati, Siddhi Vinayak Ganapati Temple).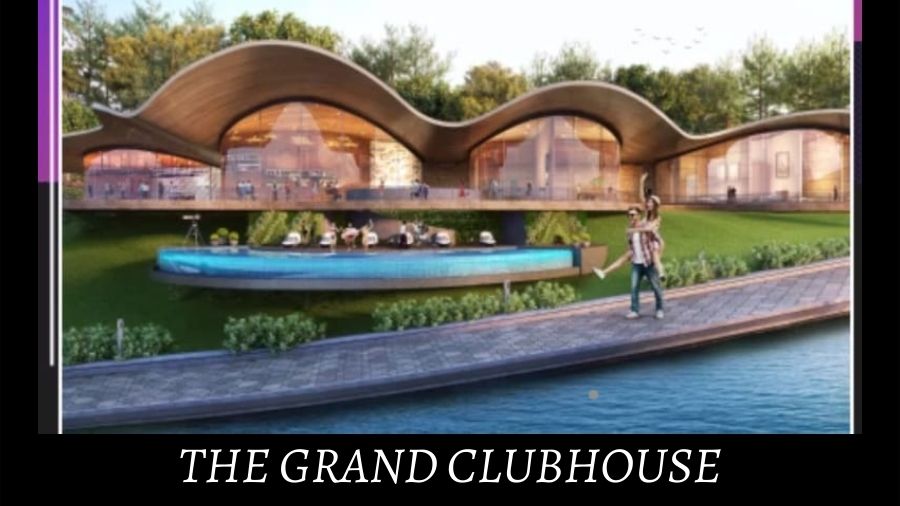 CATEGORIES OF PRODUCT:
LIFESTYLE:
Bespoke lifestyle based New Generation Land that target specific consumer set with a curated product. These include bespoke luxury collections and curated thematic developments designed by architects of global renown.
INVESTMENT:
New Generation Land marketed towards investors looking to diversify their portfolio and seeking assured returns. New Generation Land sees an unprecedented appreciation as opposed to normal land parcels.
CONSUMPTION:
New Generation Land located near the centre of major cities. These land parcels are marketed towards consumers who want to live in a well designed community, but are individualistic and want to build a home according to their preferences.
PEACE OF LAND:
GUARENTEED BY PROMISES:
PROMISE OF TRANSPARENCY:
100% legitimate water-tight documentation
100% Money back before registration*
Legal assistance in land verification
PROMISE OF LIQUIDITY:
Emergency liquidation promise
Digitally-enabled resale
PROMISE OF SECURITY:
100% safe and secure physical possession
0% risk, price protection through HoABL Best Value Assurance
PROMISE OF WEALTH:
Assisted resale with capital protection
Digitally enabled trading and swapping of assets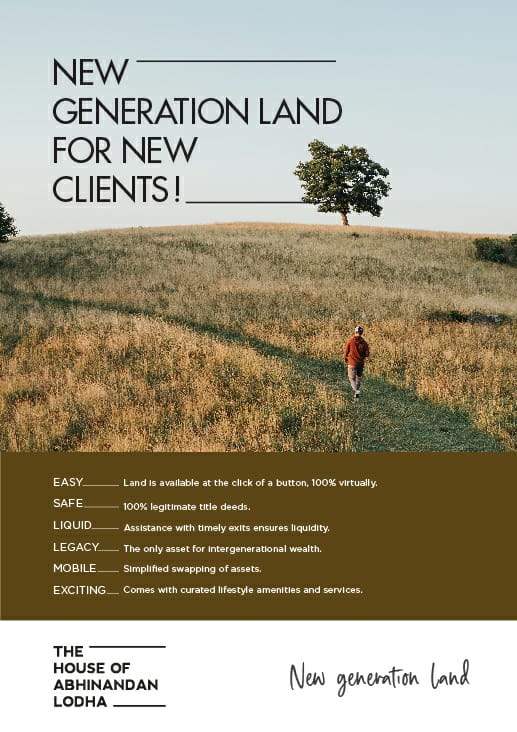 For more information about The House of Abhinandan Lodha – New Generation of Land you can call our property experts at +91-7428091724.