Top five ready to move in projects in Sarjapur Bangalore
Sarjapur is one of the best localities for residing and right investment in Bangalore. This is a nice expanse in the hustle and bustle of the city Bangalore. This is well connected to the Electronic city, Koramangala, Balladur, Outer ring road and Whitefield. It is the upcoming IT hub of Bangalore where traffic congestion is very less and accessibility to all IT companies is very easy.
This is one of the best localities for students, single professionals, couples, families and retirees as it is traffic free and best known for its safety cleanliness and public transport facilities.
Some of the important nearby location are as follows:
Carmelarm Railway station (3 KM)
Delhi Public School (1.5 KM)
Huskur Bus Stop (2KM)
Bangalore International Airport (25 KM)
Baiyappanahalli Metro Station (12 KM)
Heelalige Railway Station (3 KM)
Important Nearby Locations: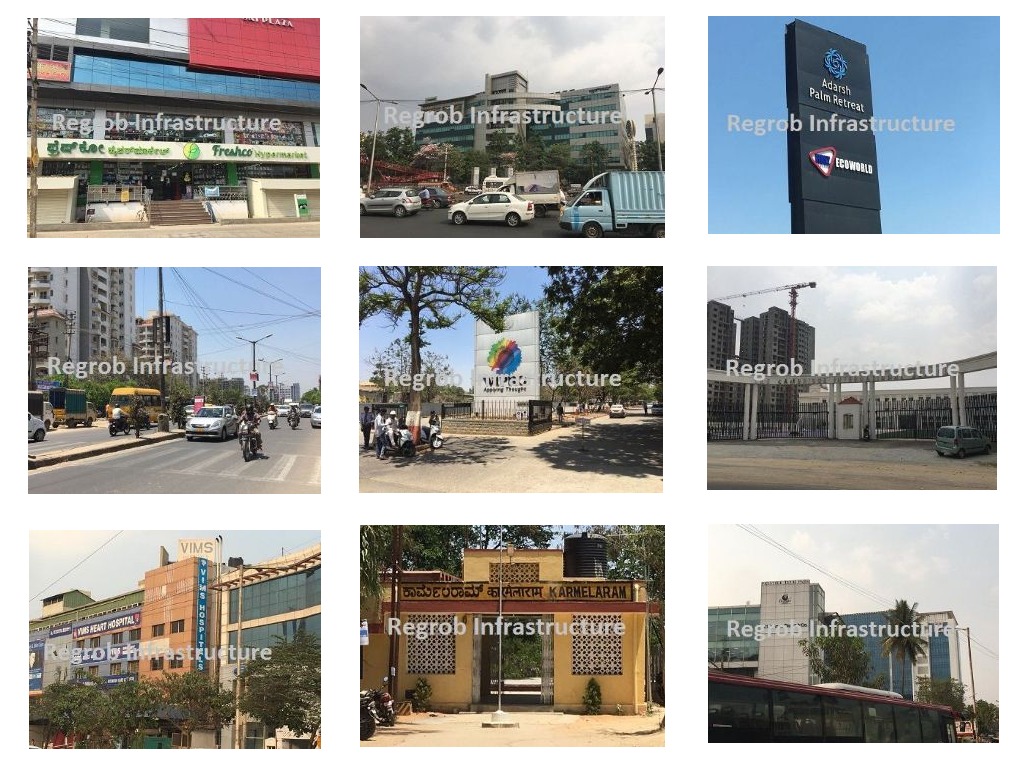 To get the details of Schools in Sarjapur, Click Here.
Sarjapur is best known for real estate developments as there are many residential and commercial projects contributed by best builders of Bangalore. One can enjoy sensible investment and harmonious lifestyle here. There are various residential developments.  Some of them are ready to move in, some are under construction and some are new upcoming.
There are some ready to move in 2 BHK apartments/flats under 60 lakhs.
Top 5 ready to move in projects under 60 Lakhs in Sarjapur Bangalore are as follows:
1) SV Pleasanta: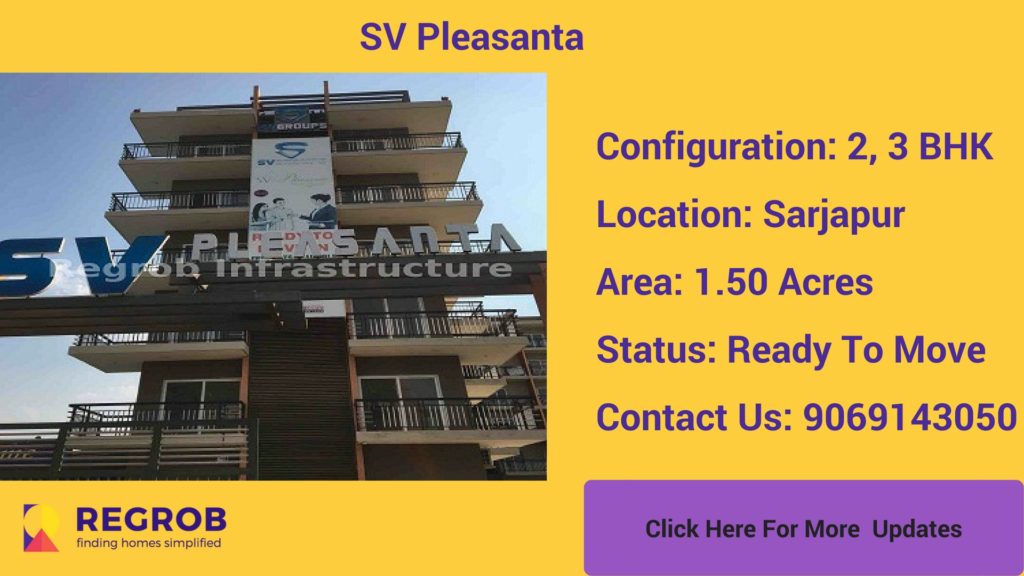 2, 3 BHK ready to move apartments in Sarjapur:
SV Pleasanta is a ready to move in project located in Banglore.  This is one of the reputed residential developments in Bangalore.  It has maintained standards between quality and finess. It is associated with qualified architects, structural engineers, and plumbing consultants. It offers 2BHK apartments and 3 BHK apartments. It has 2 towers consist of 6 floors 136 units in total. It is a ready to move within 3months. It is not a podium based project.
It provides all the modern amenities like covered Car Parking, Children's Play area, Club House, Intercom, Lift(s), Multipurpose Hall, Swimming Pool, Vaastu Compliant. This location is sure to be one of the most developed areas.
Schools available nearby:
Indus Valley School
Little Elly
Indus International School
Greenwood High School
Institutes available are:
TISB (The International School Bangalore)
Oxford Medical college
Connectivity available are:
STTR (Satellite town ring road) (10 min)
Sarjapur – Attibele road (10 min)
Electronic City (30 min) NH-44 (40 min)
Mode of transportation is Reserved and sharing Auto. SV Pleasenta is a very well-known builder's development of Bangalore. It is a completed project in Bangalore areas. Connecting with Bangalore provides you modern and comfortable lifestyle.
For More Information, Click Here
Watch Video:

2) Chourasia Manor Phase-2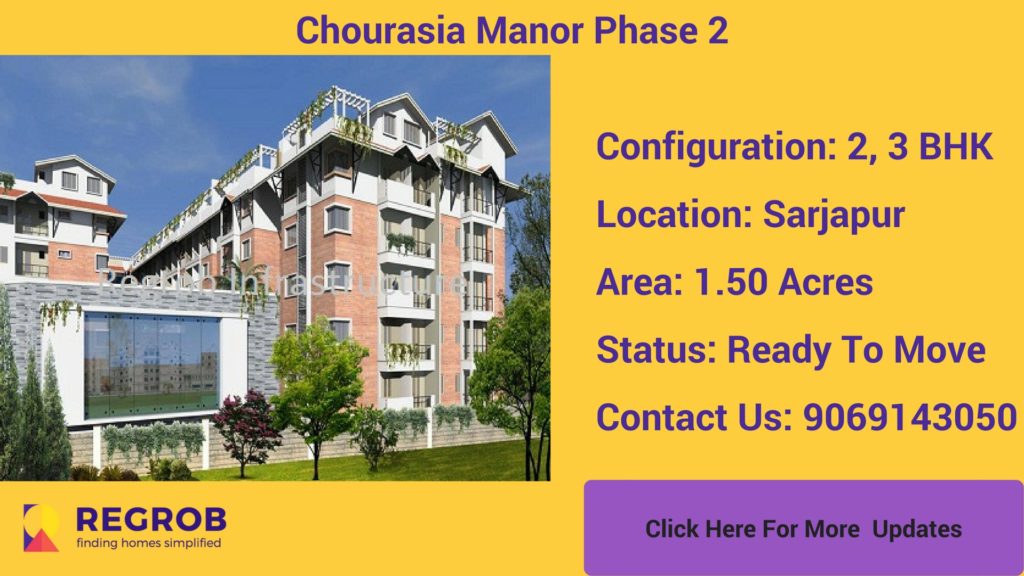 2, 3 BHK ready to move apartments in Sarjapur:
Chourasia Manor Phase 2 by VKC Developers is one of the affordable and exclusively designed projects. Complete project covers the area of 1.50 acres with 3 towers and 160 units in total. This is located in Marathahalli, Off Sarjapur road and has good connectivity with Electronic city, Outer ring road, Koramangala, Whitefield and nearby highway. All the apartments of Chourasia Manor are Vaastu Compliant and specifically designed with the vision of one's peace and ease. This has 2 and 3 BHK apartments which are ready to move in and currently available for sale.
This has various amenities like swimming pool, water body, intercom, park, car parking area, children play area, gymnasium, 24/7 security, 24/7 water supply, 24/7 power supply, jogging track, 6 passengers high speed automatic  lift.
Price for 2 BHK lies between 55 lacs and 65 lacs.
Nearby important locality:
Panathur Bus Stop
Apollo pharmacy
Bellandur Railway station
Vibgyor High School
Innovative Multiplex
Sirmoyi Yoga
VKC developers Pvt. Limited is a venture of Chourasia Group. They are a team of professionals with a vision to provide residents with high-end smart homes and setting benchmarks for all the other real estate developers. Their mission is to provide beautiful architected homes of global standard for its residents.
For More Information Click Here.
Watch Video:

3) Sonestaa iWoods: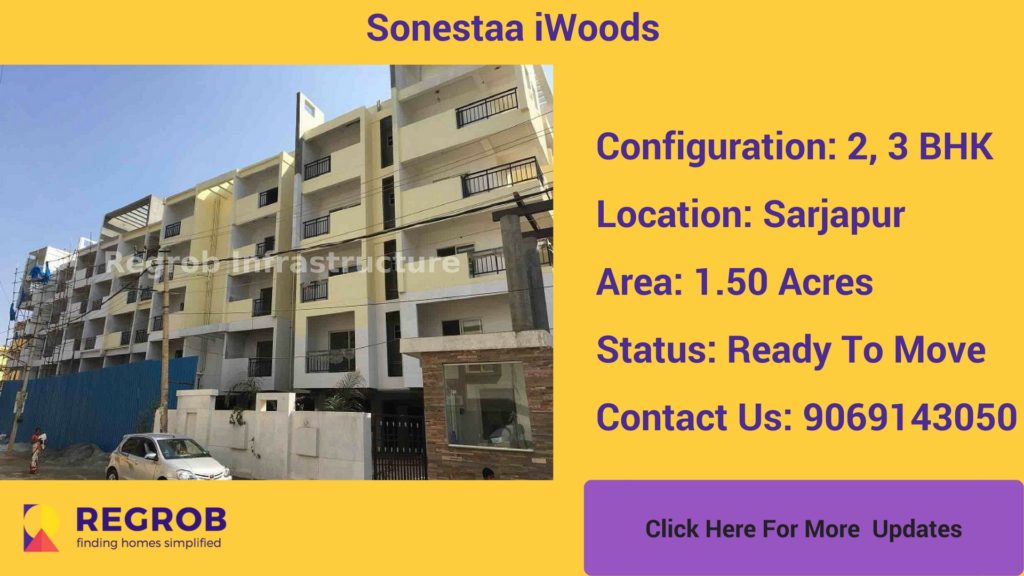 2, 3 BHK ready to move apartments in Sarjapur:
Sonestaa iWoods is a new ready to move in residential project in Bangalore. This project is located in Bellandur, South Bangalore which is the central point for major IT hubs. This ready to move in project is built on sprawling 10-acre of green land with huge lung spaces and a striking view of the surroundings. It offers residential apartments in 2 and 3 BHK configurations built in 9 blocks. Total number of units in Sonestaa iWoods are 292. Also, it has a huge 3.5-acre luxury clubhouse which houses all the rich amenities for a perfect luxury lifestyle. 2 and 3 BHK luxury apartments built on area of 1047 sqft to 1311 sqft and are priced between 54 Lacs to 66 Lacs.
This project is developed by Nirman Sonestaa Developers, who are a notable and acclaimed construction company in real estate business in Bangalore. Projects developed by Sonestaa developers are an ideogram of excellence and technology.
Educational institutions nearby Sonestaa iWoods:
Narayana E-Techno School
New Horizon College Of Engineering
Vidyarambh International Preschool
Orchids The International School
Gear International School
New Horizon Gurukul
Hospitals nearby:
VIMS Hospital
Sakra World Hospital
John's Hospital
Sonestaa iWoods Connectivity:
Outer Ring-Road less than 1 km.
Sarjapur Road- 1.5 km.
Passport Office- 1 km.
Bellandur Railway Junction- 5 km.
Marathahalli Junction- 3 km.
HAL Old Airport- 4 km.
Silk Board Junction- 5 km.
For More Information Click Here.
Watch Video:

4) Sowparnika Tharangini: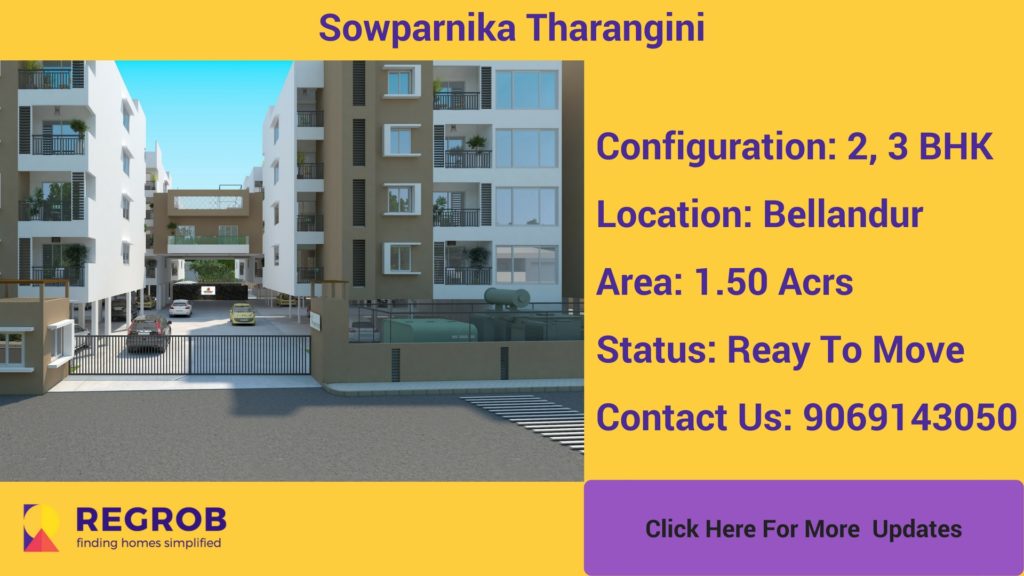 2 BHK ready to move apartments in Sarjapur:
Sowparnika Tharangini is a new residential project located in Volagerekallahalli, Sarjapur Road, Bangalore. These well designed smart homes are a perfect balance of comfort and harmony. It is located well away from the hurried city life giving you a peaceful place to live in. Also, well equipped with urban amenities matching the nightlife of urban cities.
This residential project is built on a land area of 2.50-acre and offers 1, 2 and 3 BHK luxury apartments. Built-up of 1 BHK apartment has an area of 677 sqft, 2 BHK land area ranges from 946 sqft to 1014 sqft and 3 BHK occupies an area ranging from 1249 sqft to 1364 sqft. Price per square feet for these apartments is 3005 INR. It is an under construction project and possession will be handed over in December 2019. This project is legally approved by BMRDA and these apartments will cost you somewhere around 20.34Lacs to 41Lacs.
Sowparnika Group is a front-runner real-estate and construction company headquartered in Bangalore. It was founded in 2003 and are known for developing beautiful residential structures across the skyline of Bangalore. Projects undertaken by this group holds three basic values i.e. integrity, commitment, and dedication. Timely possession, luxury provisions for the residents and executive high-quality homes at affordable prices makes them the most trusted real estate brand in the southern part of India. Some of their ongoing projects include Sowparnika Highlands, Sowparnika Vaishnavam, Sowparnika Sudarsanam, Sowparnika Sandal Tower, Sowparnika Grand Square, Sowparnika Swastika Phase 2, Sowparnika River View Garden, Sowparnika the Columns and others.
Sowparnika Tharangini Conectivity:
Whitefield-13km
Electronic city-16km
Outer Ring Road-14km
Marathahalli-16km
Wipro Corporate Office-10km
International Tech Park (ITPL)-17km away.
Schools and educational institutes Nearby:
Government Higher Primary School Thimmasandra-4.97 km
PUP SCHOOL-4.96 km
Sabic Technology Center Bengaluru-4.85 km
Government Primary School B Hosahalli-4.79 km
Inventure Academy International School Bangalore-4.75 km
For More Information Click Here.
Watch Video:
5)Brindavan Palms: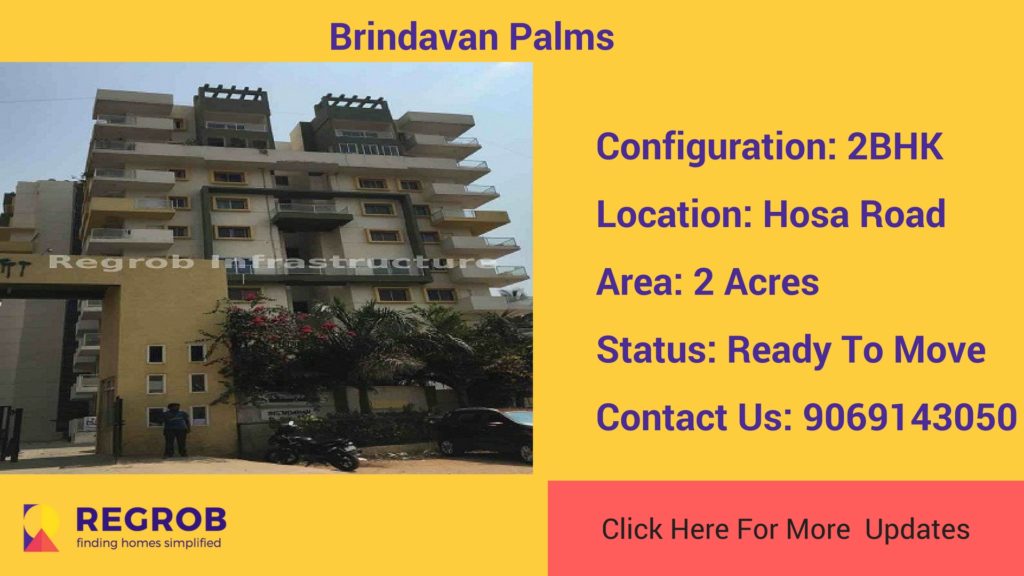 2 BHK ready to move apartments in Sarjapur:
Brindavan Palms is a residential project located on Hosa road Bangalore. This has 2 and 3 BHK ready to move in apartments. This is specifically designed under the guidance of best civil engineers and plumbers. Each flat of this project is spacious, airy and provided with impressive facades. They are Vaastu compliant where one can enjoy the harmonious lifestyle.
This has various modern amenities like covered car parking, children play area, Intercom, swimming pool, landscape garden, park, 24/7 water supply, 24/7 electricity, 24/7 security, jogging track, gymnasium etc.
Nearby schools are:
ACPS International School
DRS International School
Nearby hospitals are Reddy JanaSangha Arogya Super Specialty Hospital, Live 100 Hospital.
Brindavan Palms is one of the Madhavaram Construction's projects. Their main focus is on the quality of construction, quality lifestyle and easy living.
For More Information, Click here.