Introduction
"The best investment on Earth is earth." – Louis Glickman
There is no question that real estate is one of the most fruitful and stable forms of investment. The investment in land is very similar to planting a tree where you can't be expecting it to bear fruits immediately but it offers several other benefits throughout its process. While residential homes now have become almost synonymous with real estate investments, they aren't the only option available. Today, the demand for land is on the rise, outpacing the sale of apartments more often than not. The other little known benefit that land investment provides us is the property tax tends to be much lower than it is for a house.
Overview:
In big cities like Chennai, most of the builders hand over homes according to their estimated date. This can be considered as a major reason why people choose reputed Builders when it comes to buying their home or a plot. URBANRISE is a Real estate brand in south India which is fast emerging as the rapidly-growing developer in Chennai. Founded in 2017 by a visionary team of energetic Real Estate Industry experts, URBANRISE is a brand of South India's critically acclaimed and financially strong Alliance Group. Urbanrise's mission completely focuses on affordable homes ad plots for all class people.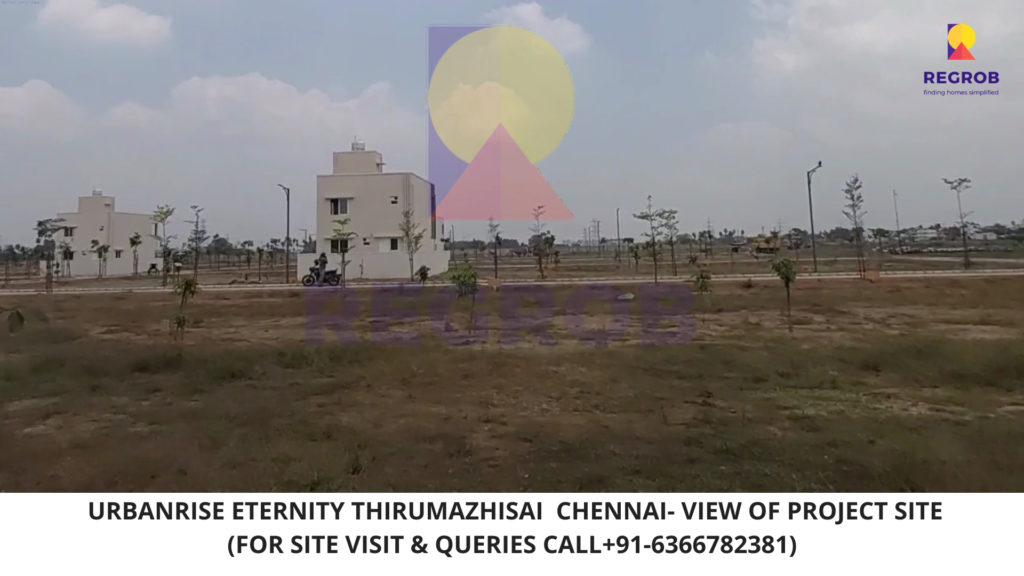 Eternity is where the eternal Heart of the city is-Location Advantages:
With Over 10 Lac Workforce Employed around Thirumazhisai, the demand for residential as well as industrial market can only grow exponentially. This would just be stroll in the park if you have got the Oragadam – Automobile Hub, Sriperumbudur – Electronic Hub and Porur – IT Hub in the close proximity.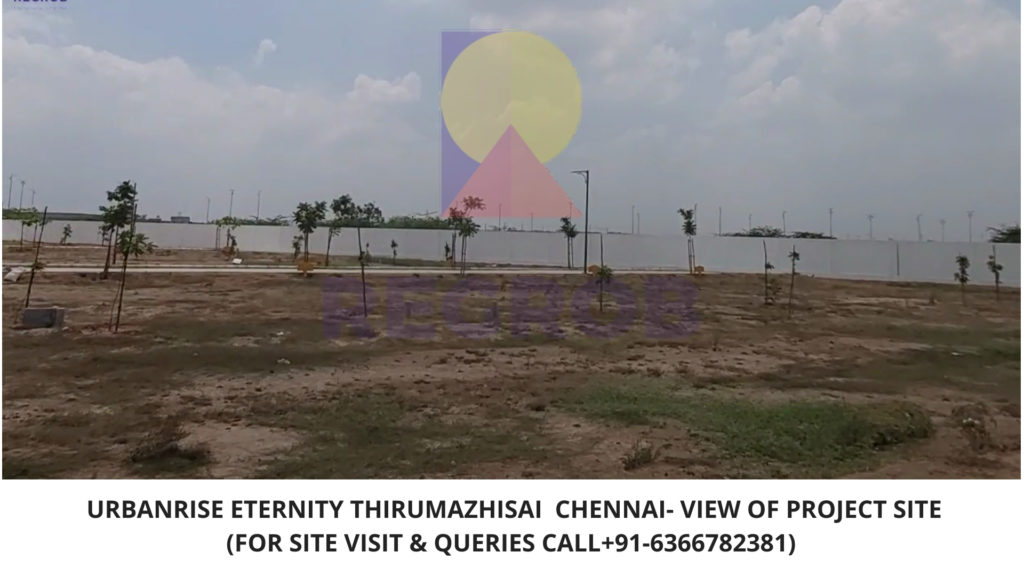 The project is just a 5 min drive away from the Outer Ring Road connecting Tambaram. This project also comes along with a unique futuristic infrastructure with a 13.7 km, 6 Lane Elevated Expressway Connecting Poonamalee and Sriperambadur that has been approved and the proposed Phase – 2 of Metro Rail Project is from Lighthouse to Poonamallee/ Thirumazhisai. This project is also situated by a gated community known as "Santro city" with close to 300 families already residing predominantly, the employees of Hyundai motors.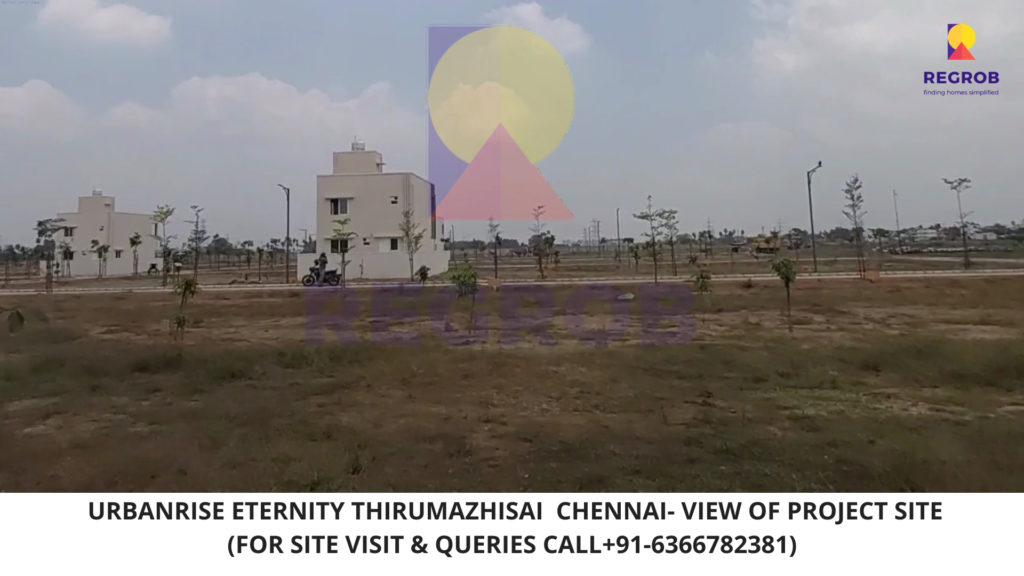 Located within 500m from the Bangalore highway, this project is also backed up by excellent connectivity as this is strategically located with the plethora of busses running with a very high frequency which can connect you to the rest of the city like Avadi, T.Nagar (Bus no.54), Sripeumbudur to name a few. The nearest bus stop would be chembarambakkam bus stop with few even originating from here. As compared with other parts of the city, this place is by far less congested with no chances of any pollution issues.
So here is the location map of the Project under discussion.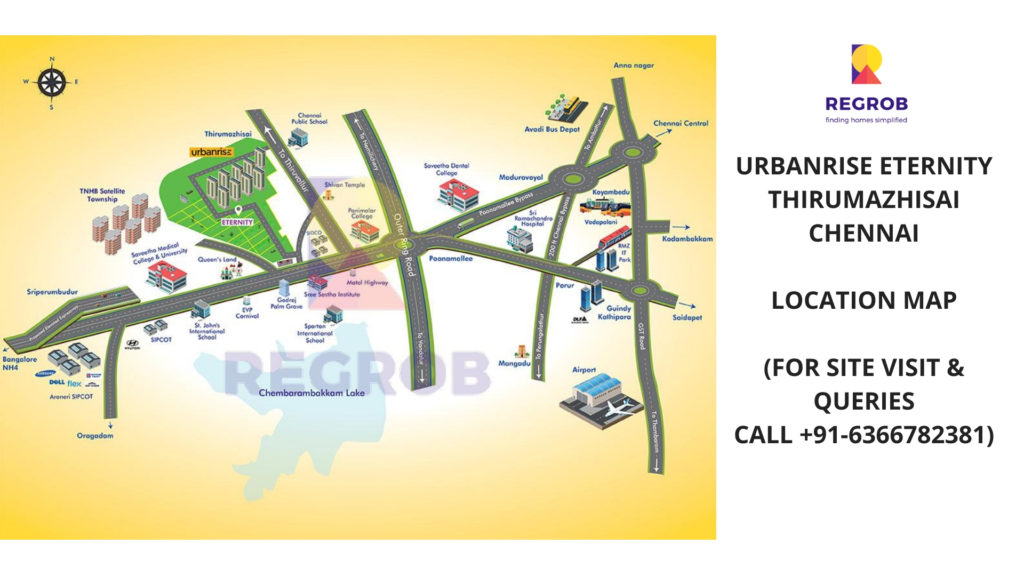 To your delight, these are the plots that come within the city limits with CMDA approval. When you try to search for a project beyond this, you would be forced to look beyond the city limits as well. Now let's make it interesting by looking at the nearby essentials in the close vicinity of this project.
Timeline- :
Nearby Essentials
Approx Time taken
SCHOOLS
Spartan Internation School
5 mins
Chennai Public School
5 mins
Chaitanya
10 Mins
Velammal
15 mins
COLLEGES
Sri Shastha College
3 mins
Rajalakshmi Institute of Technology
5 mins
Panimalar College
5 Mins
Saveetha Eng College
8 Mins
CORPORATES:
Doosan
10 mins
Hyundai/Johnson Lifts
12 mins
HVG/DLF/L & T
25 mins
Asian Paints/Dell/Nissan
30 mins
Diamler
40 mins
HOSPITALS :
Saveetha
8 mins
Aravind Eye Hospital
10 mins
Ramachandra
15 mins
MIOT
20 mins
TRANSPORTATION :
Poonamallee Bus Depot
7 Mins
Koyamedu Bus Terminus
30 Mins
Chennai Airport
35 Mins
Porur
15 Mins
Sriperambadur
20 Mins
ENTERTAINMENT:
EVP Carnival Cinema
2 mins
Queens Land
5 mins
Chokkidhani
8 mins
These would have given a clear idea about the exact location of the project.
How this project is different from the rest:
UrbanRise Eternity offers 9.08 acres of smartly designed CMDA approved plots in Thirumazhisai to make 214 ready to build villa plots in a secured gated community which also provides you with retail space. In addition, for your biggest relief, we have got a 10,000 sq.ft Children's Learning Hub right inside the community to discover the genius in your child and bringing the best in them. With the Tamil Nadu housing board's satellite town just beside this project, you just have got all the bases covered. The satellite township is progressing at a brisk pace with the Hon. Chief Minister doing all his best to wrap it up as quickly as possible by making no stones unturned.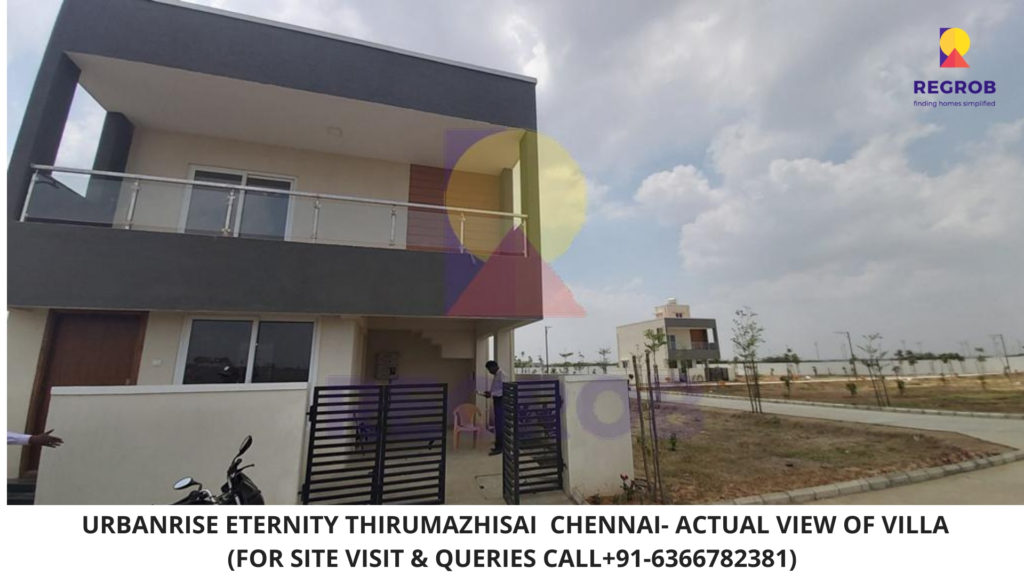 The fact that this project offers an individual bore well to each and every plot can only raise your eyebrows. In our site visit, we had even checked the colour of the water and it was crystal clear to our delight. With chembarambakkam lake in its close vicinity, you can just wipe off all the concerns regarding the water scarcity. This has to be the only project which offers Education at your doorstep with a proposed school within the premises at the walking distance ensuring that your child is safe while you are away. This also makes sure that you don't miss your child's performance, PTA meetings, and events. It has a 1400 sft proposed Retail Arcade within the community which can provide everything at your convenience & comfort. The Commercial block is touted to have supermarkets, salons, ATM, coffee shop & pharmacy- All under one roof.
Master Plan of UrbanRise Eternity: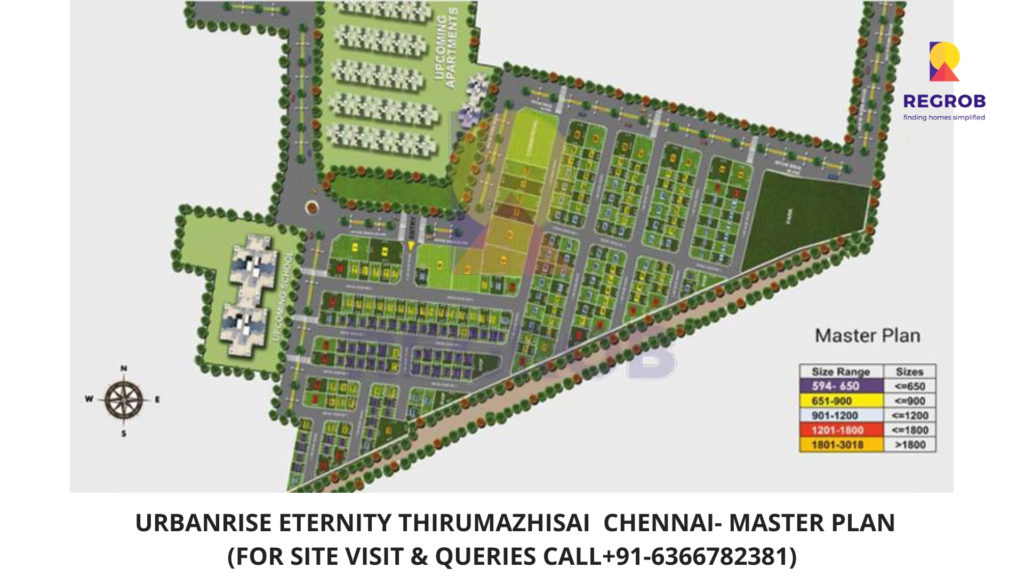 The developers are offering both plots and apartments in four phases for this project. All the smart investors after coming to know about the nearby development opportunities have literally thronged to this project and hence, not surprisingly the plots in the first phase have already been sold out completely. By the time you read this blog the second phase also has a high probability of being booked completely.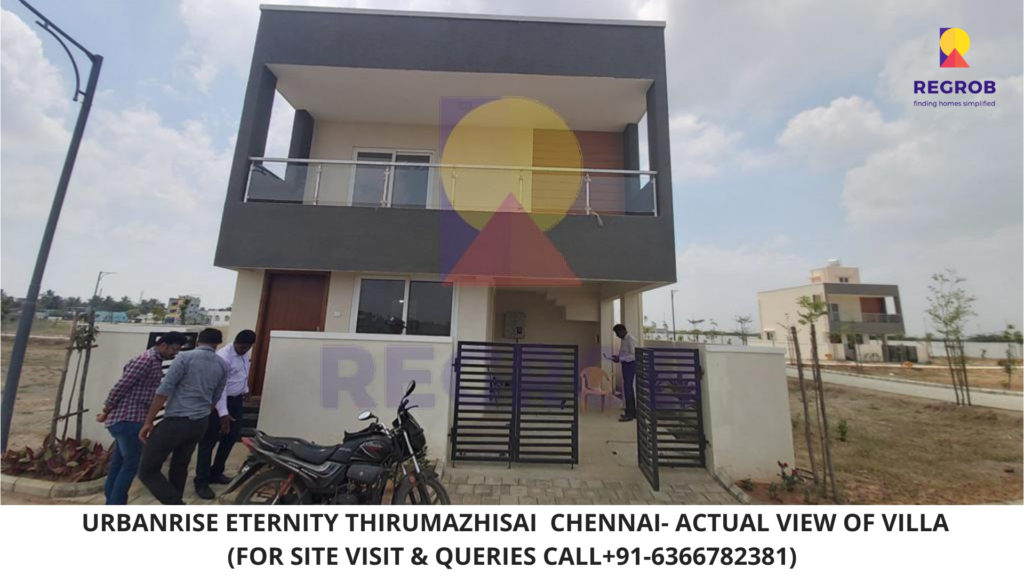 This project offers 4 types of plots with sizes ranging from
654- 21.8*30
900- 22.6*40
1200 – 30*40
1800 – 36*40.
UrbanRise Eternity USP:
Long-Lasting Concrete Roads
Black-topped Concrete Roads over the Wet Mix Bed.
60ft Main Road
Roads are lined by Avenue Trees on both sides.
All Internal Roads with Well Laid Pavements
Strong & Durable Pavements between every two plots.
Street Lights
Modern Street Light System across all the roads.
Space Provided for
Proposed School
Children's Learning Hub
Retail Arcade
Boundary Stones
Watch the Actual Video of UrbanRise Eternity:
UrbanRise Eternity Amenities & Offerings:
We have seen over the years that many projects have been offering N number of amenities but are the investors really using them all? The developers of this project have answered this question in a rather appropriate way by providing a futuristic solution in the form of a Children's Learning Hub which is going to be the need of the hour. These developers have made it clear that the amenities aren't just given for the sake of it.
The burning issue for all the new-age working parents has been to keep their kids engaged and at the same time nurture them for their bright future.
This issue has been sorted out with the Children's knowledge hub which not only helps in engaging the kids in healthy hobbies but also making them strong in health, body, mind, and soul which will prove to be a much viable alternative to the dangerous electronic gadgets.
Children's learning hub :
Daycare center & playschool
Tuition center
Indoor activities
Dance forms
Music academy
Guitar, violin, piano, keyboard, drums, etc.
STEM Education ( science, technology, engineering, & maths )
Robotics, Artificial intelligence, and IOT training
Accelerated/ Tubular math & English programs like Kumon, JEI learning, Mathnasium, Additive maths, Vedic maths, Abacus, Braun development programs, Olympiad preparation, HOTS( Higher Order Thinking Skills)
Personality Development ( English speaking skills, presentation skills, Leadership development programs, Debating
Hobby classes like Cooking, sewing, gardening.
UrbanRise Eternity Pricing:
We always have the tendency of doubting a product of its quality when it is offered at a comparatively lower cost. But when it comes to this project, they have kept a close eye on the quality along with the lowest Price in the 15 km Micro Markets. Hence it would be cruel to let this opportunity go elsewhere.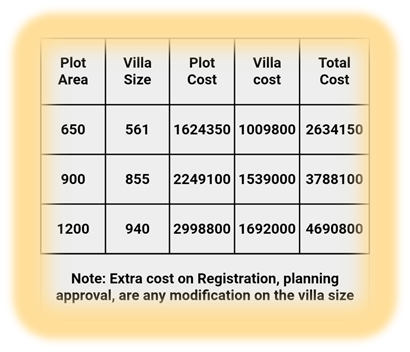 These are the pricing as in March 2020 and it includes a 3-year maintenance cost as well.
For site visit & Queries Call +91-6366782381
Also, you can watch the actual video of other residential projects in Chennai Click Here
Also, check other residential projects in Chennai Click Here