Top 10 Reasons to Invest in Bonito at Brigade Xanadu Mogappair Chennai
Perfect for the toasty climate of Chennai, surrounded by beautiful landscapes, Bonito is the upcoming project by Brigade Group.
Buying an own house often means foraging around in real estate. Finding an ideal place for luxurious living is not an easy task. However, located at a 'prime location', Bonito resonates with 'nature as well as luxury'.
But what makes Bonito at brigade Xanadu an incredible opportunity?
To know that let's go through their top 10 attributes that are enticing real estate investors.
Builder Group overview
Brigade Group was established in 1986. Ten years later they became the first property developer to receive a PA2 rating by CRISIL. Moreover, they are the 1st in South India and 3rd in the country to receive ISO 9001 certification. Their headquarter is in Bangalore and own several branches in South India. Their representative office is in Dubai. They show their skills and innovation through a variety of construction profiles. Property development, hospitality, education are some to name.
Their projects are focused on major cities like Chennai, Mangalore, Mysore, Kochi, Hyderabad, etc.
Holiday Inn, Sheraton, Grand Mercure are some iconic projects delivered by the same group.
With a background so formidable, you can be assured of a quality living experience.
Project overview
Bonito is an under-construction project. It will be ready for possession in December 2024. You can aspect thoughtful architecture paired with a rich lifestyle.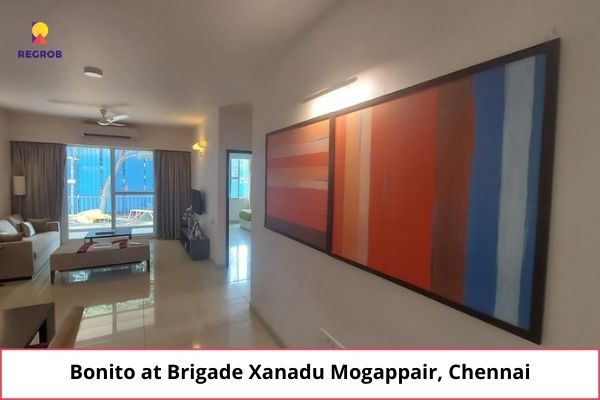 This gated community project stretch over 33 acres of land. It includes 7 blocks and a 30,000 sqft. clubhouse. You can find every block comprises of B+G+6 numbers of floors. There are a total of 680 units out of which 194 are open for sale.
You can opt from a range of apartments. Be it 2 BHK, 2.5 BHK & 3 BHK flats or you can decide by Sqft.
Moreover, this is a RERA registered project. Their registration number is TN.29 / Building / 0012 / 2020.
Spanish styles home
'Bonito' is not only named in Spanish but also offers Spanish style homes. This style is thoughtfully chosen to suit the hot climate of Chennai. Spanish style homes are appreciated for their arches, beauty, and thick stucco walls. These walls make the home temperature as comfortable as possible. Moreover, this style is known for providing a sense of relaxation and connection to nature. Here, you can come home tired from work and feel relaxed as you step into the comfort of a Spanish home.
The building is surrounded by nature and the apartments are super spacious. You can enjoy the luxury of space and view of the lush green landscape at one place and call it home.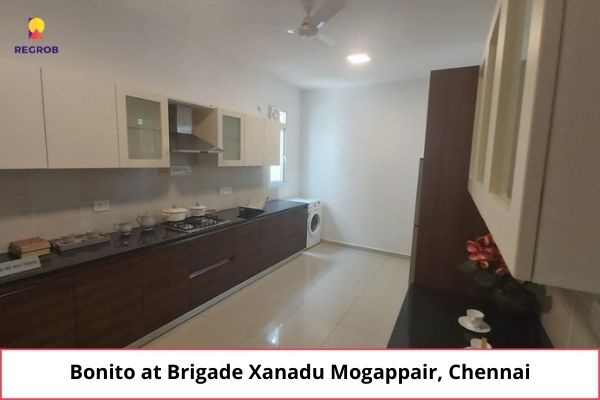 Internal Amenities
Call it Vastu or Fengshui. Everybody looks for a home that brings prosperity. Designed to fit these needs is Bonito at Brigade Xanadu. It also features a spacious modular kitchen. Natural Ventilation and wooden doors bring in the elements of nature.
External Amenities
This gated community at Mogappair, Chennai presents a play area and a spacious clubhouse. Rooftop swimming pool, Gym and aerobics space, indoor play courts are some facets that add Bonito to the upmarket segment. Gazebos, Shopping Arcade, Badminton Court, Banquet Hall, Squash Court are other admirable amenities.
Security
If security is in your list of Ideal home aspects, then you can check it off now. Bonito offers 24 hours security! It provides ceaseless security with an intercom facility. CCTV camera covers all vantage points. Automatic passenger lifts are available at each block. This is connected to the security cabin via an emergency phone facility.
Brigade Group cares for its residents' security and it is exhaustively displayed in their Bonito project.
Location Highlights
Mogappair West and the Nolambur are highly sought-after areas. It is also the location of project Bonito. Bonito is only minutes away from Anna Nagar and Koyambedu Metro & Bus terminus.
Furthermore, it is charming investors with upcoming communities and facilities in the area.
Nearby locations:
10 minutes from Anna Nagar
2.5 km from Koyambedu Metro Station
4 km from Koyambedu Bus Terminus
Strategically located near Ambattur and Porur
Well connected by road and metro rail to the rest of the city
Close to Central Business District areas
Easily accessible from Poonamallee High Road and Anna Nagar West
Quick access to Sriperumbudur, Oragadam, Tada, and other industrial zones
Bank approved
Bank approval is one of the factors that can assure you of the credibility of a residential project. The titles and documents are thoroughly examined by the bank. So you (end-users) can be assured that the developers are genuine and the project is technically feasible. Major banks approving Bonito at Brigade Xanadu project are:
HDFC Bank
State Bank of India
Punjab National Bank
Axis bank
ICICI Bank
Price Details
Bonito located at Mogappair offers a reasonable range of prices for the location and amenities. Below is the current price listing:
BSP: 6690/ sqft
Price: ₹ 84 – 88 Lac onwards.
BSP: 6690/ sqft
Price: ₹ 1.03 Cr- 1.08 Cr onwards.
BSP: 6690/ sqft
Price: ₹ 1.33 Cr- 1.62 Cr onwards.
Project USP's
To summarize what differentiates Bonito from the rest, let's see its unique selling points:
A gated community of 680 units of Spanish styles home set in a G+6 floor structure
60% open space with intricately curated landscaping
Plot and price varieties
30,000 sqft clubhouse and a multitude of amenities
Strategically located at Mogappair West, Nolambur
Watch Actual Video Of Bonito at Brigade Xanadu:
Overall, Bonito at Brigade Xanadu is the perfect place to nest (or invest).
For site visit & Queries Call our property expert at +91-6366782381