If you are looking to buy a flat in township projects in Navi Mumbai, then you are in the right place. We here at Regrob with our dedicated team have thoroughly researched the Best Township Projects in Navi Mumbai.
In this, we have also verified them on various parameters like – Connectivity, USPs, Amenities, Construction quality, and Customer Reviews.
So, let's take a look at some of the Best Township Projects in Navi Mumbai:
1. Hiranandani Fortune City:
Hiranandani Fortune City is a new vibrant township developed in Panvel, Navi Mumbai. The township is situated between the old Mumbai – Pune Highway (NH4) and the Mumbai Pune Expressway and can be accessed from both these routes.
The total area of this mega township project is 588 acres of land and consists of 2330 units. Two sectors of this project have been launched (Sector A and Sector C). Sector A is ready to move while Sector C is under the construction phase. The Possession of Sector C will begin in April 2022.
The residential towers within Hiranandani Fortune City with studios, 1, 2, and 3 BHK apartments and penthouses are designed to suit your every lifestyle requirement.
Price Details:
Studio | Carpet Area: 309 Sq. Feet | Price: ₹ 50 Lacs
1 BHK | Carpet Area: 460 Sq. Feet | Price: ₹ 70 Lacs
2 BHK | Carpet Area: 750 – 1100 Sq. Feet | Price: ₹ 1.10 Cr. to 1.55 Cr.
3 BHK | Carpet Area: 1535 – 1700 Sq. Feet | Price: ₹ .95 Cr. to 2.40 Cr.
Hiranandani Fortune City offers a lot of amenities such as a designed pool, high-tech gym, activity center gardens, sanitation, surveillance, and rainwater harvesting management, etc.
Connectivity:
Strategically located off the Mumbai-Pune Expressway
Access to skilled technical and managerial manpower from reputed educational institutions.
Nearest railway stations – Mohape and Panvel terminus.
A 10-minute drive from Shedung exit on the Mumbai-Pune Expressway.
Proposed Navi Mumbai International Airport: 20 Mins
Proposed Metro Rail connecting Panvel to Vashi, Belapur, Ghatkopar, and Thane.
Ferry/hovercraft services connecting Panvel to South Mumbai.
Proposed sea-link connection to Central Mumbai.
Suburban train connectivity in five directions.
2. Adhiraj Capital City:
Adhiraj Capital City is one of Navi Mumbai's largest international-style mixed-use development by Adhiraj Constructions. It is located in Sector 37, Kharghar, Navi Mumbai. The entire of this project is 40 Acres.
The main USPs of this project are 6 acres Central Park and 10,000+ sq. Ft. Gym. There are many amenities such as Gymnasium, Clubhouse, Kid's Play Area, Multipurpose Court, Swimming Pool, Yoga Area, Landscape Garden, Billiards, Multipurpose Hall, Pool Table, and Cafeteria.
Phase 1 and Phase 2 have launched earlier and Phase 3 is recently launched. Phase 3 consists of 3 towers out of which 2 towers (Meraki and Oreka) are launched as of now. There are 3 Towers in Phase 1 and 4 Towers in Phase 2. It consists of 45 and 55 high rises towers and contains 1 BHK, 2 BHK, 3 BHK flats.
The carpet area of the flats ranges from 527 sqft to 845 sqft. The price of flats varies from 86 Lacs to 1.40 Cr.
Each flat in Adhiraj Capital City will have a premium vitrified tile floor. Every house will have double-height sun decks with French windows and sprinklers. The bedroom will have separate wardrobe areas.
Adhiraj Capital City is located in such a way that it's surrounded by Kharghar hills and is the tallest tower in Kharghar till date. Kharghar is one of the most developed nodes of Navi Mumbai. Situated on the road to Mumbai, there is seamless connectivity to all the major places in and around Kharghar.
3. Lodha Crown:
Lodha Crown is one the best township project in Mumbai at very affordable price. It is located in Taloja Bypass Road Opp. Palava City Mumbai. It is an under-construction township project. Possession of this project will start from July 2023.
Lodha Crown is well known for its open and green spaces, world-class education and sports facilities, walk-to-work opportunities, cultural pathways and modern homes. The 25,000 sqft of the clubhouse is also giving additional facilities for the project.
Price Details:
1 BHK | Carpet Area: 305/334 Sq. Feet | Price: ₹ 27 – 30 Lacs Onwards
2 BHK | Carpet Area: 435/470 Sq. Feet | Price: ₹ 42 – 45 Lacs Onwards
Crown Taloja not only brings you well-designed homes, but also offers many services that will enrich your life. Whether it is the safety of your family, requirements like water and electricity or connectivity services, everything is designed to keep you at the center.
Lodha Crown project is located next to the 4-lane Taloja MIDC road which will be concretized. You can easily reach the Ambarnath-Badlapur road. Dombivli station can be reach in 20 minutes and Nilje station in 15 minutes.
Many prestigious schools, colleges, hospitals and malls are close to the Lodha Crown Project. The colleges close to this project are NAFS Degree College, Sumantai Vasant Patil Junior College. The hospitals near it are Healthspring and Bijankur Hospitals. Lodha Xperia Mall is at a 6 km distance from this project.
4. Sai World Empire:
Sai World Empire is a mega township project located in Kharghar Navi Mumbai. It was designed for lifestyles inspired by famous kings and queens. The total area of this mega projects is 18 acres of land with 56% of open space.
Price Details:
2 BHK | Carpet Area: 764 – 845 Sq. Feet | Price: ₹ 1.15 – 1.27 Cr. onwards
3 BHK | Carpet Area: 1125 – 1230 Sq. Feet | Price: ₹ 1.66 – 1.81 Cr. (onwards
4 BHK | Carpet Area: 2013 Sq. Feet | Price: ₹ 2.85 Cr. Onwards
Each apartment of Paradise Sai World Empire is spacious and is built with the proper use of space. Ample space is provided between the towers so that natural sunlight and fresh air can reach every part of your dream home.
Sai World Empire is just 15 minutes drive from Navi Mumbai International Airport. The surroundings of the project provide facilities such as hospitals, schools, banks, convenience stores etc. The 217-acre Central Park and 180-hole golf course can be reached in just 5 minutes. ISKCON Temple is just 4.5 km away from this project. The upcoming metro rail is a 5-minute drive away.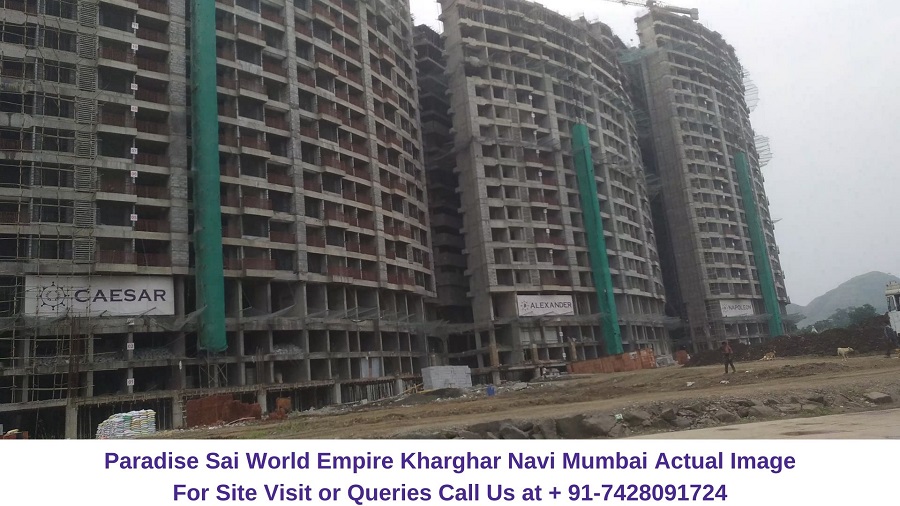 5. Arihant Anaika:
Arihant Anaika is a community township project located in Taloja Phase II, Navi Mumbai. Total area of this township is 8.13 acres of land. There are 4 phases in this project. Phase 1 is ready to move and the remaining phases are under construction.
Arihant Anaika is near to CIDCO Planned City Kharghar. The project is just 15 minutes from the proposed Navi Mumbai Airport and 5 km from the Mumbai Pune Expressway.
Price Details:
1 BHK | Carpet Area: 340 – 367 Sq. Feet | Price: ₹ 31.65 Lacs to 33.47 Lacs Onwards
2 BHK | Carpet Area: 520 – 688 Sq. Feet | Price: ₹ 47.85 Lacs to 55.42 Lacs Onwards
3 BHK | Carpet Area: 996 Sq. Feet | Price: ₹ 81.92 Lacs Onwards
There are many outstanding amenities such as lifts, gymnasium, swimming pool, toddler pool, clubhouse, indoor games, multipurpose court, community hall. There is a separate Clubhouse & Entrance Gate for each phase.
Arihant Anaika project is very close to the metro station. There are several major schools, markets, hospitals within the radius of 5 km of the project.
Elite Public School is just 8 minutes from the project. You can reach Om Navjeevan Hospital in 15 minutes. Ramseth Thakur School is 7.8 km from the project. Little World Mall is 10 km away.
So, these are some best Township projects in Navi Mumbai. All the above-mentioned projects are RERA approved.
If you are looking to buy a flat in Navi Mumbai, then we help you in finding your dream home. We have a dedicated on-ground sales team, which checks all possible cases and suggests property buyers in finding their dream home.
We have covered more than 200 projects in Navi Mumbai and took real videos and pictures.
So, if you are willing to buy property in this area, please call our property experty at +91-7428091724.
For Site Visit & Queries Call- +91-7428091724
You can watch the actual videos of other residential projects of Navi Mumbai Click here
You can also check some other residential properties in Navi Mumbai Click here