Gaur City in Greater Noida west popularly known as Noida Extension is a big real estate and housing development city. Prolific builders and real estate firms are choosing this location for their respective projects for its well-planned structure. Greater Noida west is most promising in terms of its existing infrastructure and its upcoming metro connectivity. This city nestles between green belt beauty and world class amenities. Authorities are swiftly laying down necessary infrastructure to support the growth such as water, roads and electricity. With the proposed Metro line expected to link with the area, its future realty prospects are bright.
This beautiful city has store in it a grand township that goes by the name Gaur city. It is one of the biggest townships of Noida extension and is divided into two parts namely Gaur City 1 and Gaur City 2.
Gaur City 1 is a 125 acres township. It has a total of 7 residential apartments which are named from 1st avenue to 7th avenue. It has total 3 major park other than Apartment Park. Lake View Park is most famous park which is next to 4th avenue (first tower of Gaur City 1).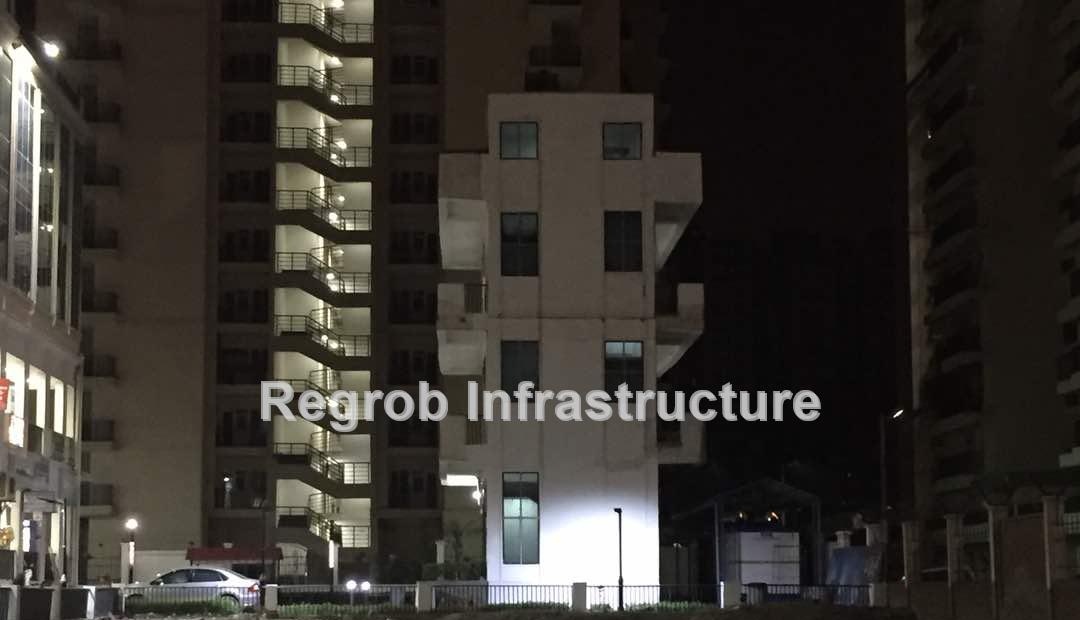 Gaur city 1 is having 4 commercial complex and out of which 2 are major commercial complex. One is City Plaza in front of 4th avenue and second is Galaxy Plaza at main gate of Gaur City 1. Rest small shops are also available for daily grocery. Gaur City-1 also has many banks like Oriental bank of commerce and ICICI bank in city plaza with ATM facility. Lot of small eateries and big restaurant are running in City Plaza. Also, it has a gym named Mac which recently opened on the 3rd floor of City Plaza.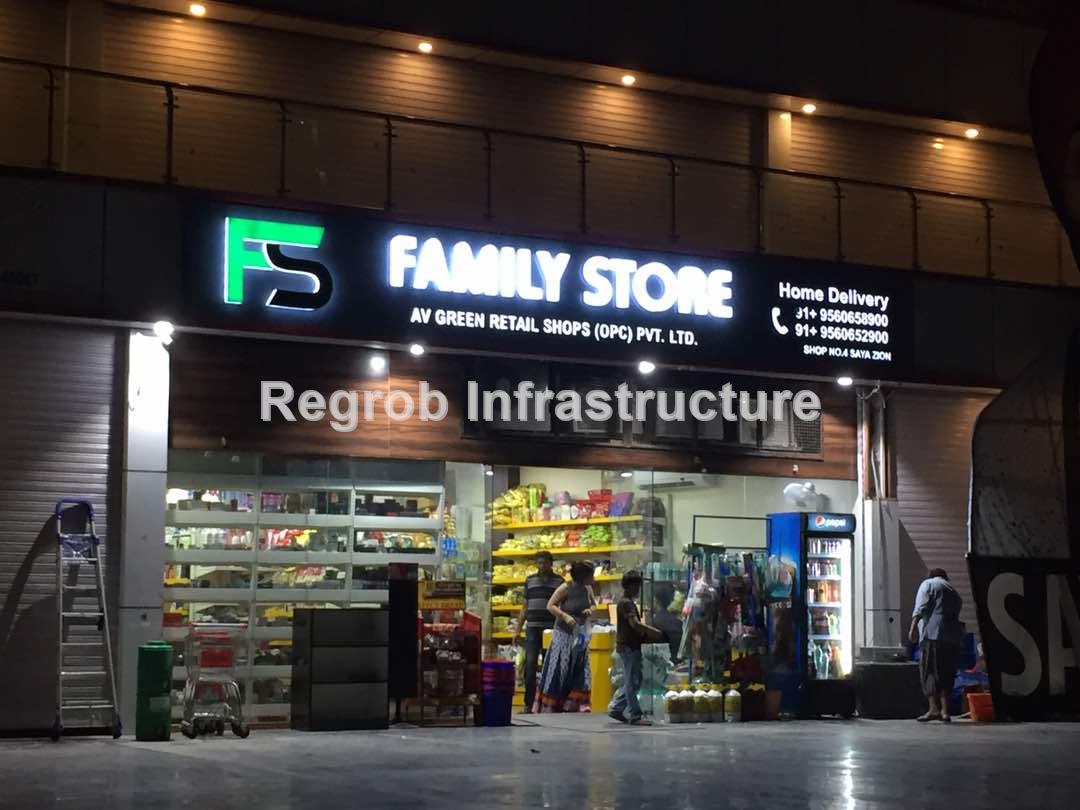 Gaur city 1 is highly densely populated with more than 10,000 families with approximate population of 50,000. Various other builders and real estate developers have also constructed residential and commercial projects in this township. Some of the projects are:
Mascot Golfside Homes
Arsh Noble Homes
Luxurious Green Villas
Rising Star 2
ASP Ashiyana 2
Regal Emporia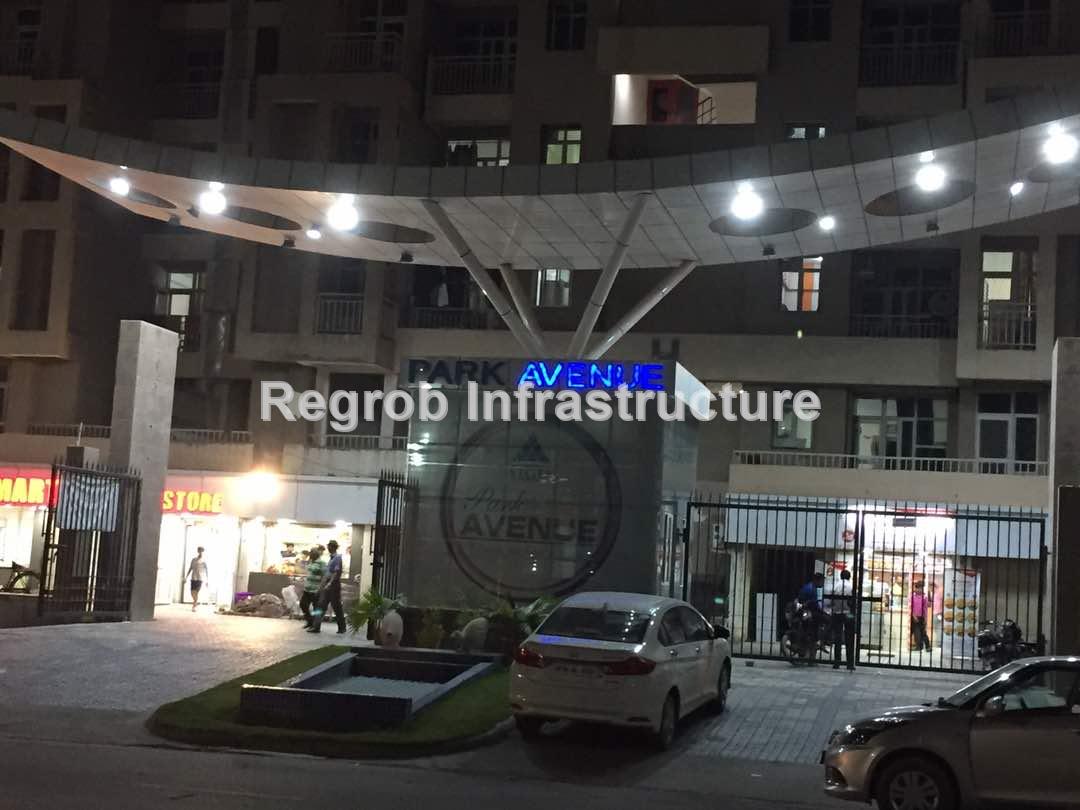 On the other hand Gaur City-2 covers a total area of 112-acre in this township. This part of Gaur City has 5 residential apartment starting from 8th avenue to 12th avenue.
Projects developed in Gaur City-2:
SAM India Palm Olympia
Aastha Greens
Angels Casa Woodstock
Addela Raj Residency
Town Park Buildcon White Orc
JNC the Park
Living in this township gives residents an upper hand on many resources like:
Quality life where you can enjoy every luxury amenity you have ever thought of.
Banks are within the township.
Olympic size swimming pool, stadiums, shopping complexes,
The project is well connected to Delhi-NCR by various modes of transportation.
7 screen multiplex
3 large departmental stores
Multi-cuisine restaurants
Only 8% add up for super area (covered area + core area + 8%)
Lower price points in comparison to Noida and Delhi makes this a preferred residential option from the point of view of both end-users as well as investors.
Resident enjoy all type of festival due to huge population.
Some downsides of living in this township: 
In evening it become messy in township as more than proposed cars are parked in parking lot. Cars are also parked on roadside near City Plaza which creates a lot of traffic jam and you have to wait in long queues to reach your apartment.
No transformer is set up in the township which creates a lot of problems for residents.
Power cut-off is the most common and major problem and most of time the apartments are on power backup which costs Rs15 per unit.
If we talk about security measures of township, it is an area of concern. Anybody can sneak in the township without checking and create nuisance near City Plaza.
Township is surrounded by villages which causes locals to trespass in the township. In the past, lot of fights had happened between residents and local people.
Also, there is no Clubhouse for the residents of Gaur City.
Service of maintenance is not up to the mark and resident face lot of problem
Not even a single shop is available near apartments. All the residents have to go to City Plaza or Galaxy Plaza to buy any stuff.
Gaur city-2 has only one commercial complex but it is not good as compared to Gaur City-1 which is closed from all sides.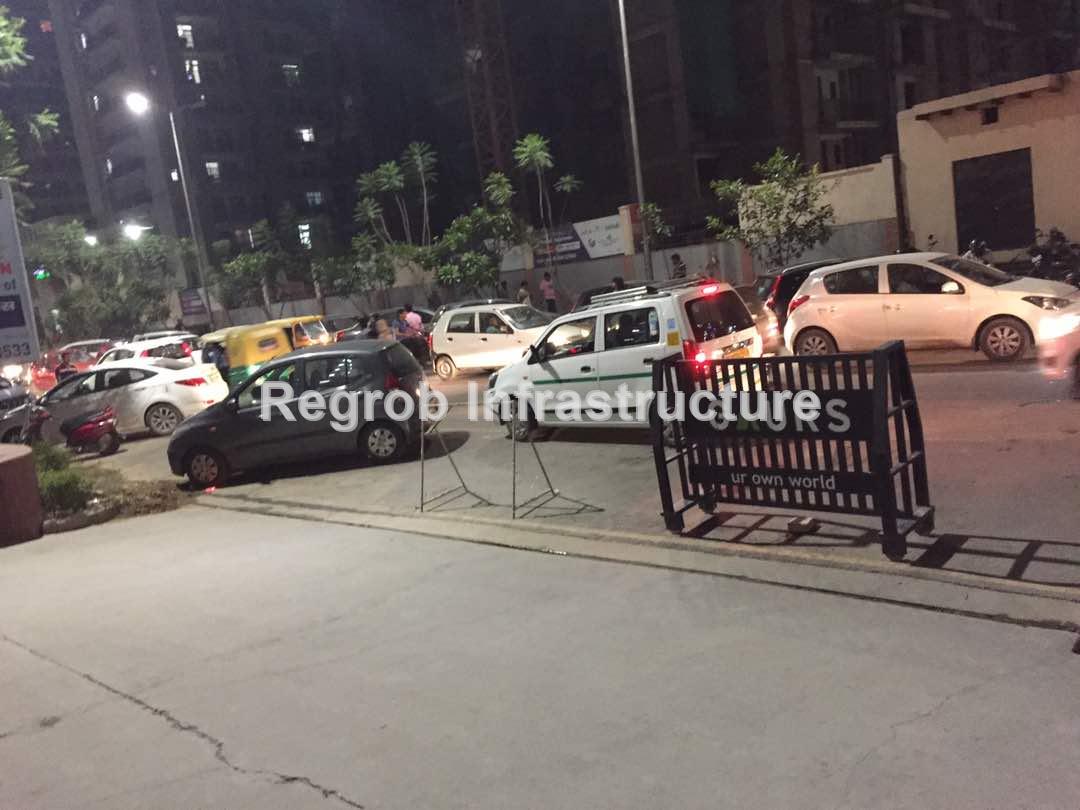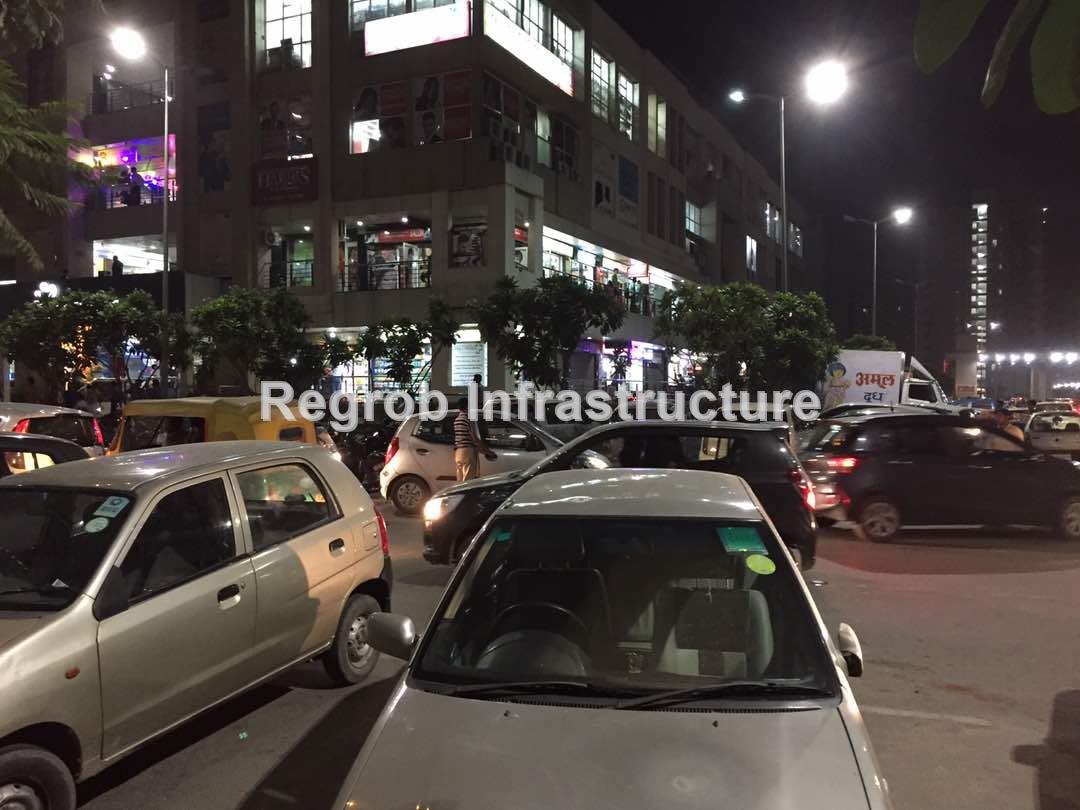 Walkthrough of Gaur city 1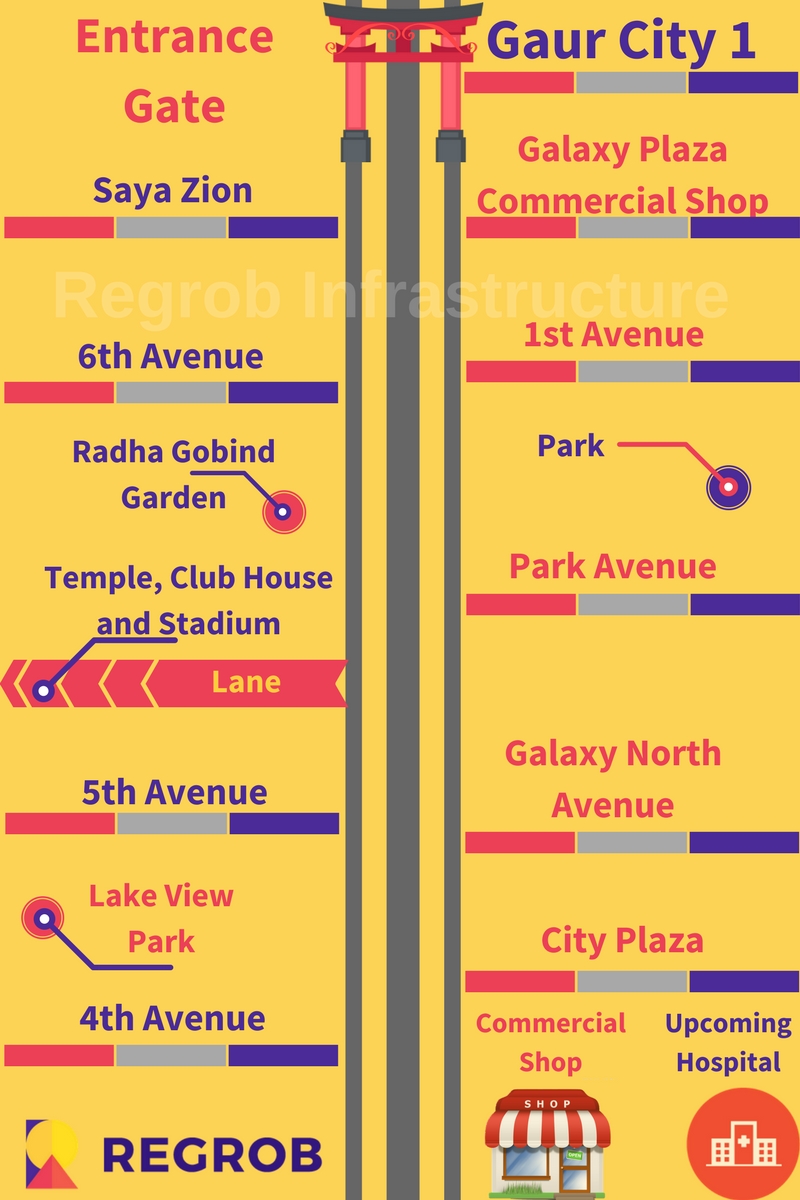 On our day visit to Gaur City which is considered to be one of the biggest townships of Noida Extension, we were excited as well as scared if this place could live up to our expectations.
As we entered Gaur City-1, we saw huge skyrocketing buildings standing toe to toe with each other surrounded by lush green landscapes and open air greens. When you walk through the entrance of Gaur City-1, just 50 meters away from the entrance gate on the right-hand side located a residency named Saya Zion.
This residential project is developed by Saya homes on a land area of 5.25-acre offering 3-side open, well ventilated 2, 3 and 4 BHK apartments. These residential apartments are built on a land area ranging from 1045 sqft to 1825 sqft. Saya Zion has a total of 600 homes which are priced at 38 Lacs to 68 Lacs.
Saya Zion has also opened a departmental store to make things easy and convenient for their residents. Family Store is available on the premises where residents can shop for groceries, utensils and other household utilities.
Right in front of SAYA ZION and left to the entrance is the Galaxy Plaza which is a 0.54-acre commercial complex. This complex is spread over 6 floors offering space for offices, restaurants, hotels, shops and other eateries. Shops are available in an area starting from 449 sqft to 19375 sqft. Galaxy Plaza is located right at the doorstep of many avenues and apartments making it convenient for the residents to shop for their daily needs. Many grocery shops, medical stores, confectionery shops, apparel stores, and departmental store have opened.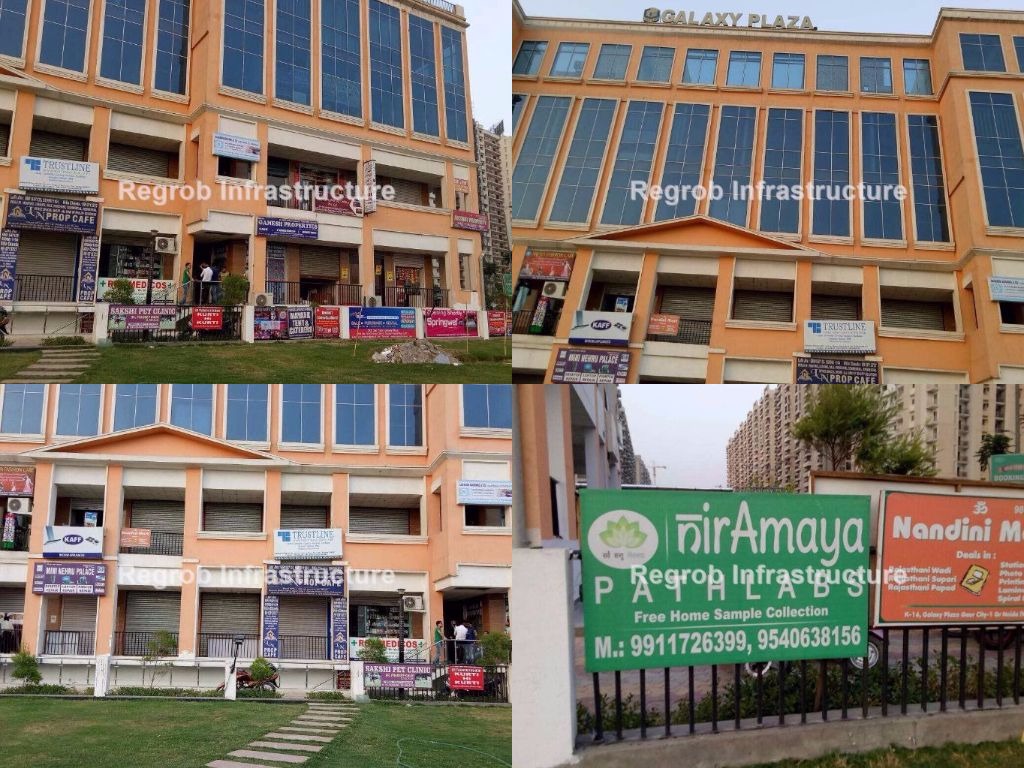 Within 100 meters distance, located Gaur City's 1st Avenue which has a total number of 170 apartments. Residents have started living in these apartments and with several shops opened at a walking distance, life at Gaur City is amusing and peaceful.
Now, moving forward about a distance of 250-300 meters, we have Gaur City's 6th Avenue located on the right. It boasts of 200 smart structured apartments which display great architecture finesse. These 1, 2, 3 and 4 BHK apartments are built in an area of 555-1900 sqft and are available at an attractive price of 25 Lacs to 80 Lacs.
There is a garden named Radha Gobind Garden located nearby 6th avenue. You can enjoy a peaceful evening breeze at this place and can kick start your morning sessions with meditation to relax your mind and body.
Just between Radha Gobind Garden and 5th avenue, there is a lane that goes straight to Shri Radha Krishna temple. Walking down on the same lane is a Clubhouse which has all the luxury amenities in store for residents and a cricket stadium. Clubhouse which is a major part of a housing development scheme is still under construction which is a major area of concern at authority's end. Activities like indoor games, open-air theater, party lawn, and other events or activities cannot be organized.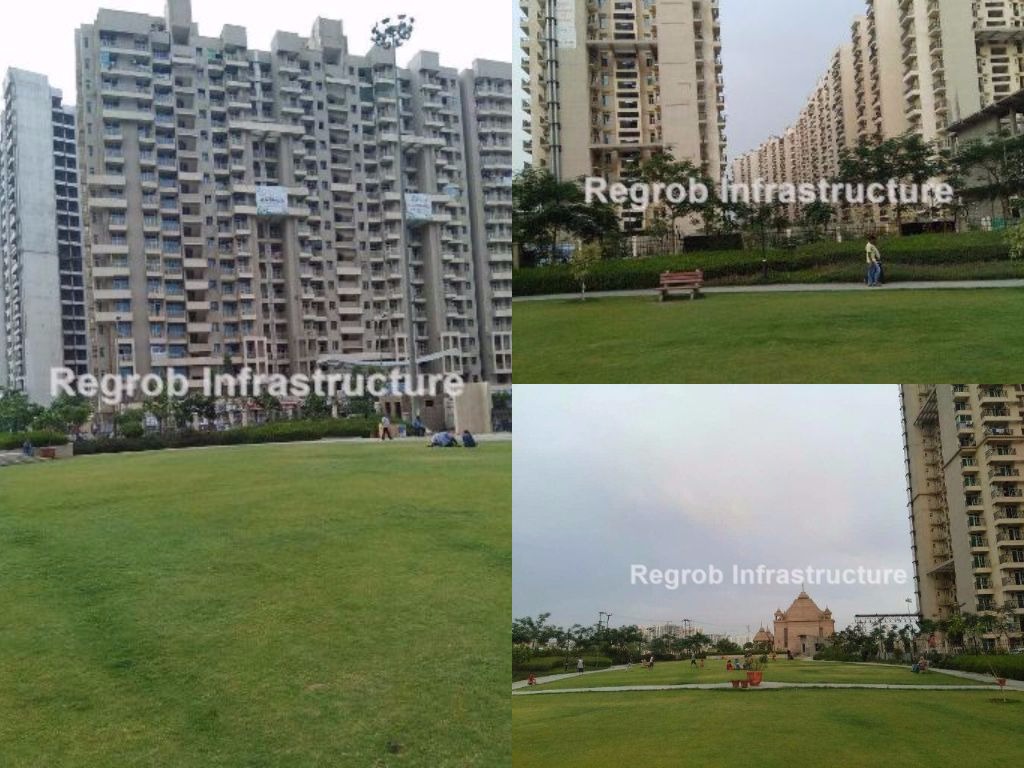 A Park is located right next to 1st avenue on the left-hand side which has a jogging track, open green spaces for meditation and benches installed for senior citizens to sit and relax and enjoy a healthy lifestyle.
Taking our journey of Gaur City forward, we can locate AIG Park Avenue on the left-hand side. AIG Park Avenue is another residential project developed in Gaur City by AIG Infratech Pvt. Ltd. Spread on rambling 5-acre of land, this project offers exquisite and spacious 2, 3 BHK homes with 10 towers, 23 floors and 796 total number of apartments. Apartments are built in an area ranging from 935 sqft to 1579 sqft with arc shape buildings for better ventilation. The price of the apartments in this project falls between 32 Lacs to 56 Lacs.
AIG Park Avenue has recently opened a departmental store with the name Price Smart for its residents so that they don't have to rush to Galaxy Plaza or City Plaza for small needs.
Our next stoppage was Galaxy North Avenue which was around 200 meters from AIG Park Avenue. Galaxy North Avenue is another out of township residential project developed by Galaxy International Realtech Pvt. Ltd. Total land area for this project is 6.50-acre consisting of 7 high rise towers, 26 floors and 815 apartments. 2 and 3 BHK apartments offered by this project occupy the area from 905 sqft to 1755 sqft. These apartments are priced between 31 Lacs to 44 Lacs. It is a podium based project.
Taking the exit from Galaxy North Avenue to the main road, we saw 5th Avenue located on the right side of the lane. All 173 apartments in 5th avenue were occupied by families, children waving from their respective balconies. The beautifully designed parks and swimming pool in 5th avenue tells a lot about the detailing builders have taken care of and the needs of the residents.
Saying goodbye to the children playing in parks, we took the exit back to the main lane. Walking for about 300 meters we located Gaur City's 4th avenue. This avenue also has some well-designed apartments with children's play area, garden and a swimming pool on its premises. One can have a picturesque view of the surroundings from the top floor of the avenue.
Between 5th avenue and 4th avenue, there is a park named Lake View Park. This park has occupied a huge chunk of land and adorns a beautiful lake. A walk here in the evening is a stress buster for the residents and spending some quality time with family while sitting beside the lake is always relaxing.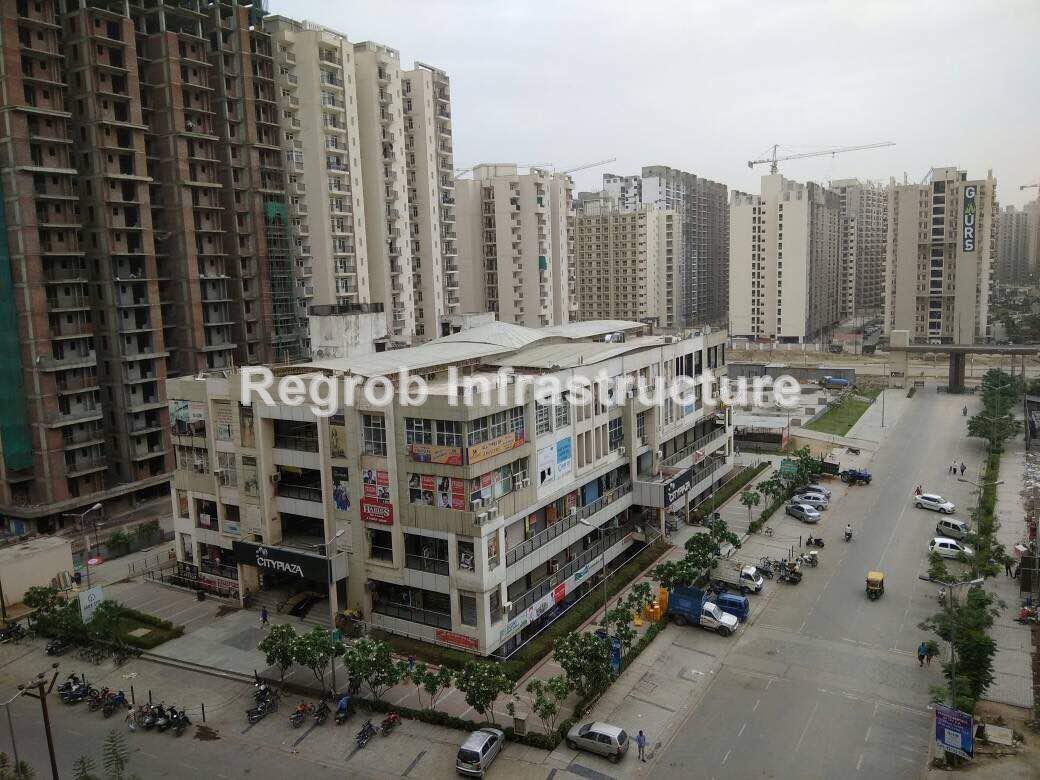 You can also see City Plaza which is a fully operational commercial complex near to Galaxy North Avenue. The first commercial property of Greater Noida West and is a unique place for setting up any business. Located in J Block near the 1st roundabout of Gaur City. Consists of 3 floors Level 1, Level 2 and Level 3. City Plaza comprises of modern amenities such as Food Court, Restaurants, Banks, ATMs, Water supply, 24X7 security, Power backup and much more. Dr. Raghuvendra Dental Clinic has recently opened in City Plaza. ATMs such as ICICI Bank and OBC Bank are available. Also, there is an Axis Bank ATM near the 2nd entrance of Gaur City.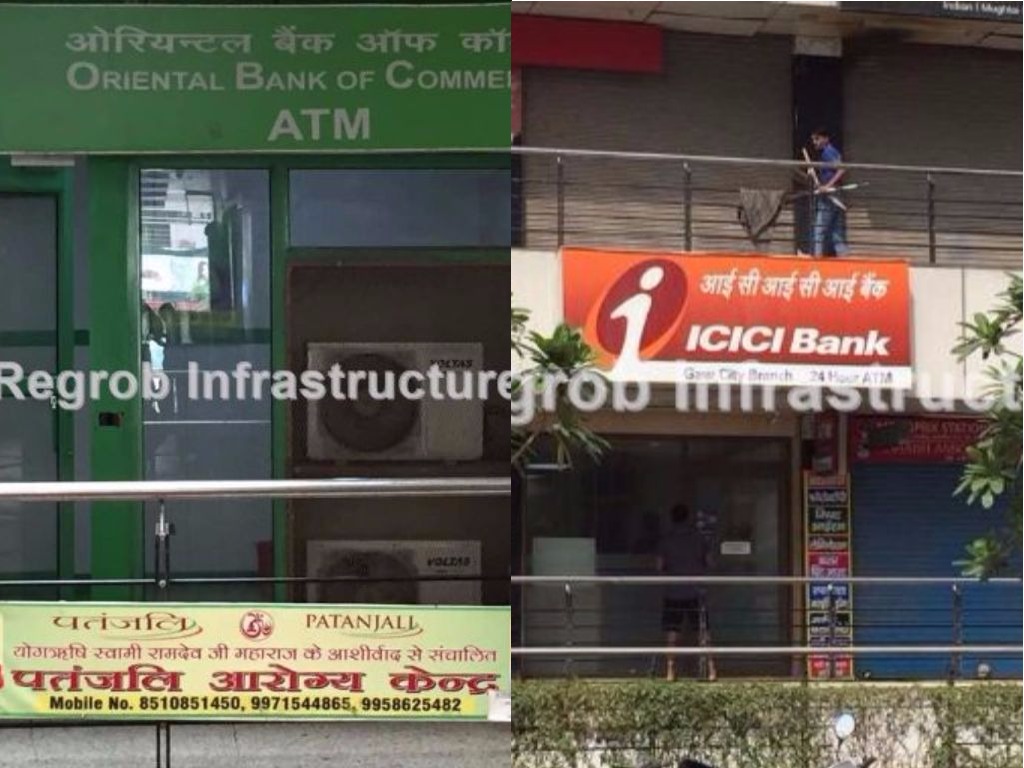 Just opposite to city Plaza is an open land where another commercial complex is constructed for the residents who face difficulties walking all the way from their apartments to City Plaza or Galaxy Plaza for buying products. Adjacent to this commercial complex is a barren land where an upcoming hospital is proposed. Since there are no hospitals near to Gaur City, residents face a lot of trouble traveling to different sectors of Noida and this causes so much of hassle. Nearby hospitals to Gaur City is Fortis in Sector-62, Noida, and hospitals in Ghaziabad.
Gaur City-2 is at 5 minutes walking distance from Gaur City-1. Since most of the schools are located in Gaur City-2, it gets easy for the parents to take their children to school and not worry about getting late. Gaur International School, Manthan School, Mahagun School and Gagan Public School are nearby schools.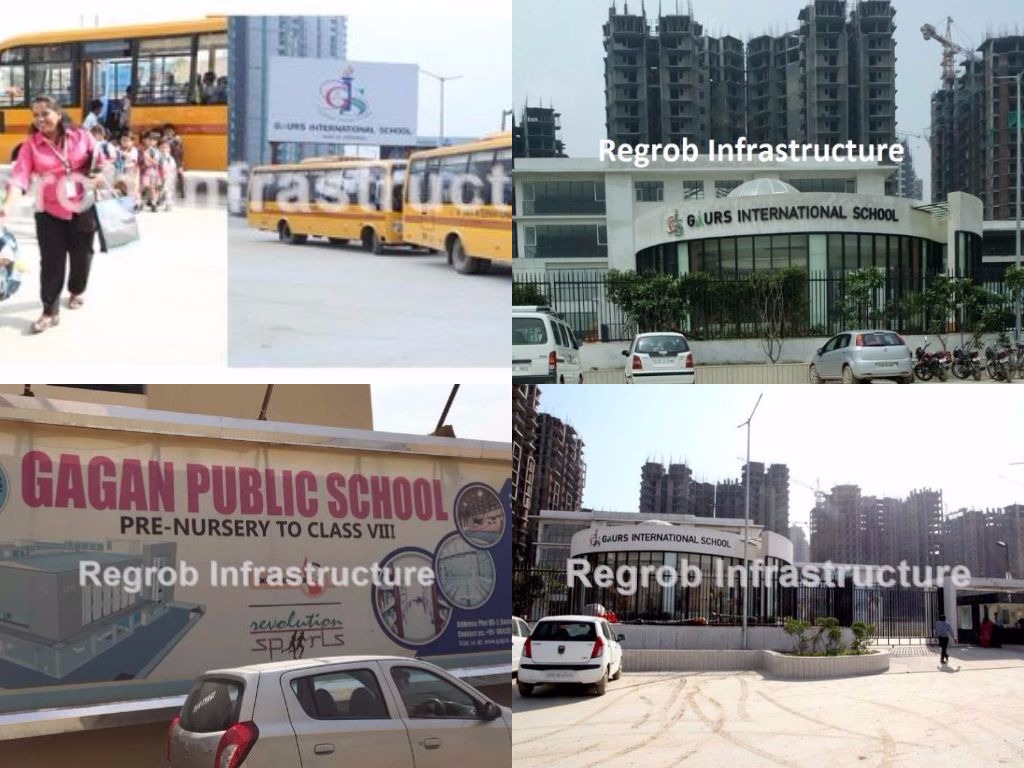 Gaur City's 7th and 8th avenue construction have not been completed yet. Rents in Gaur City are available from 8,000 to 15,000 INR depending upon the configuration of the apartment. Apartments are available for resale and price will vary between 25 Lacs to 83 Lacs.
Gaur City is a home to many prolific builders who are developing projects in one of the most sought after township. Gaursons India Ltd. has allotted many plots of different sizes to the renowned builders like Saya Homes, Galaxy Group etc. of Delhi-NCR region who have a paid a handsome sum of money for constructing their projects. With a wide range of civic amenities and high investment locality, this township is turning out to be the best-selling township of all time.
All the avenues in Gaur City have their own garden and swimming pool. Here, you can find shopping complexes, Polyclinic, chemist shops and Petrol pump with CNG. Both covered and uncovered parking is available. Crèche for the newborn babies, a community hall in the complex for parties, jogging tracks, open area, park for the children, cricket stadium, courts for other indoor games such as badminton, tennis etc. all at the price of an apartment.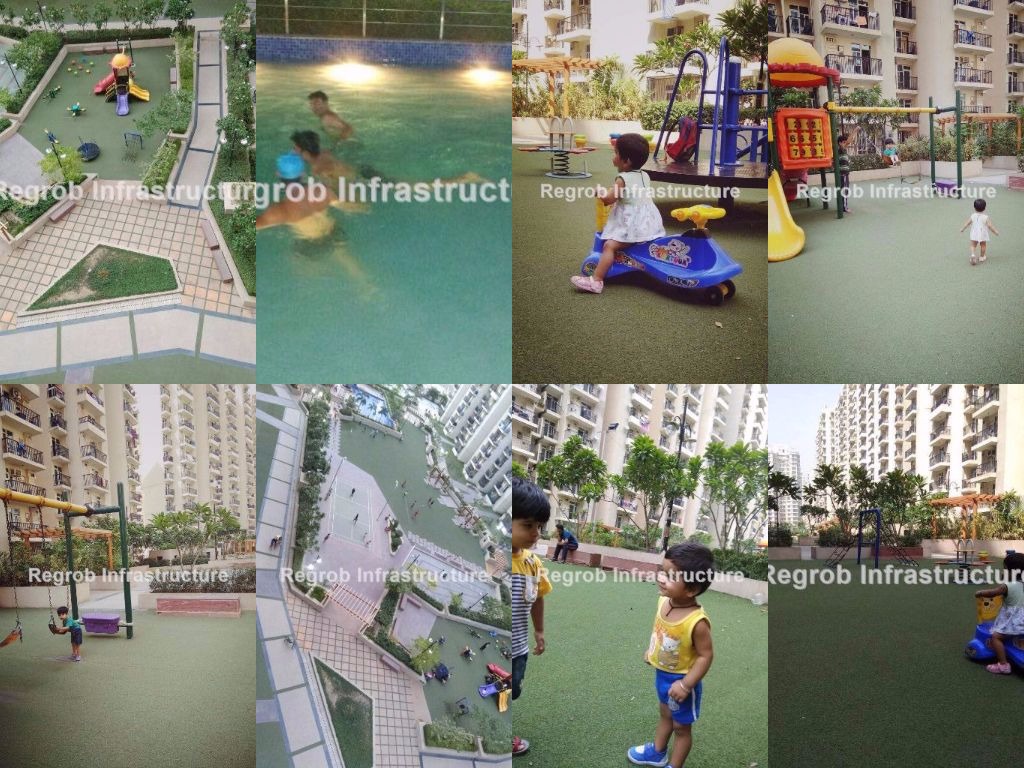 The Gaur City's site plan is developed by the RSP group which is based in Singapore and known as one of the most experienced and professional company in this regard. This township is architected by Hafeez Contractor. This township is also certified by Indian Green Building Council for maintaining the standard of Green Homes.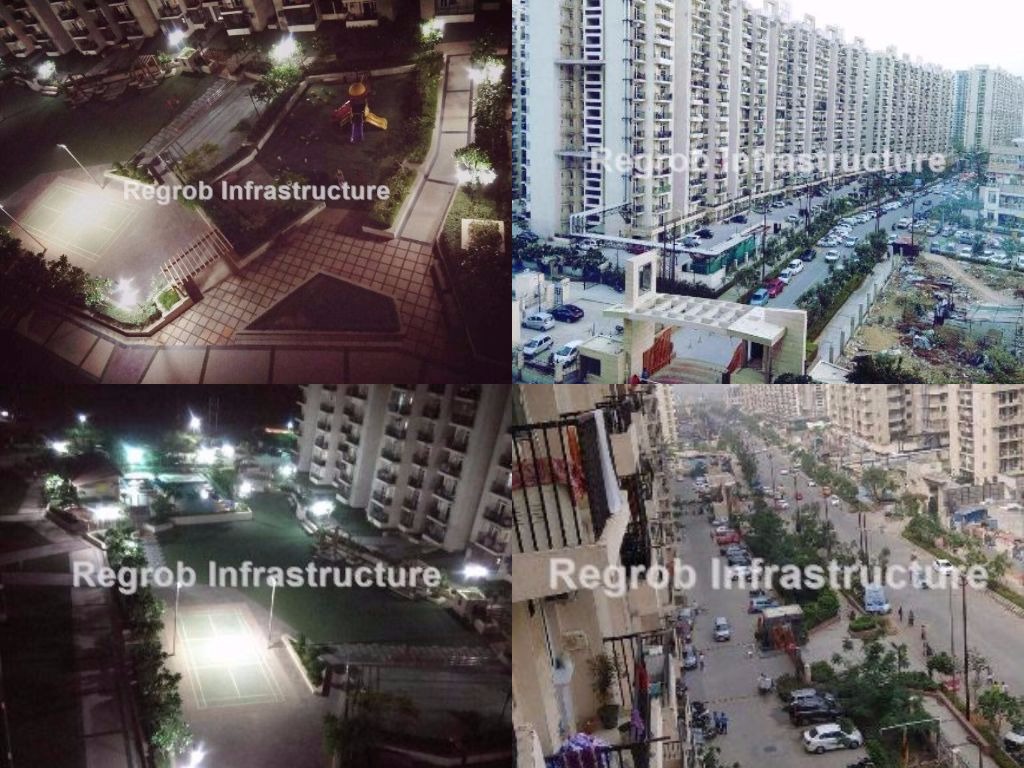 Gaursons India Limited has been felicitated by NDTV for its signature township project, Gaur City, under the category of the Township Project of the year-2016 (100-200 Acre). In a recently held event in Hyatt Regency, Pune on 27th of February, 2017, Mr. Manoj Gaur, MD and Mrs. Manju Gaur, Director of Gaursons India Limited were felicitated with this honor of the year. Gaur City has been chosen for its excellent execution track record, amenities inside the township and sustainable features like zero garbage concept, sewage treatment plant, solar power, rainwater harvesting. Last year they were honored for the best execution track record—2015 on pan India level by the panel of NDTV property awards.
City Highlights:
Gaur City Mall situated on the cross section of 130-meter wide road is one of the highlighted developments of Gaursons India Pvt. Ltd. It offers offices and commercials shops at affordable prices and in a convenient location. This mall consists of following vendors for your shopping needs:
Footwear
Apparel
Home Furnishing
Health & Beauty
Eyewear and Travel Gear Salon
Kids Entertainment Zone
Jewelry & Cosmetics
Mini Valve Markets Cafe & QSRs
Anchor Hyper Market
6 Screens Multiplex
Fine Dining with Large Food Court
Other shopping malls nearby are AARZA Square, Galaxy Kohinoor Plaza etc.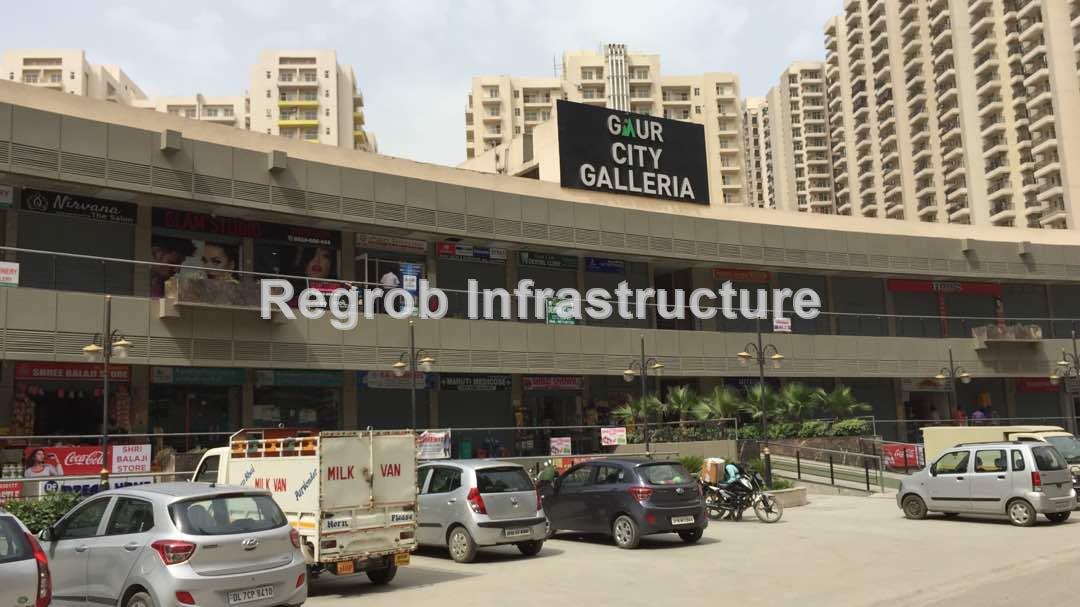 Witness International Standard Evolvement:
Living in Gaur City you can eyewitness some international standard architectures being constructed in the heart of the city. Jaypee Cricket Stadium which got completed in 2015 is believed to be the largest stadium constructed in the country. This stadium, spread across 39 acres, is located next to Jaypee Resort. It has a capacity of 40,000 spectators initially, but will gradually be increased to 100,000. In the recent past many events like Ranji Trophy, U-19 International matches have been organized. Next IPL matches are most likely to be played in Jaypee Stadium.
A hockey stadium has also been constructed with sports training academy and infrastructure facilities for other sports.
Buddh International Circuit which is the first ever F1 racing track to be built in India, hosted India's first ever F1 Grand Prix in the year 2011. It was the first of its kind to take place in Indian Subcontinent. Grand prix was hosted consecutively for 3 years in a row 2011, 2012 and 2013. Many events like T1 Prima Truck racing, F2 racing, and Motorbike racing are organized at regular intervals.
So, lastly we can conclude by saying that life in Gaur City is a mix bag of hot spices in life. This township amazes you by offering a wide range of amenities and world-class architecture beauties in the form of apartments with best in-class features.